When visiting Walt Disney World, I typically only book one or two reservations per day. This is a great way to save money and try different snacks during my trip. Below are some of my favorites when visiting EPCOT!
1. Frozen Citrus-Pomegranate Slushy – $5.50 to $16.00
Is a drink considered a snack? To me it is! Oasis Sweets and Sips, located at the Morocco Pavilion in World Showcase, offers an assortment of desserts: cookies, baklava, and other pastries are available for your choosing. But my favorite thing on their menu is one of their beverages: the Frozen Citrus-Pomegranate Slushy. It's tart, flavorful, and refreshing; perfect for a hot day walking around World Showcase! And if you'd like to kick it up a notch, it can also be served with Absolut Mandarin Vodka- yum!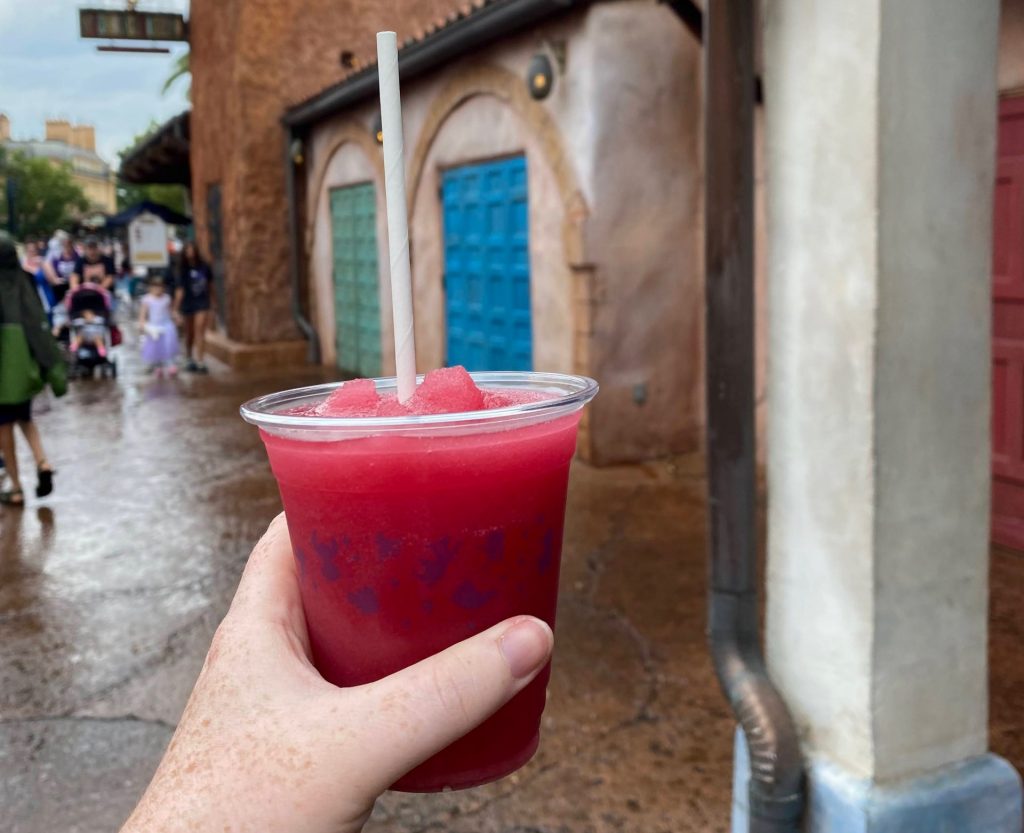 2. French Ice Cream – $5.75 to $13.95
Another frozen treat to cool you off in the hot sun! At the France Pavilion, you'll find L'Artisan des Glaces, an ice cream and sorbet shop. They have a wide range of flavors, including the classics Chocolate, Vanilla, and Coffee, and specialty flavors like Cinnamon Caramel Apple and Coconut-White Chocolate! They also have other desserts like the Café Glacé, an iced cappuccino with a scoop of ice cream topped with whipped cream, or the Croque Glacé, a scoop of ice cream with a sauce of your choosing pressed warm in a homemade brioche!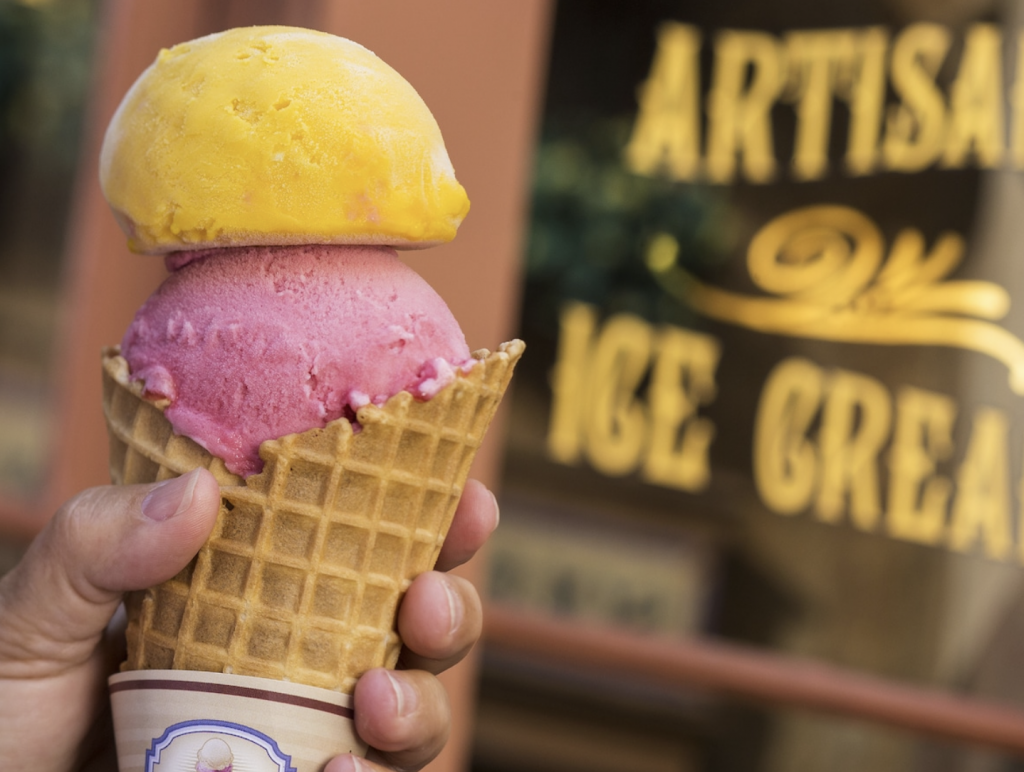 3. Chips – $3.99
Personally, I love a thick-cut french fry, and the Chips at Yorkshire County Fish Shop in the United Kingdom Pavilion really hit the spot! Freshly fried, these chips are served perfectly crispy on the outside. You could pair them with one of their beer options: the Bass Ale, a Pale Ale from the United Kingdom, or the Harp Lager, a Pale Lager from Ireland. And if you need a little more sustenance, or would like to split your snack with friends or family, order their Fish and Chips dish instead!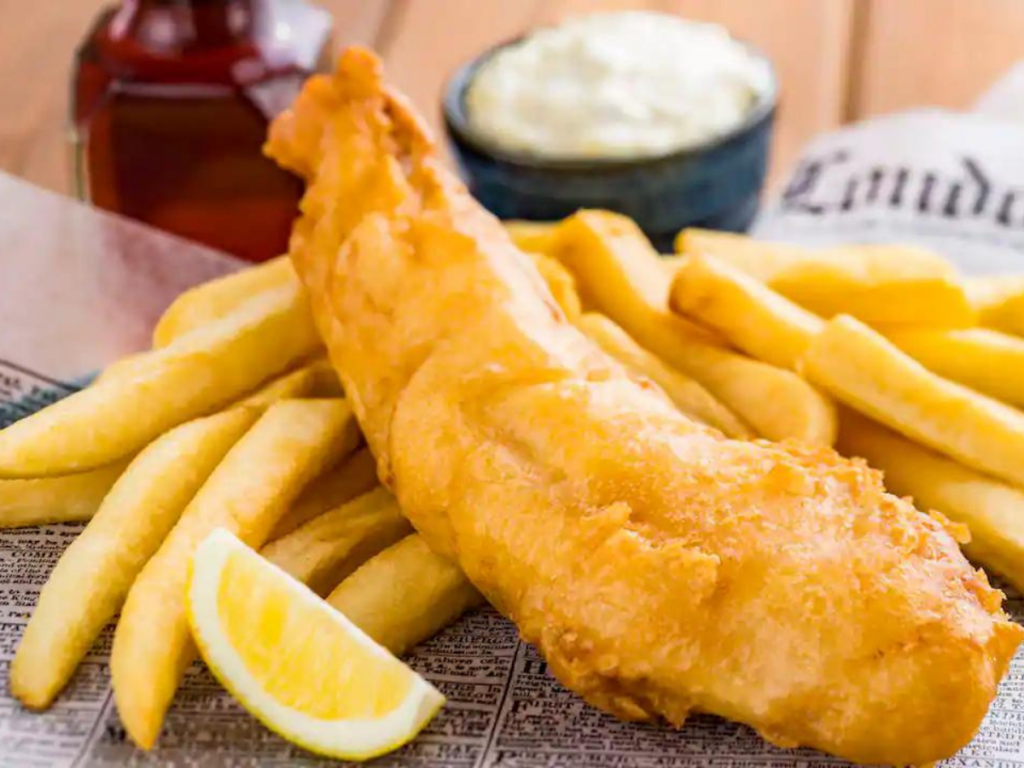 4. Tacos – $10.50
If you're looking for a snack at the Mexico Pavilion, look no further than Choza de Margarita! They serve Tacos de Cochinata, citrus-marinated pulled pork on corn tortillas topped with pickled red onions, a mango habanero relish, and served with a side of corn esquites! They also serve Guacamole, Empanada de Barbacoa, Elote, and Tostado de Pollo, so there are quite a few snacks to choose from. Pair your food with one of their margaritas and you'll be good to go!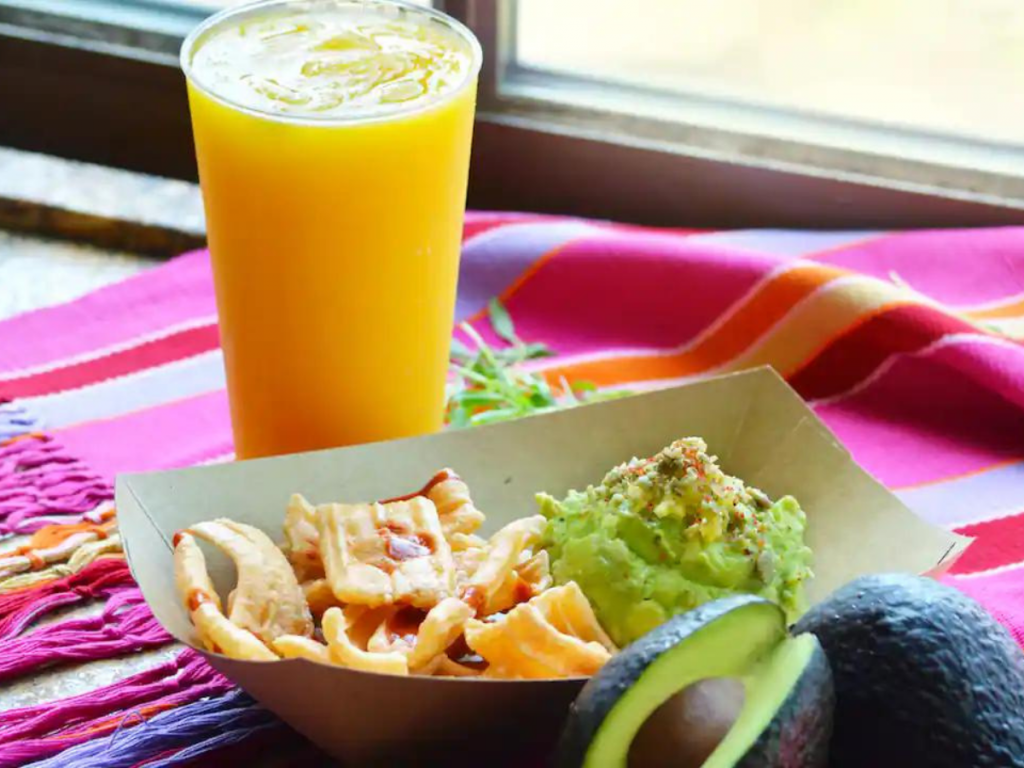 5. Any Festival Booth Snack
Throughout the year Epcot hosts four annual festivals: the Festival of the Arts, the Flower and Garden Festival, the Food and Wine Festival, and the Festival of the Holidays. And there are so many amazing snacks offered during the festivals at Epcot that I couldn't just choose one! Some of my favorites from this past year include:
Flower And Garden 2022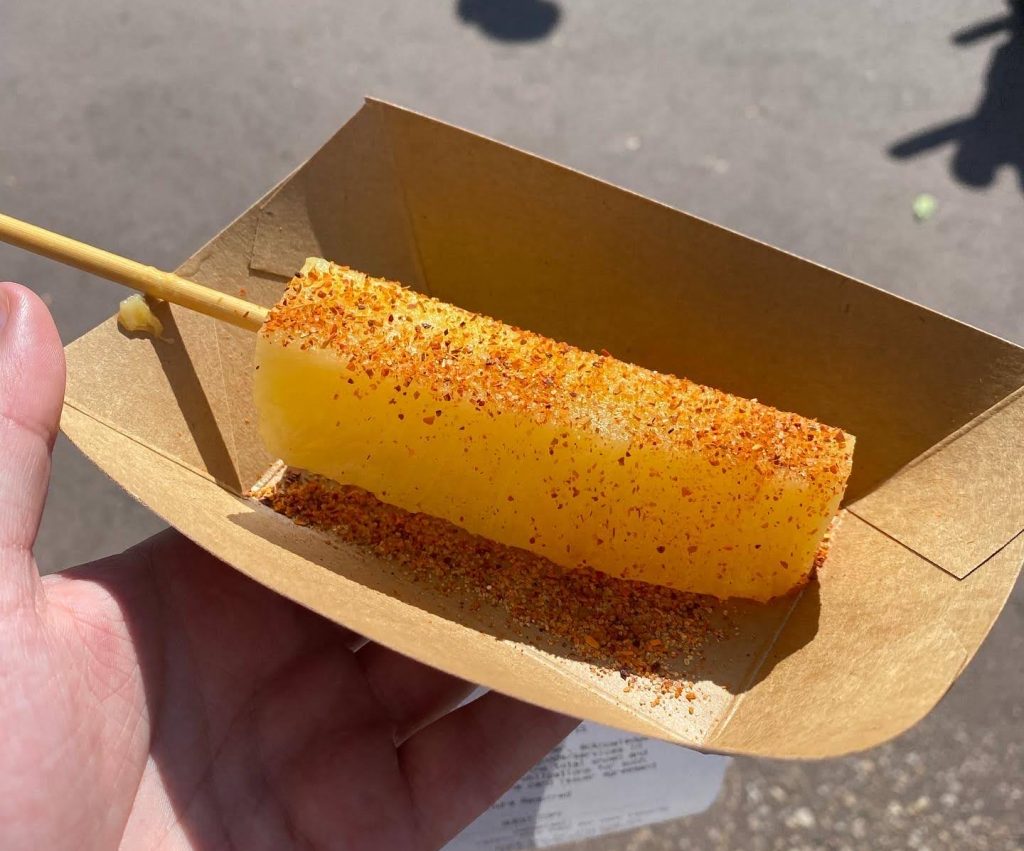 Taco Vampiro from the Jardin de Fiestas Booth: a corn tortilla with barbacoa beef, monterey jack cheese, salsa, and esquites
Pineapple Skewer from Refreshment Outpost: topped with tajin
Food And Wine 2021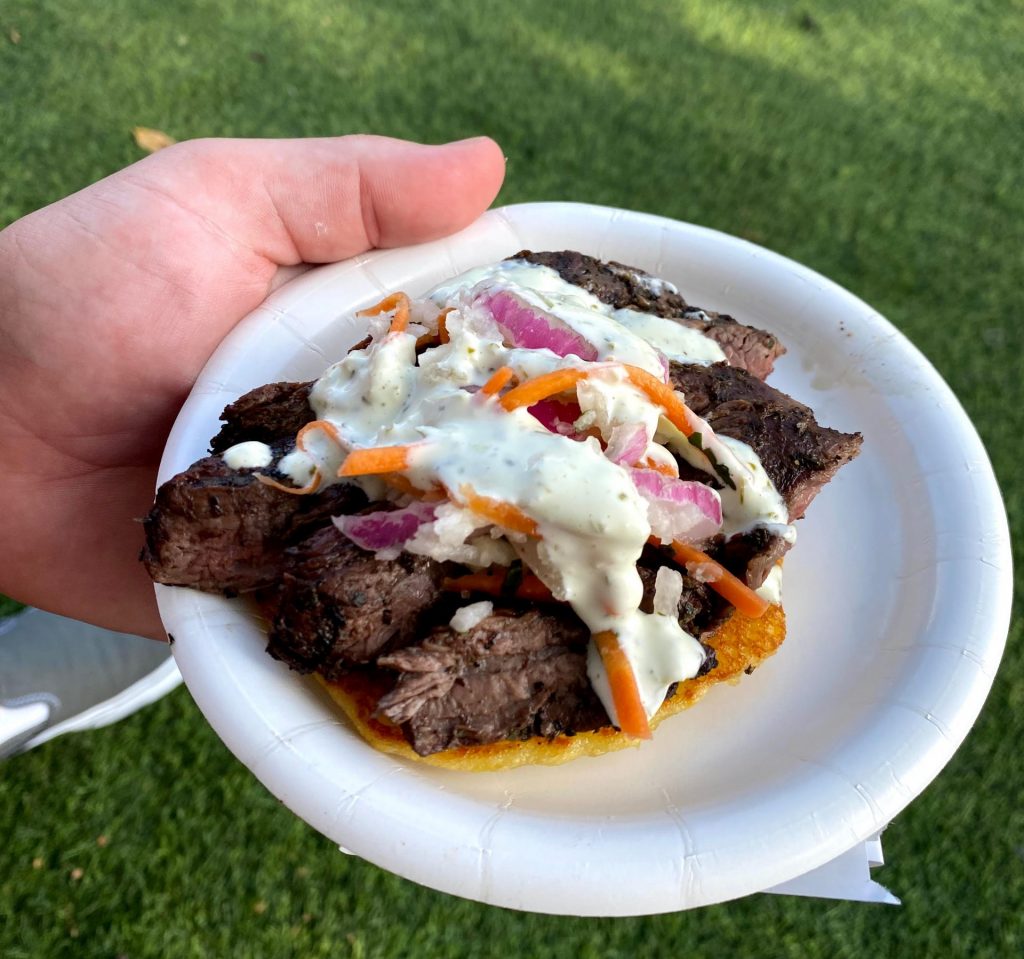 Beer-braised Beef from the Belgium Booth: served with smoked gouda mashed potatoes
Corned Beef from Flavors From Fire Booth: with potato crisps, pickled onions, cheese curds, and fondue
Chimichurri Steak from Flavors From Fire Booth: served on a corn cake and topped with slaw and cilantro aïoli
With all the options they have, it shouldn't be difficult to find something you like! Let us know what your favorite snacks are from EPCOT below!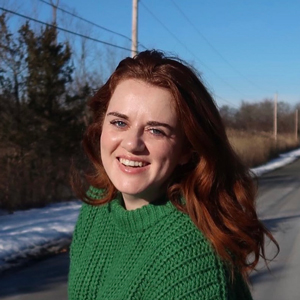 Written by
Brittany Gallant
Contributing Writer
Brittany has been traveling to Walt Disney World since she was two years old. Now a Disney Vacation Club member and annual passholder, you can often find Brittany at The Most Magical Place On Earth. She and her family are always looking for something new, whether that's a restaurant they haven't tried, a hotel they haven't stayed at, or an adventure not yet experienced.