EPCOT's Flower and Garden Festival began on March 2nd, 2022, and will continue to run until July 4th. During this time, EPCOT is covered in beautiful topiaries, flowers, fruits, and vegetables. But what I'm most excited about during these events are the booths! Though there aren't as many as Food and Wine Festival, which begins July 14th, the Flower and Garden Festival still brings some great food and drinks to the table. Below were some of my foodie favorites from this year's festival!
Taco Vampiro from Jardin de Fiestas
Located in the Mexico Pavilion, Jardin Fiestas offered some great options including my favorite, the Taco Vampiro. This dish includes a corn tortilla layered with crispy monterey jack cheese, filled with barbacoa beef, and topped with salsa ranchera and esquites. Everything about this dish was delicious, and we paired it perfectly with the Poppy Flower Margarita- a mix of tequila blanco, blackcurrant liqueur, aperitivo, cucumber juice, hibiscus flower tea, and topped with a chile salt rim!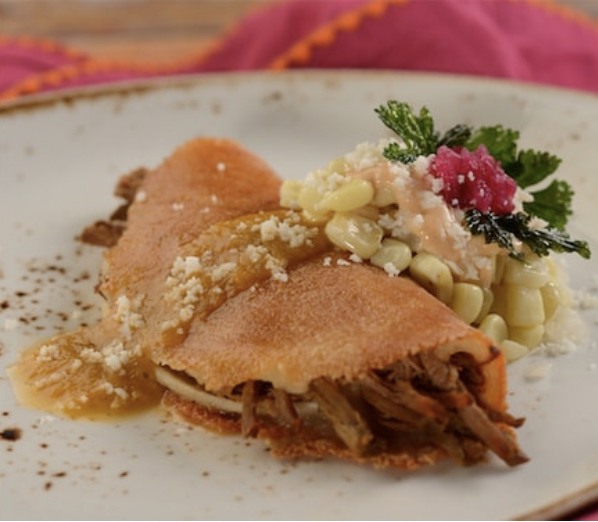 Corned Beef Brisket Hash from Sunshine Griddle
Over by Test Track, you'll find the Sunshine Griddle and if I could've, I would've tried it all. Between the Fried Cinnamon Roll Bites, the Shrimp and Grits, and the Avocado Toast, their menu was mouthwatering. However, what really caught my eye was the Corned Beef Brisket Hash- house-made potato barrels covered in peppers, onions, and cheese curds.  Topped with a soft-poached egg and Tabasco hollandaise, the flavors paired well with the meat, which was rich and tender.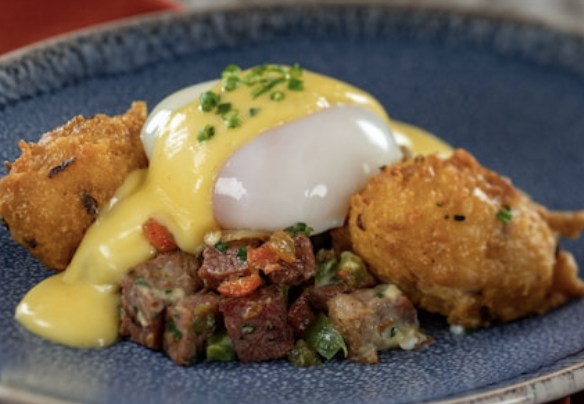 Pineapple Skewer from Refreshment Outpost
The Refreshment Outpost, located between the China and Germany Pavilions, serves a few drinks options, a Tangerine soft-serve dish, and my favorite, the Pineapple Skewer. There's just something about the combination of sweet, tangy fruit like Pineapple and a salty, spicy seasoning like Tajín that I crave, so this skewer did not disappoint. Simple, refreshing, and delicious!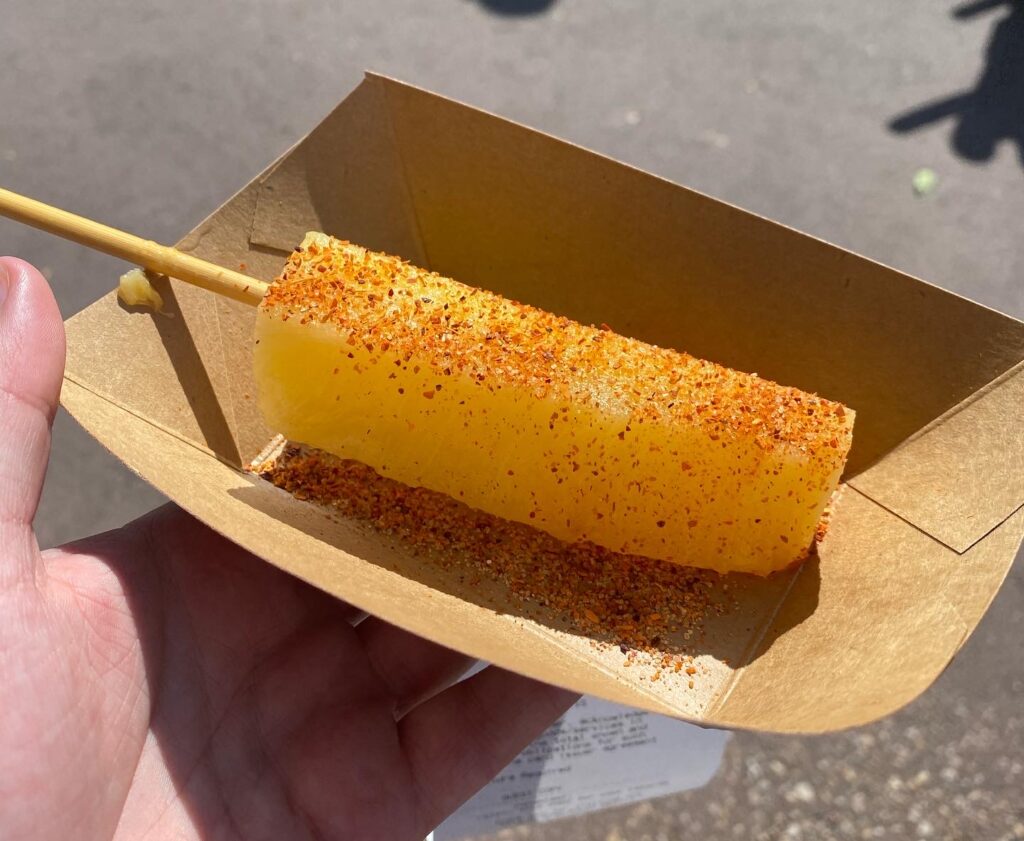 Seared Scallops from Northern Bloom
In the Canada Pavilion, sits the Northern Bloom booth. Its menu includes Beef Tenderloin Tips, Griddle Maple Pound Cake, and my favorite, the Seared Scallops. Accompanied by green beans, potatoes, and topped with a brown-buttered vinaigrette and bacon bits, this dish was refreshing. The scallops were cooked perfectly, and the flavors were wonderful.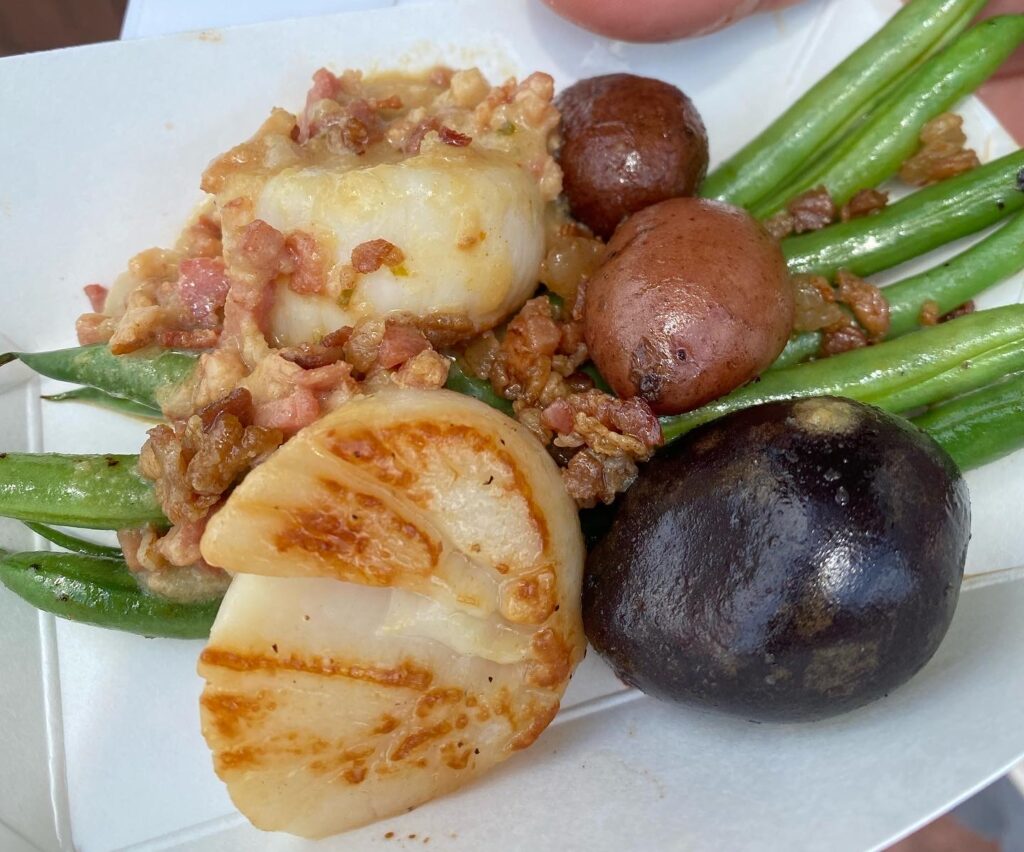 Potato Pancake from Bauernmarkt: Farmer's Market
Last on my list is the Potato Pancake from Baurenmarkt in the Germany Pavilion. They offer this dish in two ways: with applesauce or with caramelized ham, onions, and herb sour cream, and we tried the latter. We got this after attempting to wait out the rain in the China Pavilion, and it was just what we needed. We paired it with the Raspberry Radler. They also have a Toasted Pretzel Bread which is served with black forest ham and gruyère cheese, and a Warm Cheese Strudel topped with mixed berries. Yum!
Honorable Mention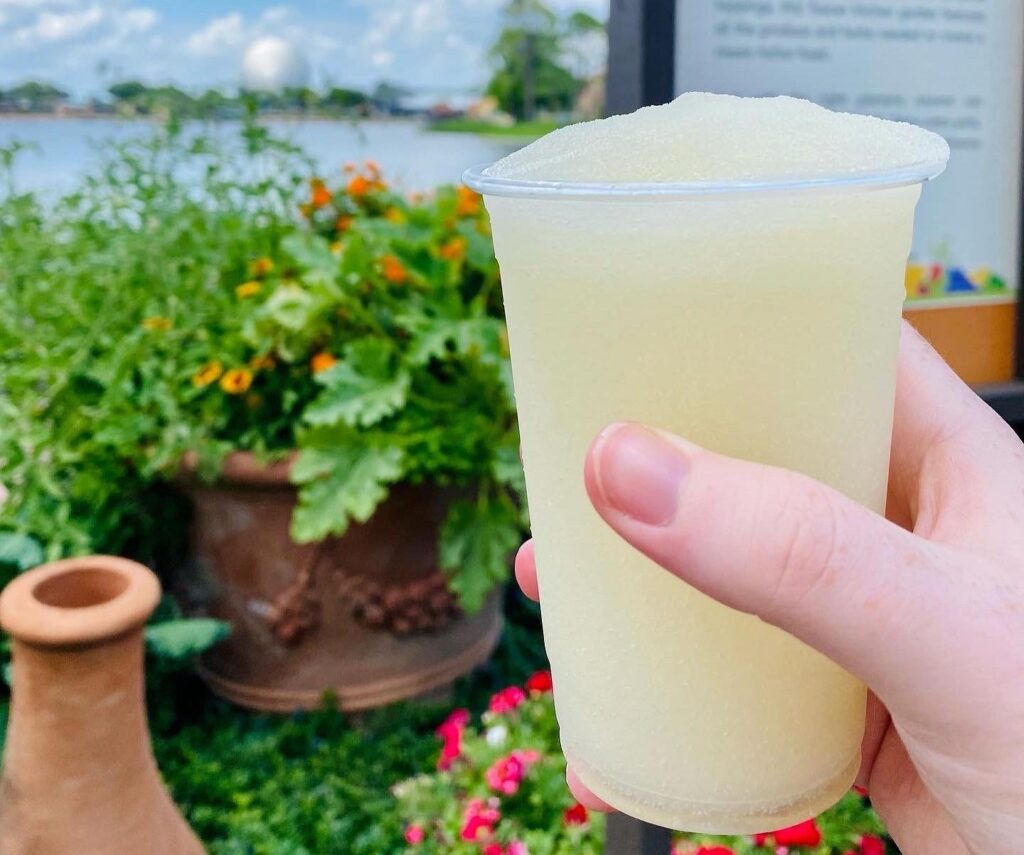 We got to try awesome food during the Flower and Garden Festival, but there was a drink that deserves some recognition: the Italian Margarita from Primavera Kitchen in Italy. Though it might sound basic, a frozen drink with limoncello and tequila, in its simplicity was perfection, and I highly recommend this as a way to cool off on a hot day!
What are your favorite eats at this year's Flower and Garden Festival? Let us know in the comments!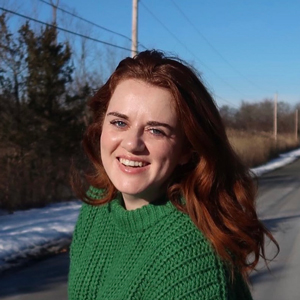 Written by
Brittany Gallant
Contributing Writer
Brittany has been traveling to Walt Disney World since she was two years old. Now a Disney Vacation Club member and annual passholder, you can often find Brittany at The Most Magical Place On Earth. She and her family are always looking for something new, whether that's a restaurant they haven't tried, a hotel they haven't stayed at, or an adventure not yet experienced.