While budgeting for our trips to Walt Disney World, one of the first things I think of is food- and often, that's where I like to splurge! However, there are times when I'd rather put that money towards a tour or experience, an upgraded hotel room, or even some merchandise to bring home. When that's the case, I go for my favorite inexpensive options- not only do they taste good, but they don't hurt the wallet, either. Check them out below!
Magic Kingdom
Snacks: The Friar's Nook
Pricing Category: $14.99 and under
Located in Fantasyland, The Friar's Nook has a lot of quick-service options. But if you're just looking for something to snack on at a great price point, look no further than to their tater tots! During breakfast, you can get this side dish with gravy and sausage, and at lunch or dinner, it comes with cheese sauce. And for only $5.29, it's a steal. If you're hoping to kick it up a notch, in the past they've offered specials like the Loaded Buffalo Chicken Tots, Loaded Fiesta Tots, and Pub Tots, and these options start at $9.49.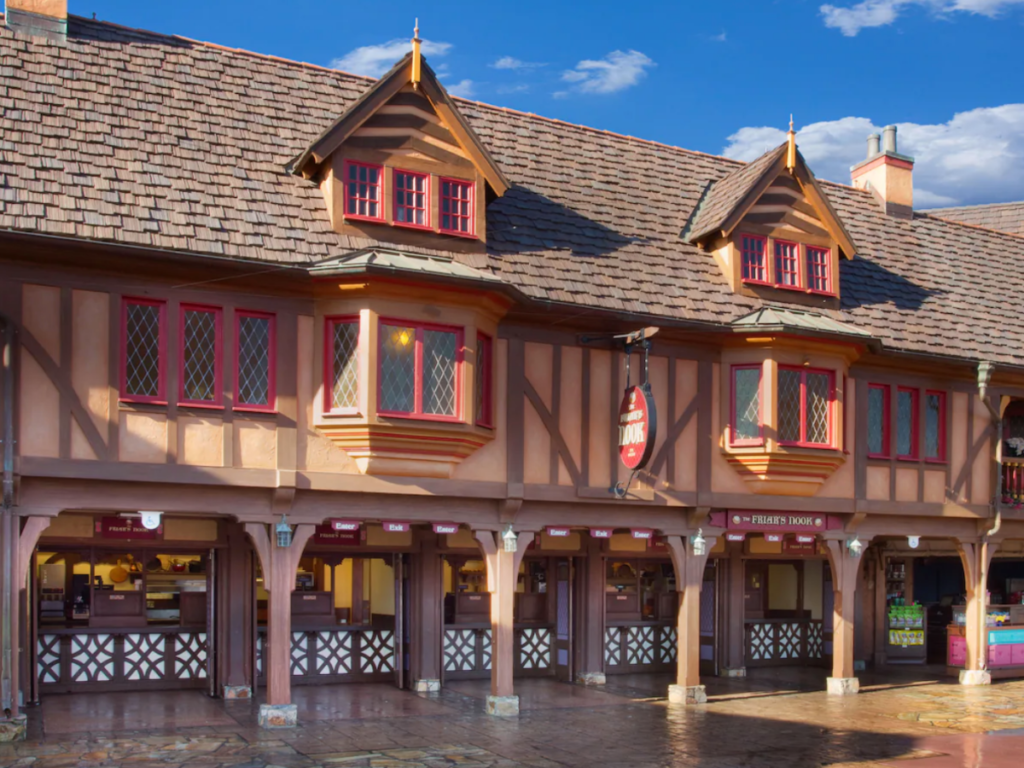 Quick Service: Casey's Corner
Pricing Category: $14.99 and under
There's nothing better than the classics, and Casey's Corner brings just that- and more. Their All Beef Hotdogs can be served plain, with chili-cheese, or with special toppings like strawberry-bacon jam, crisp funnel cake pieces, and powdered sugar. At Casey's Corner, there's more to choose from than you'd think! They even have a plant-based dog- whether you get it loaded or not is up to you.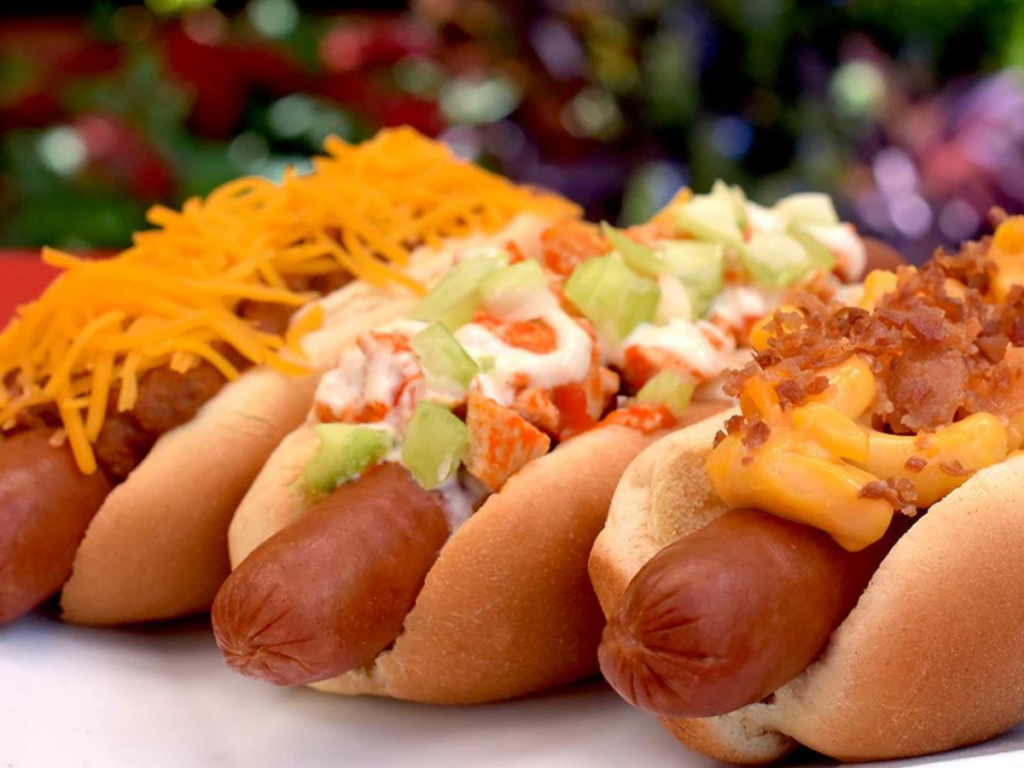 Table Service: The Plaza Restaurant
Pricing Category: $15 to $34.99
Right on the corner of Main Street U.S.A is The Plaza Restaurant. Between the delicious appetizers (Plaza Loaded Fries? Yes PLEASE!) and some great sandwiches like the Monte Cristo or Roast Beef Au Jus, The Plaza Restaurant will have something for you and your family. And don't skip out on dessert- if you're not interested in one of their four sundae options, they also offer milkshakes and bread pudding!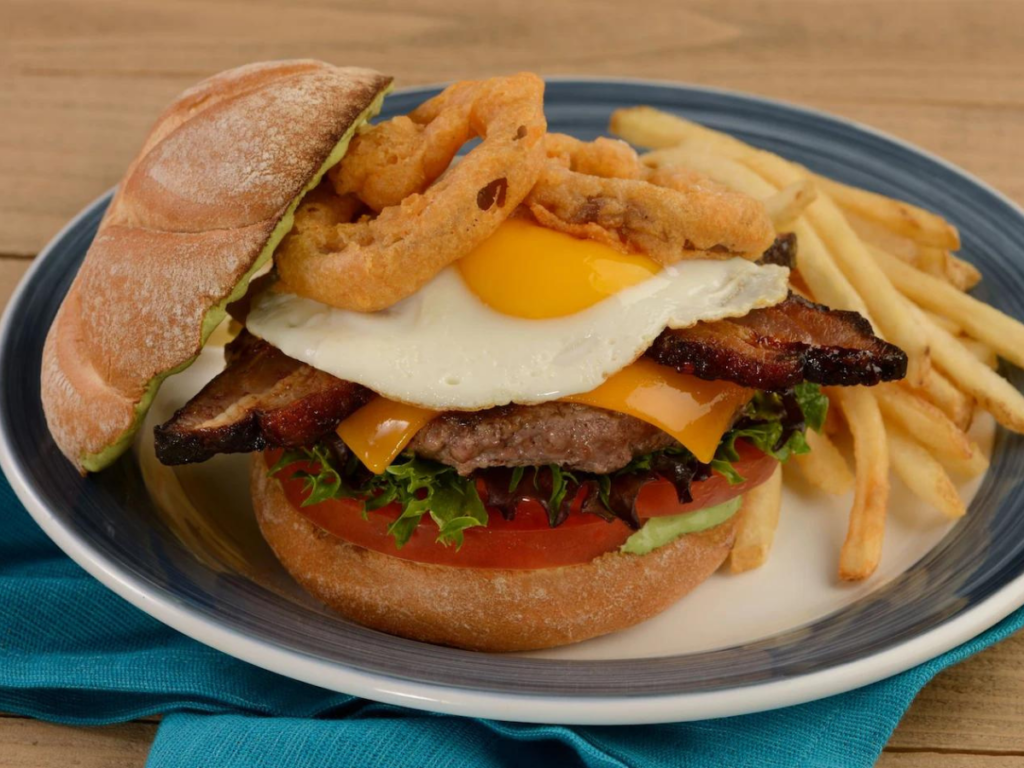 Epcot
Snacks: Any of the Booths!
Pricing Category: $14.99 and under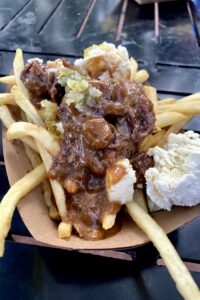 Epcot is known for its festivals and my favorite part are the food booths! Although none do food quite like The Food and Wine Festival, each one brings something new and fun to your plate. If you're interested in what's available at the 2022 Flower and Garden Festival, check them out here! But, if you're looking for a snack that's year-round, The Refreshment Port has some good poutine. Located in World Showcase, they offer Traditional Poutine served with french fries, beef gravy, and cheese curds for $7.50. The last time I went they had a Braised Beef special, so keep your eyes out for new offerings throughout the year.
Quick Service: Regal Eagle Smokehouse
Pricing Category: $14.99 and under
The Regal Eagle Smokehouse, located in the American Adventure Pavilion, made its debut in 2020. Bringing barbecue options like Memphis Dry-rub Pork Ribs, Sliced Texas Beef Brisket Sandwich, and a Chopped Smoked Pork Butt Platter, the mains aren't even the best part. With each plate (excluding salads) you get a choice of a side: beer-battered onion rings, french fries, baked beans, macaroni and cheese, or coleslaw. And if you're looking to add some flavor to your dish, they have four sauces to choose from: a savory spice, classic smokehouse, sweet mustard, and vinegar-based sauce.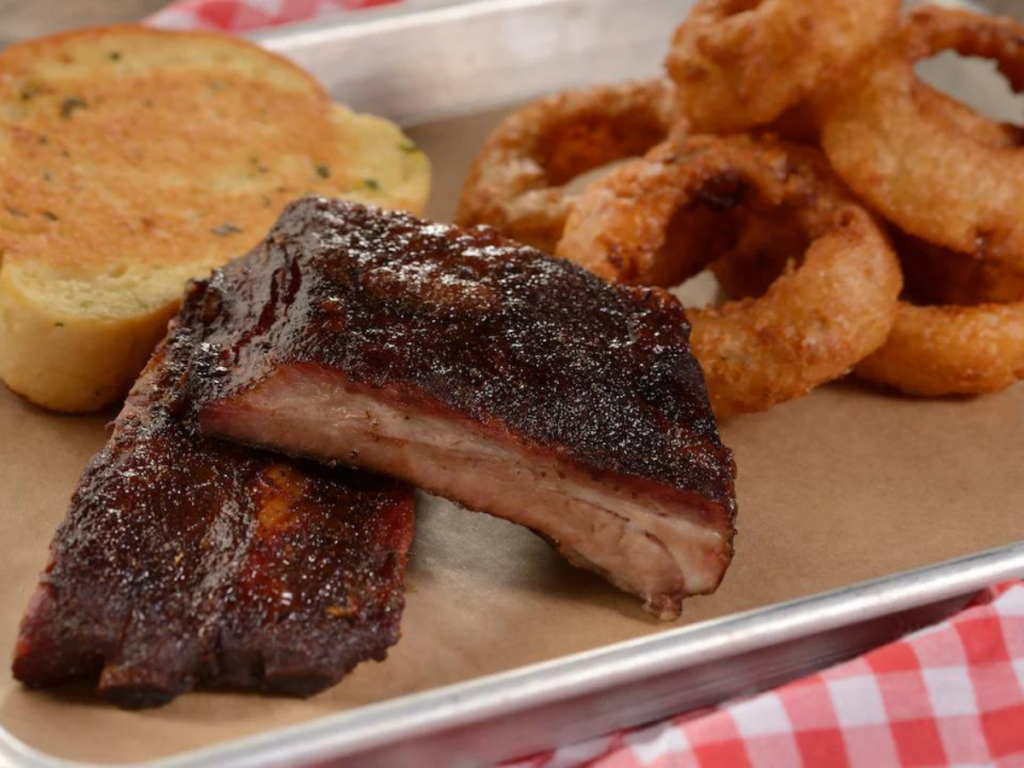 Table Service: Rose & Crown
Pricing Category: $15 to $34.99
In the United Kingdom pavilion, along the water, you'll find a restaurant called the Rose & Crown. This British dining option serves up a great menu in a pub-style setting. For appetizers, we always get a Scotch Egg, but they also have a United Kingdom Cheese Platter, Coronation Salad, and their Soup of the Day. For mains, you can choose from the Bangers and Mash, a Welsh Pub Burger, Shepherd's Pie, Chicken Masala Curry, and of course, Fish and Chips (my favorite)!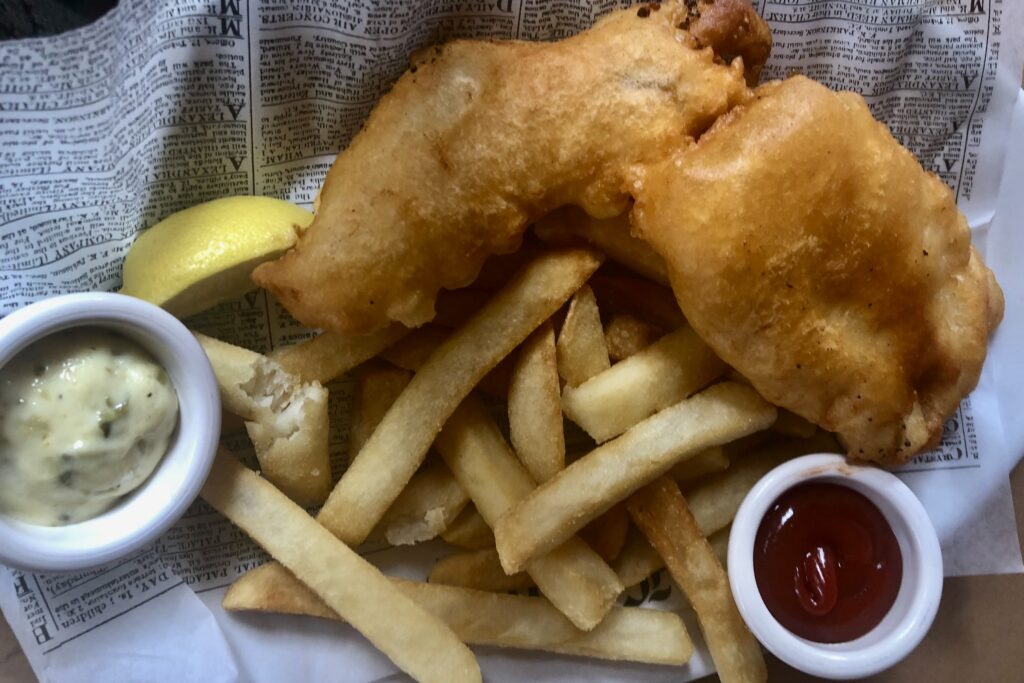 Hollywood Studios
Snacks: Woody's Lunch Box
Pricing Category: $14.99 and under
Woody's Lunch Box, located in Toy Story Land, has a lot of affordable lunch options. But if you're looking for a quick snack, they also serve four lunch tarts at $4.29. Their current flavors include Banana-Fudge, Chocolate-Hazelnut, Raspberry, and Lemon-Blueberry. You can even try them ahead of time by making your own with this copycat recipe! If you'd rather go savory than sweet, you could get a side of Potato Barrels (tater tots) for $3.49, or even add cheese sauce on top for an additional $1.00.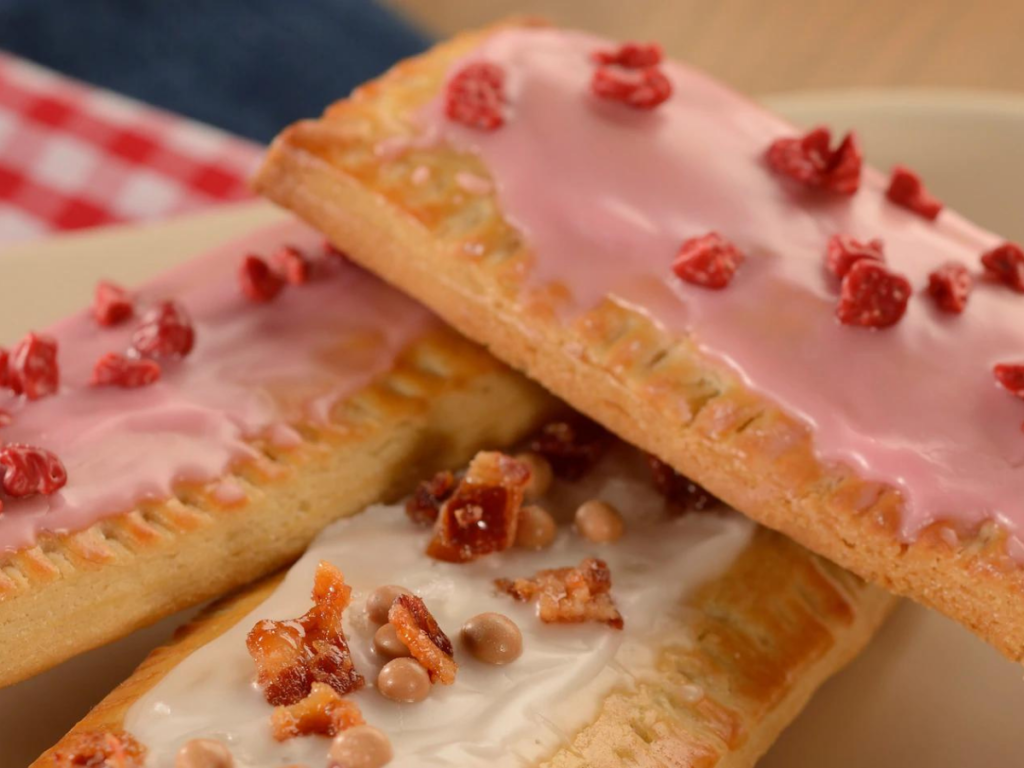 Quick Service: ABC Commissary
Pricing Category: $14.99 and under
During my last trip to the Happiest Place on Earth, I was really impressed with our lunch at ABC Commissary.  They had some well-rounded options and everyone in our party of 10 was able to find something they liked and at a good price. For entrees, their menu includes Shrimp Tacos, a Chicken Club Sandwich, Buffalo Chicken Grilled Cheese, Pork Carnitas Tacos, and a Mediterranean Salad with or without chicken. They also serve a plant-based option, called the California Burger, and sides such as beans, rice, or salad.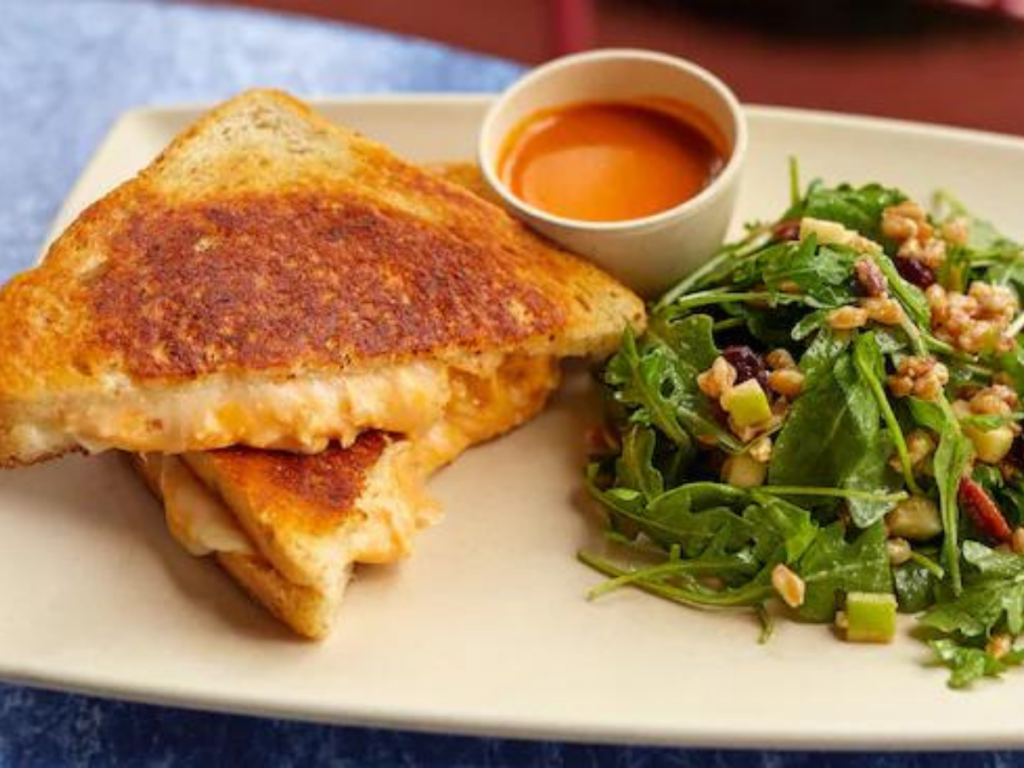 Table Service: 50's Prime Time Café
Pricing Category: $15 to $34.99
Not only is 50's Prime Time Café an experience, but it's also a less-expensive sit-down option. Serving comfort food straight out of the '50s, you'll find menu items like Aunt Liz's Golden Fried Chicken, Mom's Old-fashioned Pot Roast, or Cousin Megan's Traditional Meatloaf. If you can't decide, you're in luck: they also offer a Sampling of Mom's Favorite Recipes, where you can try all three of the meals mentioned. And if you're like me, you're going to want dessert- of course, they have an Ice Cream Sundae or Warm Apple Crisp, but a milkshake is never a bad idea. They even made it into A Picky Eater's Guide to Walt Disney World!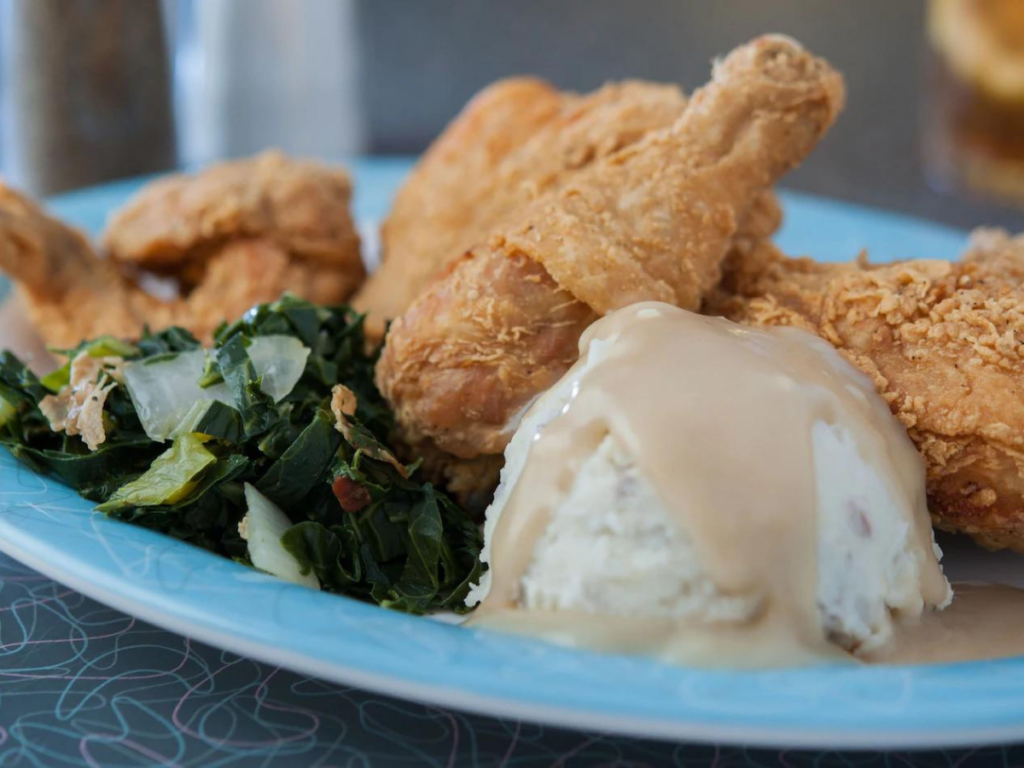 Animal Kingdom
Snacks: Mr. Kamal's Fries
Pricing Category: $14.99 and under
Mr. Kamal's has the perfect, handheld snacks for walking around Animal Kingdom. It isn't always open, but when it is, it's worth the stop; they sell two great snack options- Chicken Dumplings with Ponzu and Mr. Kamal's Seasoned Fries for $5.99 each. The fries were previously offered with a tzatziki topping and sriracha ketchup, but now they come with no toppings and you instead can choose a sauce (or two!) for dipping. These sauces have changed in the past, but currently, according to Disney's app, the options are Curried Honey Mustard or Korean Chili Ketchup.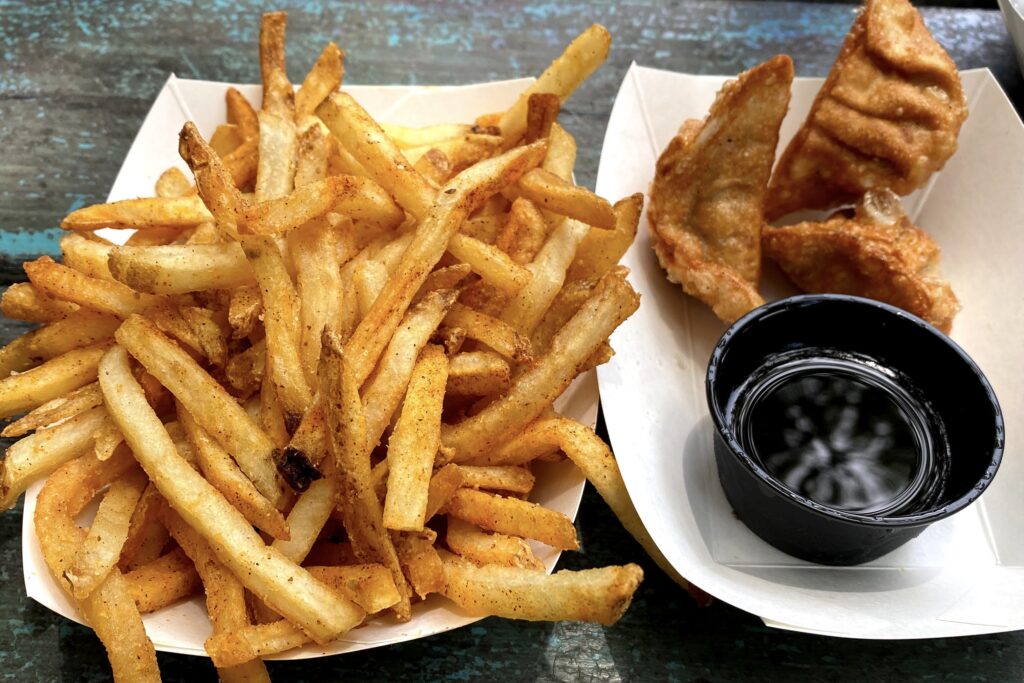 Quick Service: Flame Tree Barbecue
Pricing Category: $14.99 and under
Another barbecue option, I know, but they really have some good meals for an even better price! And honestly, how can you go wrong ordering Baked Mac and Cheese with Pulled Pork? Flame Tree Barbecue also serves a St. Louis Rib Dinner, 1/2 Chicken, or a Pulled Pork Sandwich. And if you're looking for a plant-based option, their Hot Link Smokehouse Sandwich has a plant-based sausage, topped with onions, sauce, and a slaw. As for sides, you can choose between options like collard greens, french fries, and an onion ring basket.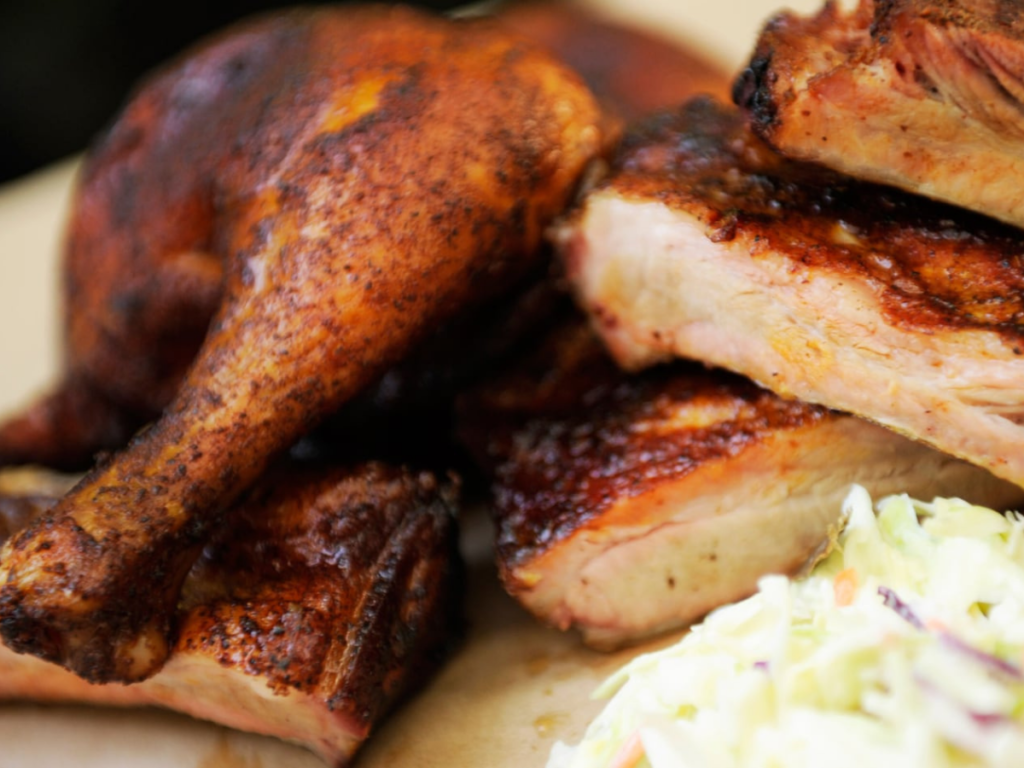 Table Service: Yak & Yeti
Pricing Category: $15 to $34.99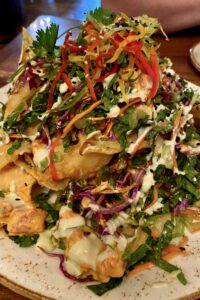 Yak & Yeti is one of my favorite restaurants on property- and it's not just because of the beautiful decor. From appetizer to dessert, the food is impressive. They have small plate options like Pork Potstickers, Pork Egg Rolls (my favorite!), Wok-Fried Green Beans, and Firecracker Shrimp. One of their most popular items, the Ahi Tuna Nachos, is on their shareable menu: fried wontons are covered in ahi tuna, slaw, wasabi aioli, and a sweet soy glaze. I tried it for the first time this past July and now it's a must! And it's so filling- between that and the Pork Egg Rolls, I barely made a dent in my Coconut Shrimp. If you needed any more convincing, check out this review!
What is your favorite place to eat at Walt Disney World? Let us know in the comments!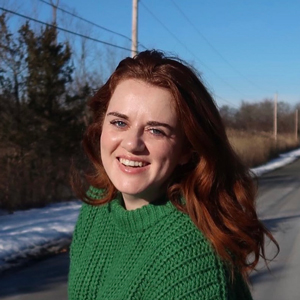 Written by
Brittany Gallant
Contributing Writer
Brittany has been traveling to Walt Disney World since she was two years old. Now a Disney Vacation Club member and annual passholder, you can often find Brittany at The Most Magical Place On Earth. She and her family are always looking for something new, whether that's a restaurant they haven't tried, a hotel they haven't stayed at, or an adventure not yet experienced.