Just a stone's throw away from Disney's California Adventure park is Disney's Grand Californian Hotel & Spa. This luxurious hotel is home to a restful spa, incredible dining experiences, and beautiful rooms and suites. With stunning pools and close proximity to Disneyland, this hotel is unmatched by any other. Your time at Disney's Grand Californian Hotel will not disappoint. Here are some tips to make your first stay a great one!
Spend Time Roaming
Sometimes the best thing you can do to make the most out of your time at any Disney resort is simply spend time there. Don't simply walk from point A to point B. Take time to explore Disney's Grand Californian and soak in the details and ambiance that Disney Cast Members work so hard to provide. The resort itself is modeled after National Park lodges, and they are designed in a craftsman-style that is unique to California. The lobby is adorned with stained glass windows, lush armchairs, beautiful light fixtures, and a large fireplace. If there ever were a place to simply be still and observe, it would be Disney's Grand Californian Hotel lobby. Don't forget to stop in the hotel gift shop Acorns Gifts & Goods.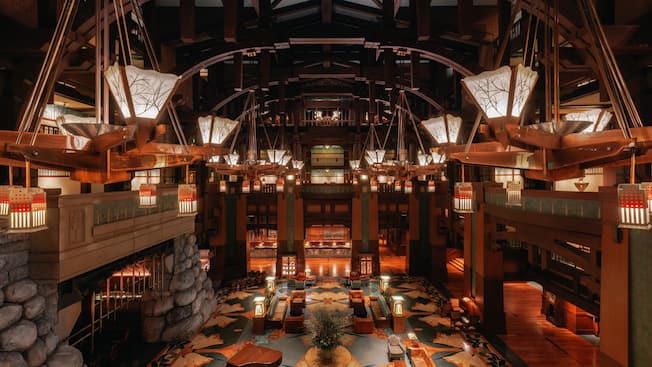 The guest rooms at Disney's Grand Californian are thoughtfully designed with woodwork and your favorite forest animals featured throughout. Chip and Dale can be found above the beds, as well as Bambi and other friends. The guest rooms range from standard rooms to luxury three-bedroom suites, with several views offered including those overlooking Downtown Disney.
Enjoy Several Dining Options
Disney's Grand Californian Hotel offers several top-notch dining options. Napa Rose is an upscale restaurant serving Californian fare and offering an extensive wine list. Napa Rose suggests guests allow two hours to fully enjoy this dining experience, and guests are encouraged to dress appropriate to a wine-country ambiance. Prices begin at 60 dollars per guest, and the restaurant is open for both breakfast and dinner.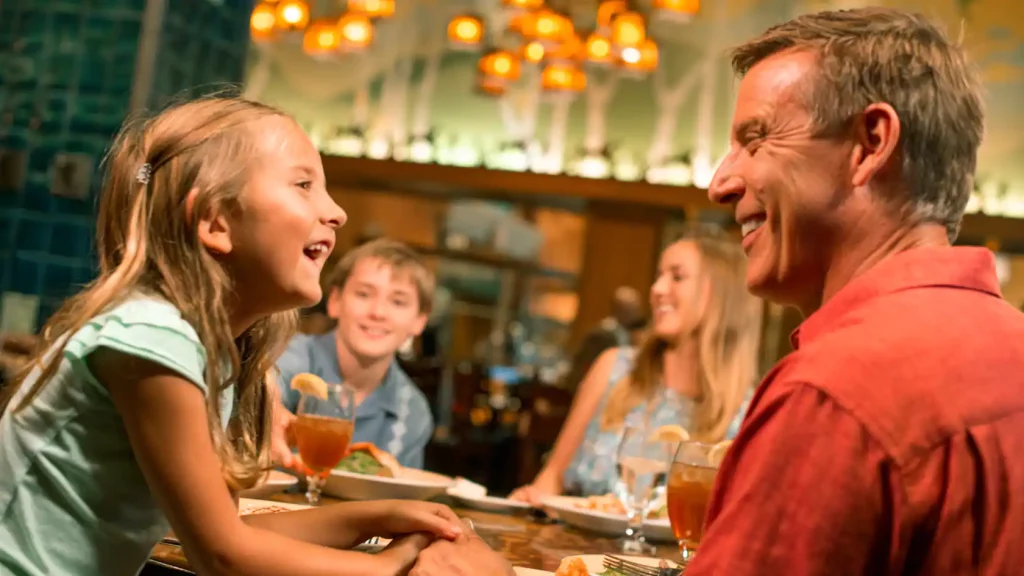 Storyteller's Cafe is a buffet-style restaurant that features a character breakfast and brunch with Mickey and friends. Storyteller's Cafe also serves dinner, but it is not a character dining experience. Breakfast classics such as omelets, waffles, frittatas, pastries, and carved meats are served. For dinner, expect flatbread, chicken, fish, prime rib, and more.
If you are looking for quick-service, check out GCH Craftsman Grill which offers a variety of grab-and-go options as well as gourmet breakfast and lunch foods such as smoked salmon bagels and artisanal pizzas. There is something for everyone at this quick-service dining location, and it is a great choice for a quick bite after a long day at the parks.
There are two bars on property at Disney's Grand Californian Hotel: GHC Craftsman Bar and Hearthstone Lounge. GHC Craftsman Bar is poolside and serves up cocktails and quick bites. Hearthstone Lounge is located inside near the large fireplace in the lobby and offers a cozy place to grab a drink and something to eat.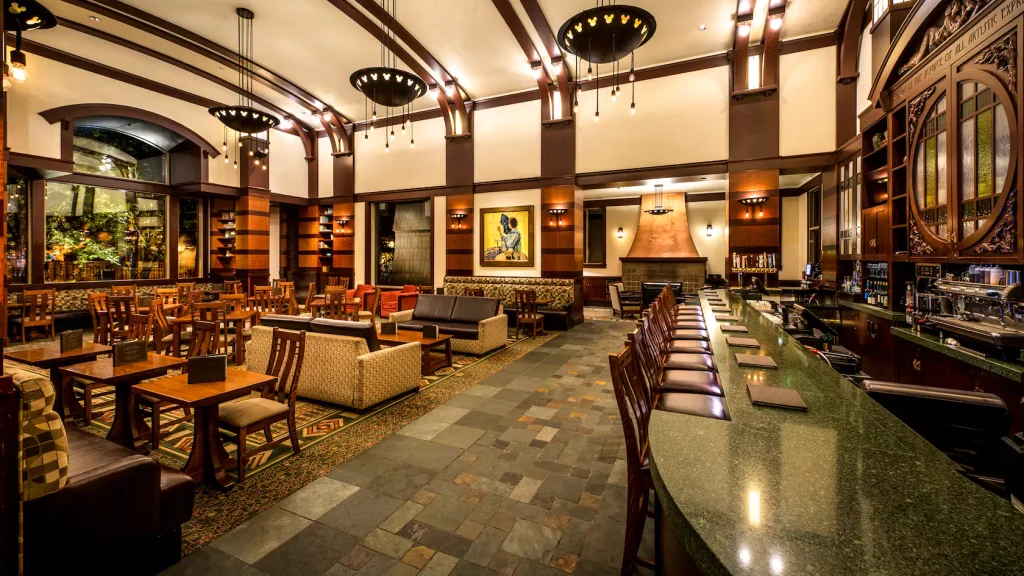 Take Advantage Of Pools And Recreation
As with any Disney DVC resort, Disney's Grand Californian has several pools. There are three pools onsite: The Fountain, The Redwood, and The Mariposa. The Mariposa and Fountain pools offer private cabanas for rent so you can relax privately and worry-free. If you don't like skipping your workout on vacation, the Eureka Fitness Center is home to high-tech machines, treadmills, stair-climbers, ellipticals, bikes, free weights and weight machines. The fitness center also offers fitness classes such as yoga and meditation. Disney's Grand Californian also has seasonal guest activities; check in with guest services to see what is being offered during your visit.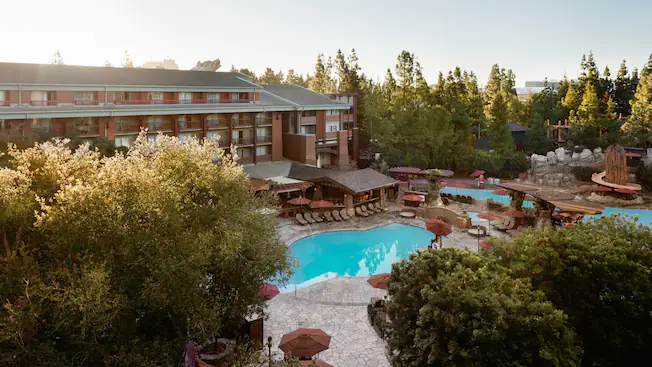 Book A Spa Day
Tenaya Stone Spa is located inside of Disney's Grand Californian Hotel. This is a full-service spa focusing on health and serenity. If you are staying at Disney's Grand Californian, you surely deserve to treat yourself with a spa day! Choose from massage, herbal body treatments, skincare, foot treatments, salon services, and wellness activities to really relax and rejuvenate your spirit. Tenaya Stone Spa wishes for guests to enter a dream-like state and release stress. This experience is truly one-of-a-kind and must be experienced by all.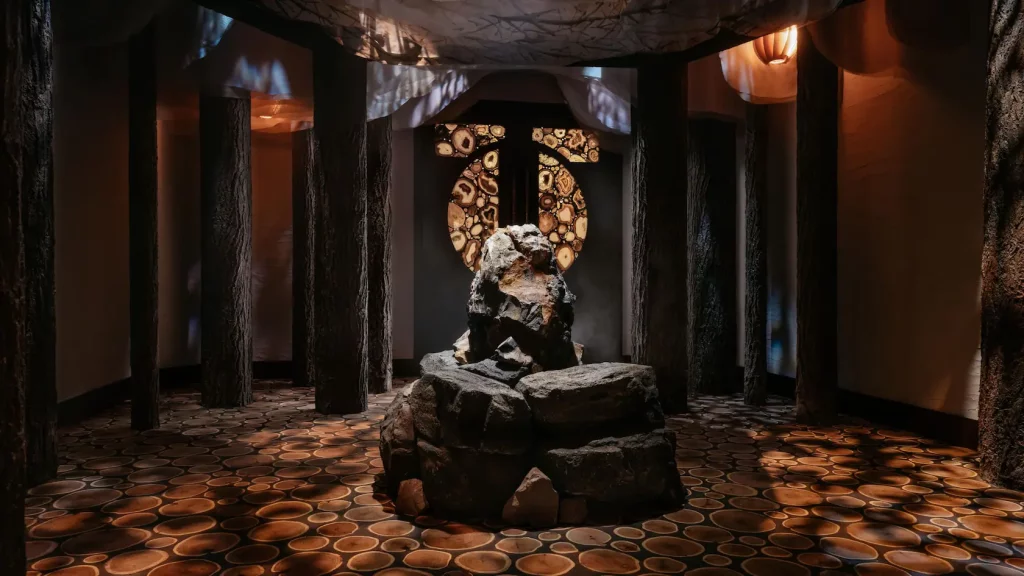 Overall, Disney's Grand Californian Hotel is a unique resort that has much to offer. Have you ever stayed at Disney's Grand Californian? What tips do you have for first-timers? Let us know in the comments below.
Written by
Megan Woodard
Contributing Writer
Megan was born into a Disney family. Her first trip to Disney World was when she was only 18 months old. Now as an adult, Megan loves to share the magic of Disney with her two toddlers. Keeping up with Disney news and Disney World knowledge is a fun hobby for Megan. Disney World is her favorite place to be and continuously brings back her childhood joy.