Dine in elegance with upscale Californian cuisine and an award-winning wine list at Napa Rose.
Napa Rose Details

Disneyland Location:
 Disney's Grand Californian Hotel & Spa
Location in Resort:
First floor
Dining Experience:
Fine/Signature Dining, Table Service
Hours:
5:30 PM to 9:00 PM
Price Range:

over

 

$60

 

per

 

adult

Type of Cuisine:
American, Californian
Mobile Order:
No
Reservations:
Yes
Allergy-Friendly:
No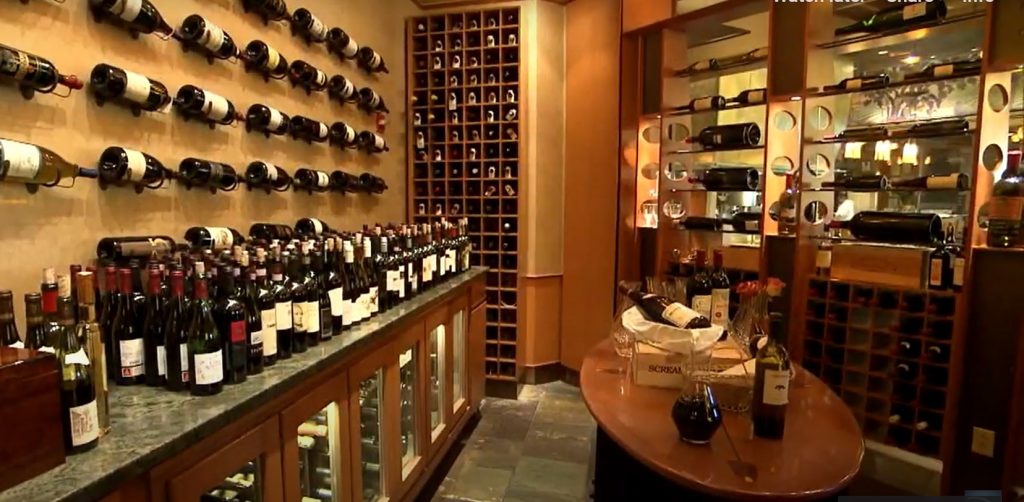 Overview
As you enter Napa Rose, you'll be greeted with an upscale ambience that defines fine dining. From the glass-walled wine cellar, to the vaulted ceilings, and freshly pressed white table cloths, guests immediately realize their meal will be one to remember. The restaurant dons a crescent shape, opening guests to the grandeur of the décor and a large wall of tall windows which provide a view of Grizzly Peak in Disney California Adventure.
Napa Rose highlights California wine country cuisine, serving fresh and seasonal plates. Chef Andrew Sutton has won prestige for his culinary innovation and flavors and can even prepare a tasting menu customized to your preferences. Guests may order their desired dishes from either a prix fixe Vintner Menu or a la carte. For those 21 and older, a cast member can confidently recommend a red or white wine to pair perfectly with your meal. Guests may order by the glass or bottle from their award-winning selection.
While perhaps more known for its signature dining experience at dinner, Napa Rose is also the home to a special character experience in the morning. Disney Princess Adventures Breakfast takes place each morning from 8:00AM-11:00AM. Here guests of all ages will enjoy a 3-course meal while also participating in princess-themed activities such as story-time with Belle or learning warrior poses with Mulan. Photo opportunities on the private patio and a special keepsake are also included in the price of this experience.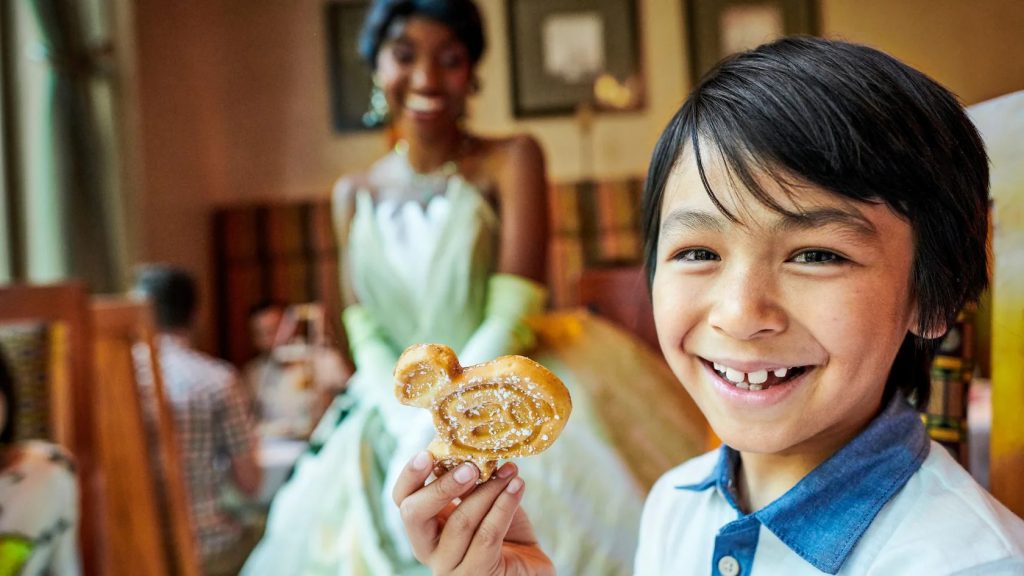 Disney Princess Breakfast Adventures Menu – $125
Starters
Sunrise Citrus and Vanilla Bun with Raspberry Glaze
Assorted Fruit Slices and Berries.
3-tier tower of appetizers
Chia and Granola Parfait with mango, kiwi and coconut; Ham and cheese sandwiches with cranberry cream cheese, Banana wrap
Lobster salad crostini with a dinglehopper
*Mini hot dogs available upon request
Hot Offerings
House-made Mac 'n' Cheese
Mini Chicken and Princess Waffles
with Butter and Maple Syrup
Pulled Beef Slider
with Barbecue Sauce, Pineapple Salsa and a Hawaiian Bun
Artisan Turkey Sausages
Rotational Selection of Meats
Roasted Tomato and Asparagus
Fresh Mint Papas Bravas
Desserts Buffet
Chocolate Chip Princess Cake Pops
Petite Raspberry Tarts
Sea Shell Macarons
with Mango Passion Fruit Ganache
Strawberry Honey Sorbet
Almond Crunch
Dinner Menu
Starters
Roasted Carrot Cloud, Carrot Top Pesto
Sautéed Zucchini Blossoms
Stuffed with Green Mole Braised Free Range Turkey
Green Garbanzo Falafel, Lemon Dill Yogurt
Spicy Beef, Lemongrass Shrimp Fritters and Coconut Vinaigrette
Main Courses
Braised Lamb Ragout, Grana Padano Parmigiano
Italian Wild Boar Sausage, Basil Pesto, Pomodoro Sauce
Braised Rabbit with Cheddar Bacon Biscuits
Portobella Mushroom "Cappuccino"
Strawberry-Lime Crusted Salmon
Summer Corn, Strawberry Relish
Lemon-Thyme Pressed Free Range Chicken
Blackberry Roasted American Buffalo
Chanterelles, Green Chili Chaparral Sauce
Grilled Prime Beef Filet Mignon
Beef Cheeks, Pumpkin Velvet, Pepita Dust
Kids' Entrées
Simple Green Salad
Mac and Cheese
with Tillamook Cheddar and Panko Breadcrumbs
Petite Filet
with Mashed Potatoes, Green Bean and Beef Sauce
Desserts
Summer Stone Fruit Celebration
Single Origin, Dark Chocolate "Santarem"
Valrhona Chocolate S'more
Graham Cake and Marshmallow Ice Cream
Chef Selections of Three Cheeses
Kids' Beverages
Hormone-free Nonfat Milk, 1% Milk, or Whole Milk
Coca-Cola®, Diet Coke®, Sprite®, or Fanta® Orange Soda
Apple, Orange, Cranberry, or Lemonade
Martinelli's Sparkling Apple Cider
Map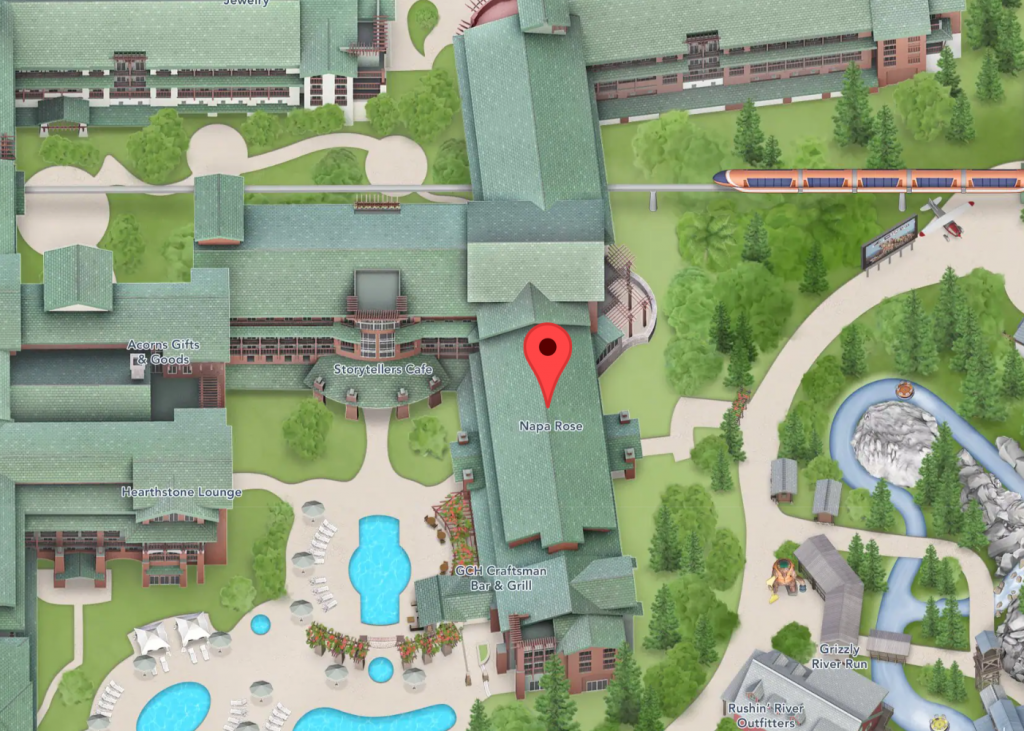 Featured Image by The Orange County Register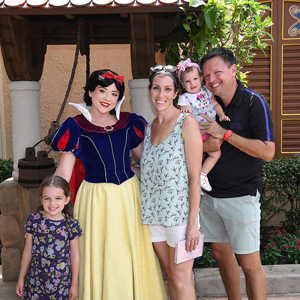 Written by
Shelley Wehler
Contributing Writer
Shelley is a stay-at-home mother of two girls living outside of Charlotte, North Carolina. Her love of all things Disney has grown even more as she sees the magic come alive through the lens of her young daughters. She spends her free time keeping up with the latest in Disney news and daydreaming of her next trip to the parks!