Navigating the 39 square miles of Walt Disney World can be difficult for anyone, but it can be a bit more challenging for parties traveling with an Electric Conveyance Vehicle (ECV) or wheelchair. The good news is that most of the transportation systems at Disney World are accessible! One of Disney's top priorities is to make sure all of their guests are able to experience the parks and have a safe, comfortable time. Here are a few tip for managing Disney's transportation with disabilities.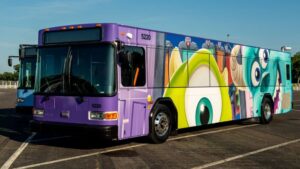 Buses
Almost all of Disney's buses are able to accommodate two mobility devices at a time, but the wheelchair/ECV must fall within a 32" x 48" size requirement. Most of the buses can lower themselves to the ground so that the guest can ride their device onto the bus via a fold out ramp. Once on the bus, the driver will instruct the guest where to park and will secure them with safety belts. Typically, the bus driver will load any guests traveling in ECVs/wheelchairs first, but that may vary depending on how crowded the bus is when you're picked up.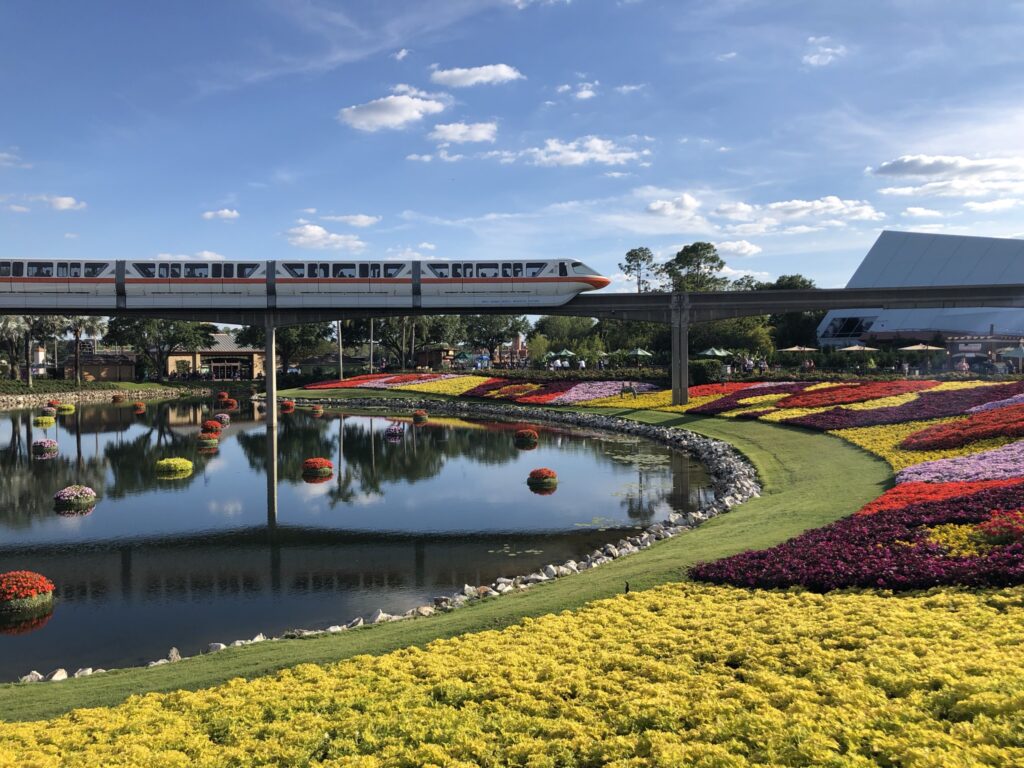 Monorails
Walt Disney World's monorail system is probably their most famous mode of transportation. There are three monorail lines. The first is an express monorail between Magic Kingdom and the Transportation and Ticket Center. The next services the Magic Kingdom resort area with stops at the Contemporary (and Bay Lake Tower), Grand Floridian, and Polynesian Village. The final monorail line goes between the Transportation and Ticket Center and Epcot.
All monorails are accessible to guests in wheelchairs or ECVs, and most monorails can fit multiple mobility devices in one trip. A monorail attendant will assign your party to a specific cabin and will then use a portable ramp to help you load and unload. Backing out down that small ramp can be a bit tricky, but the monorail attendants will help guide you. The monorail stations are also fully accessible and can be accessed either via ramp or elevator.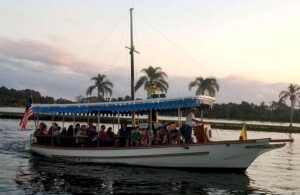 Boats
Walt Disney World has three different areas that offer transportation via watercraft. Accessibility will depend on the type of watercraft, and how full it is. For example, some boats can only hold one or two ECVs/wheelchairs, and one type of boat is not able to accommodate any.
The Magic Kingdom resort area is serviced by a network of boats that travel across the Seven Seas Lagoon and Bay Lake. The boats that launch from the Contemporary Resort (and Bay Lake Tower), Wilderness Lodge, and Fort Wilderness can accommodate up to two wheelchairs or ECVs. They have a portable ramp that an attendant will place at the entrance for guests to drive out the boat. There is also a small boat that travels from Magic Kingdom to the Grand Floridian and Polynesian Village Resorts. This launch is not accessible to wheelchairs or ECVs, but there are other transportation options available.
The next boat route services both Epcot and Hollywood Studios, with stops at Epcot's International Gateway, Yacht and Beach Club Resort, the Boardwalk, and the Swan and Dolphin. These Friendship Boats can accommodate up to two ECVs or wheelchairs. A boat attendant will set a portable ramp near the back of the boat to help these guests get onboard. The Friendship Boats also travel across World Showcase Lagoon at Epcot with one route that goes between Mexico and Germany and another route that goes between Canada and Morocco. One of the best things about these boats is that they have indoor seating that is air conditioned!
The final boat route is in the Disney Springs resort area, with one route servicing Saratoga Springs and Old Key West and the other servicing Port Orleans-French Quarter and Port Orleans-Riverside. Both routes then dock at Disney Springs Marketplace. These pontoon-style boats can accommodate up to two wheelchairs or ECVs. A portable ramp is used to help load and unload guests.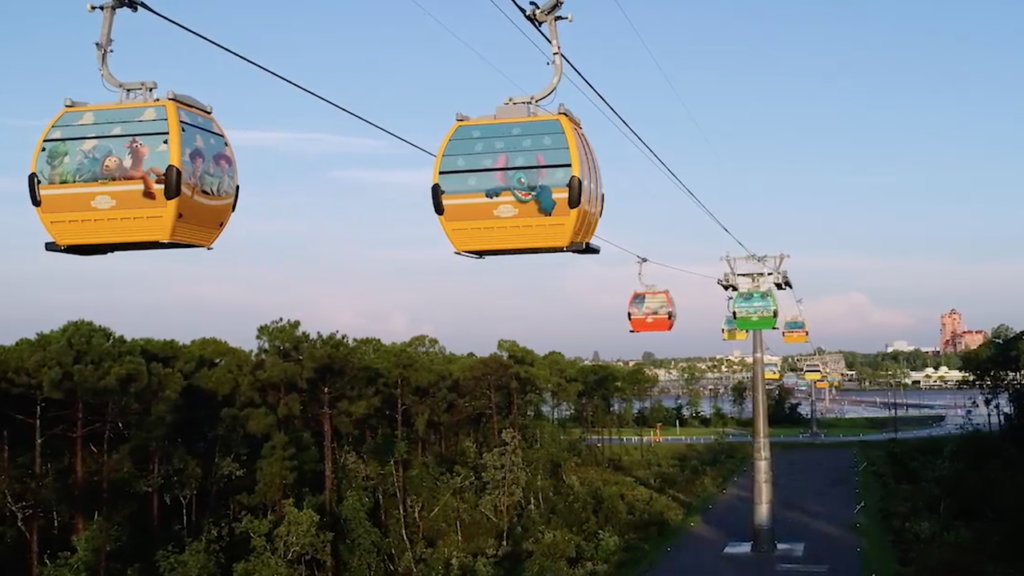 Skyliner
Disney's newest form of transportation is the Skyliner, which features over 300 gondolas (some of which are decorated with Disney characters). The main hub for the Skyliner is located at Disney's Caribbean Beach resort and from there, three lines branch out to the nearby hotels and parks. One line services Hollywood Studios, one services Epcot (with a quick stop at the Riviera Resort), and another line services Art of Animation and Pop Century. All the Skyliner stations are accessible via ramp.
To board a wheelchair or ECV into a gondola, the Skyliner attendant will pull a gondola out of the continuously moving line of cabins and into a separate auxiliary line. This enables them to completely stop your gondola so that you can safely board without feeling rushed. Once you're loaded onto the gondola, the attendant will put small chocks behind the wheels of your mobility device to make sure that you don't shift around. Your gondola will then be added back into the main line to continue your journey. When you get to your destination, your gondola will automatically be pulled from the main line and will come to a stop, so that you and your party can safely unload. Each Skyliner gondola can fit one wheelchair/ECV and up to six guests.
As you can see, Disney does their best to make sure that all guests can experience the ease of their transportation systems. If you will be traveling with a wheelchair or ECV, I would recommend allowing extra time to get across the resort. Depending on the time of day, the transportation systems can get a bit busy and you may have to wait for the next vehicle before being able to board. Do you have additional tips for managing Disney transportation with disabilities to add? Share your tips in the comments below.
Written by
Erika Lucas
Contributing Writer
Erika has lived in Orlando her whole life, so she was practically raised at Walt Disney World. While in college, she worked for Disney in roles ranging from character attendant to VIP tour guide. Nowadays, she spends her days planning her next trip to the parks or dreaming about setting sail on another Disney Cruise.