Upon entering Animal Kingdom Lodge, the colors, music, and architecture transport you straight to Africa. The lobbies of both Kidani Village and Jambo House embody the essence of African culture with the dark wood and geometric patterns displaying both obvious and subtle animal accents. The savannas on property do not disappoint, with many rooms offering a view of giraffes, zebras, birds, and more right from their balcony, along with several other spots to view animals.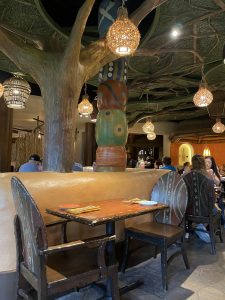 This African vibe continues to a restaurant located on the bottom level of Kidani Village. Sanaa is designed to look like you're dining in an east African spice market with its wooden tables and chairs, light fixtures resembling woven baskets, and a large acacia tree whose wooden branches and leaves extend across the entire ceiling of the restaurant.
What's more is that Sanaa has large arched windows across the entire outer wall of its space? This allows diners to observe the animals on the savanna while they eat! If you are lucky, you may even get an up-close-and personal view of curious creature.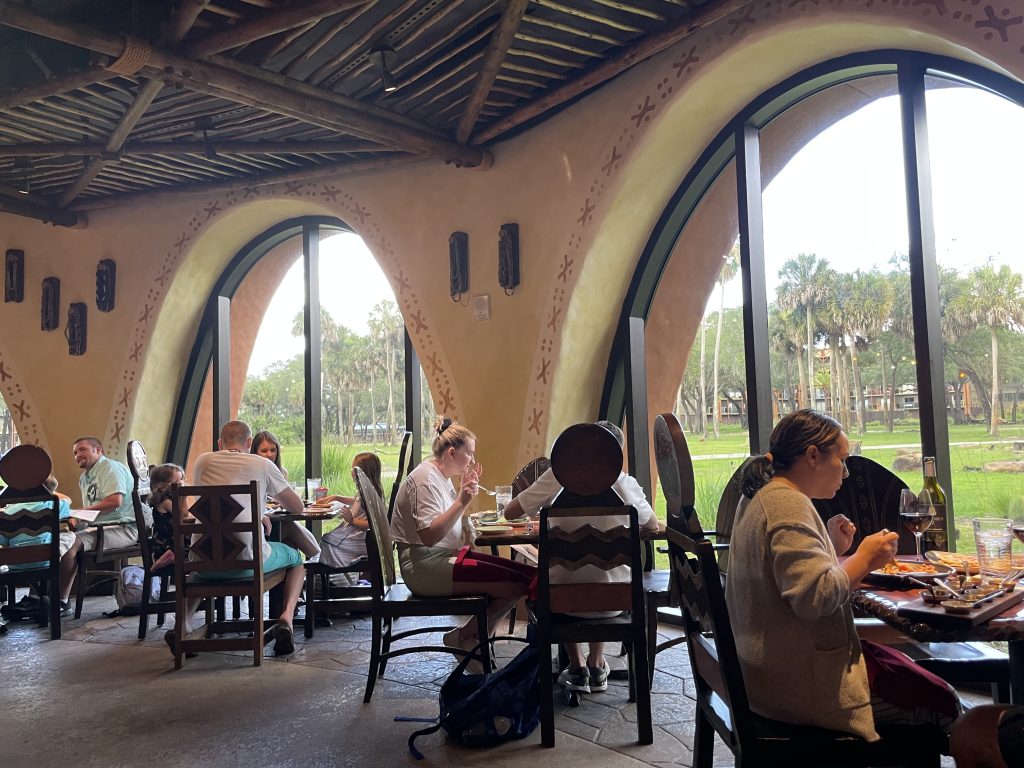 If you are not already convinced to request a reservation at Sanaa, you must look at their menu. The spices and flavors of African and Indian food differ from those commonly used in American fare, however there is something for everyone at Sanaa. First, you must start with the Naan bread service! Choose from five varieties of freshly baked flatbread and enjoy them plain or dipped in the nine dipping sauces that range from sweet and mild to very spicy. The vibrant colors of its presentation matches that of the restaurant décor. Gluten-free naan is also available to order and is baked fresh.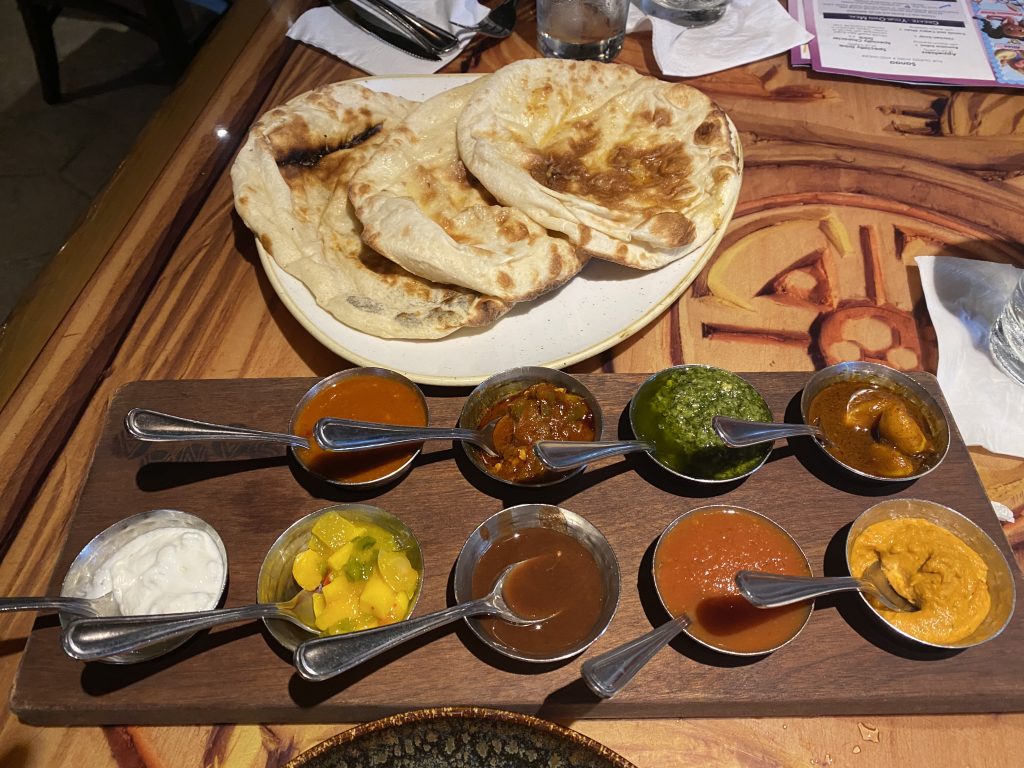 For an entrée, guests can build their own Potjie-inspired plate choosing from Goan Seafood Curry, Butter Chicken, Braised Beef, or Pork Vindaloo served with basmati rice and an additional side of your choosing. Pork, Steak, Fish, and Curry dishes are also available. The menu easily accommodates those who follow a vegetarian, vegan, and/or gluten-free diet. We chose to order the Butter Chicken with Lentil Daa and Samaki Wa Kupaka, fish garnished with roasted rainbow cauliflower and yuca. Both dishes won us over in presentation, and more importantly, taste.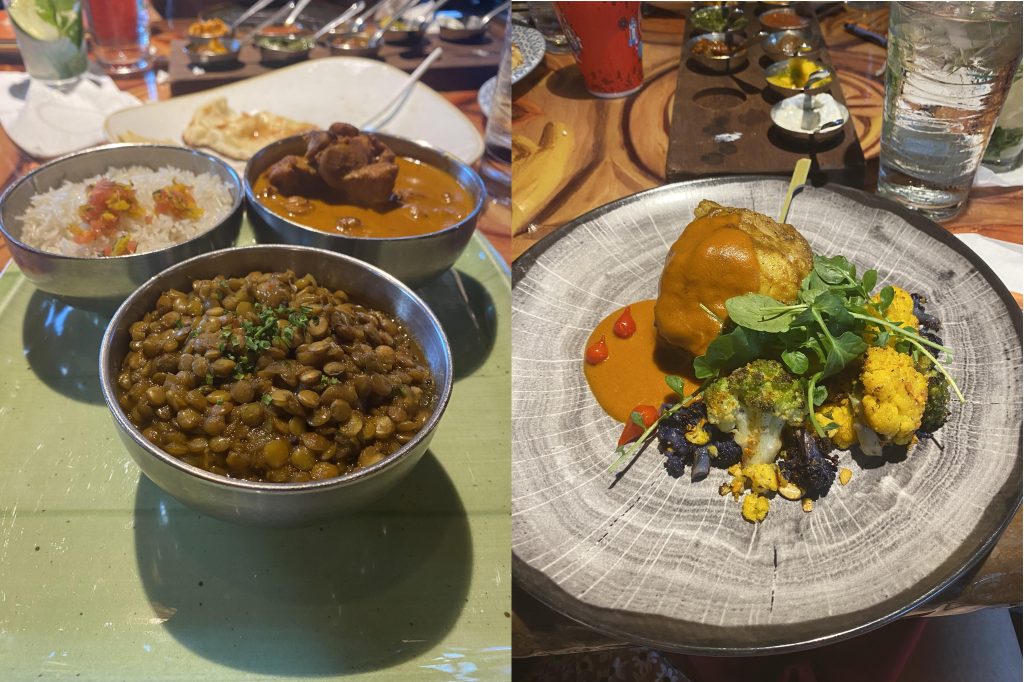 When considering younger eaters, Sanaa offers kids menu items for those that have wide and narrow palettes ranging from butter chicken and fish to pizza and burgers. The kids pizza is served on a soft crust that is similar to the naan bread. A dessert is offered as an option for one of the included sides and  I can say with certainty that Pumbaa's Dessert Grub is the perfect way to finish the meal. We were thankful that the attentive waitress served it with 4 spoons, because this leveled-up "dirt" dessert, was absolutely delicious. The crunch of the chocolate sandwich cookie crumbles on top coupled with the rich chocolate moose and marshmallow bottom made this deconstructed S'more one of our favorite desserts of the trip!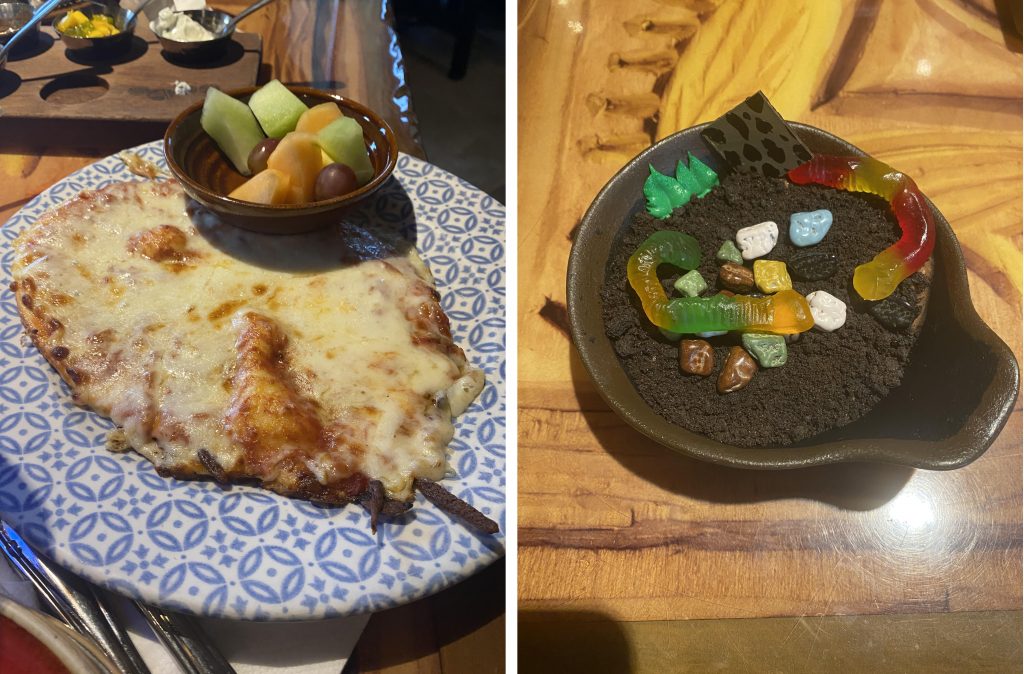 If you're looking to enjoy a special beverage while you observe the Sunset Savanna and wait for your meal, I can recommend the refreshing no-jito, a non-alcoholic mojito and the Magical Beacon Cocktail enjoyed by my husband. The glowing ice cube in the Magical Beacon was a big hit and we were able to take it home as a souvenir! For children the EARidescent Sip-a-bration lemonade is really fun and different than anything we have ever seen. It comes in a plastic souvenir cup with a character that dissolves in the drink and then changes its color, making it shimmery and iridescent! Both the Magical Beacon Cocktail and the EARidescent lemonade are specially added menu items for Walt Disney World's 50th anniversary celebration.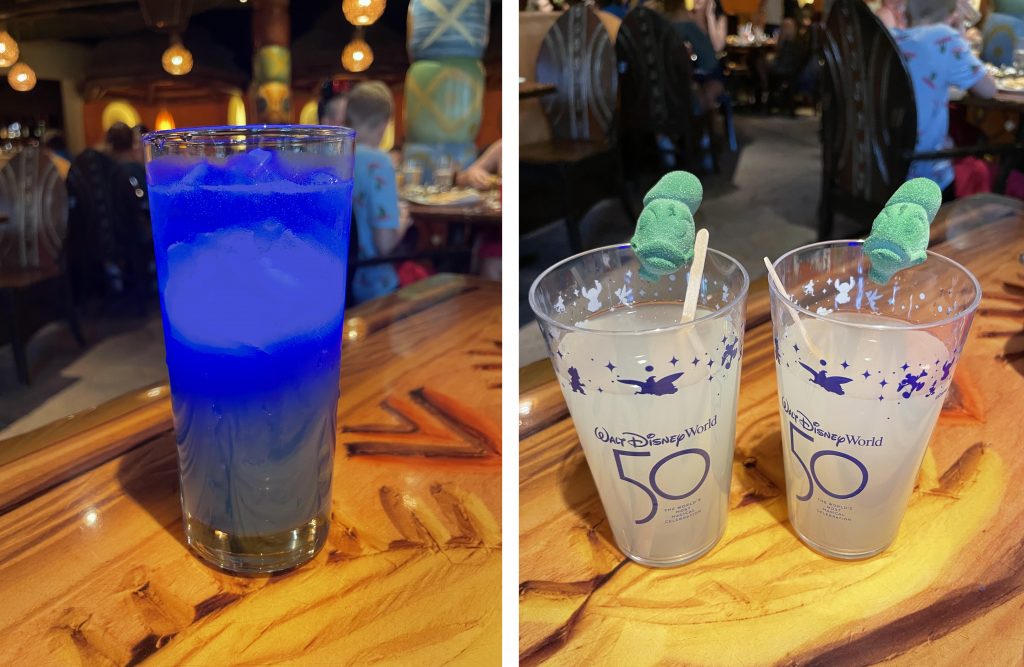 If you are not able to make it to Sanaa for lunch or dinner after a long day at the parks, guests can enjoy the peaceful views and delicious plates from Sanaa for breakfast as well.  It operates as quick-service in the morning hours serving both hot entrees and grab-and-go items for adults and kids alike. Reservations are not required (or available) for breakfast, but are highly recommended for lunch and dinner.
Will you be visiting Sanaa on your next trip to Walt Disney World? Have you ever dined at this unique restaurant in Animal Kingdom Lodge? Let us know in the comments below!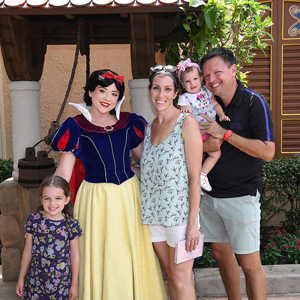 Written by
Shelley Wehler
Contributing Writer
Shelley is a stay-at-home mother of two girls living outside of Charlotte, North Carolina. Her love of all things Disney has grown even more as she sees the magic come alive through the lens of her young daughters. She spends her free time keeping up with the latest in Disney news and daydreaming of her next trip to the parks!