While you can't beat the majesty of Cinderella Castle or the spectacle of Spaceship Earth, there's something about Disney's Animal Kingdom that is truly magical. Often the Walt Disney theme park to be skipped over or mistaken for a zoo, my love for Animal Kingdom is real and far-reaching! The absolutely stunning beauty of the Tree of Life, the immersive surroundings of each land, and the thrilling and innovative attractions and shows make a visit to this park essential on each of our trips to Walt Disney World. However, one thing that isn't often spoken of when discussing Animal Kingdom is the variety and quality of food available at this park.
There are plenty of unique dining experiences in Walt Disney World, but like most theme parks, the usual burgers, pizza, chicken tenders, and fries that are fine, filling, and more frugal, are often the most accessible to guests on-the-go. While visitors to Animal Kingdom will still find those same fast-food entrees in some corners of the park, there are so many more options that you must know about. Below are my 5 favorite quick service locations to grab a bite to eat in Disney's Animal Kingdom.
1. Yak and Yeti
If you don't have the time or budget for a table service meal or weren't able to score a reservation, did you know that you can also order items from their Yak and Yeti Local Food Café located adjacent to the restaurant entrance? Stop here for lunch and dinner, but skip the burger and fries. Instead try the honey sesame chicken or sweet-and-sour tempura shrimp served with white rice or the chicken teriyaki salad for something lighter. For a snack, grab a side of chicken fried rice or 2 pork egg rolls. Breakfast entrees are also available from 9:00-10:30AM daily.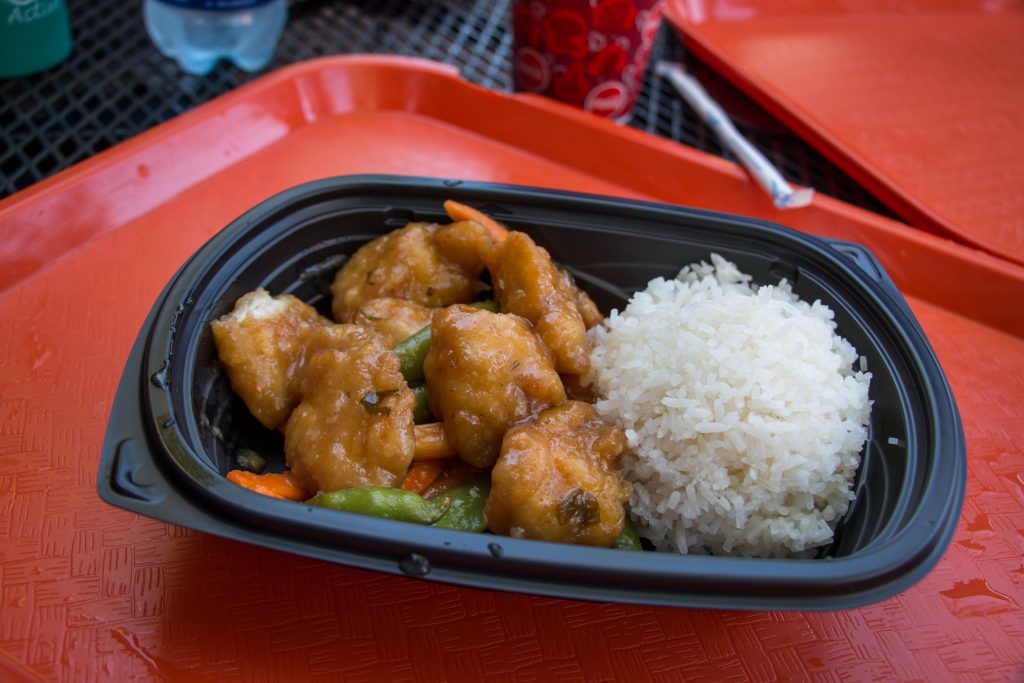 2. Harambe Market
Located in the heart of Africa, the Harambe Market menu provides guests with a break from fried food. Choose from rice bowls and salads that fill you up without weighing you down. Enjoy outdoor seating in a tranquil African themed marketplace and even catch a glimpse of the train returning from Rafiki's Planet Watch as you dine.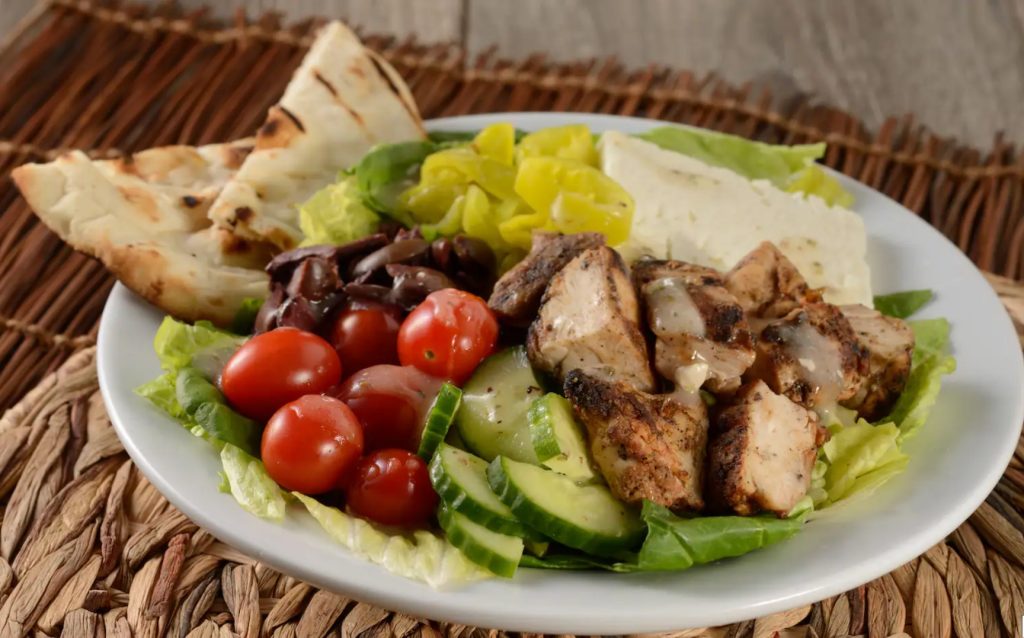 3. Satu 'li Canteen
Head to the land of Pandora for another tasty menu without the fried food. Order a flavorful bowl filled with many textures or try the popular cheeseburger steamed pods that may make you rethink ever having a burger on a bun again!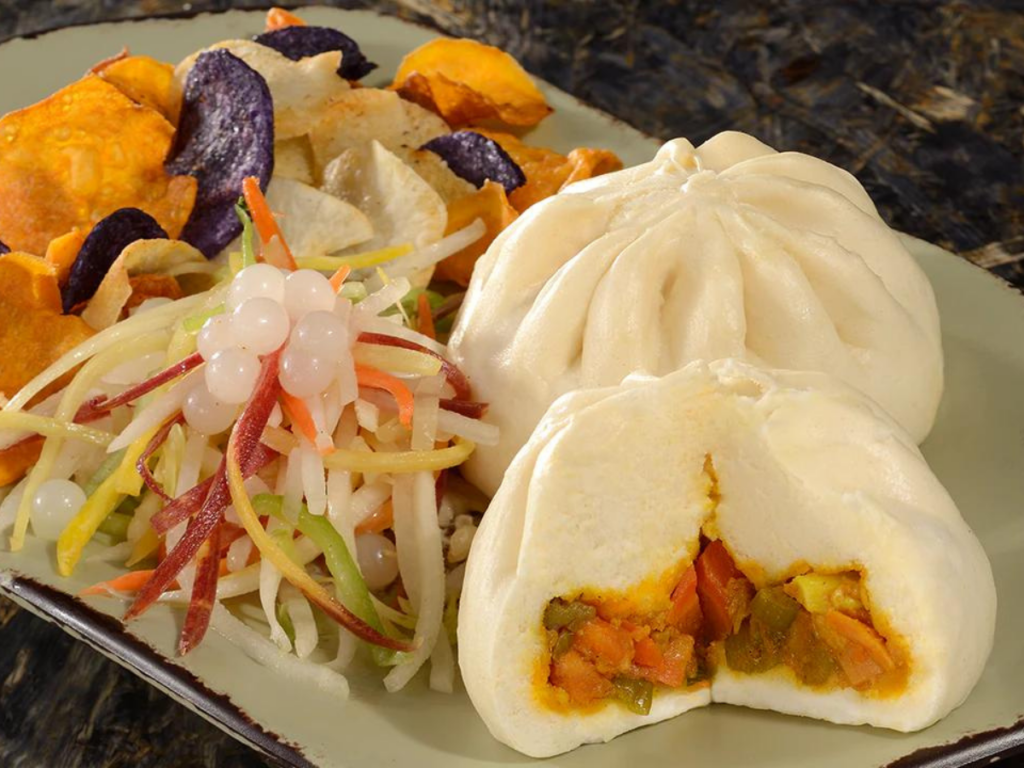 4. The Smiling Crocodile
While it certainly looks like just another quick service kiosk, The Smiling Crocodile will serve you delicious street tacos. Choose from pulled pork, chicken, or vegetarian filled with black beans, roasted corn, and poblano peppers. Each entrée comes with 2 tacos and a side of chips and salsa for just $9.99! Find The Smiling Crocodile next to Adventure Outpost where you can meet Mickey and Minnie Mouse.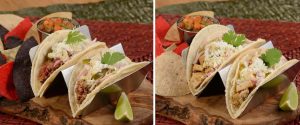 5. Flame Tree Barbecue
Refuel on Disney World's best barbecue at this location. Go for a full St. Louis Rib Dinner or try the Smokehouse Chicken Salad for something a little lighter. If you're in the mood to indulge after traversing Disney's largest park, order the Baked Macaroni and Cheese with Pulled Pork. You won't regret it! Find a smaller version of this entrée at the Eight Spoon Café cart that is also situated on Discovery Island.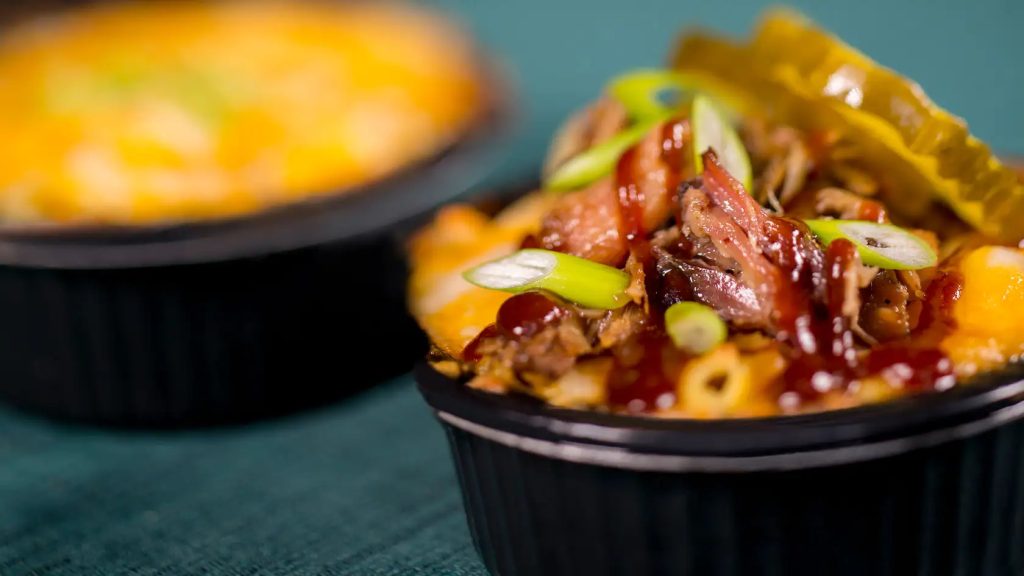 In addition to the amazing flavors and variety of foods available, you may utilize the Mobile Order option on the My Disney Experience app at each of the above named restaurants. It is easy to use and a great timesaver as you try to fit in all of your favorite things to do at Disney's Animal Kingdom. Where is your favorite place to eat at Animal Kingdom? Do you prefer table service or quick service meals at this park? Tell us in the comments below!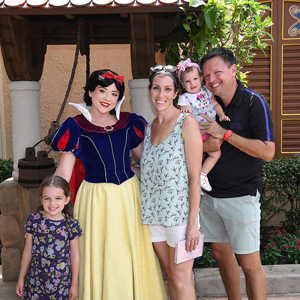 Written by
Shelley Wehler
Contributing Writer
Shelley is a stay-at-home mother of two girls living outside of Charlotte, North Carolina. Her love of all things Disney has grown even more as she sees the magic come alive through the lens of her young daughters. She spends her free time keeping up with the latest in Disney news and daydreaming of her next trip to the parks!