Walt Disney had big dreams about "a city of tomorrow" that would use innovation to provide communal transportation, a controlled environment, and an always improving infrastructure. He called his utopian metropolis "EPCOT"; elements of his vision live on at its theme park namesake. At EPCOT, guests can experience Walt's passion for progress on the ride Spaceship Earth. The iconic attraction takes guests on a narrative journey through mankind's innovations and the evolution of communication. 
Spaceship Earth Details

| | |
| --- | --- |
| Walt Disney World Park | EPCOT |
| Location in Park | Future World |
| Height Restrictions | Any height |
| Age Interests | All ages |
| Thrill Type | Slow, dark ride |
| Hours | Regular park hours |
| Wait Times | Low to moderate |
| FastPass+ | Yes |
| Accessibility Information | Must transfer to wheelchair and then to ride vehicle, Audio description, Handheld captioning  |
Ride Overview
Spaceship Earth is a sixteen minute omnimover ride that sits inside the large geodesic sphere at the entrance of EPCOT. The 180-foot, round structure is made of roughly 11,520 isosceles triangles and is often called "the EPCOT ball" or "the golf ball" by guests. Spaceship Earth's monolithic design causes the attraction to serve as EPCOT's park icon and one of Disney's most recognizable sights. 
Spaceship Earth is a historical exploration of communication narrated by Academy Award winner, Dame Judi Dench. The time travel themed attraction begins with the dawn of time and the paintings on caves that defined the prehistoric era. As guests continue their journey towards present day, the attraction depicts critical developments in technology that assisted communication. Phoenician merchants show the significance of a common alphabet to advancing trade between civilizations. Scholars of the Middle Ages are shown establishing a new form of documentation in order to continue discoveries in science after the fall of Rome and the burning of the Library of Alexandria.
Spaceship Earth also displays; Gutenberg's printing press, Michelangelo painting the Sistine Chapel, industrial revolution inventions that led to the ability to mass communicate, the moon landing, and the creation of the home computer. All of these scenes are outfitted with audio-animatronics and creative set designs.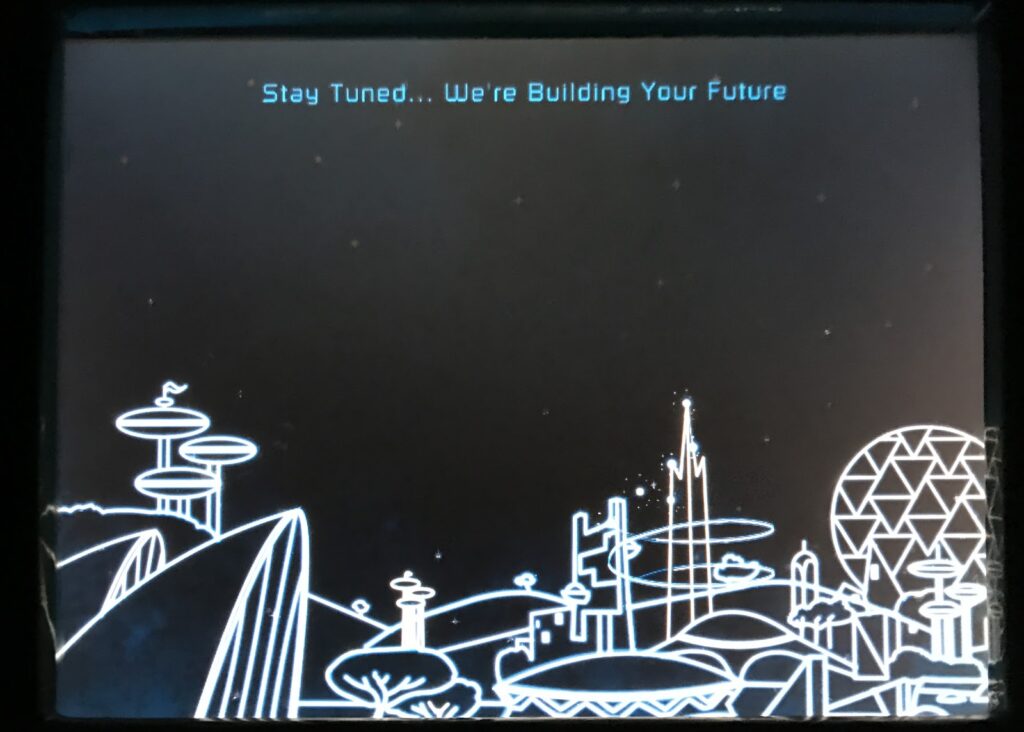 For Spaceship Earth's final act, guests use the touch screens in their ride vehicle to imagine a future for themselves. After answering a few multiple choice questions, time travelers are presented with an animated portrayal of the innovative world of tomorrow. Guests become the stars of their own futuristic fantasy with photographs that were taken at the beginning of the ride. 
Map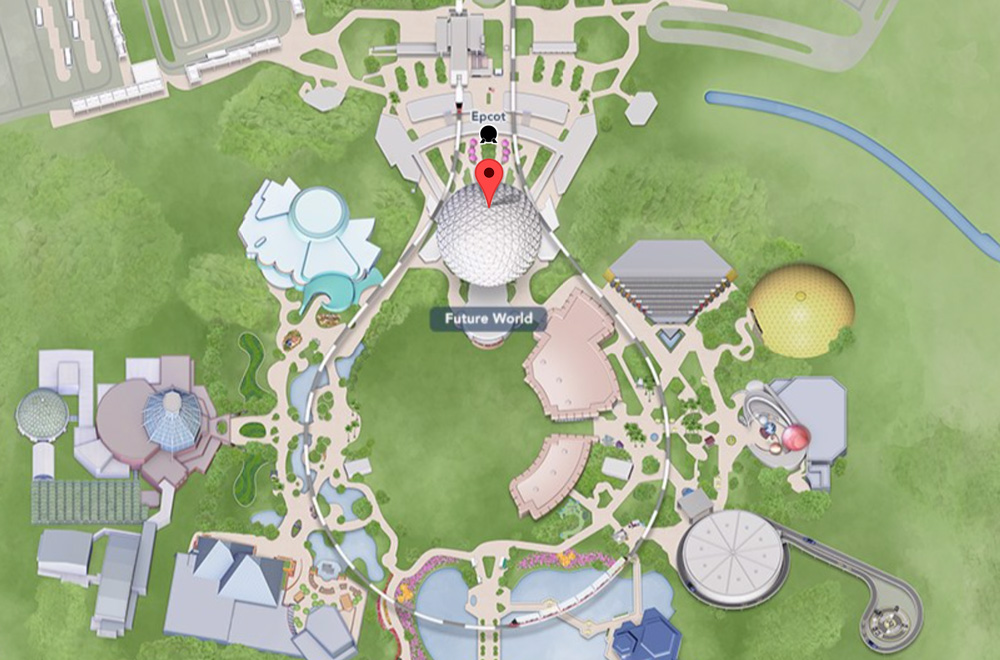 Location & Wait Times
Spaceship Earth is the first attraction guests encounter after they make it through EPCOT's gates. In front of the ball shaped building stands the recently reestablished and reimagined fountain from the park's opening in 1982. Despite being at the park's entrance, Spaceship Earth can be spotted from practically anywhere at EPCOT.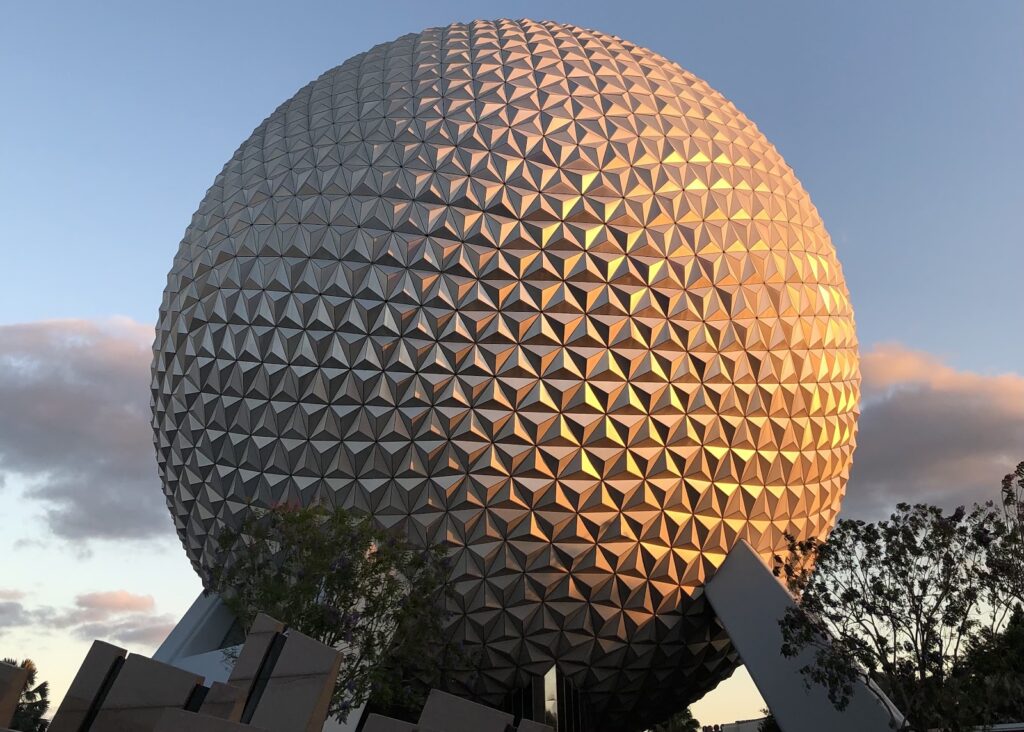 Because of its prominence and location, wait times for Spaceship Earth tend to be higher in the morning when the park first opens. These longer wait times typically extend to the early afternoon but often lower by late afternoon and into the evening. 
Queue Experience
Nearly all of Spaceship Earth's queue is outside. In order to enter the queue, guests go under the legs that hold Spaceship Earth's sphere structure. The queue extends to both sides of Spaceship Earth prior to leading guests up a ramp towards the entrance of the attraction. Along the incline sits a mural painted by Italian artist Claudio Mazzoli. This mostly blue hued painting exemplifies the essence of Spaceship Earth meaning: the importance of communication to invention and progress. Mazzoli aimed to show the "power and good of the universe" by depicting where mankind comes from and where we want to go.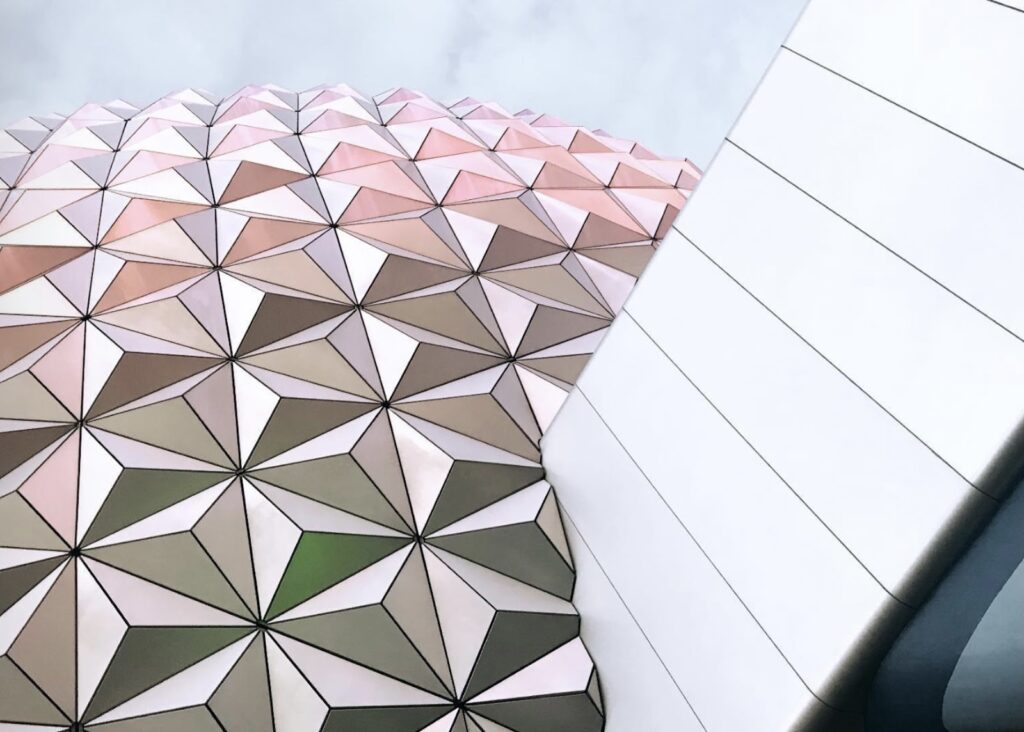 After making your way past the mural, guests enter Spaceship Earth and board the attraction which uses an omnimover system. This technology includes ride vehicles that are in constant motion and have the ability to swivel 360 degrees. The onimover operation supports Spaceship Earth's crucial message. The ride is continually moving forward just as invention and communication must do in order to foster progress. The ride does turn around at one point symbolizing how learning from the past is just as important to building a brighter future and new tomorrow.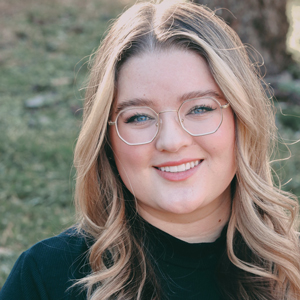 Written by
Emily Murray
Contributing Writer
For as long as Emily can remember, Disney has played a huge role in her life. Her infatuation with Disney resulted in many hours spent rewatching Toy Story and creating multiple powerpoints to convince her parents to book yet another vacation to the "Most Magical Place on Earth". In 2015, Emily followed one of her dreams and moved to Orlando, Florida where she spent just over five years working for the mouse in three separate roles. Emily is passionate about writing and using words creatively and concisely. She loves to make others laugh and hopes to sprinkle a little bit of magic into everything she does.