Disney theme parks are all magical in their own ways, and it is so fun to find unique aspects about the different parks. When visiting Disneyland Paris, there were many things I loved that made the trip feel very special; here's my top ten!
10. Drones before the Nighttime Spectacular
Disney D-Light is a brief drone show around the castle in Disneyland Paris right before the primary nighttime spectacular, Disney Illuminations, begins. This show is a creative use of drones and emphasizes celebrating the 30th anniversary of Disneyland Paris. It's very charming, and well worth your time if you are going to watch Disney Illuminations anyway. Not all views are equal though. The drones make the 30th anniversary logo to the right of the castle, so you will want a fairly straight on view to have the best experience.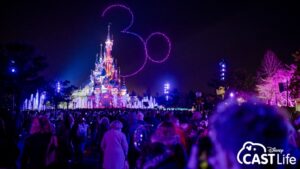 9. Earffel Tower
Once upon a time Walt Disney World had a water tower topped with Mickey ears at Disney-MGM Studios theme park, and this was arguably the park icon. Sadly, we said goodbye to the Hollywood Studios version in 2016, but an Earrfel Tower remains at Disneyland Paris! You can take in the delight of this fake water tower at Walt Disney Studios Park.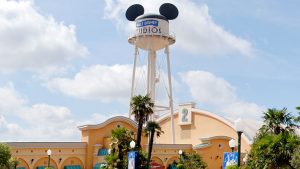 8. Partners Statue
"To all who enter this studio of dreams… welcome." The Walt Disney Studios Park also features the iconic Partners Statue, which looks especially lovely during golden hour.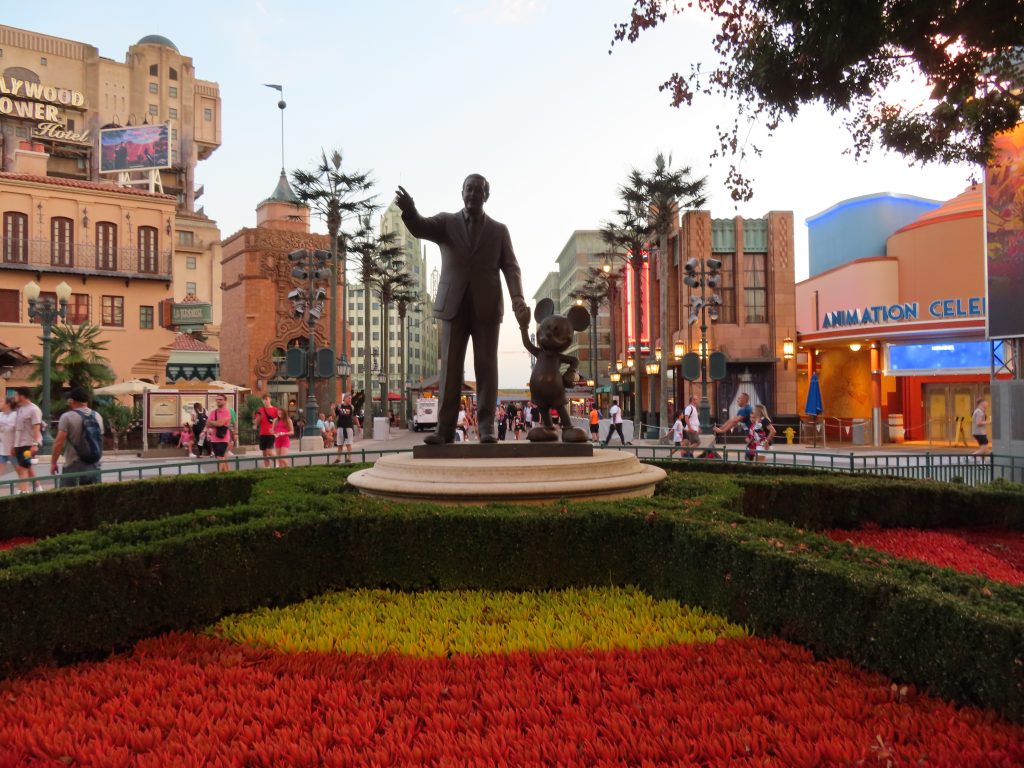 7. Skyline Bar
I was lucky enough to stay at Disney Hotel New York – The Art of Marvel, so the Skyline Bar was the featured lounge in the hotel. The cocktails here were extremely creative and, of course, themed to the Avengers. Most impressively though was how well thought out and crafted they were. The finished products rivaled some of my favorite cocktail bars at home, so much so that we came here three times during a two night stay! Plus, the wall behind the bar was outfitted to make you feel like you were really dining at the top of a skyscraper in New York. The lighting would change in real time, from day to dusk to night, and you might see a visitor outside the "window" like Spider-Man or Iron Man. Skyline Bar welcomes dreamers of all ages and has snacks and non-alcoholic offerings as well. I highly suggest you make time to stop in, even if you are not staying at this hotel.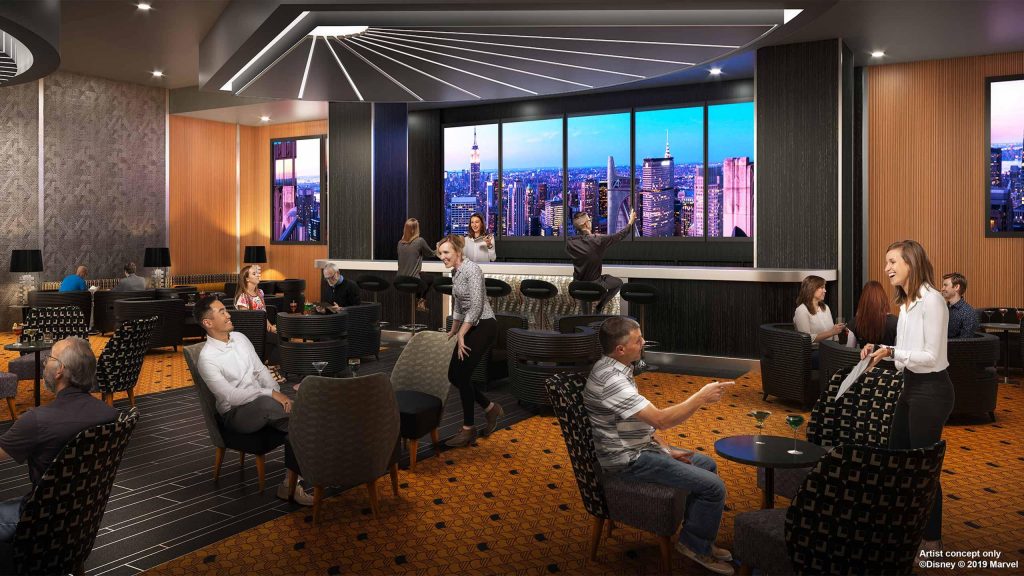 6. Sleeping Beauty Castle
All of the Disney theme park castles are amazing, but this one is my favorite I have seen in person. The castle adornments are gorgeous, and the overall shapes evoke a true fairytale feel. Plus, I love the square trees nearby, putting you in the setting of Sleeping Beauty. The castle also features fountains which add fun elements to shows. Underneath the castle you can face a tamed dragon, and my favorite part of the castle is that you can stand on balcony on the backside of the castle and overlook Fantasyland.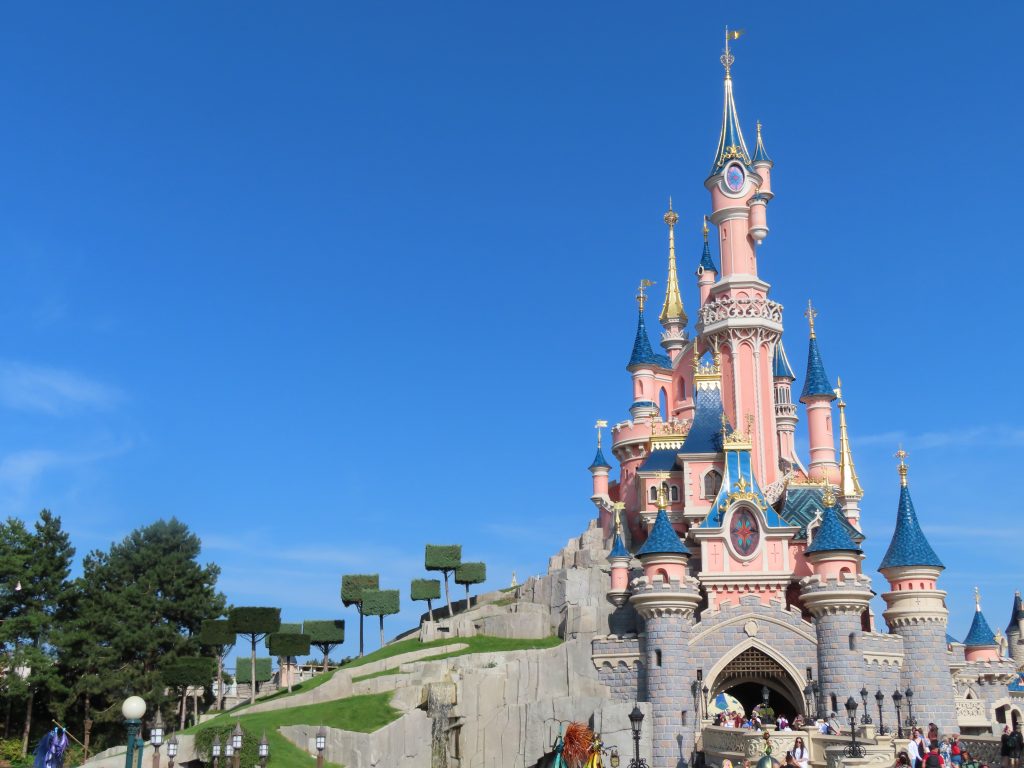 5. Disney Stars On Parade
While I was at Disneyland Paris, the daily parade was the Disney Stars on Parade. This featured a steampunk float with Mickey and friends, Prince Philip battling with Maleficent's vine creatures, the Toy Story gang, a princess float, and more. I found the floats and costumes to be extremely intricate and really felt seeing this twice was worth my time. Plus, who doesn't love when Maleficent breathes fire?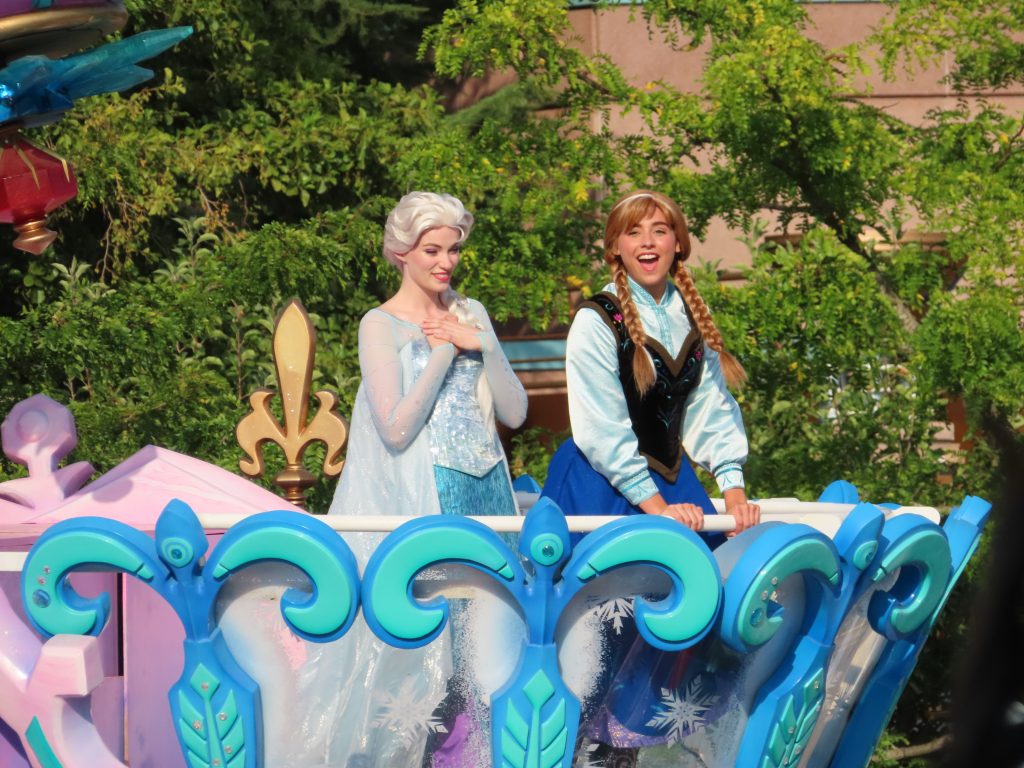 4. The Lion King: Rhythms of the Pride Lands
This show is easily the best show I have seen at a Disney theme park ever. Hands down. No competition. I know folks love the Festival of the Lion King show at Walt Disney World, and I enjoy it too. But after seeing Disneyland Paris's version there is no comparison. The addition of aerialists into the Rhythms of the Pride Lands show launches the wow factor into the stratosphere. Admittedly, I am not usually a huge fan of spending time on shows at Disney parks. They take up a lot of valuable time! However, for Disneyland Paris you absolutely must make the shows a priority.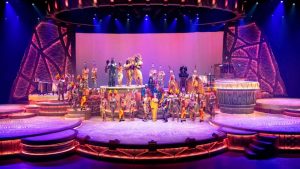 3. Gardens of Wonder
Whimsical sculptures are scattered throughout the hub area of Disneyland Park to help celebrate the 30th anniversary. They're extremely fun, slightly abstract, representations of some of your favorite characters–including, much to my surprise, some popular villains! These fantastical sculptures bring an extra bit of magic to the hub both during the day and when lit up at night.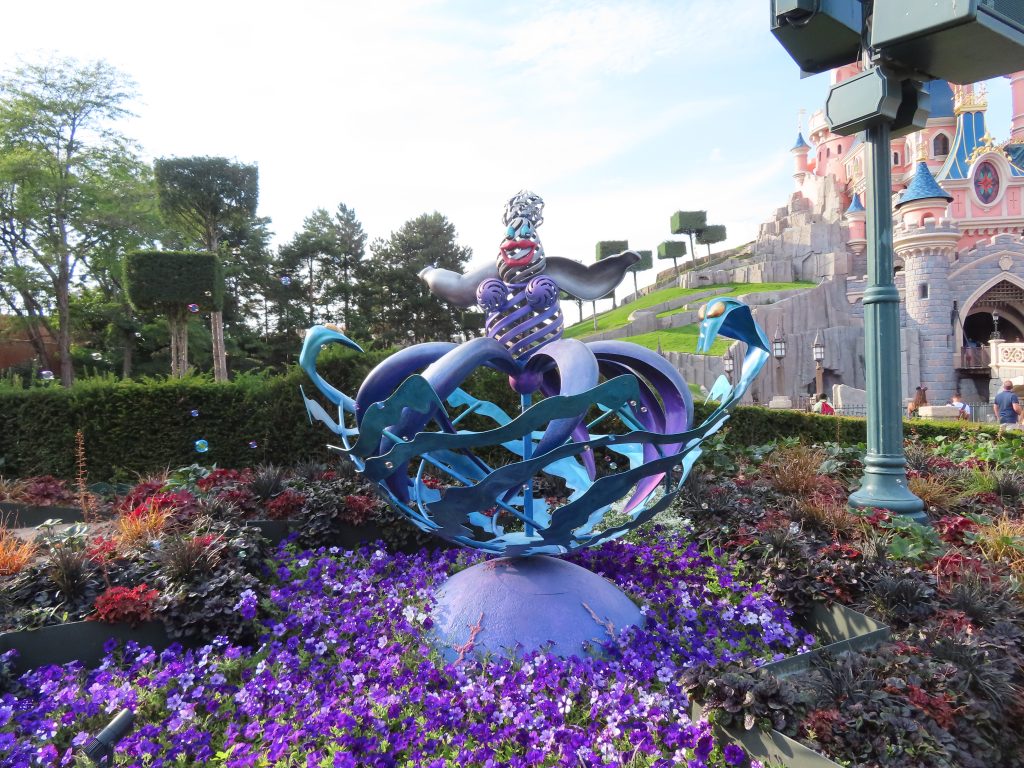 2. Champagne on Main Street
I know this is extremely silly and clearly from an American's point of view, but it is deeply engrained in me that the theme park with the castle is mostly dry. Sure, you may be able to have a glass of wine along side a meal at a sit down restaurant, but certainly not roam around the park with an alcoholic beverage. Well, France obviously has a much different culture when it comes to alcohol, and I love it. When I saw a champagne cart outside of The Gibson Girl Ice Cream Parlour I knew this was and opportunity I had to take advantage of: sip champagne while relaxing in the hub, taking in the castle views. What a dream.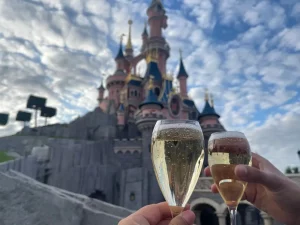 1. Dream… and Shine Brighter!
This energetic mix between a show and a parade is more than I could ever imagine. The song is incredibly catchy, the dances are energetic, and the characters are woven in perfectly. Plus you are able to get very close to the performers and really feel like you are part of the show. Dream… and Shine Brighter! manages to be both upbeat and emotional. Since returning from Disneyland Paris, I have watched so many YouTube videos of this spectacular show.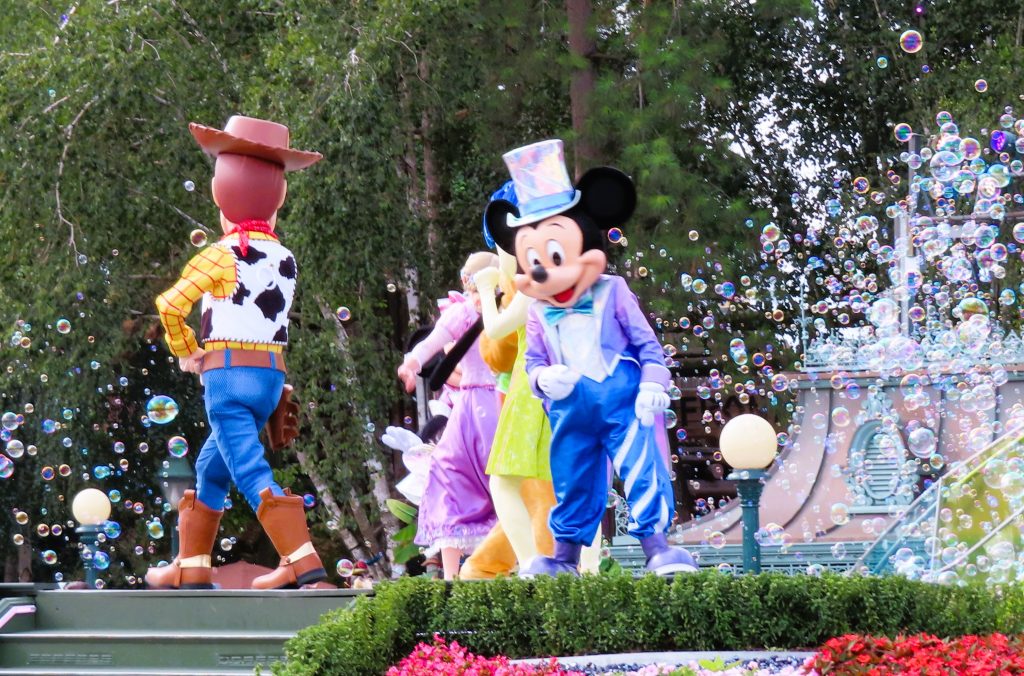 Which of my 10 favorite things at Disneyland Paris are you most interested in? Let us know in the comments!
Image taken by Jacqueline of Pixie Dust PhD.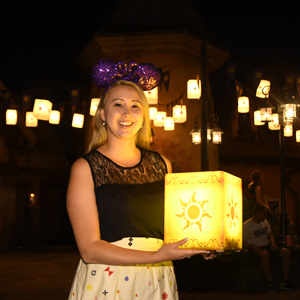 Written by
Jacqueline R.
Contributing Writer
Jacqueline is a PhD scientist with a passion for synthesizing detailed information in an understandable format. She is a Disney Vacation Club owner, overall Disney fan, and the primary content creator on the YouTube channel Pixie Dust PhD.