Each Disney park has a structure that serves as the park's icon. For example, Spaceship Earth is Epcot's centerpiece. Perhaps the most picturesque icons at Disney parks across the globe are their fairytale-like castles. In fact, Disney's castles are some of the most photographed locations in the world. Because castles are synonymous with Disney Parks, each resort has at least one "castle park". This means you can see a beautiful castle structure at Disneyland Paris, Shanghai Disneyland, Tokyo Disney, Hong Kong Disneyland, Walt Disney World, and Disneyland Resort!
When most people think of Disney's theme parks, castles is often the first thing that comes to mind. But, did you know that many of these iconic buildings were influenced by aspects of real castles? Read on to learn about the castle that inspired the design and construction for Disney park castles!
History of Neuschwanstein Castle
Neuschwanstein Castle has been cited as an inspiration for a few of Disney's castles. Located near Füssen, Germany, this German castle sits on a rock ledge looking over the Pöllat Gorge. While this fortress embodies Byzantine and Romantic styles, Neuschwanstein Castle hasn't actually been around very long. The history of this medieval-style château dates back to 1868 when King Ludwig II, also know as the "Mad King", ordered its construction. This castle was not built out of a need for protection, like other practical fortresses, but instead because Ludwig enjoyed the view and wanted a grandiose, private theater to watch operas.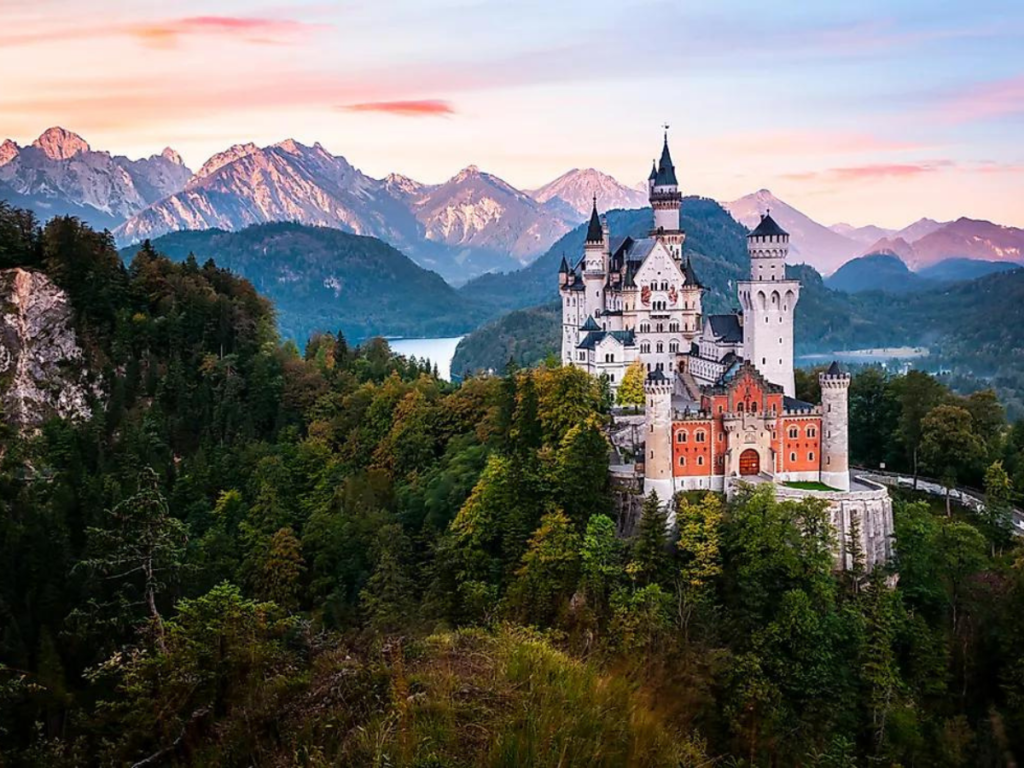 Inspiring Walt Disney
When animating Sleeping Beauty and Cinderella, Neuschwanstein Castle's Bavarian and Romaneque design elements were used for the films' castles. Featuring dainty turrets, many windows, and decorative chimneys, Neuschwanstein Castle is not as functional as other fortresses throughout history. Despite this, these decorative aspects create a fairy-tale look that was recreated for Sleeping Beauty Castle at Disneyland Park and Cinderella Castle at Magic Kingdom. Cylindrical towers, like the ones on Neuschwanstein Castle, can specifically be found on Cinderella Castle.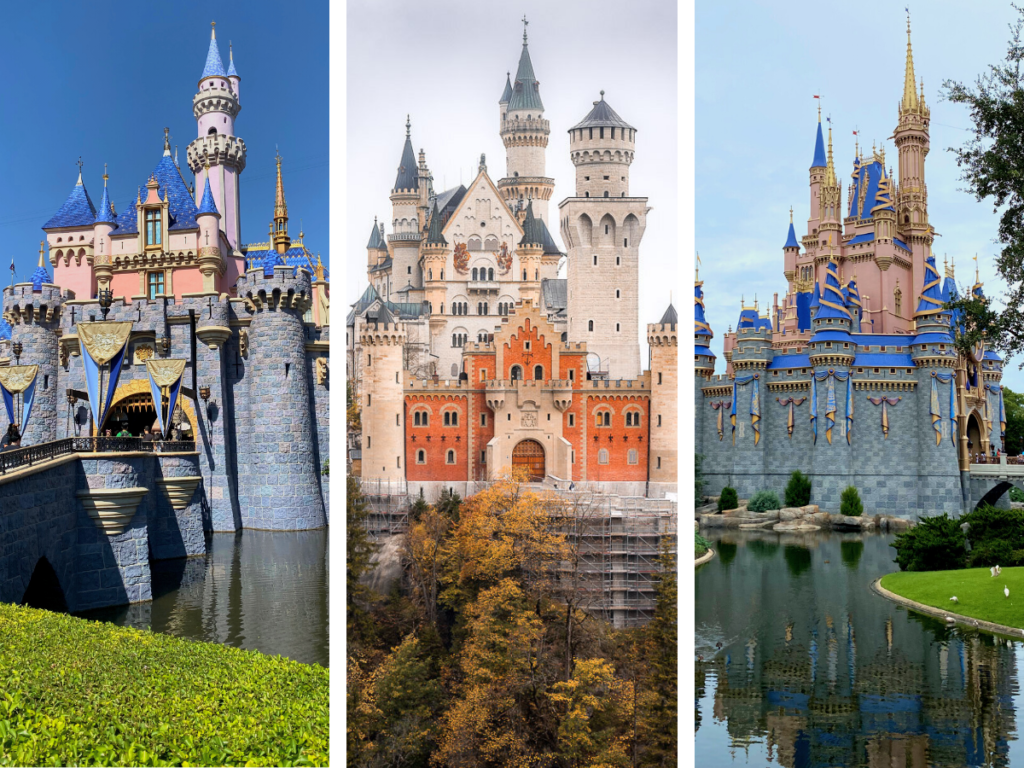 Visiting Neuschwanstein Castle
Should you find yourself in Bavaria, Germany, Neuschwanstein Castle is a must see attraction! You can take a 35 minute interior tour of the castle. On this guided tour, you can learn more about King Ludwig II and the history of this fortress's construction. For the perfect view and photo opportunity with Neuschwanstein Castle, you will want to head to Mary's Bridge. You can also get a great photo by hiking the trails on the opposite side of Pöllat Gorge. The trails can be found by crossing Mary's Bridge.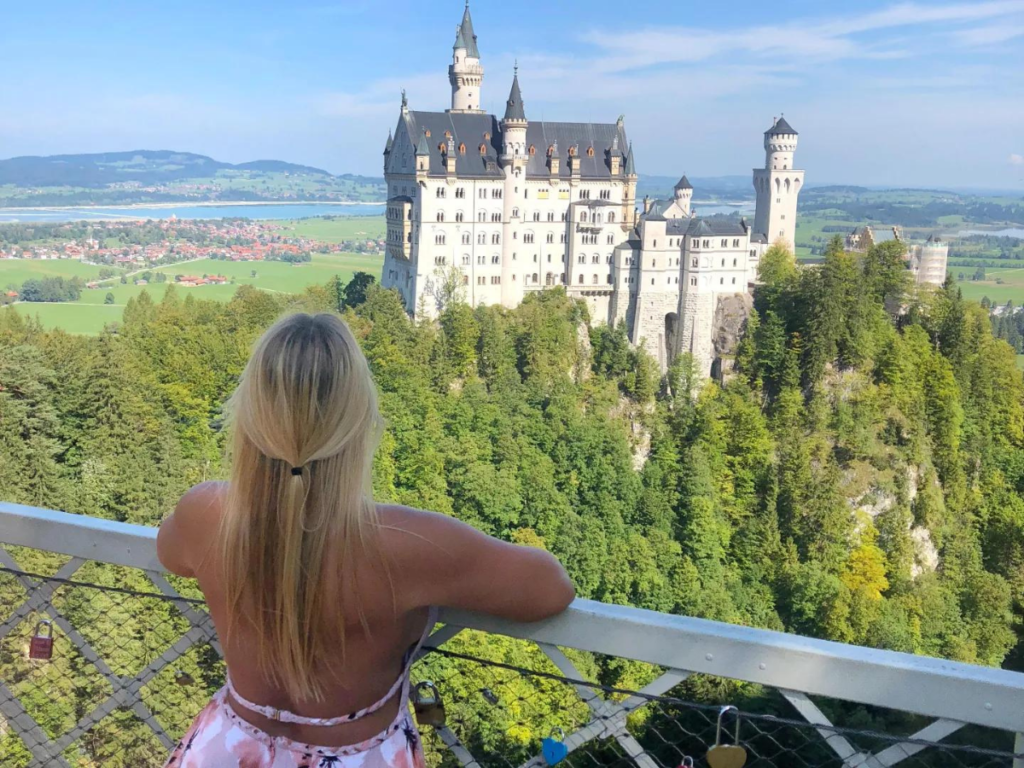 You can also visit Neuschwanstein Castle through Adventures By Disney's 9 day Germany trip. Other trip highlights include: Munich walking tour, Berlin Wall bike tour, and Rothenburg exploration.
Have you ever heard of Neuschwanstein Castle? Do you see the similarities? Let us know in the comments!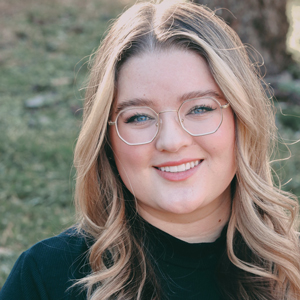 Written by
Emily Murray
Contributing Writer
For as long as Emily can remember, Disney has played a huge role in her life. Her infatuation with Disney resulted in many hours spent rewatching Toy Story and creating multiple powerpoints to convince her parents to book yet another vacation to the "Most Magical Place on Earth". In 2015, Emily followed one of her dreams and moved to Orlando, Florida where she spent just over five years working for the mouse in three separate roles. Emily is passionate about writing and using words creatively and concisely. She loves to make others laugh and hopes to sprinkle a little bit of magic into everything she does.