Main Street USA at Walt Disney World is a fictional town that was modeled after Walt Disney's hometown of Marceline, Missouri. The street is filled with Dapper Dan's, shops, characters, our favorite; Casey's Corner, and it is where the magical parades come down as guests wave in excitement. But have you ever walked down Main Street and looked up and noticed the flags? There are so many flags down main street, and they have some surprising things to tell and notice about them. So, let's dive into some interested facts you may have not known about Disney's Main Street flags!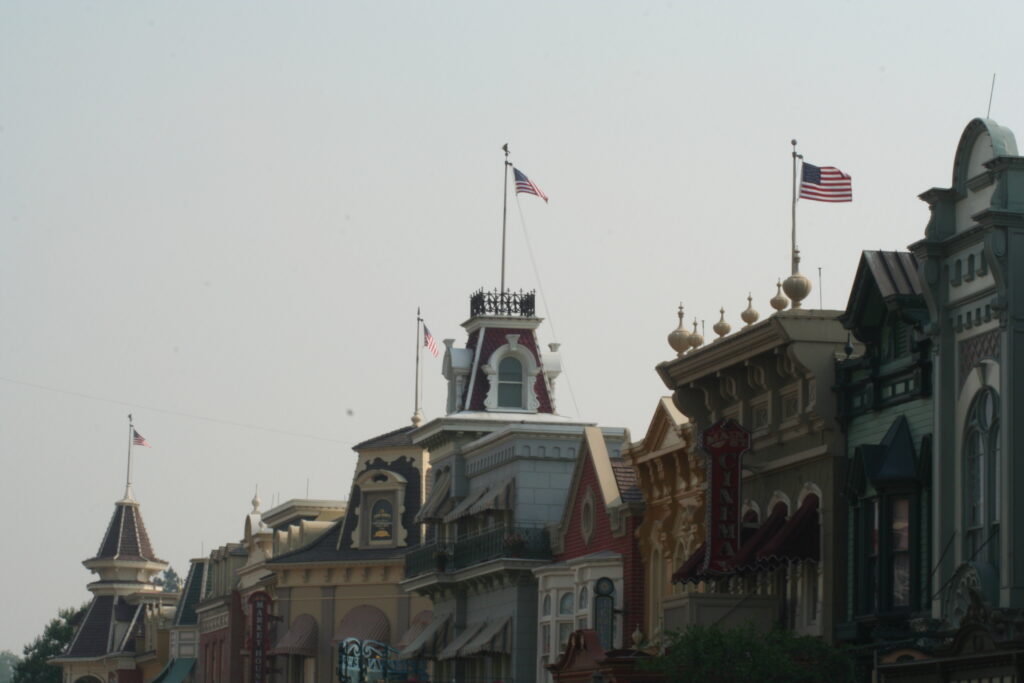 The Flags Are Props
Most of the flags you see on Main Street are actually not real official flags; they are props, technically called pennants! They don't have 13 stripes but usually only 9-12 stripes, and they only have 40-45 stars instead of 50! (How many of you are ready to go count?) These missing details make it so the flags do not have to follow the strict U.S. flag code. These flags do not need to be taken down during inclement weather or be at half staff, and they do not need to be illuminated at night. This allows Disney to tell the same story each day down Main Street. Although these pennants seem to be for show only, they do serve a very important purpose as well. The long poles serves as lightening rods to protect the guests below.
Flag Retreat
There is an official U.S. flag on main street, and it, of course, is apart of the flag lowering ceremony performed every day at Magic Kingdom. In Town Square every afternoon, the flag is lowered at 5pm. Often time,s an honorary veteran is invited to assist in the flag retreat. It is truly a touching ceremony and a must see for all Disney go'ers! The ceremony begins with a child volunteer to recite the Pledge of Allegiance with the help of the Dapper Dans. Then the Main Street Philharmonic plays "God Bless America" and the National Anthem. You will not regret if you take the time to go see this beautiful, patriotic ceremony!
If you are wanting to participate in the flag lowering ceremony, first you need to be a veteran of the U.S. Armed Forces. First thing in the morning you can go to City Hall on Main Street U.S.A. and mention to customer service you would like to participate. They then can assist you and walk you through the entire process of being in the ceremony. This is truly a once in a lifetime experience! This flag retreat has been happening every day since the opening in 1971. The flag retreat ceremony did come to a pause during the pandemic. But Disneyland resumed on April 30, 2021 and Disney World did on July1, 2021.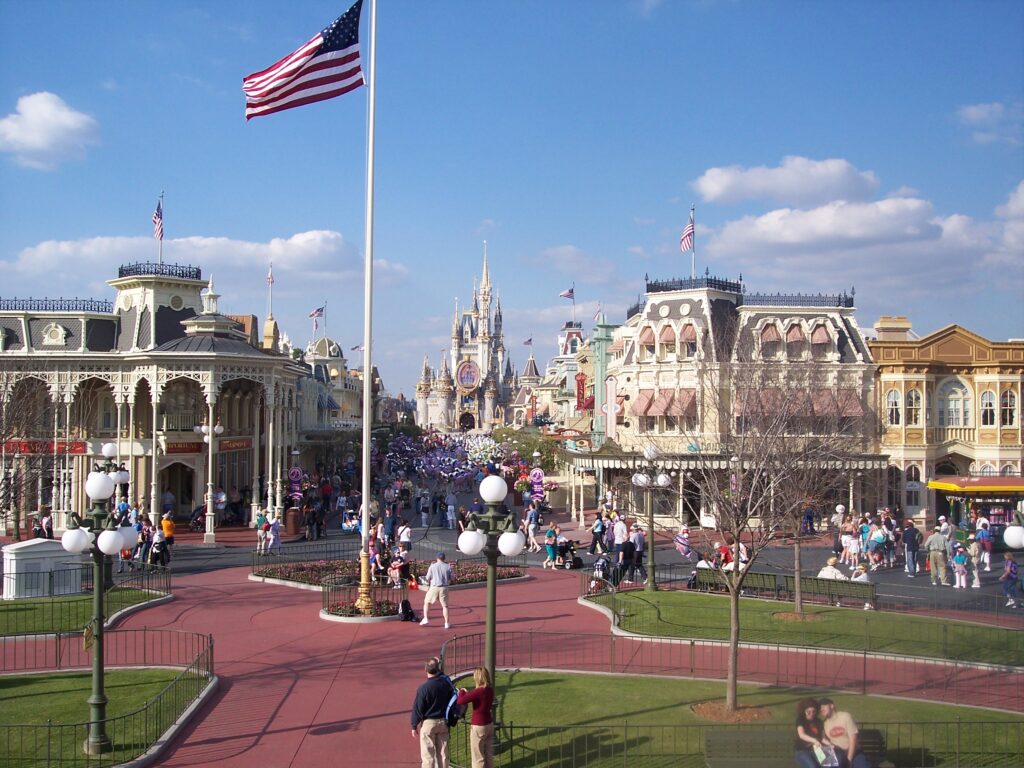 Flags At Other Parks
Walt Disney himself was a very patriotic American who exemplified the American spirit. This is apparent throughout the parks today with The Hall of Presidents and the American Adventure. You will also notice every Disney theme park has a proudly flying American flag outside its entrance. Although each park has a flag at the entrance, Magic Kingdom's Main Street is the most evident. At the other WDW parks, security lowers the flag, but as mentioned Magic Kingdom has a ceremony.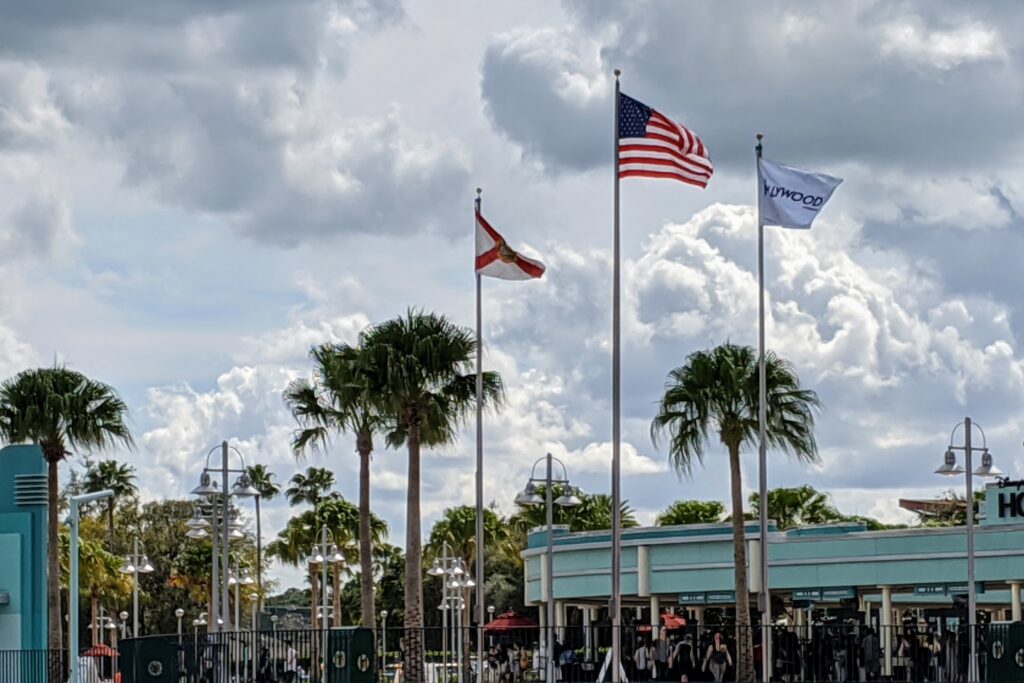 So the next time you are strolling down Magic Kingdom's Main Street, be sure to look up and notice the flags! Now you know some interesting facts about them, and you will sure be counting those stripes and stars! Don't forget to finally catch the soul moving flag retreat ceremony.
Featured Photo: Disney.
Written by
Erin Bonsall
Contributing Writer
Erin is a stay at home mom of 4 little boys outside Charlotte, NC. She remembers one magical Disney trip at a young age, but having children made her want to bring her own kids to the happiest place on earth! One trip 7 years ago started a love for everything Disney! Now her family visits Disney World as much as possible and it is their favorite place to make magical memories!