Many Disney fans may have heard of the famous Club 33. However, what exactly is Club 33? How do you join? Most importantly, how much does it cost? Find out the answers to your questions and read DVC Shop's Bobby's first hand experience of visiting the Club 33 in Disneyland.
What is Club 33?
Club 33 is an exclusive club where members are able to enter private dining and lounge areas in almost every Disney park around the world. According to Disney, the Club is named after the address of the original Disneyland Club 33 location, which was 33 Royal Street in New Orleans Square.
The locations in the parks are hidden in plain sight, and you may have seen the outside of them before while in the Disney parks.
Disneyland Resort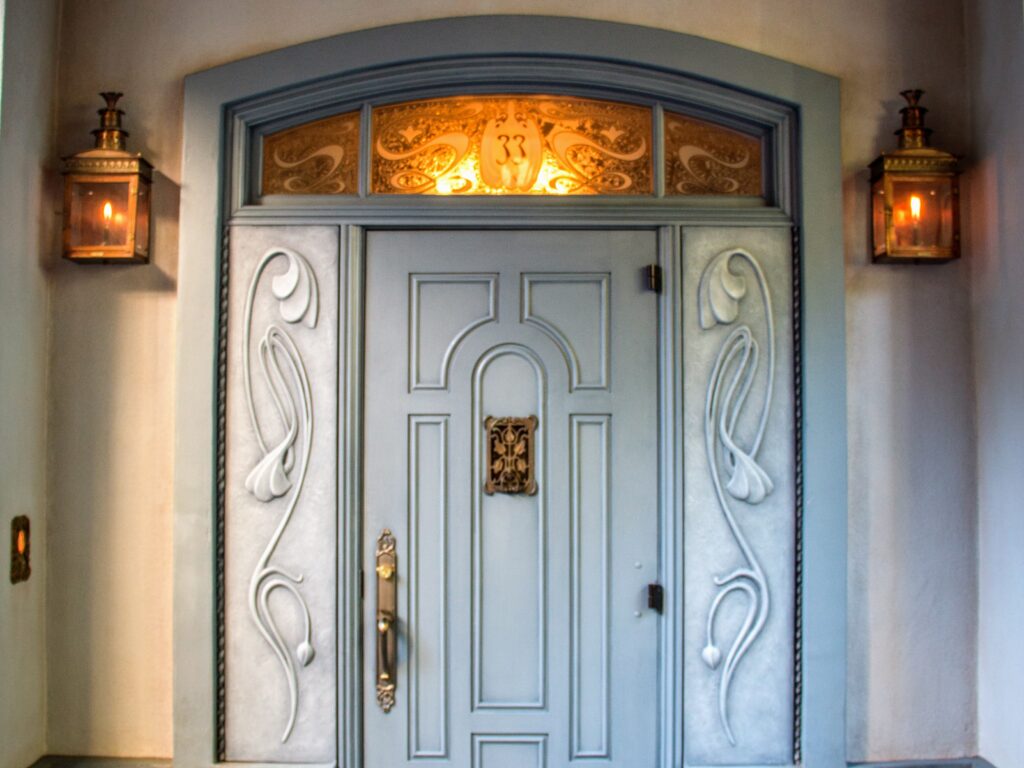 Le Grand Salon Restaurant – New Orleans Square, Disneyland Park
Le Salon Nouveau – A Jazz Lounge in New Orleans Square, Disneyland Park
1901 Lounge – Disney California Adventure
Walt Disney World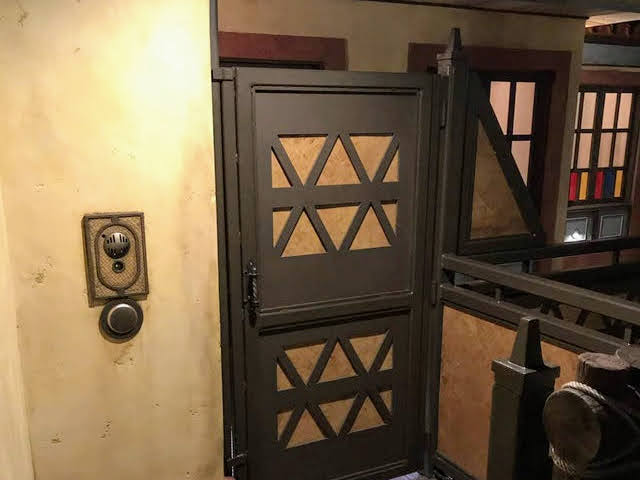 Club 33 Benefits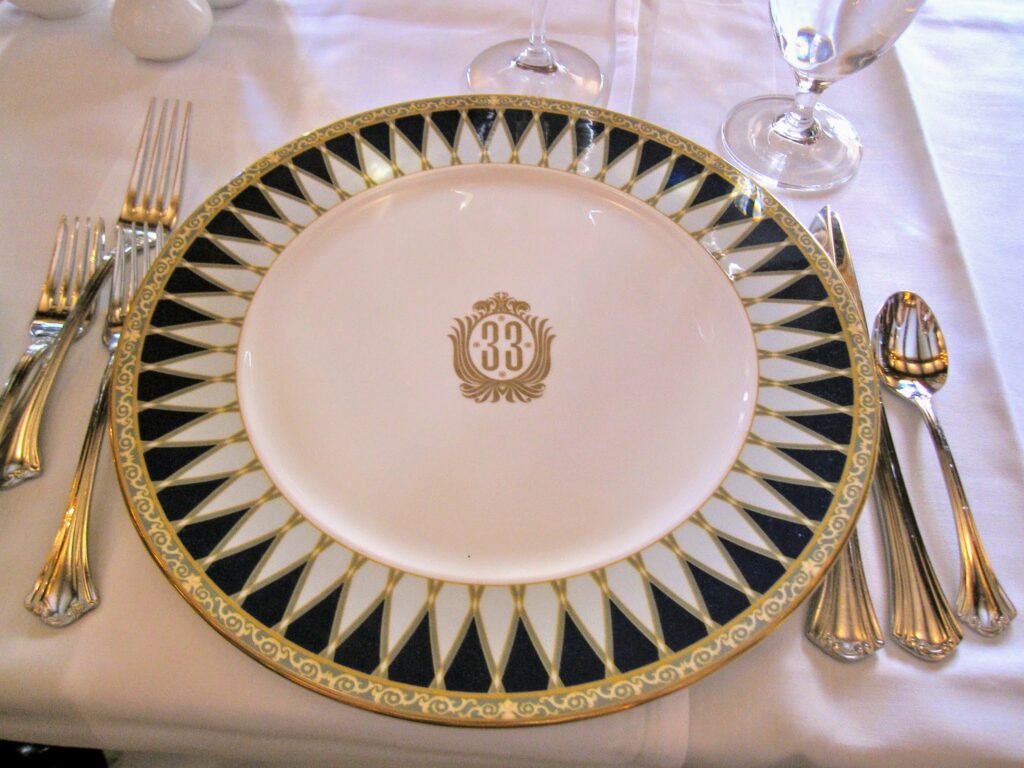 Club 33 members receive a variety of benefits while in the parks. To name a few, those who join this Disney Club will receive the following:
Annual Park Passes
50 single-day admission tickets
5 private VIP tours per year
Set FastPasses during their visit
Access to all of the exclusive lounges and restaurants
Exclusive access to Club 33 merchandise
A tour of of the Disneyland Resort Dream Suite
Although this is not the case anymore, Club 33 lounges used to be the only place that guests could enjoy alcoholic beverages in Disney. Now it is more common for guests to purchase alcohol in the parks, but this used to be a major benefit for the members of Club 33.
How Do I Join?
Obviously everyone who spends time in Disney wishes to be a member of Club 33. With the long list of exclusive benefits and experiences, there's no reason not to! Except buying your way into Club 33 will not be as simple as buying a ticket to the Disney parks.
Membership to Club 33, is not a quick process, and will require a measure of patience. There are only a small number of memberships offered per year. Some years there are no memberships offered, while in other years several memberships will be granted. Guests who wish to become members at Club 33 will need to email Club33@WaltDisneyWorld.com for Walt Disney World, or for Disneyland, you must submit a written letter of inquiry at the address as follows: Club 33 Member Services, 1600 S. Disneyland Drive Anaheim, CA 92802, in order to be considered. As memberships become available, the management team will contact you.
Cost
In order to get into Club 33, guests will need to pay the initial membership fee and then a yearly annual fee to maintain their membership. The cost of Disneyland vs Disney World is a little different, with Walt Disney World being more expensive. This is due to the fact that there are more exclusive club locations in Walt Disney World.
For Disneyland Resort's Club 33, members will pay $25,000 upfront, and then $10,000 every year after.
For Walt Disney World, the up front cost is higher. Members will pay $33,000 to join and the annual fee is $15,000.
The astronomical pricing is meant to keep the club exclusive and highly sought after, and to fund the numerous benefits that Club 33 offers. Let's face it though, every Disney fan would join, if they could pay the fees.

"Just the thrill of ringing the buzzer had me so excited because I had passed the door so many times, wondering what it must be like to dine at Club 33." – Bobby Asen
What Is It Like Inside? – Bobby's Guest Experience At Club 33
Members of Club 33 are given the opportunity to allow friends to join them as guests to select dining locations. DVC Shop's Bobby Asen had the chance to dine in Club 33's Le Grand Salon Restaurant in Disneyland. Here's his first hand experience.
"Early last year I had the chance to dine as a guest at the original Club 33 location in Disneyland's New Orleans Square. Prior to my arrival, I received an email stating the rules of the restaurant. No videos would be allowed to be taken inside and there is a zero tolerance policy for taking photos of guests not in your party. Rumor has it photo policies at Club 33 were even stricter in years past.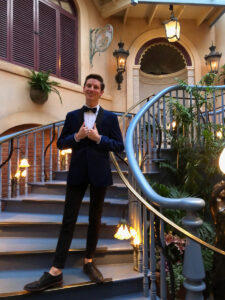 Once I arrived at the famous Club 33 door, I got to ring the buzzer and give the attendant the last name of my party. Just the thrill of ringing the famous buzzer had me so excited because I had passed the door so many times, wondering what it must be like to dine at Club 33.
After being greeted by the attendant behind the door, I was offered a refreshment while waiting in the lower courtyard. Before going upstairs, we were reminded of the club rules and were offered to have our photo taken on the famous Club 33 staircase "Cour des Anges".
When we walked into the upper level, we were given a short tour of the restaurant. The tour included showing us areas like the members-only jazz bar and the balcony where guests can view Fantasmic and fireworks on select nights. Also, by the host stand there was a little shop of select merchandise exclusive to this Club 33 location.
After being seated at our table, we viewed our menus, a prix fixe five-course meal. While dining, many of the wait staff shared their favorite facts about Club 33 and educated us about historic items inside the club. Of course, the food was exceptional and the best I had ever experienced inside any Disney Park around the world. The Cast Members made this the most enjoyable experience by sharing their knowledge and love for Disney with guests. You can tell the staff felt that they were a part of carrying on Walt's legacy while providing the utmost hospitality.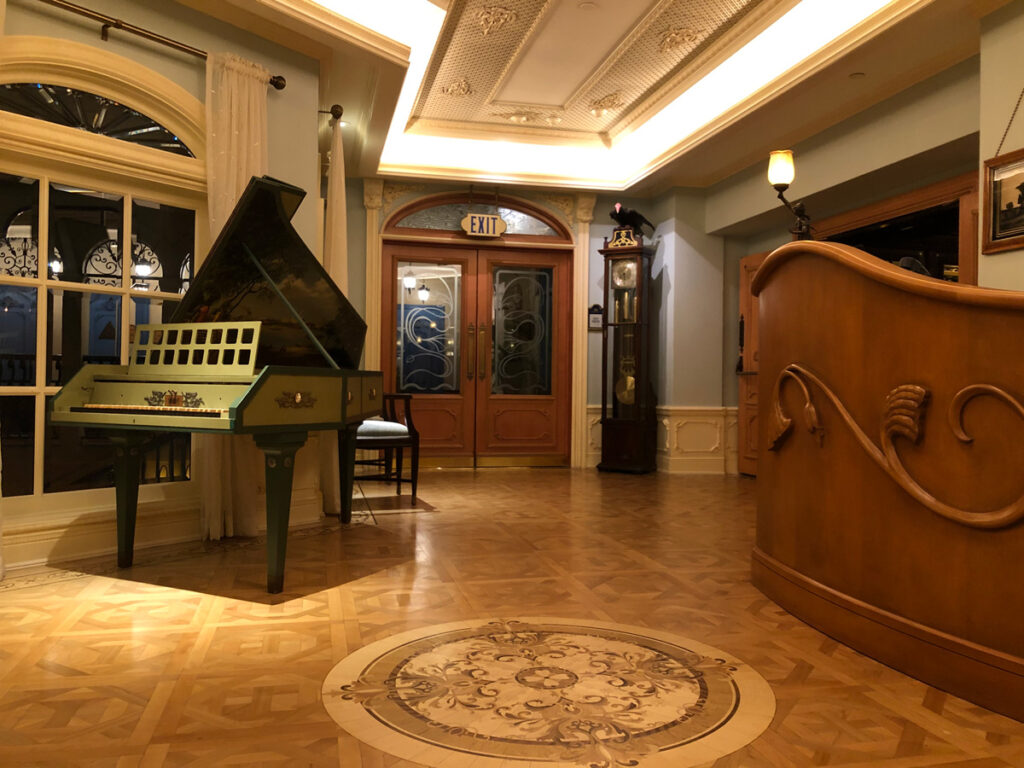 Throughout the history of Club 33, many of the pieces of art inside were from Walt and Lillian's private collection. After a renovation in 2014 almost everything at the club are now replicas of the originals. Much of the artwork you'll see throughout the dining room is Disneyland concept art from famous Imagineers.
One of the most famous items you will find in the restaurant is the vulture. Walt originally wanted an animatronic talking bird that could speak to his guests. Unfortunately, this didn't work as initially planned, but guests can still hear the bird speak occasionally. You can see similar technology in Walt Disney's Enchanted Tiki Room. Another well-recognized piece is the piano right when you enter the upstairs room. Lillian picked this piano out herself to be in Club 33. Sadly, it is no longer working, but many famous musicians got to play it while visiting Club 33.
Visiting Club 33 was the ultimate Disney fan experience that I could ever ask for. Having the opportunity to see an exclusive part of the famous Disneyland Park is a moment I will never forget!"
What do you think about the exclusive Club 33? Do you think the benefits are worth the price? Would you want to join to gain access to these exclusive experiences and locations? Let us know in the comments below!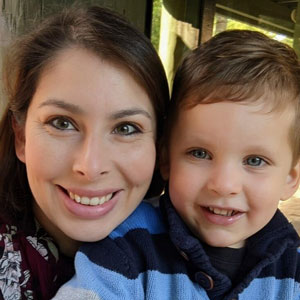 Written by
Rachel Van Norman
Contributing Writer
Rachel fell deeply in love with all things Disney as a little girl. Now as a wife and a mother herself, she shares this Disney obsession with her son and everyone around her. From her love of princesses to eating all the Disney food, Rachel spends her time radiating Disney magic and keeping everyone up to date on Disney news.