Welcome Home! One of my favorite things about staying in a DVC resort room is having a kitchen or kitchenette. While Disney's meals are a fun part of vacationing, sometimes it's nice to have a meal in your room. This is especially true on a resort day, when it's rainy, or if you are watching your budget. I often see posts asking for suggestions on food ideas for DVC rooms. But I think the biggest concern is how to plan so you don't have leftovers. What's the point of saving money by cooking if you have too much food left over?  Planning is key. Once you've made your dining reservations you can decide what meals to have in your villa. You can make a menu and stick to it, then make your grocery list without adding too many extra snack items. You'll probably be enjoying a few items around the resort, so plan for that as well.
Plan Your Meals Around Your Schedule
How do you plan your menu? Think about your group. Are you up early to hit the parks at rope drop or like to sleep in? Stay in the park all day or prefer to break it up? Now look at your park day schedules as well as dining reservations, then you can decide which type and how many meals and snacks you really need to have in your room.  On a normal week-long stay, we usually cook two or three main meals, make a couple of lunches and plan for grab and go breakfasts. It takes a little planning, but once you set your menu and plan your shopping list, you'll be set for your vacation.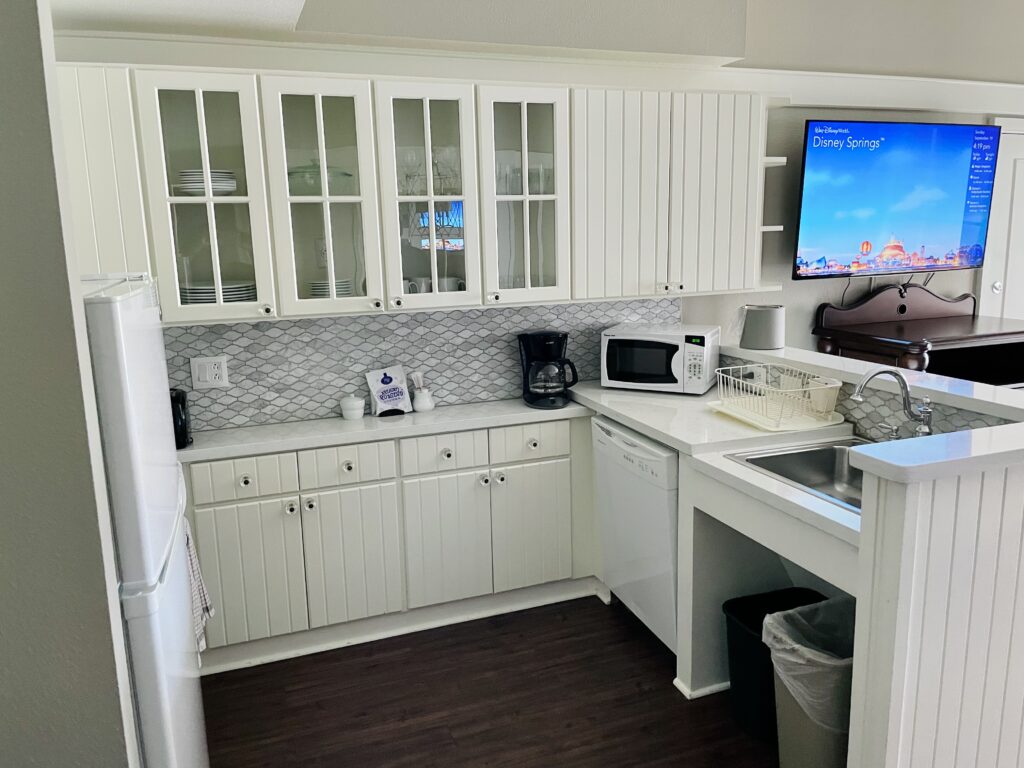 Let's start with our grab and go breakfast. If you like to hit the parks early, choose items that are easy to toss in a backpack like fruit, hard boiled eggs, breakfast smoothies or yogurt and granola bars. For non-park or afternoon only days, we prefer to make a full breakfast by using a water-based pancake mix or eggs and bacon and relax around the resort. For lunch we usually do a quick service meal, but on resort days we keep it light by using salad kits and adding a protein, such as tuna or a rotisserie chicken. Dinner might take a bit more planning, but think about meals that have only a few ingredients and are quick to prepare. Quick meals like tacos, pasta, and a chicken dish are usually on our menu for the evenings, after all, we might need to get back to the park to see the fireworks.
But We Have A studio, How Do We Plan For That?
Studios are a bit more challenging to make full meals, as there is only a small refrigerator, microwave, coffee pot and toaster, with paper and plastic products. Luckily, there are ways to enjoy simple meals and snacks in your DVC resort kitchenette. The key is choosing more ingredients that don't need refrigeration and have their own containers, such as fruit cups, oatmeal, applesauce, breakfast or granola bars, crackers, and tuna fish or chicken kits and microwave popcorn. We enjoy fruit with bagels and cream cheese or English muffins with jelly as well. There really is only enough room for a few items to go in the refrigerator, so if you're like me, I make sure there is room for cream for my coffee and to chill our water as we head to the parks. Speaking of water, invest in reusable bottles if you're not a fan of Mickey water. A filtered water pitcher or filtered water bottles will save money and waste verses buying a case of water.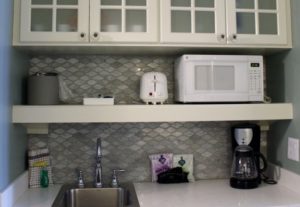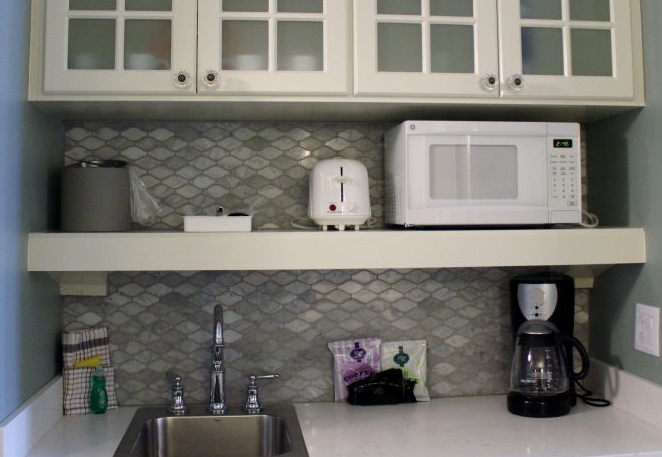 Where Should I Get My Groceries?
In addition to the few items that are available in each resort, there are several grocery stores around Disney that are an easy drive from the resorts. The other option is ordering groceries and having them delivered to the resort. If you are flying and prefer not to have a car, here is a great list of delivery options.
One thing that we do is actually bring a few items with us, even when we fly. I have a small plastic hard sided container where I keep some basics ready for our trips. In my container I have salt and pepper, packages of the premixed and measured seasonings, and small containers of cooking oil and syrup for pancakes, as well as food items like tuna, oatmeal and popcorn. That way I don't need to buy full size containers and be stuck bringing them home or worse, throwing them away. Don't forget plastic bags in various sizes, which are useful to take food into the park as well as bring partially eaten items back from the park. Note, if you plan on using only carry-on luggage, make sure to measure your ingredients to keep the 3.4-ounce limit of liquids and store in travel containers and label them as well.  If you just need a little something or forgot an item, stop by a quick service location and see if there are small packages you can grab, such as red pepper flakes, Parmesan cheese or condiments or pickup a couple of fresh items from the marketplace at the resort. Then I refill the container with any snacks we bought as treats for when we get home.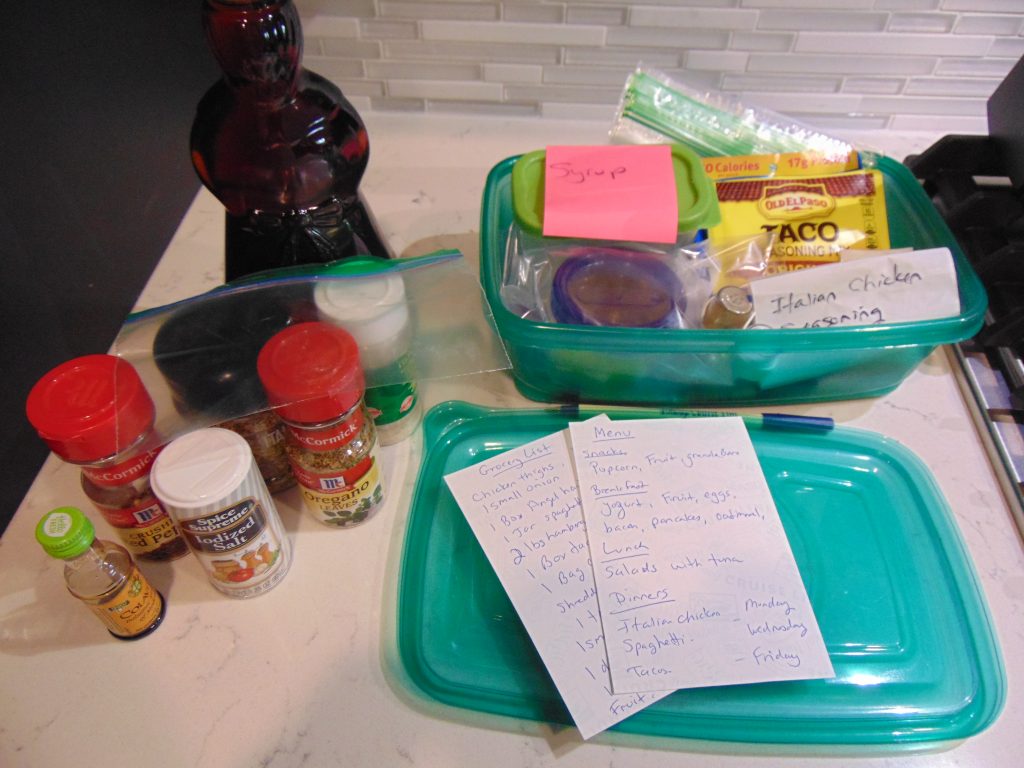 Now it's time to head to Disney and enjoy your vacation. If you've never stayed in a Disney Vacation Club resort villa, check out the DVCShop for rentals to try one. Once you've stayed in one, it's hard to go back to a regular hotel room.
What are some of your resort recipes or menu ideas for your Disney trip? Let us know in the comments.
Written by
Karen Fountain
Contributing Writer
Karen has been a Disney fan her whole life and has been visiting almost yearly since 1997, when her daughter turned 4. She has become an avid cruiser with Mickey as well. Born and raised in the Washington, D.C. area, she recently she sold her business and with her husband, decided it was time to make the Orlando area their new home. They love being able to pop over to Disney on a whim and enjoy lunch or dinner at Disney Springs or catch a concert at Epcot.