We're excited to bring you a room tour of one of the brand new Resort Studios at Disney's Grand Floridian Resort & Spa. We've spent the extra points for the theme park view, so we can show you how awesome the view of the fireworks is from the balcony! Let's get started!
Big Pine Key Building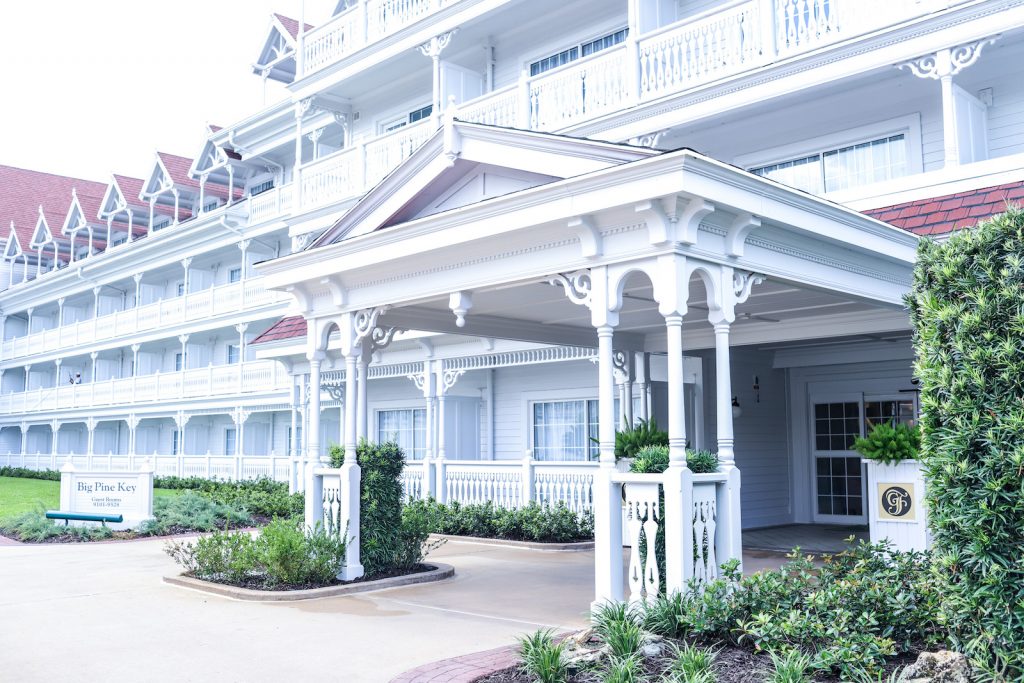 This new room type became available for DVC owners to book late last month, and is located in the big pine key building, where Disney has converted previous hotel rooms into brand new DVC Villas.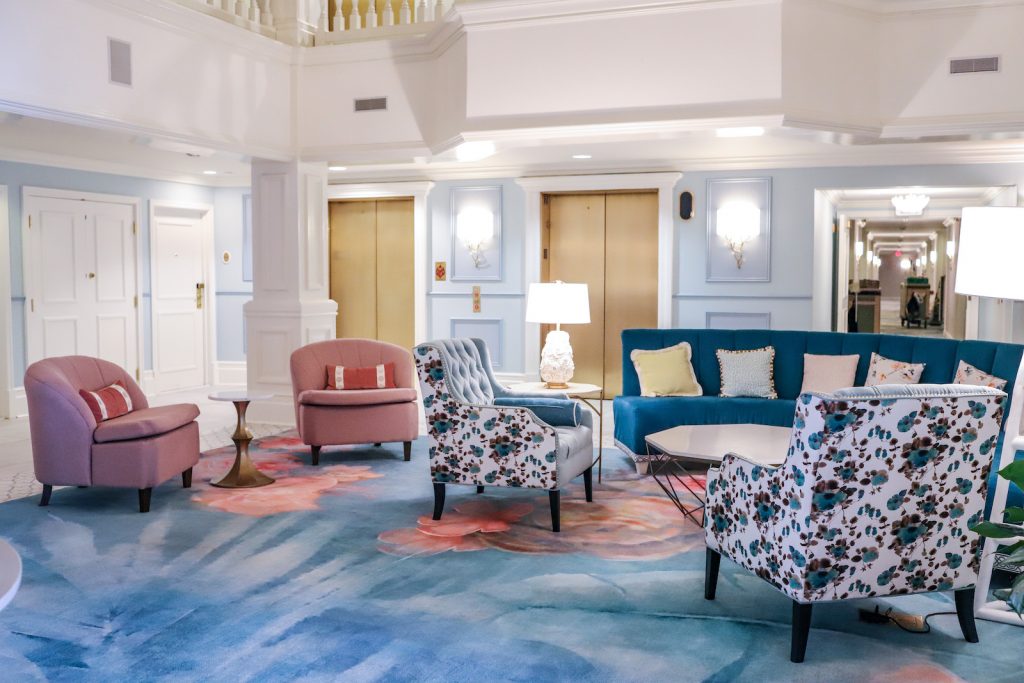 The building itself has been completely renovated to feature a beautiful new decor. When you enter the building you're greeted with two seating areas atop this massive floral rug. This floral patterned carpeting is used all throughout the building, with dark blue, teal and and gold accents popping out everywhere you look.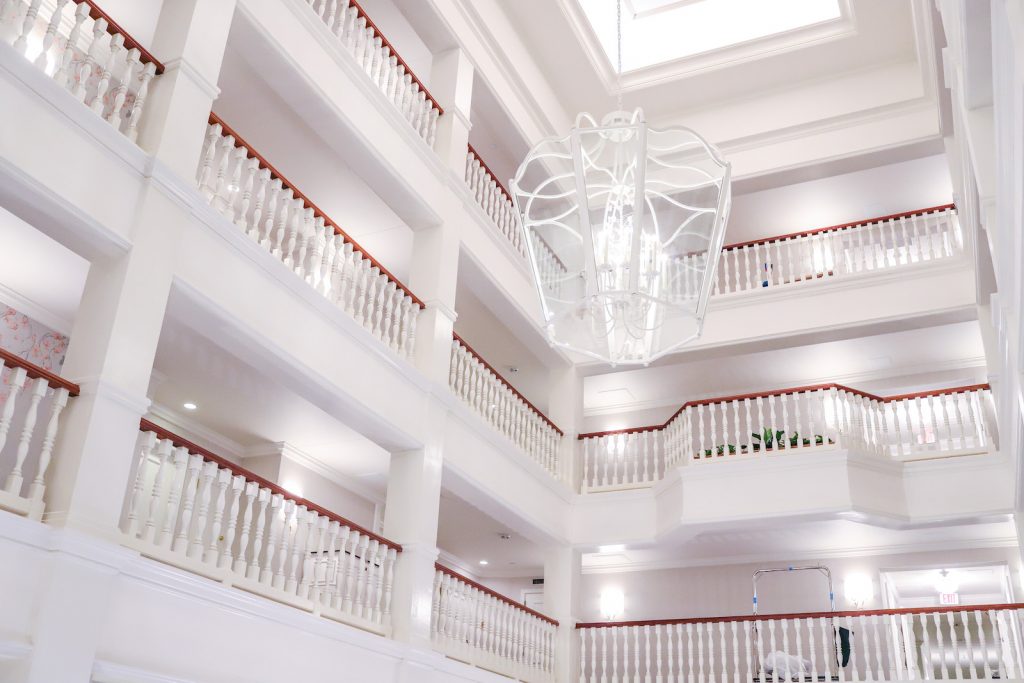 This is where you can access the swanky golden elevator, and this room is complete with a huge centerpiece chandelier.
Room Tour
Kitchenette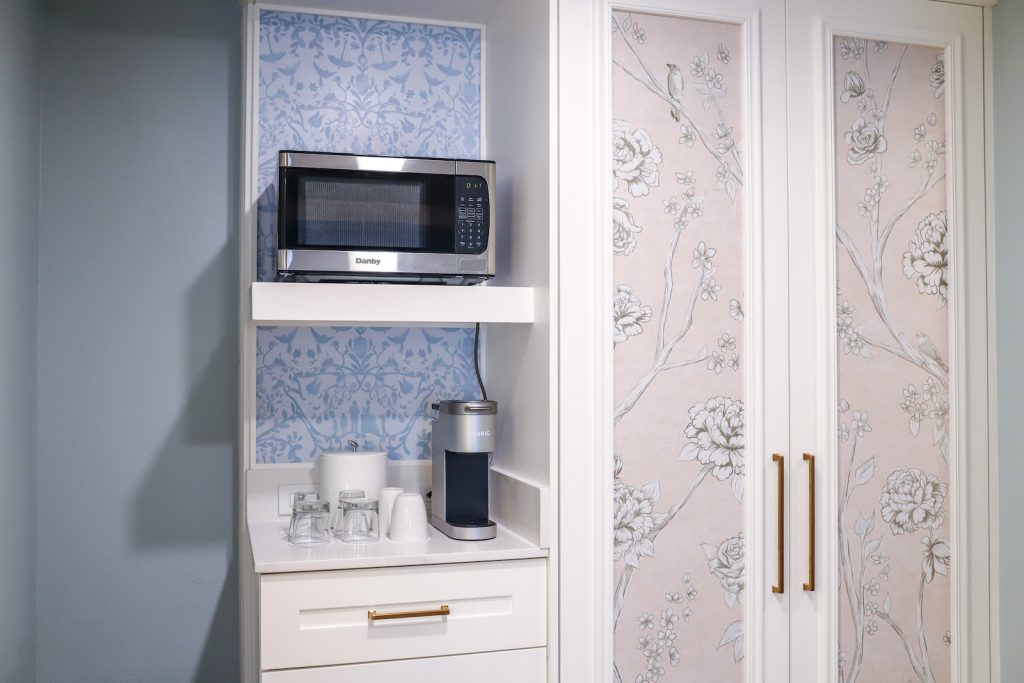 When you enter the room, to the right you have a small kitchenette area, as well as some floor to ceiling storage cabinets.
The kitchenette area is complete with a microwave, coffee maker, mugs, and glasses. As well as in the top drawer you'll find bottle openers, utensils, bowls, and everything you need to brew some coffee or tea to go.
In the bottom cabinet, you have a beverage center which doesn't get quite as cold as the small fridge in the deluxe studios, but it's perfect for keeping drinks cool.
In the storage closet you'll find robes, a handheld steamer, extra pillow and blanket as well as a safe.
Bathroom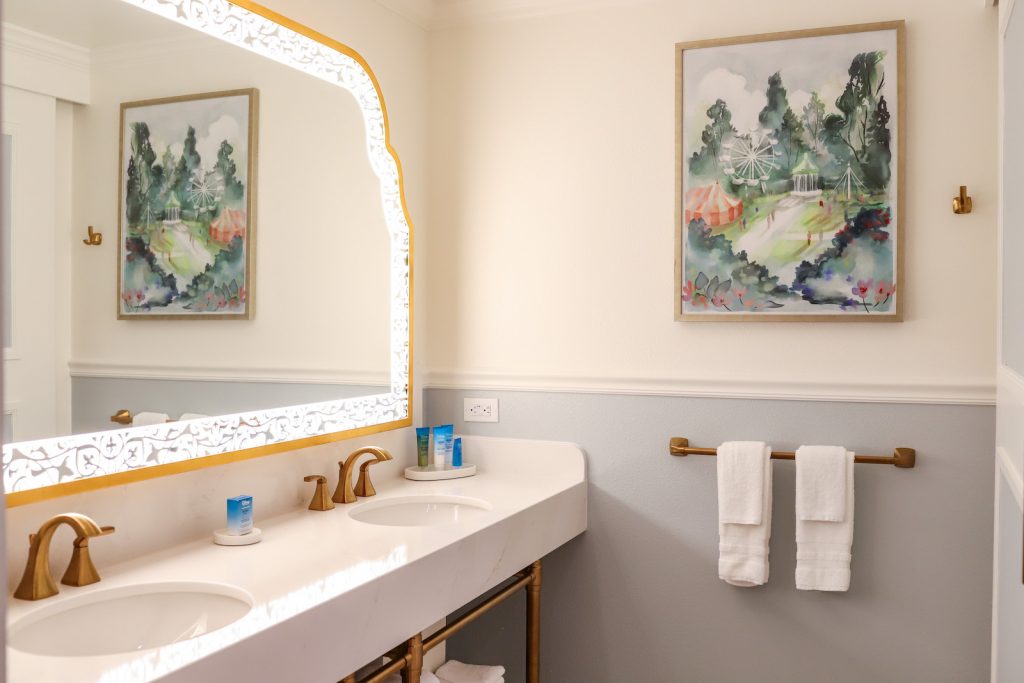 As we enter the bathroom, you'll find his and her sinks, with this gorgeous edge-lit mirror, and you'll have all towels you need with the storage underneath the sinks. The bathroom features a magnified and lit mirror, and it comes with individual toiletries, rather than the wall-mounted ones you might find in other DVC Villas.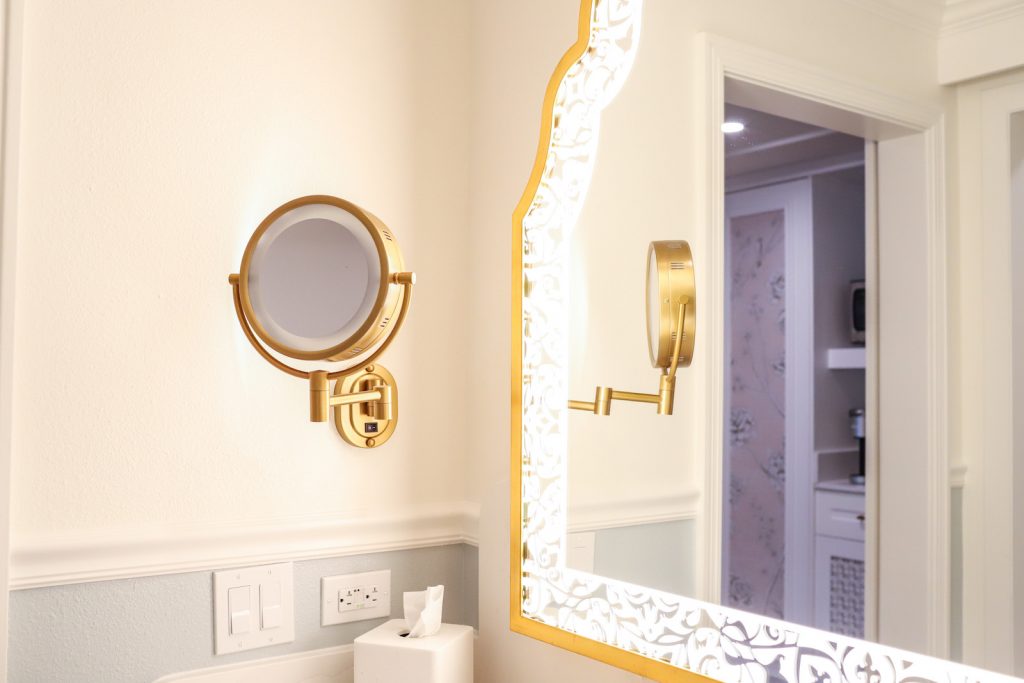 Heading into the water closet past a pocket door that can be closed and locked, you can find the shower over tub design comes with a rain shower head as well as a detachable wand.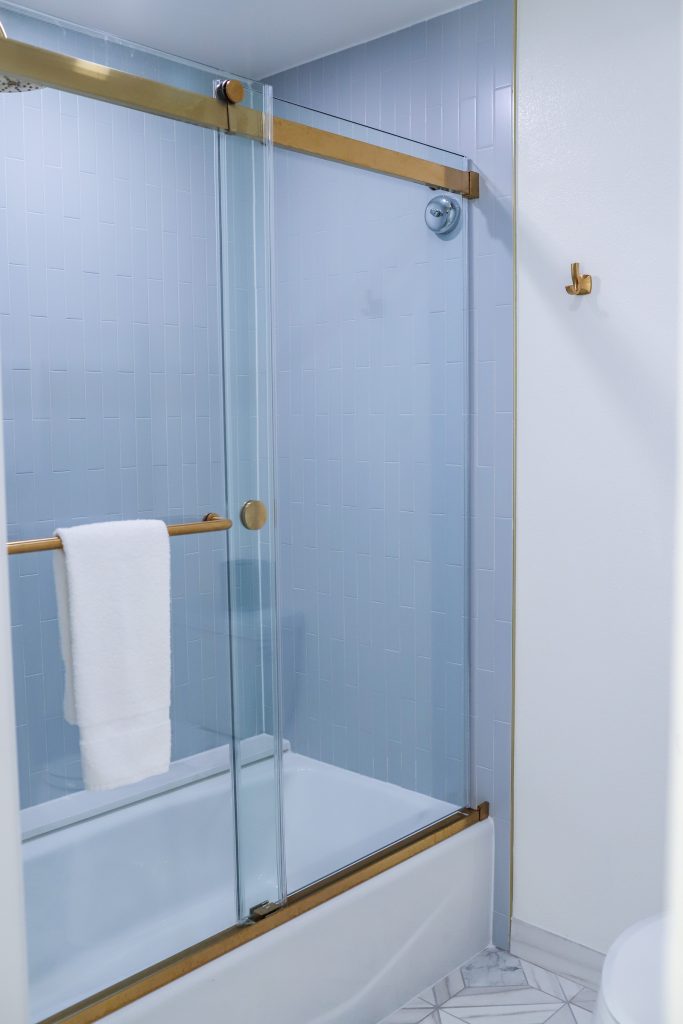 Main Area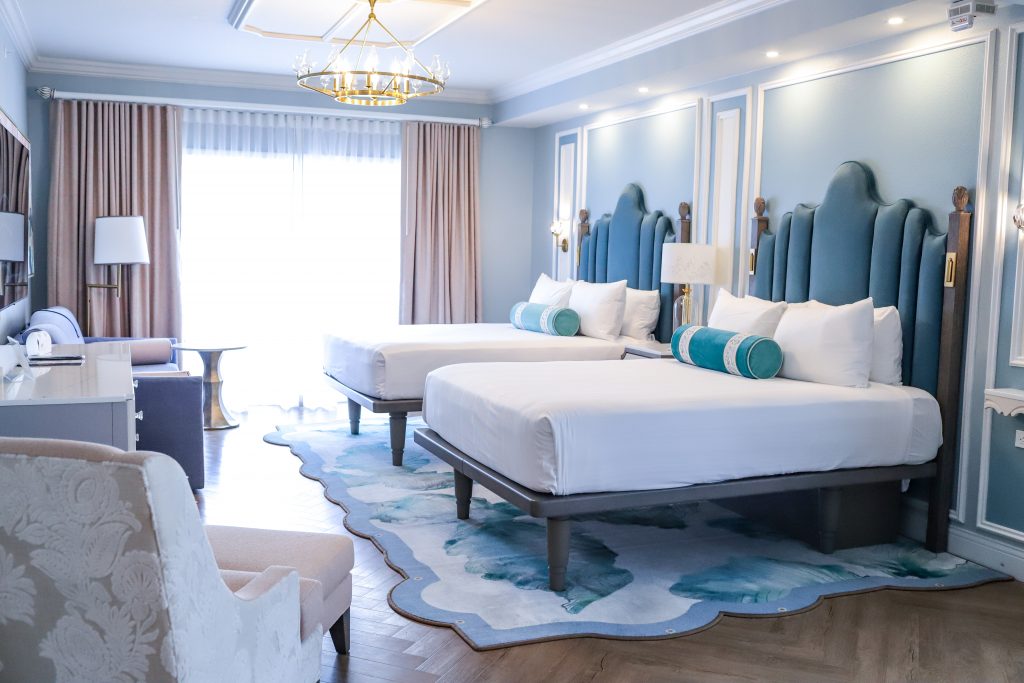 Going out to the main area of the studio you'll have 2 queen sized beds, a comfy chair with footrest and on the right you have a little area to get ready in the morning.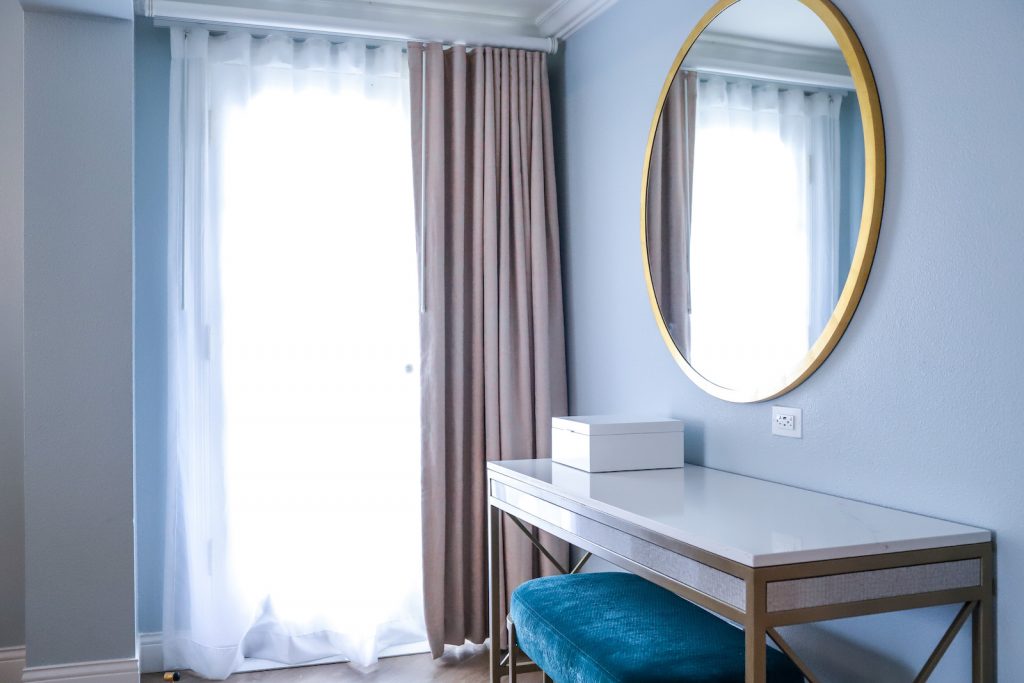 Behind this area you can see the door to our side balcony. We only have that because we were given a corner room, so I don't believe the other Resort Studios have that side balcony. Oh, and inside that white box, you do get a hair dryer.
Bed Area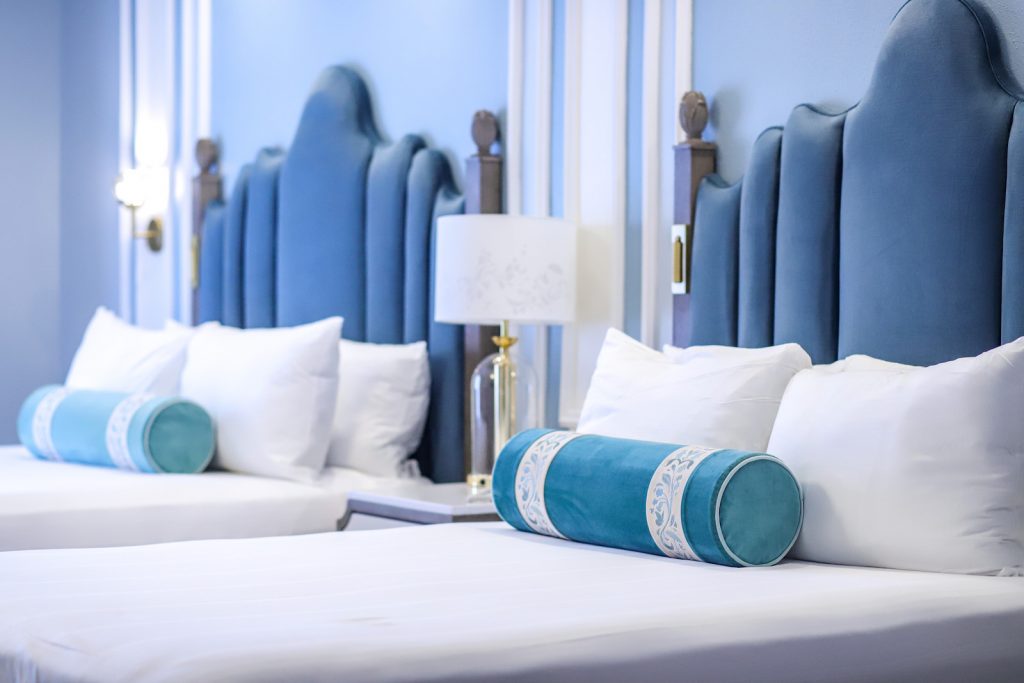 Turning our attention to the beds, there are a lot of little features to point out. First of all, you may notice these bed frames are a little higher than normal, you should be able to fit quite a lot of luggage under there.
On each side of the bed you get these cute little shelves to set your devices on as they charge.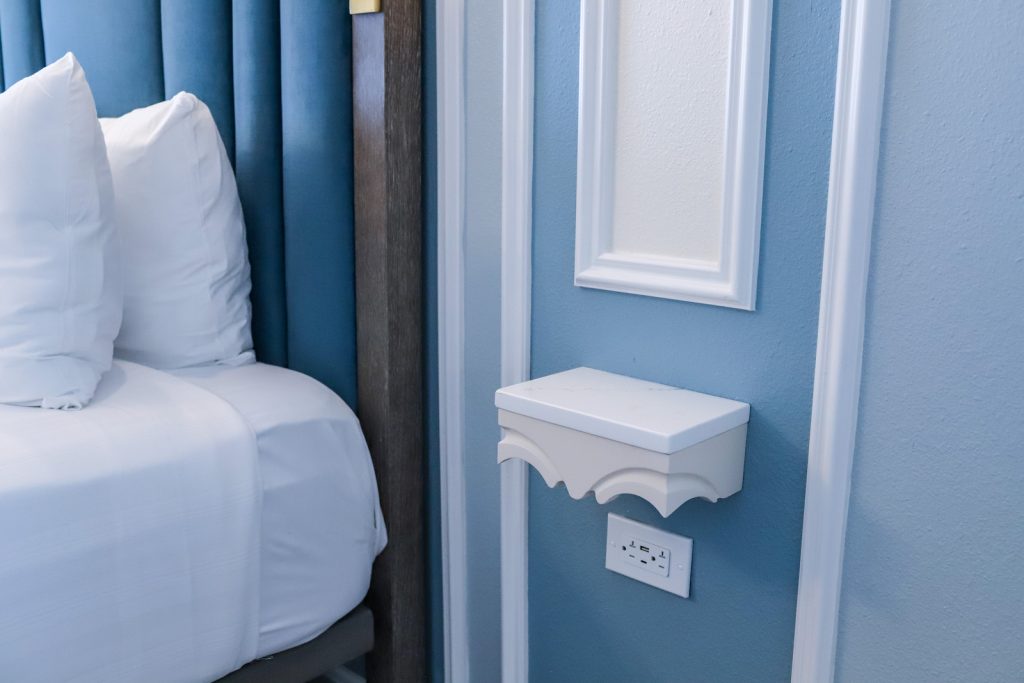 You'll get outlets on each side of the side table, and the outlet has the regular wall socket, plus USB-A and USB-C ports as well so even if you forget your charging brick, you're good to go.
You've got built-in reading lights on each side of each bed, and here's the other charging shelf on the far side of the room.
TV & Sleeper Sofa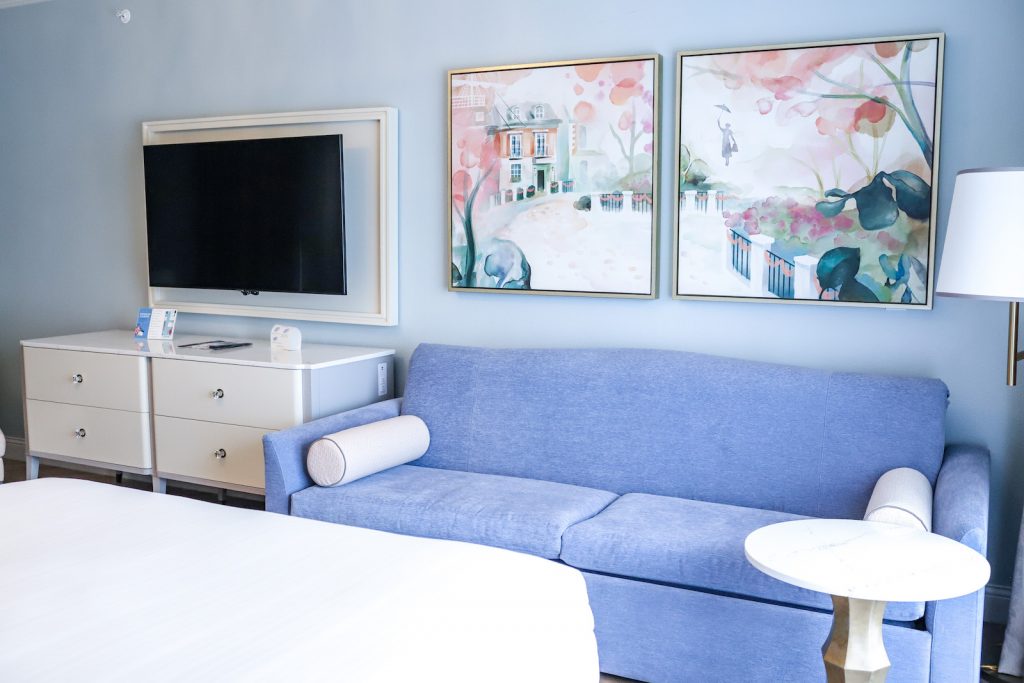 Directly across from the beds, you have the wall-mounted TV, storage cabinets, and a pull-down sleeper sofa. You also get a couple outlets next to the sleeper sofa, they've really thought of everything.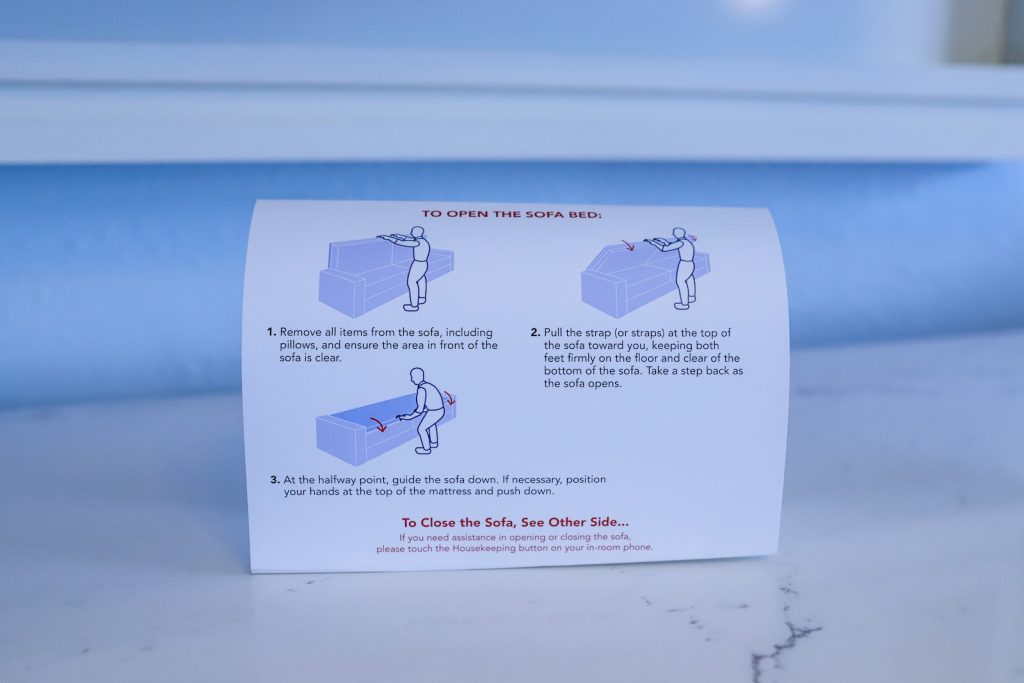 To set up the bed, all you have to do is find a black strap thats on the back of the couch, give it a pull, and the bed will roll into place. You can take the straps off, and you have an extra pillow and blanket in the storage cabinets. This bed puts the maximum occupancy of a Resort Studio at 5 guests.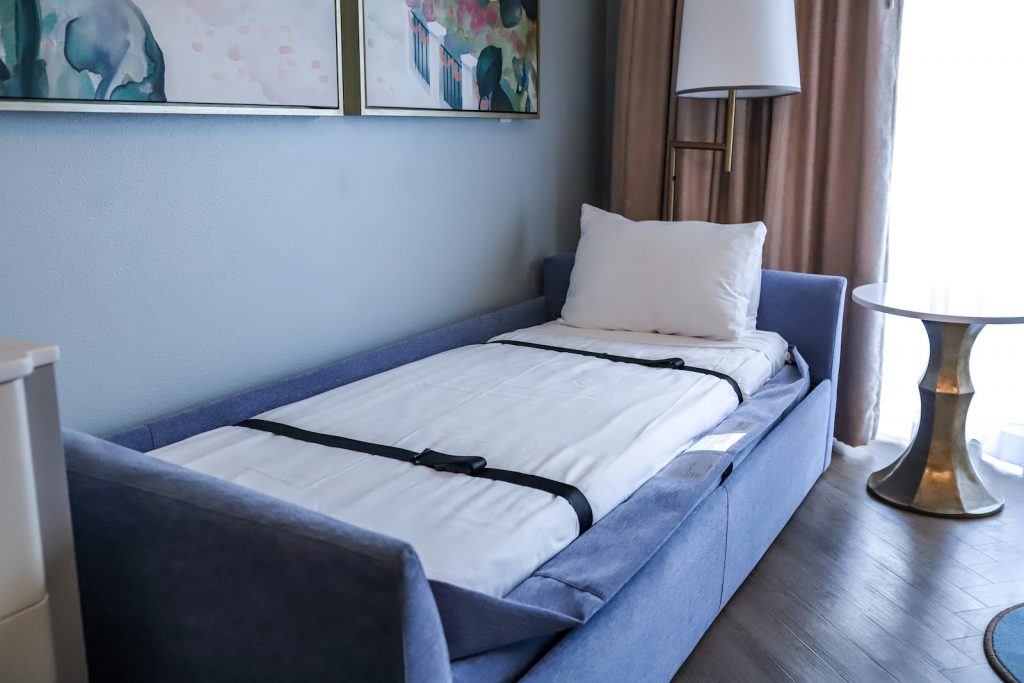 Side Balcony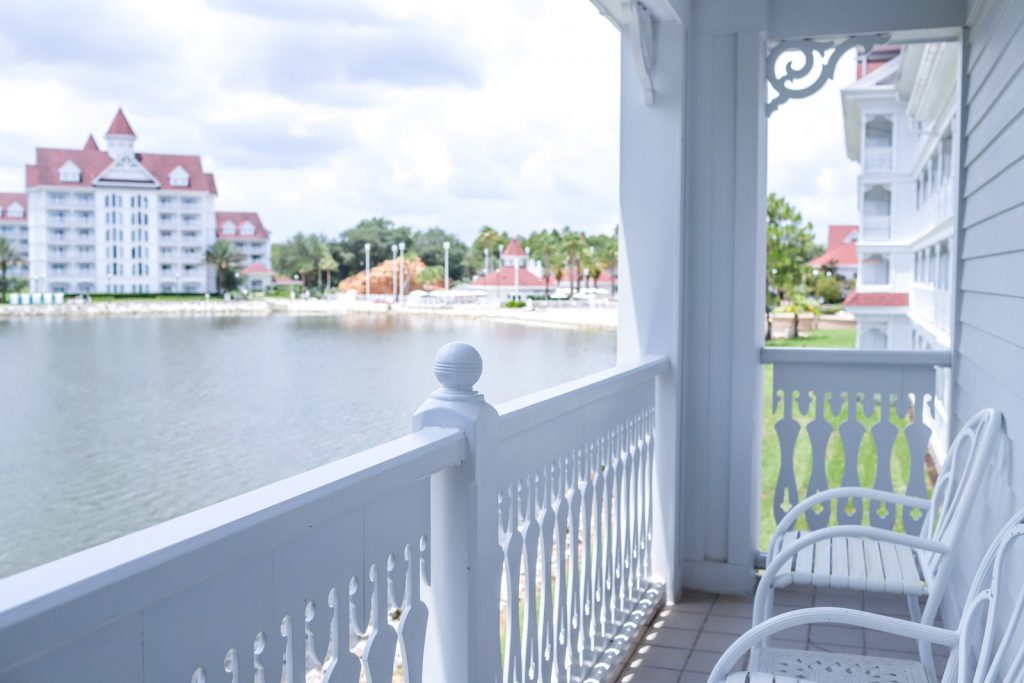 Now, let's take a look at that side balcony. This one has a regular swinging door, and our particular room gave us some great views of the other building of the Grand Floridian, plus there's a pretty nice view of the Polynesian Resort right on the other side of the Seven Seas lagoon.
Main Balcony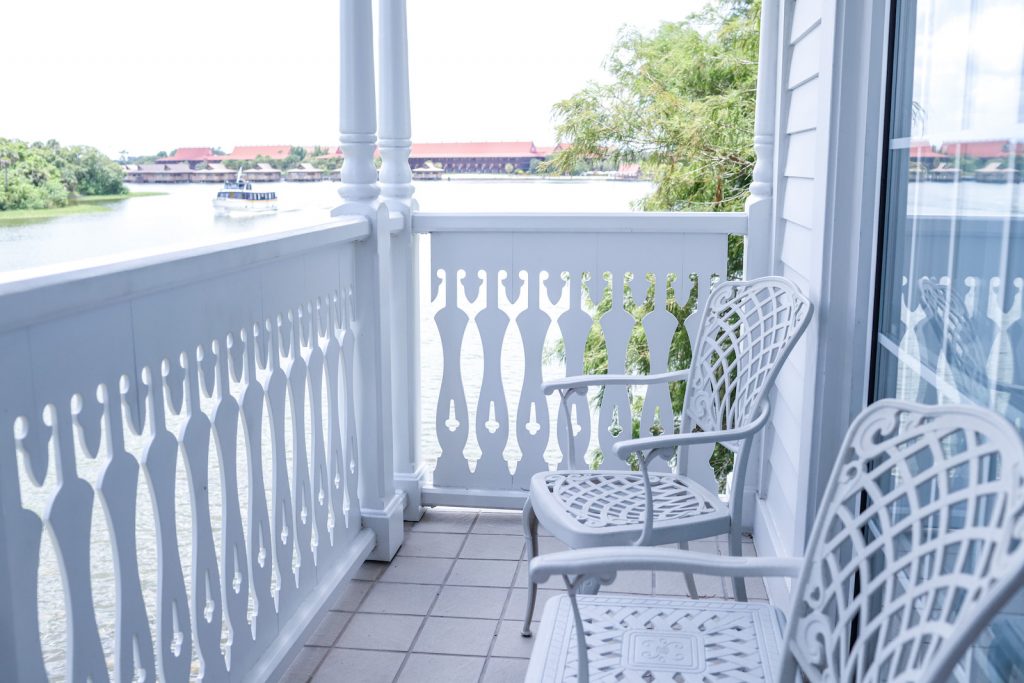 Now let's head back inside, and go through that sliding glass door so we can show you the main balcony. This is another great place to soak in some views of the Polynesian Resort, and if you squint, and look far off in the distance, you can see Cinderella's Castle.
Being on the lagoon, there's always something going on, you can sit on your balcony and see ferries taking guests back and forth, you can watch the electrical water pageant each night, and of course, you have the most amazing view of the fireworks right from your private villa.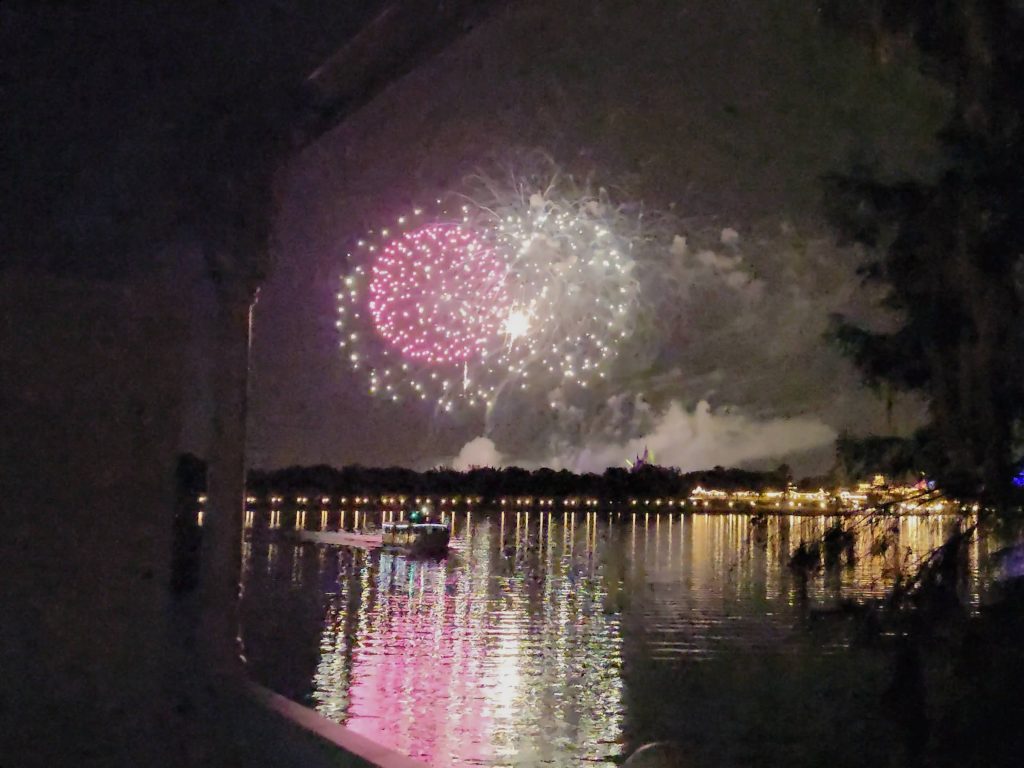 Conclusion
The new Resort Studios offer an amazing new decor, with a great balcony view of the fireworks at Magic Kingdom. We thoroughly enjoyed our stay at the resort, and hope that all of you can someday enjoy this incredible resort as well!
If you'd like to know all of the differences between the resort studio and the deluxe studio, we have an excellent article on the subject that compares their amenities, floor plans, points charts, everything. You can find that article here: Resort Studios vs. Deluxe Studios At Grand Floridian Resort & Spa: What's The Difference?
If you'd like to view confirmed reservations for rent at Disney's Grand Floridian Resort & Spa, you can experience Disney's Deluxe resorts for less, even without being a DVC member!
If you're interested in becoming a member, and joining the DVC family, you can save thousands by shopping from our current resale listings for Disney's Grand Floridian Resort & Spa.
And as always, keep it locked on the DVC Shop blog for all the latest news from inside the Disney theme parks and Disney Vacation Club resorts!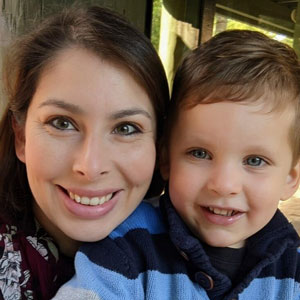 Written by
Rachel Van Norman
Contributing Writer
Rachel fell deeply in love with all things Disney as a little girl. Now as a wife and a mother herself, she shares this Disney obsession with her son and everyone around her. From her love of princesses to eating all the Disney food, Rachel spends her time radiating Disney magic and keeping everyone up to date on Disney news.