Enjoy a dimly lit themed dining experience at the base of Mayan ruins. 
San Angel Inn Restaurante Details

| | |
| --- | --- |
| Walt Disney World Park: | EPCOT |
| Location in Park: | World Showcase – Mexico Pavilion |
| Dining Experience: | Unique/Themed Dining |
| Hours: | 12:00 PM to 10:00 PM |
| Price Range: | $15.00 – $34.99 |
| Type of Cuisine: | Mexican |
| Mobile Order: | No |
| Reservations: | Yes |
| Allergy-Friendly: | Yes |
Dining Overview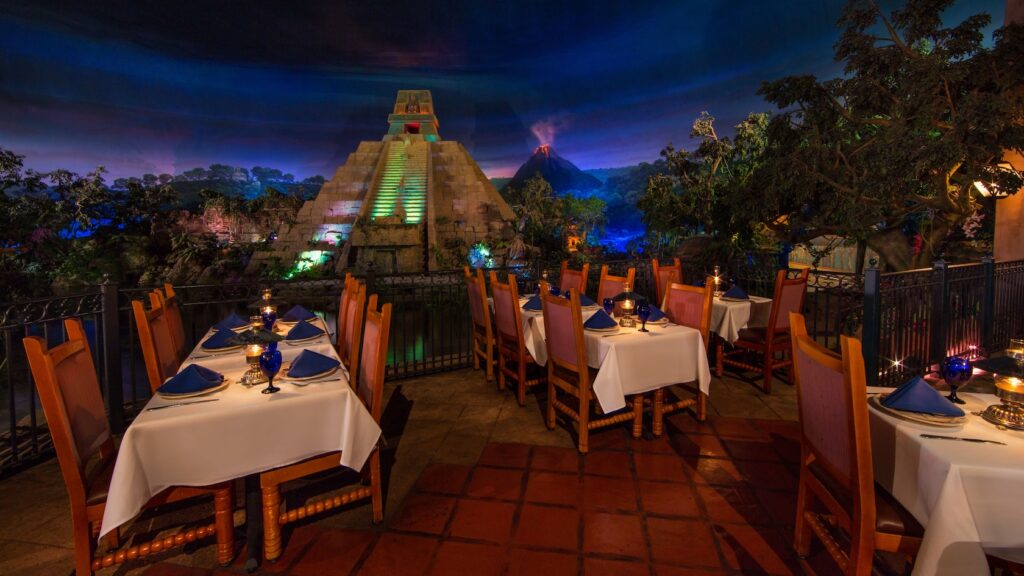 San Angel In Restaurante is located inside of the iconic Mayan pyramid that is featured in the Mexico Pavilion of Epcot's World Showcase. This is a great place for guests to enjoy Mexican cuisine, with a more upscale experience and menu.
The menu is so varied, and easily allows for substitutions, making many options on this menu allergen friendly. There will be something for everyone, even young kids, making this dining location very family friendly. Although the entrees are of course delicious, the desserts at this location are truly the stars of the show. Nothing is too sweet, and all are perfectly balanced in their flavors, ending the meal on the ultimate high note.
The ambiance of San Angel Inn Restaurante is stunning. With dim lighting and views of a canal, that is actually a part of the Gran Fiesta Tour Starring the Three Caballeros, and of course the Mayan ruins and volcano views. This upscale restaurant is sure to leave guests in awe regardless of how many times they eat here.
Menu
Soups and Appetizers
Queso Fundido – $14.00
Melted Monterey Jack Cheese topped with Chorizo, Poblano Peppers and Onions served with Flour Tortillas
 Tlayuda – $14.00
Oaxacan-style tostada, topped with beans, chipotle chicken, Crema Mexicana, salsa verde, avocado slices, onion and queso fresco
 Guacamole – $13.00
Topped with Mango and Toasted Pumpkin Seeds served with Chicharrónes and Salsa Valentina
 Sopa Azteca – $11.00
Traditional Tortilla Soup served with Fried Corn Tortilla Strips, Avocado, Cheese, and Chile Pasilla
Entrées
Camarones a la Diabla – $30.00
Guajillo Pepper and Garlic-sautéed Shrimp served with Roasted Potatoes and Crispy Brussels Sprouts atop Poblano Rice
 Tacos de Ribeye – $29.00
Ribeye, thinly sliced, with Poblano peppers, red onions, bacon and Monterey Jack cheese served with corn tortillas and plantains, topped with crema Mexicana and cotija cheese
 Tacos de Vegetales – $22.00
Flour Tortillas filled with Eggplant Purée, Confit Oyster Mushrooms and Crispy Brussels Sprouts, topped with Cotija Cheese and a drizzle of Truffle Oil served with Poblano Rice
 Pollo a Las Rajas – $28.00
Grilled Chicken Breast over a bed of Roasted Garlic Potatoes with Onions, Poblano Peppers, Corn, and Poblano Pepper Cream Sauce topped with Queso Fresco
 Ensalada César – $18.00
Whole-leaf Romaine Lettuce served with Caesar Dressing and topped with Shaved Parmesan and Crispy Monterey Jack Cheese. Add Chicken 6.00 or Shrimp 8.00
 Enchiladas de Pollo – $26.00
Corn Tortillas filled with Chipotle Chicken covered with Salsa Verde, Crema Mexicana, Cotija Cheese and Crispy Onion Straws atop Refried Beans served with Plantains topped with Crema Mexicana and Cotija Cheese
 Baja Tacos de Pescado – $29.00
Beer-battered fried Cod, Shredded Cabbage, Chipotle-Lime Aioli and Pineapple Relish in flour tortillas
 Carne Asada – $48.00
Ancho agave marinated New York Strip with sweet potato mash and diced nopales, black bean and queso fresco stuffed ancho pepper and a chayote salad
 Pescado A La Veracruzana – $36.00
Red snapper atop potatoes with a cilantro-lime vinaigrette made with capers, olives, bell peppers, Spanish onions and tomatoes
 Mole Poblano – $28.00
Grilled chicken breast, topped with a mole sauce made with nuts and spices served with plantain rice and corn tortillas
Desserts
Tres Leche de Horchata – $10.00
Rice Milk soaked Sponge Cake topped with Sweet Corn Ice Cream and toasted Almonds
 Sorbet Trio – $10.00
assortment of seasonal Mexican flavored sorbets with a Berry Coulis
 Chocoflan – $10.00
Creamy Mexican custard and chocolate sponge cake topped with cajeta and toasted almonds
 Sweet Corn Ice Cream – $9.00
  Helado de Dulce de Leche – $9.00
Kids' Appetizers (Á la carte)
Jr Garden Salad – $3.00
Chopped romaine lettuce and tomato topped with queso fresco and choice of dressing
 Fruit Cup – $3.00
Kids' Create-Your-Own Entrées (choose one)
Tacos – $10.00
Two flour tortillas filled with grilled chicken
 Quesadillas – $10.00
Two flour tortillas filled with Monterey Jack and grilled golden brown
 Grilled Chicken Breast – $10.00
 Chicken Tenders – $10.00
Breaded and fried chicken tenderloins
 Macaroni & Cheese – $10.50
Cavatappi pasta in a rich white cheddar sauce
Kids' menu items for children ages 9 and younger.
Look for the Disney Check icon on printed menus to find options that meet Disney's nutrition guidelines.
Kids' Create-Your-Own Selections (choose two)
Green Beans
Corn  
Rice
Fruit Cup
Kids' Desserts
Chocolate Brownie – $4.50
Dulce de Leche Ice Cream – $4.00
Map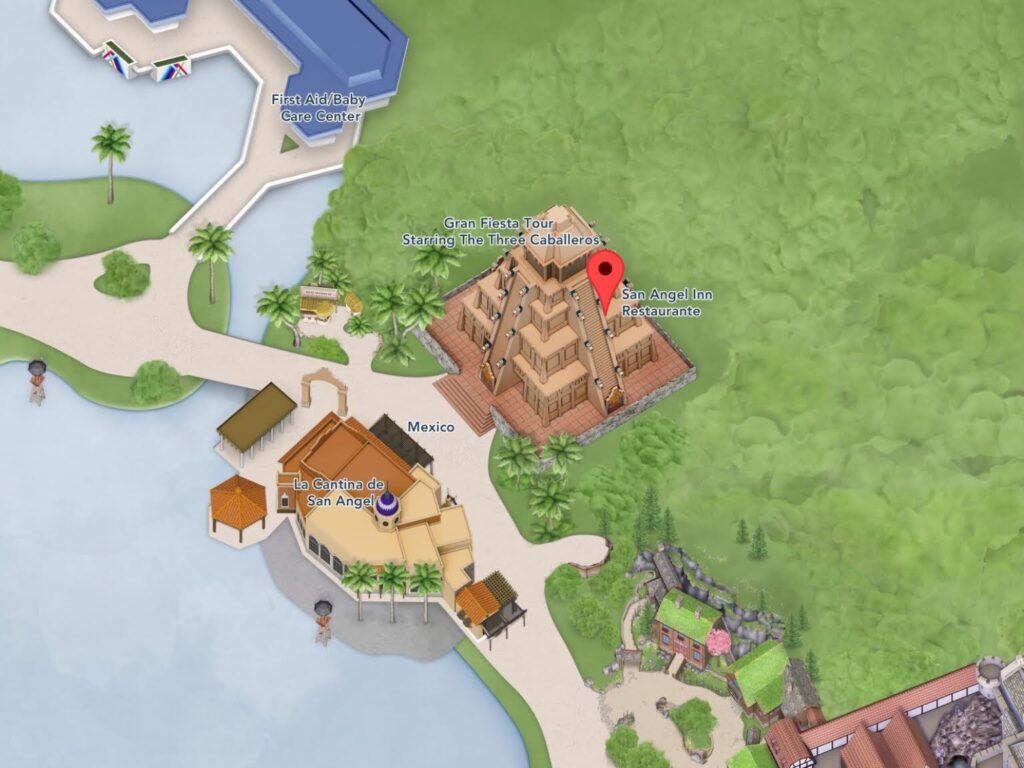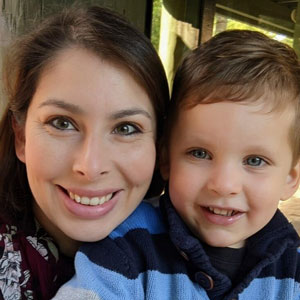 Written by
Rachel Van Norman
Contributing Writer
Rachel fell deeply in love with all things Disney as a little girl. Now as a wife and a mother herself, she shares this Disney obsession with her son and everyone around her. From her love of princesses to eating all the Disney food, Rachel spends her time radiating Disney magic and keeping everyone up to date on Disney news.