"Well, well, well. What have we here?" Disneyland Resort's Oogie Boogie Bash – A Disney Halloween Party is coming back to Disney California Adventure Park this Fall! This spooky event will feature the "monster of scare-e-monies" Oogie Boogie, the boogeyman from Tim Burton's The Nightmare Before Christmas.
Discover Halloween chills and thrills for every member of the family. On select nights from September 9th through October 31st, guests can enjoy the separately ticketed, after-hours, limited capacity special event. The party begins at 6PM, but guests have the opportunity to get into Disney's California Adventure an extra three hours before the party starts!
Dare To Be Scared With These Ghoulishly Fun Activities
Oogie Boogie gathered a collection of legendary Disney villains and now he's calling all Halloween lovers to conjure their inner villains and join the party for a night of fun, trick-or-treating, eerie entertainment and more. The event includes special photo opportunities, over-the-top décor and spooky food and beverages offerings. Plus, party-goers of all ages will be able to dress up in a Halloween costume! Due to the limited number of guests, this event offers shorter wait times at some favorite attractions, like Guardians of the Galaxy – Monsters After Dark.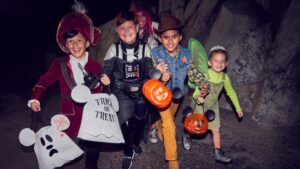 Immersive Treat Trails
Grab your pumpkin pail and travel down wonderfully wicked trails featuring dastardly Villains as they oversee the festivities from their thrones while you collect goodies galore!

Villains Grove
Some of your favorite Disney Villains have transformed the Redwood Creek Challenge Trail into an enchanted grove of mystical lights, sights and sounds! You'll embark on a magical journey to explore the dream-like realms that could only be conjured up by Disney's best-loved baddies! Meander through scenes that reveal the bewitching worlds of Frollo, Maleficent, the Queen of Hearts, Scar, Dr. Facilier, the Wicked Queen and others.

Mickey's Trick & Treat
Join Mickey and pals for a costume party where trick-or-treaters laugh, dance, enjoy a spooky-but-fun story and take home a special treat! Things get pretty wacky when Parker really gets into his silly "mad scientist" costume and brews up a potion. Soon everyone's running from bats, spiders and ghosts—eek!

Frightfully Fun Parade
The eerie Headless Horseman of Sleepy Hollow carries a flickering jack-o-lantern, signaling the beginning of something spectacular. Your favorite Disney characters are all dressed up in their howliday best.

Disney PhotoPass
Scan your event admission ticket into the Disneyland App to access unlimited Disney PhotoPass digital photo downloads taken the night of your party. Grab a Disney PhotoPass photographer and capture memories with the whole family. Download your photos from your Disney account as often as desired, for 45 days after initial capture.
Get Your Ticket To Enjoy The Spooktacular Fun
Eerie encounters await! Tickets are on sale now for the following 25 nights:
Thursday, September 9

Saturday, September 11

Sunday, September 12

Tuesday, September 14

Thursday, September 16

Sunday, September 19

Tuesday, September 21

Thursday, September 23

Sunday, September 26

Tuesday, September 28

Thursday, September 30

Sunday, October 3

Tuesday, October 5

Thursday, October 7

Sunday, October 10

Tuesday, October 12

Thursday, October 14

Sunday, October 17

Tuesday, October 19

Thursday, October 21

Sunday, October 24

Tuesday, October 26

Thursday, October 28

Saturday, October 30

Sunday, October 31
Tickets range from$114 to $169 per person, depending on the party date.
I made a special trip to attend this beloved Halloween party in October 2019 and I thoroughly enjoyed the event. I am overjoyed to hear that the party is returning this year! Will you be attending this happily haunted takeover? Have you been to this or another Halloween After Hours event?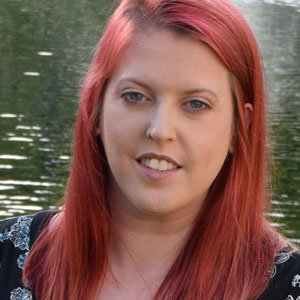 Written by
Sasha Watson
Contributing Writer
Sasha loves traveling, Sunday naps, cookie dough, Halloween and really good roller coasters. An admitted theme park junkie, she is always looking to book her next trip. More often than not, that trip is to Walt Disney World, which is a quick one-hour flight from her home in Georgia. Her favorite travel partner is her husband, Kyle. They've visited Disneyland, Walt Disney World and Shanghai Disneyland, hoping to someday visit all the Disney parks around the world.