Some of the most cherished souvenirs from your time at Disney World may be the pictures that helped capture the memories and the magic. In order to take advantage of your Memory Maker and get even more fun photos from your Disney vacation, head on over to the Disney PhotoPass Studio at Disney Springs for a fun and unique photo shoot experience!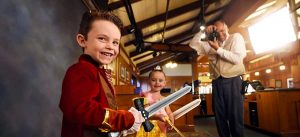 Located in Disney Springs Marketplace (between the Marketplace Co-Op and Ghirardelli Ice Cream & Chocolate Shop) is the perfect photo opportunity for you and your family. This photo studio has PhotoPass Photographers standing by, ready to capture some unforgettable shots. No reservation is required for a free photo shoot, so just stop in when you are visiting Disney Springs! (May be subject to wait time depending on how busy it is.)
PhotoPass Photographers can help you select a backdrop for your photo shoot, making it perfect for individuals or families! If you prefer a more traditional backdrop, PhotoPass Photographers can take the perfect portrait on a more neutral background.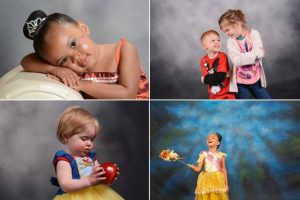 If you would like a more unique shot (perhaps inspired by one of your favorite movies), your PhotoPass Photographer can help you select the perfect virtual background for your photo! Simply step in front of the studio green screen, pose for some photos, and your photo download will be pixie dusted with the digital background of your choosing. 
Options for virtual backgrounds include classic scenery from movies/shows like "Aladdin," "Beauty and the Beast," "Brave," "Cars," "Cinderella," "Elena of Avalor," "Inside Out," "Jake and the Never Land Pirates," "The Lion Guard," "The Little Mermaid," "Mickey and the Roadster Racers," "Moana," "Monsters, Inc.," "Mulan," "Peter Pan," "Pirates of the Caribbean," "The Princess and the Frog," "Sleeping Beauty," "Snow White," Star Wars, "Tangled," "Toy Story" and many more. Have you ever wanted to visit a galaxy far, far away or be under the sea? Now is your chance with these entertaining virtual backgrounds! 
You can also choose virtual backgrounds from Magic Kingdom, Hollywood Studios, Animal Kingdom, and EPCOT! Perhaps the park was a little too crowded during your visit to get that picture in front of Cinderella Castle…well, now is your chance to get the perfect shot.
There are also seasonally available virtual backgrounds throughout the year, themed to the season or holidays. Be sure to ask your PhotoPass Photographer about currently available virtual backgrounds for your photo.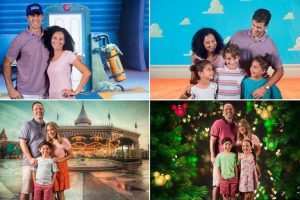 There are also fun props available in the PhotoPass Studio to add to your shot, inspired by some of your favorite movies – so grab that Dinglehopper and give us your best Ariel!
This is a great value for those who have a Memory Maker and want to capture some more magical shots and memories during their Disney Springs visit. Your little ones are sure to love being digitally superimposed into their favorite movie scenes.
And of course, the cast members at the PhotoPass Studio are friendly, helpful and ready to create a fun and enjoyable photo shoot experience for you. I have even stopped in to the PhotoPass Studio with questions about PhotoPass downloads or problems with other photos linking to My Disney Experience account, and they have graciously helped me out. 
The photo shoot is no cost, however you must purchase the Memory Maker in order to download your photos. PhotoPass Studio cast members can help you purchase your Memory Maker if needed. Photos will appear in your My Disney Experience app for download after your photo shoot. Additional products are available for purchase in the Studio, like photo prints, personalized photo books and more. 
What fun photo would you like to take at the PhotoPass Studio? 
Featured photo by Disney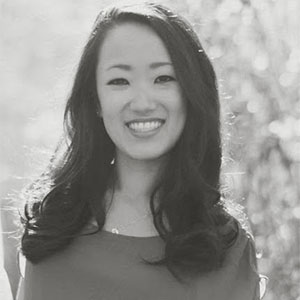 Written by
Leia Cullen
Leia is a proud mom of two boys. She has been in love with Disneyland and Disney World since her first visit to the parks many years ago, and she continues to relive the magic now with her family. She is passionate about creating helpful content that shares news or information about all things Disney, in the hopes it helps others create their own magical moments.