If, like me, you've found it difficult to find quality quick-service restaurants at Disney's Hollywood Studios, look no further! Docking Bay 7 Food and Cargo in Star Wars Galaxy's Edge recently got a menu update and the results are delicious! Some of the items from the original Docking Bay menu have remained, but the new additions definitely live up to the unique flavors that the location is known for.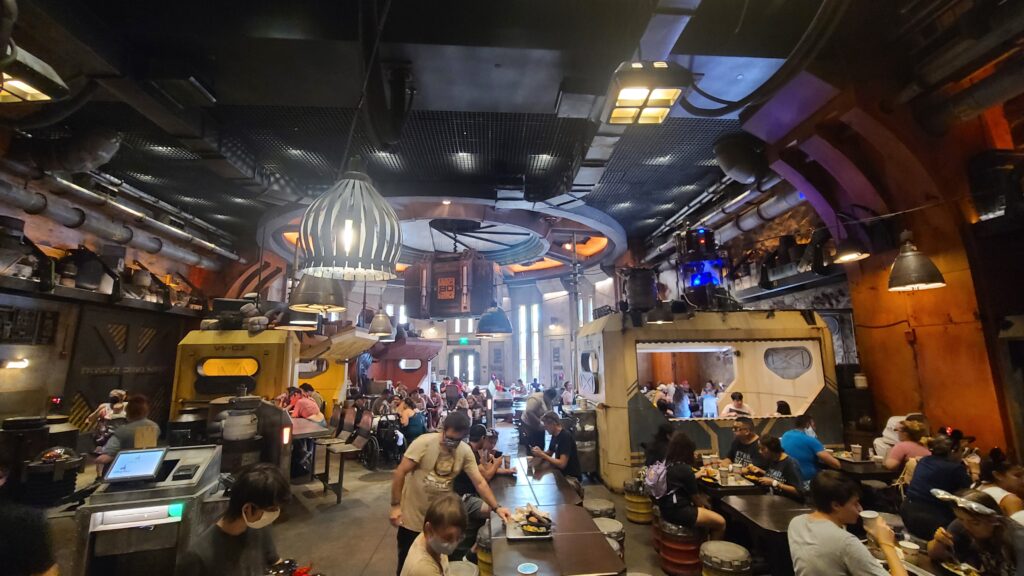 Atmosphere
The story behind Docking Bay 7 is that Chef Strono "Cookie" Tuffs docked their food freighter on top of a working hangar bay and then proceeded to unload all the fresh supplies and ingredients to make tasty meals for visitors to Batuu.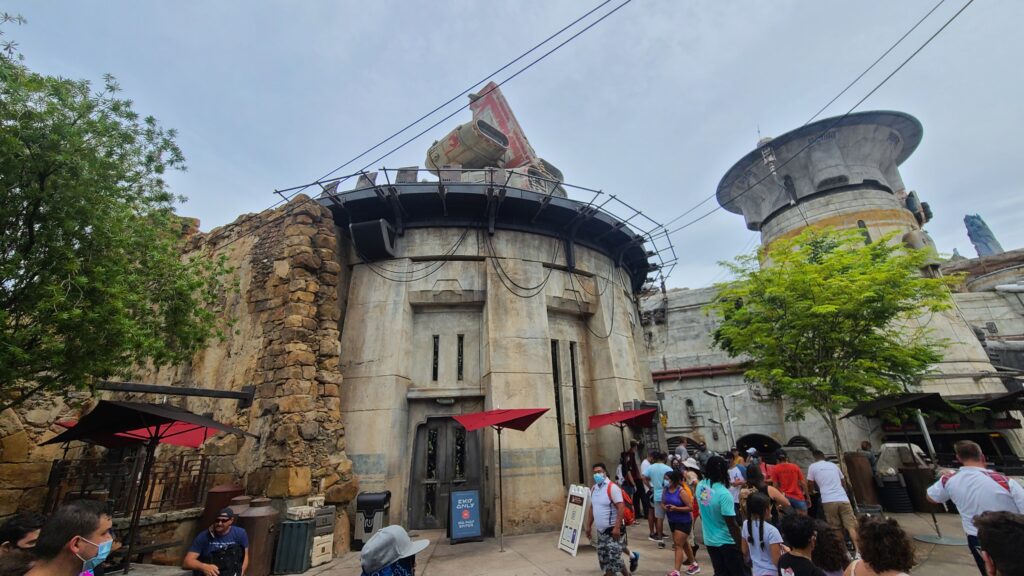 From the outside, it's hard to miss Docking Bay, it's the big, rounded building with the ship parked on top. The decor inside is rustic and looks like the locals took whatever objects were lying around to make chairs and tables for their visitors. You'll also see Chef Cookie's influence throughout the dining room with different intergalactic creatures being prepped for your meal.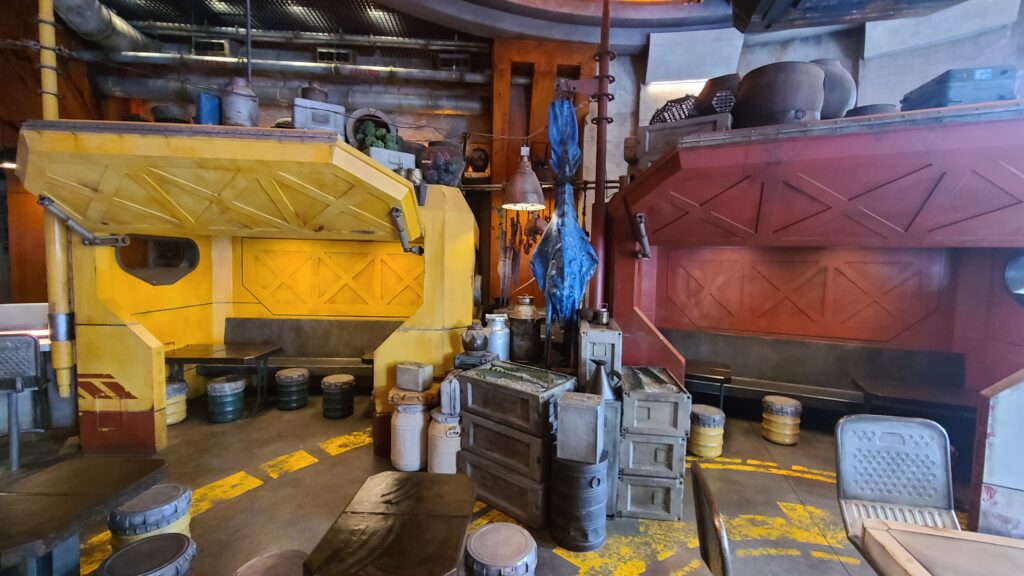 If there isn't seating available inside, then make your way through the automatic doors to the outdoor patio. There are wooden tables and chairs, most of which are shaded from the sun. And there's even a lovely view of Black Spire Outpost from the patio.
Mobile Ordering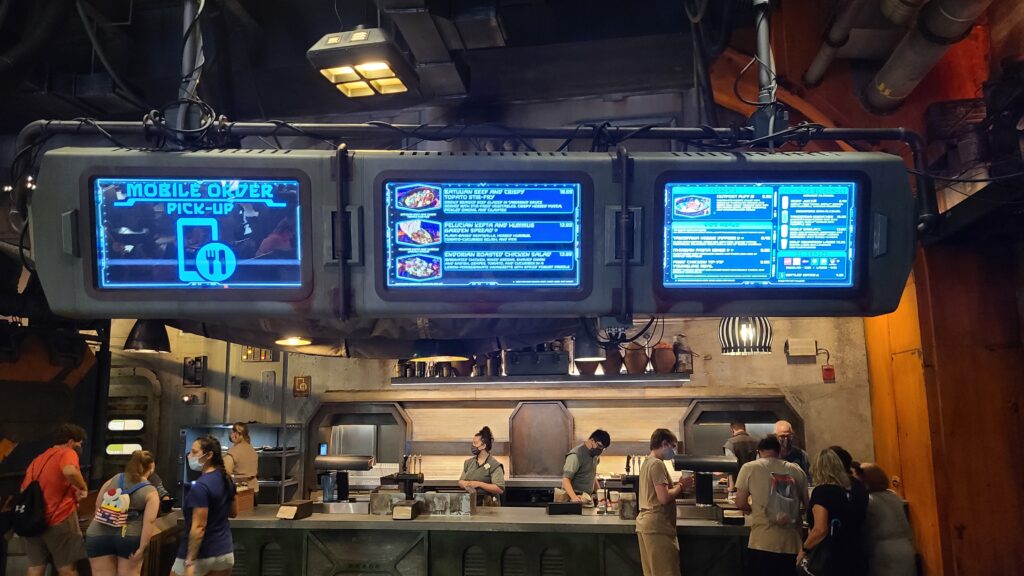 Currently, Disney is encouraging all of their guests to utilize the mobile ordering system on the My Disney Experience app. When I visited this past weekend, the soonest pick-up time was about 20 minutes. We placed our order and then as we were walking into Galaxy's Edge, we clicked the "I'm Here – Prepare My Order" button. By the time we reached the restaurant our meal was ready and we were able to walk right in. To prevent overcrowding, Disney is currently only letting in guests that have a confirmed order to pick up. There was a cast member at the door checking guests' phones before they were able to enter.
One of the best things about mobile ordering is that you can customize your meal in the app. Docking Bay 7 allows you to pick an entrée and then pick a side to go with it. So if even the menu lists your side item, you have the option to substitute it for a different side when you place your order. Perfect for us picky eaters!
The Food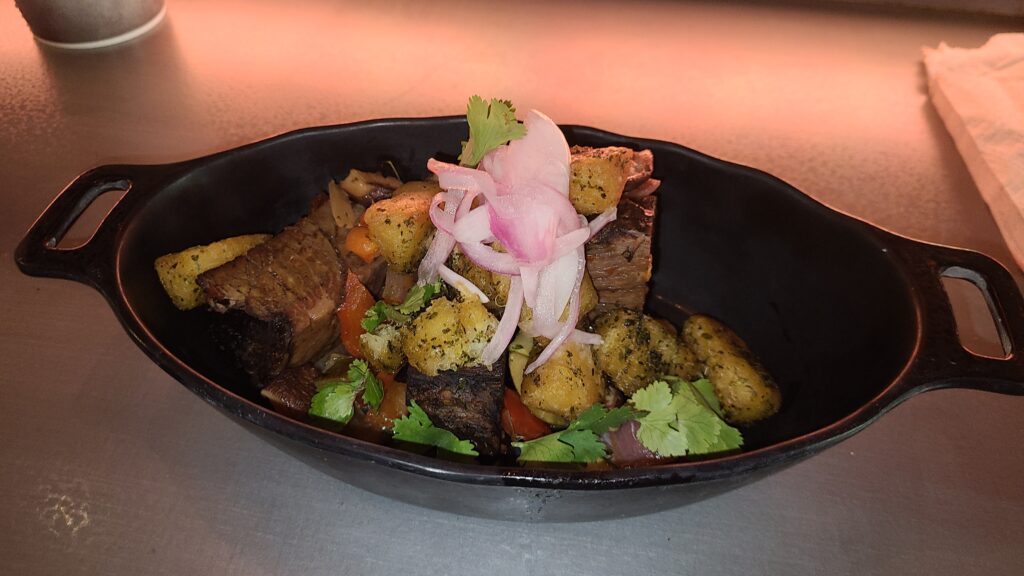 Just looking at the menu, I thought that the dishes at Docking Bay would be a little too adventurous for me. However, I was thankfully proven wrong! Everything I sampled was full of flavor, but none of it was overly spicy or "strange."
I chose the Batuuan Beef with Crispy Topato Stir-Fry and it was delicious. The smoky braised beef was extremely tender; I didn't even need a knife to cut it. The beef is glazed in a tamarind sauce, which I could definitely taste but it wasn't overpowering. The Batuaan Beef is paired with crispy herbed yucca, which were seasoned with rosemary and had a very nice crunch to them. The stir-fried vegetables consisted of red bell peppers, onions, and zucchini, and they complemented the beef very nicely.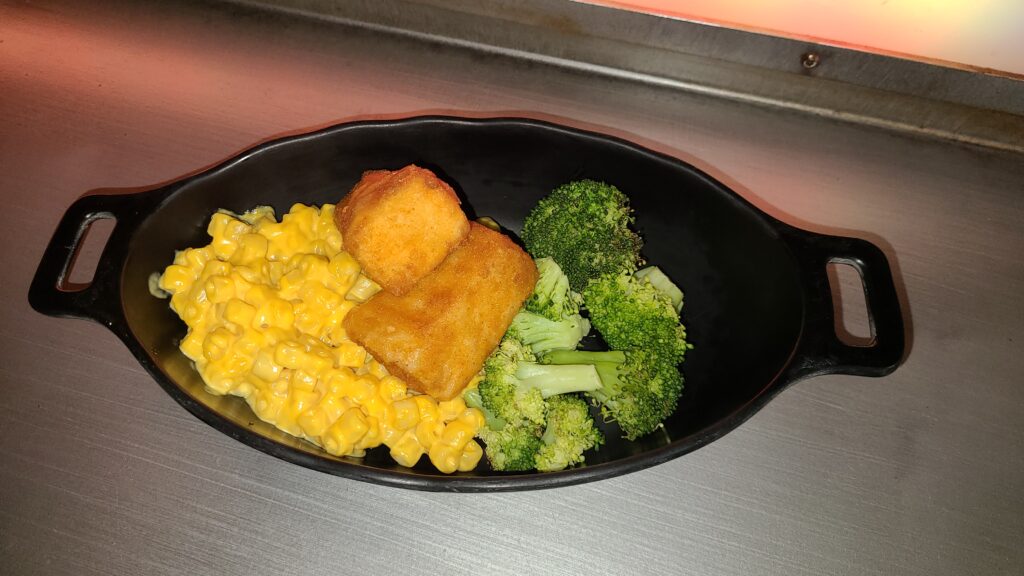 Our party also ordered the Fried Endorian Chicken Tip Yip, which is crispy chicken served with macaroni and cheese and roasted broccoli. This dish is a great option for picky eaters. It was not overly flavorful and the breading on the chicken was delightful. And you can't go wrong with mac and cheese! This is the sister dish of the Pirjanad Hot Chicken Tip Yip; it's the same breaded chicken but it's glazed in a spicy chipotle sauce. When I previously tried this dish, I found the sauce to be a bit too spicy for my liking, but my father loved it.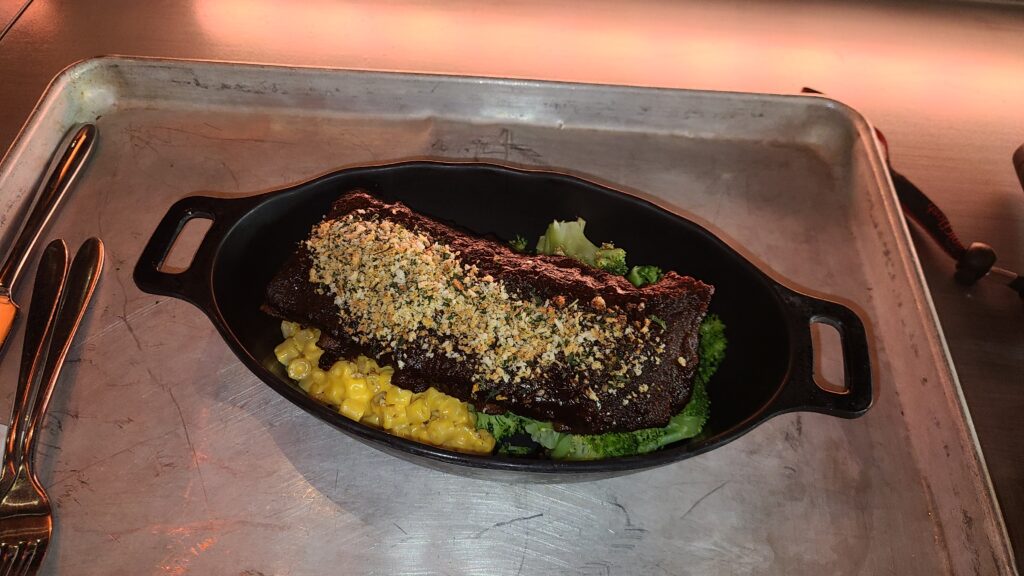 The final dish we tried was the Smoked Kaadu Pork Ribs, which is usually served with a blueberry corn muffin and red cabbage slaw. We decided to mix it up and get the macaroni and cheese and broccoli. I had previously tried the blueberry muffin and it was good, but it does have a kick to it. The pork ribs are covered in tangy barbecue sauce and is topped with bread crumbs, which adds a nice crunchy texture to it. The barbecue sauce does have a pleasant tang to it, so it's sure to satisfy Carolina-style barbecue lovers.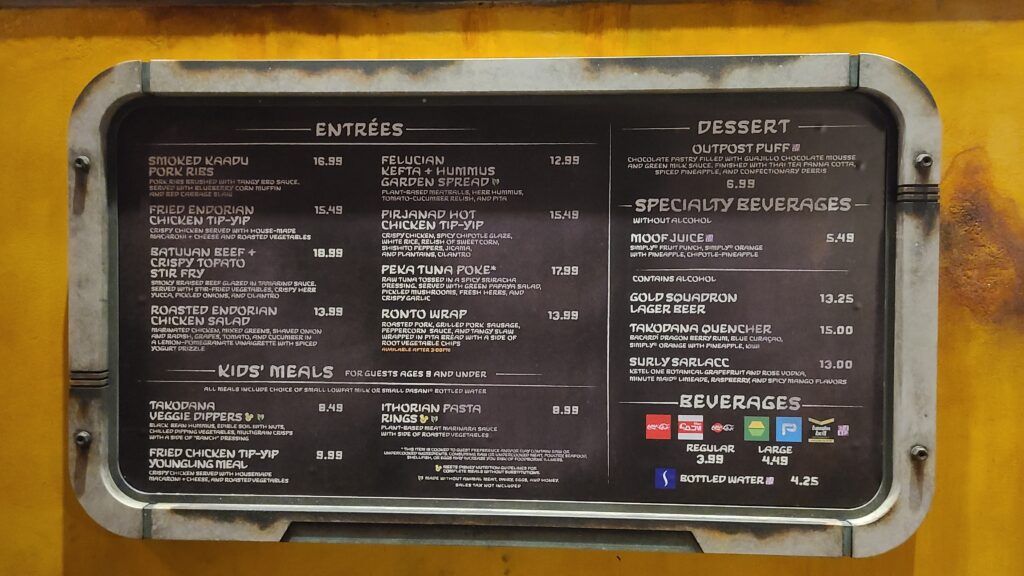 Of course, Docking Bay 7 Food and Cargo is sure to appeal to Star Wars fans, but I think foodies will also really enjoy this location. The entrees are flavorful, and the dishes are much more sophisticated than typical theme park fare. If you're looking for a quick-service meal at Disney's Hollywood Studios, I would recommend Docking Bay 7, hands down. It's sure to please your palate and help fuel your adventures through this galaxy far, far away.
Have you ever dined at Docking Bay 7 Food and Cargo? If so, tell us about your experience in the comments below!
Written by
Erika Lucas
Contributing Writer
Erika has lived in Orlando her whole life, so she was practically raised at Walt Disney World. While in college, she worked for Disney in roles ranging from character attendant to VIP tour guide. Nowadays, she spends her days planning her next trip to the parks or dreaming about setting sail on another Disney Cruise.