Another great dining location for you and yours is Regal Eagle Smokehouse Craft Drafts & Barbecue. This restaurant pays homage to the many backyard grills and barbecues that America is known for. The Regal Eagle pitmasters use different techniques from classic barbecue regions to smoke selections over oak wood. If you're looking for a classic barbecue then look no further than the Regal Eagle Smokehouse. 
Regal Eagle Smokehouse Details

| | |
| --- | --- |
| Walt Disney World Park | EPCOT |
| Location in Park | The American Adventure |
| Dining Experience | Backyard Barbecue |
| Hours | 11:15 AM to 8 PM |
| Price Range | $14.99 & under per adult |
| Type of Cuisine | Barbecue |
| Mobile Order | Yes |
| Reservations | Yes |
| Allergy-Friendly | Yes |
Video Review
Overview
Located in the American Adventure section of EPCOT, this new backyard barbecue style restaurant was an instant fan favorite for those in the mood for authentic American cuisine. It serves great quality food and is a wonderful option for both lunch and dinner. 
Reservations are highly recommended but walk-ins are accepted, though be prepared for a bit of a wait during busy times.
Menu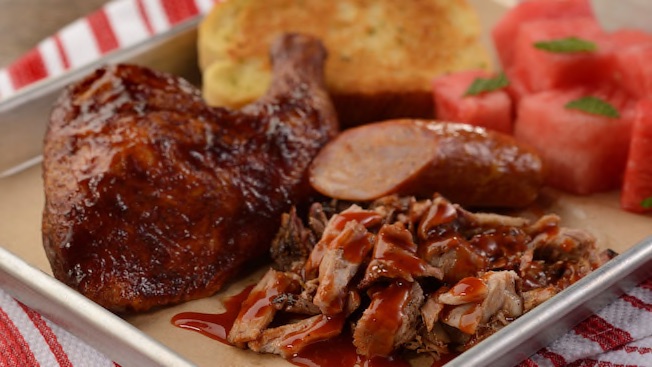 There are many dishes to choose from at Regal Eagle. The Memphis Dry-rub Pork Ribs is a very popular choice, it is the most expensive option at $15.99. 
Other popular entrees are the BBQ Burger, the Sliced Texas Beef Brisket Sandwich, the Kansas City Smoked Half-chicken, and the North Carolina Chopped Smoked Pork Platter. There is also an equally tasty plant-based Jackfruit Burger for guests looking for a non meat option.
Most of the items on the menu are gluten/wheat free and allergy friendly, just be sure to ask before ordering.
On the kid's menu the options are a BBQ Chicken Leg served with Coleslaw and Watermelon and a choice of Small Low Fat Milk or Small Dasani Bottled Water, and a Chicken Salad served with the same things.
Upon request guests can try any of the four specialty sauces: 
The Blue Ribbon Brisket Sauce – A savory spice sauce

The Sizzlin' Pit Dry Rub Coalition – Classic Smokehouse Sauce

Old Glory Mustard Guild – Sweet mustard sauce

Blue Ridge Vinegar League – Vinegar based sauce
There are several sides to choose from including, french fries, beer-battered onion rings, mac & cheese, baked beans with burnt ends, house-made pickles, and creamy coleslaw.
Three dessert options are also available if you're not full from your entree:
Apple Tart – Vanilla Tart filled with Sweet Cream Cheese and Cinnamon Apples with a Streusel Topping

Banana Pudding – Sweet vanilla custard with sliced fresh bananas

Fresh Watermelon Cup
Wash it down with all-American beverages, including beers and ciders from around the United States. You can also try wines from the west coast and specialty regional cocktails with or without alcohol.
Map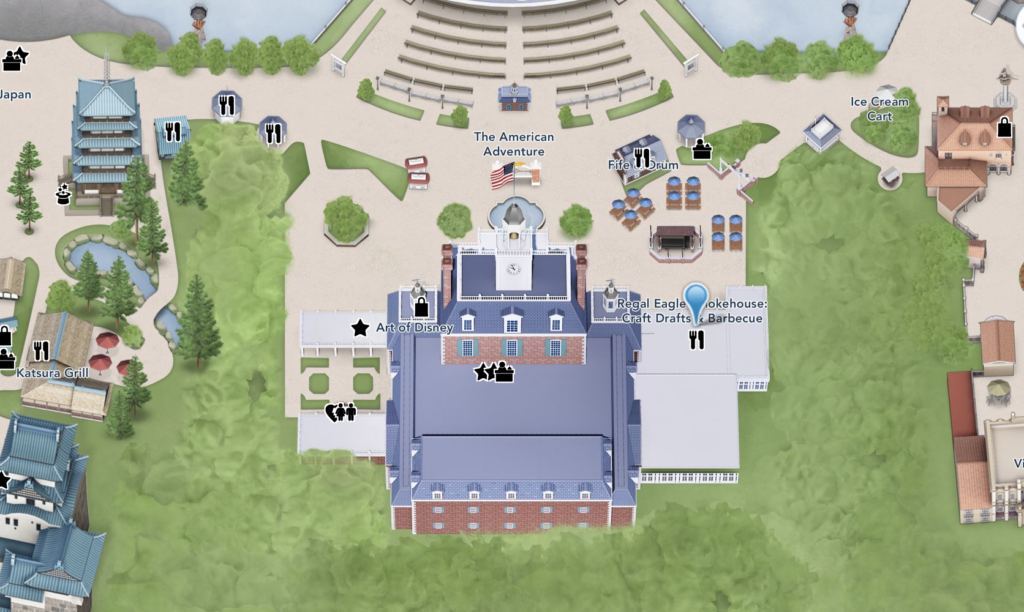 The restaurant is not too difficult to find, once you get to the American Adventure, walk to the left side of the building and you will find the entrance.
Regal Eagle is a fantastic option for lunch and dinner, especially if you and your family are in the mood for hearty, authentic American cuisine. This laid back barbeque joint is a perfect dining location to sit back, relax and enjoy your Disney Vacation!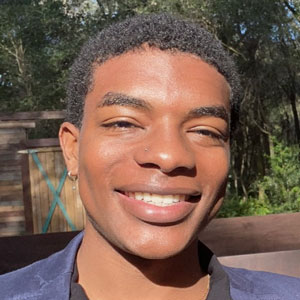 Written by
Gio Lambert
Contributing Writer
Gio loves all things Disney! He's been on three Disney cruises around the world and has said they're the best way to vacation. As a Central Florida native, he's grown up going to Disney and has loved every experience. Gio's favorite Disney movie is The Lion King but he loves the music from Tarzan. If he had to spend the rest of his life in one theme park he would probably pick either Animal Kingdom or Hollywood Studios.