The Walt Disney World Resort has announced reopening dates for three of its popular buffet-style dining locations. As we continue to monitor Disney's phased reopening plans, their most recent update is sure to please hungry Disney guests! These guest-favorite buffets are officially returning: Boma – Flavors of Africa at the Animal Kingdom Resort, Biergarten Restaurant at EPCOT's German Pavilion, and The Crystal Palace at Magic Kingdom. Is your mouth watering yet?
When the Walt Disney World Resort reopened in July 2020 after its four month COVID-19 closure, some of its dining experiences were modified in order to keep both Guests and Cast Members safe. Several buffet-style dining locations have reopened, but instead of traditional buffet offerings they were opened as family-style dining instead. Boma – Flavors of Africa is the very first true buffet to be re-open at Disney World since the shutdown!
Boma – Flavors of Africa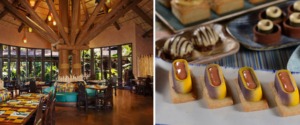 Location: Disney's Animal Kingdom Lodge
Buffet Experience Returning: August 20
Schedule: Breakfast – 7:30AM to 11:00AM and Dinner – 5:00PM to 9:30PM
Menu: African & American
Located on the lower level of Animal Kingdom Lodge's Jambo House, Boma is a top ranked dining location themed to look like an African marketplace. As one of the most diverse buffets at Walt Disney World, you'll find a wide variety of American and African cuisine. Including both adventurous foods for the daring eaters and more conventional options for the picky eaters. After your dining experience, take advantage of being at the resort and wander around the property, you'll find amazing decor and viewing areas to enjoy the roaming animals!
Biergarten Restaurant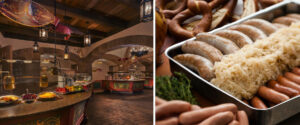 Location: EPCOT, World Showcase – Germany
Buffet Experience Returning: August 29
Schedule: Lunch – Noon to 3:55PM and Dinner – 4:00PM to 8:00PM
Menu: German
The dining room is themed like a traditional Bavarian village, complete with a live Polka Band. You'll enjoy authentic German cuisine including pretzel rolls, bratwurst, spätzle, schnitzel, and desserts such as apple strudel and black forest rolls. Imagine you're celebrating at Oktoberfest and raise your stein. Prost!
The Crystal Palace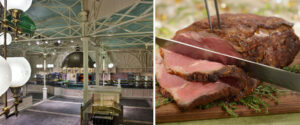 Location: Magic Kingdom Park, Main Street U.S.A.
Buffet Experience Returning: September 12
Schedule: Lunch – 11:30AM to2:55PM and Dinner 3:00PM to 8:30PM
Menu: American
This enchanted dining location is modeled after an 1800s Victorian greenhouse. It's very light and bright with a lot of windows, tall ceilings and a variety of plants to give it a conservatory feel. If you're at the Magic Kingdom and in the mood for American food, but more than burgers and chicken fingers, feast on Parker House rolls, create-your-own fresh garden salad, seared pork tenderloin, fire-roasted prime rib, braised beef short ribs, and more! Dining reservations are highly recommended to enjoy this iconic restaurant.
Are you excited to see the return of these three popular all-you-care-to-enjoy buffets? What is your favorite all-you-can-eat dining location at Disney World? Share your thoughts in the comments below.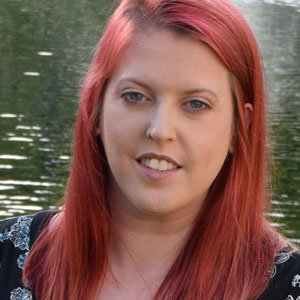 Written by
Sasha Watson
Contributing Writer
Sasha loves traveling, Sunday naps, cookie dough, Halloween and really good roller coasters. An admitted theme park junkie, she is always looking to book her next trip. More often than not, that trip is to Walt Disney World, which is a quick one-hour flight from her home in Georgia. Her favorite travel partner is her husband, Kyle. They've visited Disneyland, Walt Disney World and Shanghai Disneyland, hoping to someday visit all the Disney parks around the world.