July 17, 1955 in Anaheim, CA Disneyland opened their gates for the first time to the public and Walt Disney could finally share his vision with the world. A park he created to spend time with his daughters, where families could come together, pause their reality and experience magic and fantasy!  On July 17, 2021 Disneyland celebrated their 66th Anniversary of the parks opening day! Sixty-six years of magic in the making. Here's how Disneyland celebrated their 66th Birthday.
The day was filled with characters, cupcakes and a celebratory cavalcade! In the morning you could find Mickey and Minnie on the steps of the Disneyland Railroad wearing their white and colored polka dot celebration outfits and waving to guests as they entered the park. Later in the day the rest of the gang joined them! Goofy, Pluto, Donald Duck and Chip 'n' Dale were also spotted in their celebration outfits.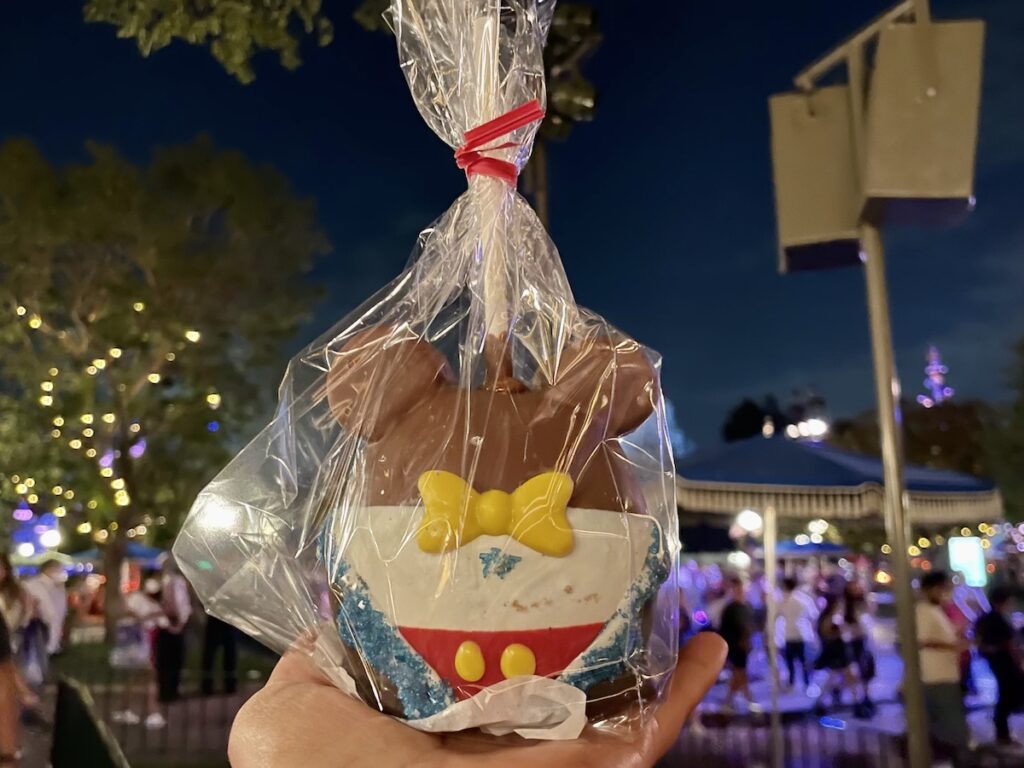 Sweet Treats
The Park had two birthday celebration treats available. A limited-time Celebration Cupcake located at the Jolly Holiday Bakery Café on Main Street, U.S.A. The cupcake costs $6.99 and the Legacy Passholder discount can be used. It is a Double chocolate chip cupcake with cream cheese frosting and filled with cookies and cream mousse. The frosting is blue and it features a chocolate medallion on top with art of  Sleeping Beauty Castle. Unfortunately I didn't get to try this commemorative treat as it was sold out by noon!
The second sweet treat available was a Carmel Apple that resembled Mickey's tuxedo! The apple was available for purchase at Pooh Corner, Candy Palace, and Candy Kitchen for $12.99 before a Legacy Passholder discount. The Apple is dipped in caramel as well as milk, dark and white chocolate. It is embellished with blue sprinkles, yellow M&M's and Marshmallow ears! Almost too cute to eat!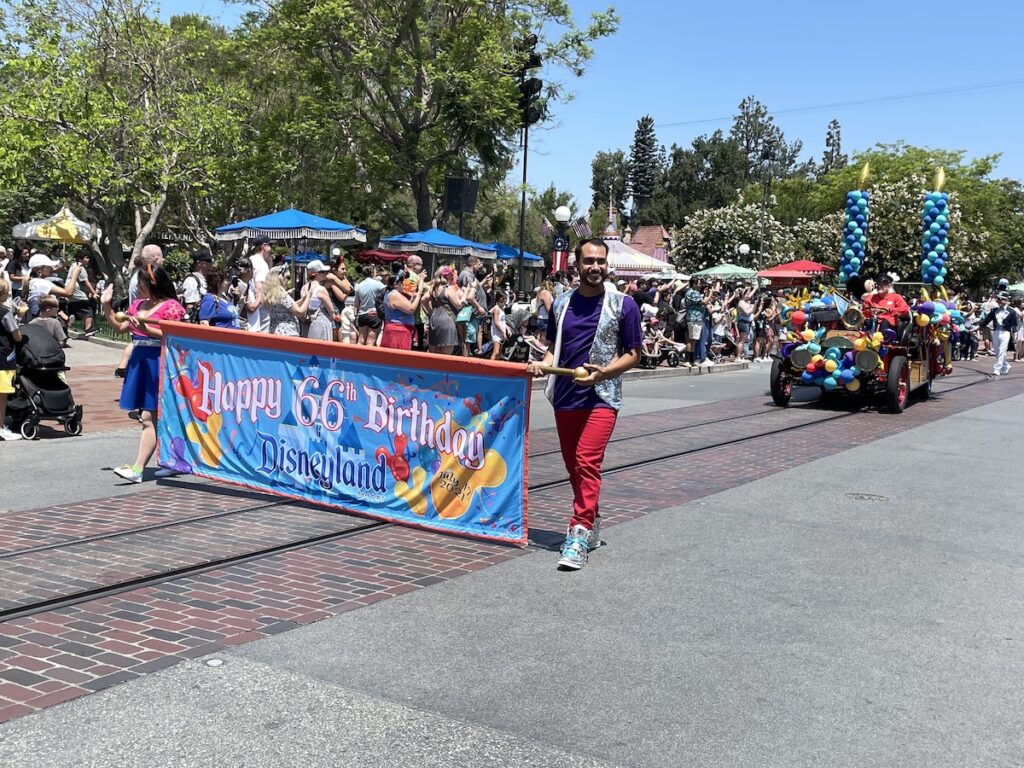 Birthday Celebration Cavalcade
At 12:00pm Disneyland time, a Birthday Cavalcade started at it's a small world and made it's way down Main Street, U.S.A. It began with Walt Disney's famous dedication speech he made opening day, 66 years ago.
Walt Disney's Dedication Speech
If you're unfamiliar with the words Walt famously spoke at the park opening, it went like this:
"To all who come to this happy place; welcome. Disneyland is your land. Here age relives fond memories of the past…and here youth may savor the challenge and promise of the future. Disneyland is dedicated to the ideals, the dreams and the hard facts that have created America…with the hope that it will be a source of joy and inspiration to all the world."
Happy 66th Birthday Disneyland
After the speech was played, two cast members holding a Birthday banner paused and the crowd all joined together in singing Happy Birthday to Disneyland. Following the birthday banner was the one and only Mickey Mouse of course! He was in a car decorated with blue, purple, teal, red and yellow balloons. The crowd cheered and waved!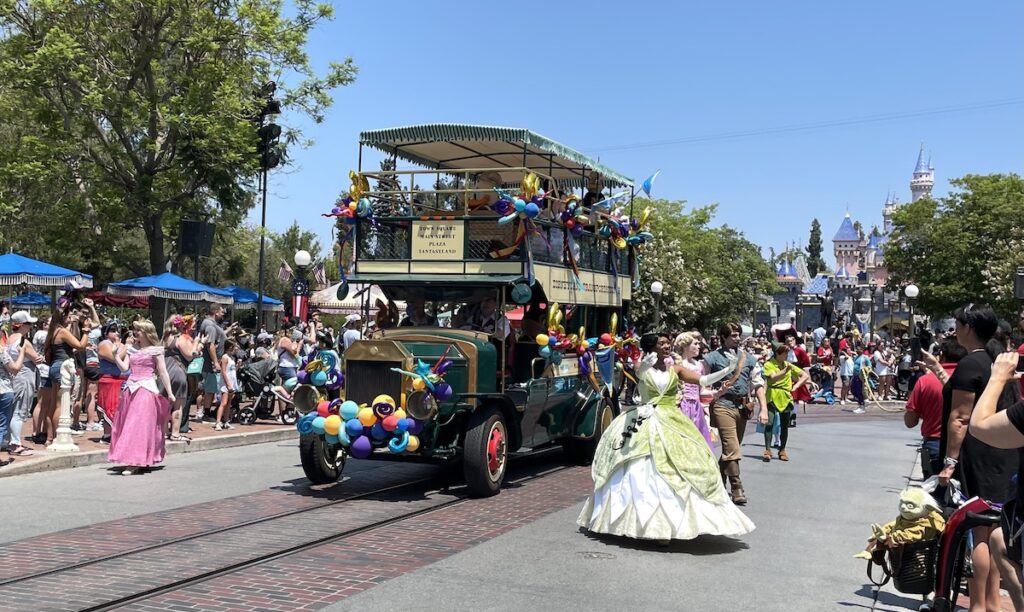 Following closely behind was the Disneyland Band and the double decker Disneyland Transportation bus. Inside was Minnie Mouse, Donald Duck, Pluto, Goofy and Chip 'n' Dale. More characters danced along side the bus. Characters included; Tiana, Rapunzel, Flynn Ryder, Moana, Peter Pan, Wendy, Captain Hook, Aurora, Jasmine, Aladdin, Genie, Alice, Mulan and Cruella De Vil.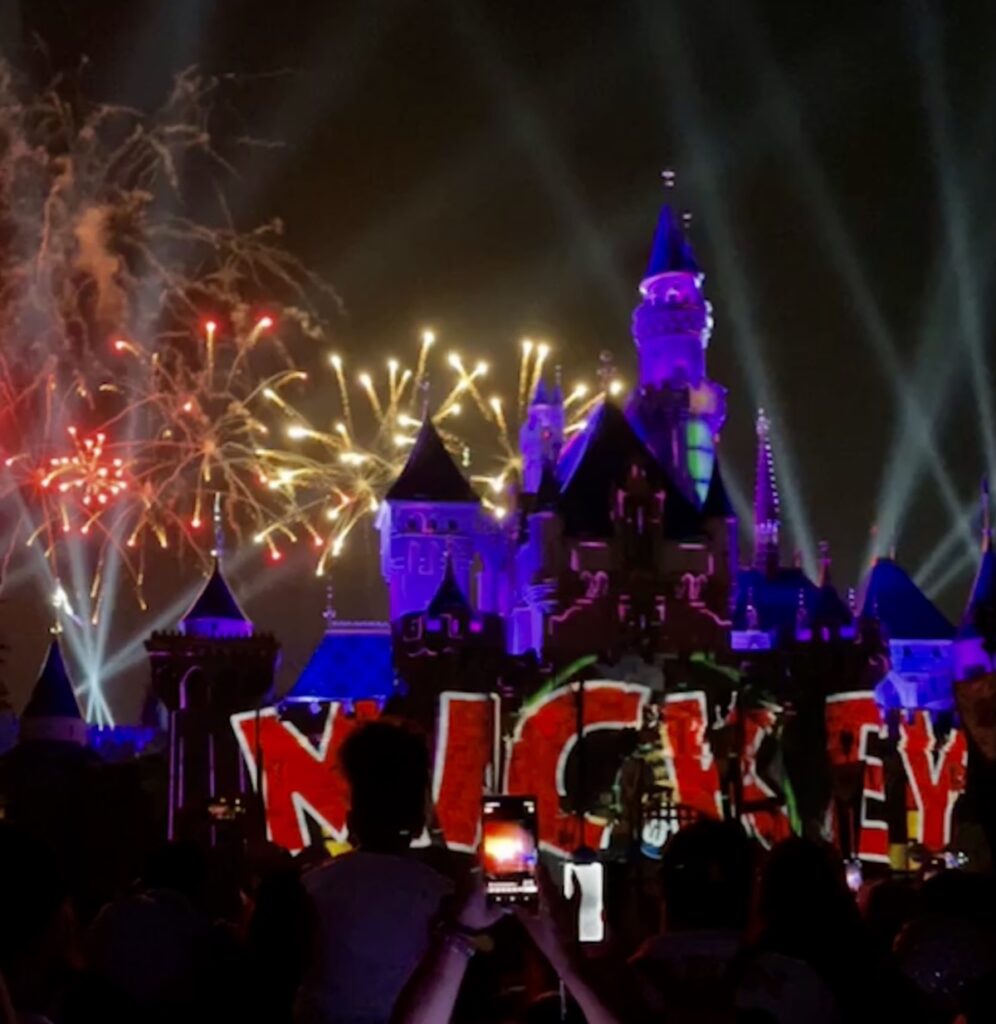 Mickey's Mix Magic With Fireworks
The celebration continued with a spectacular fireworks show while Mickey's Mix Magic projected off of Sleeping Beauty castle. The show started at 9:30 pm and was approximately 11 minutes long. It was the perfect way to end Disneyland's magical 66th Birthday celebration!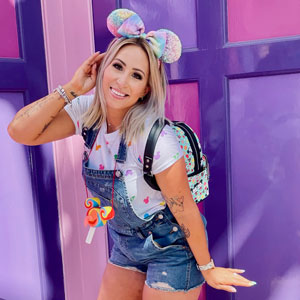 Written by
Brittney Malina
Contributing Writer
Brittney has been going to Disneyland since she was 3 years old. She has had a deep love for all things Disney ever since. Now as a wife and mother of two, she gets to share the love with her family and re-live the Disney magic through her children's eyes. Brittney is a Legacy Passholder and you can find her walking down Main Street, U.S.A. with a churro or iced coffee in hand.