Fans of Disney princesses, this one's for you! 
When it comes to character dining experiences, there are two Disney World restaurants that feature princesses: Cinderella's Royal Table in Magic Kingdom and Akershus Royal Banquet Hall in EPCOT. Each restaurant offers a unique dining experience, signature fare and the chance to meet some of your favorite princesses during your meal. 
Today, we're comparing both restaurants to help you decide which royal dining experience might be the best one for you. 
Cinderella's Royal Table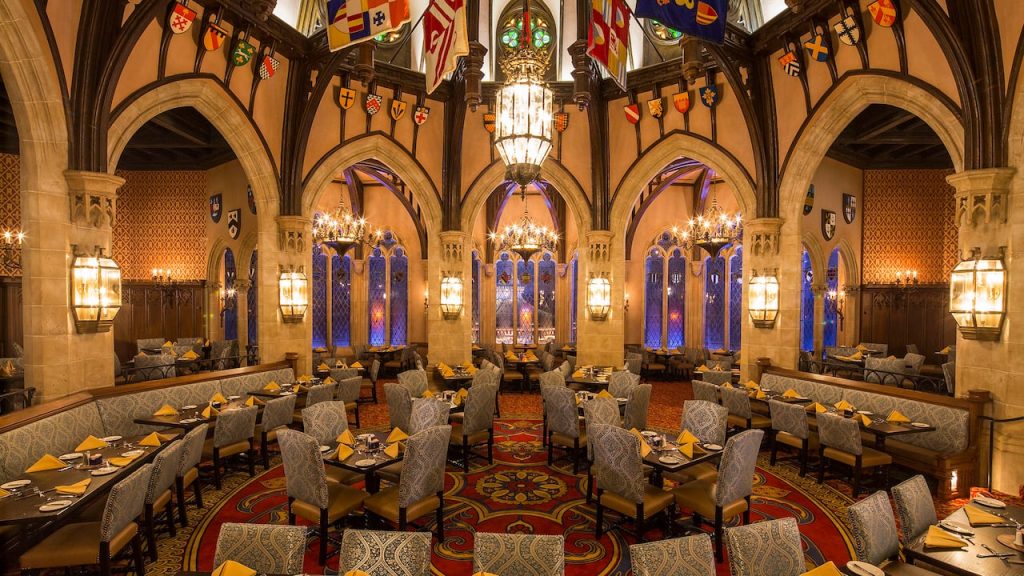 The Experience
Cinderella's Royal Table gives guests the chance to dine inside the iconic castle at the heart of Magic Kingdom. With a location that can't be beat and a chance to meet princesses right at your table, this restaurant is a common bucket list item for Disney princess fans!
Since this is a highly popular spot for these reasons, we recommend snagging your advice dining reservation as soon as you can once your 60 day booking window opens. It is possible for reservations to come available later if others cancel, so keep an eye on the My Disney Experience app for availability if you didn't get a chance to snag a reservation right away. 
Lucky diners who book a dinner reservation during the Happily Ever After fireworks show will also get to experience this nighttime spectacular from a most unique vantage point; you'll see the dazzling fireworks right outside the restaurant windows! Keep in mind that guests are not permitted to leave the restaurant during the fireworks show for safety reasons, so plan on sitting tight and enjoying it until it's over.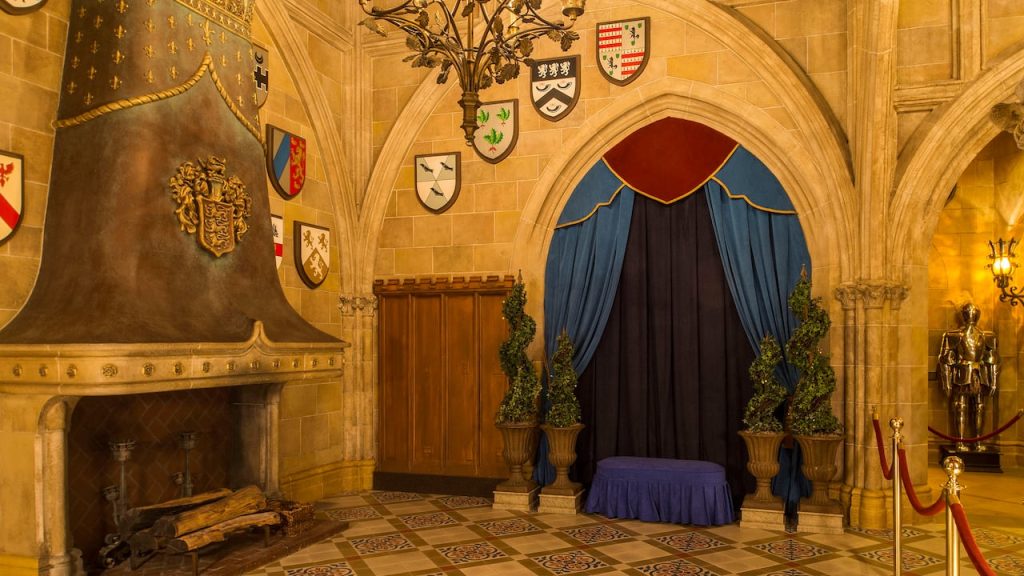 The Princesses
Snow White, Aurora (Sleeping Beauty), Ariel, Jasmine and of course Cinderella appear at Cinderella's Royal Table. Princesses may change depending on the day, but guests can usually expect to see at least four during their meal. 
Cinderella herself greets guests in the Grand Hall before they ascend the staircase (or gilded elevator) to the banquet room.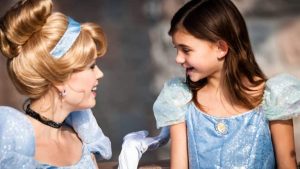 The Food
Cinderella's Royal Table offers breakfast, lunch and dinner reservations. Breakfast starts off with a plate of assorted breakfast pastries for the table. Guests may then choose an "Entrée Royale"; choices include Baked Quiche, Royal Avocado Toast, Beef Tenderloin and Egg, and more. 
For lunch and dinner, the menu changes to a prix fixe-style with a French flair. Guests may select an appetizer, entree, and "finale" (dessert) for their meal. Entree choices include a spice-rubbed pork tenderloin, Sustainable Catch En Papillote, Parisian Gnocchi and more. Dessert choices include a "Jaq & Gus" cheesecake with seasonal flavors, a Coffee Pot de Crème or "The Clock Strikes Twelve" Dark Chocolate Mousse.
Children's entree choices are also available for all three meals, featuring familiar favorites as well as more fanciful fare. A selection of beverages are available, as well as specialty cocktails, wines and beers for an additional cost.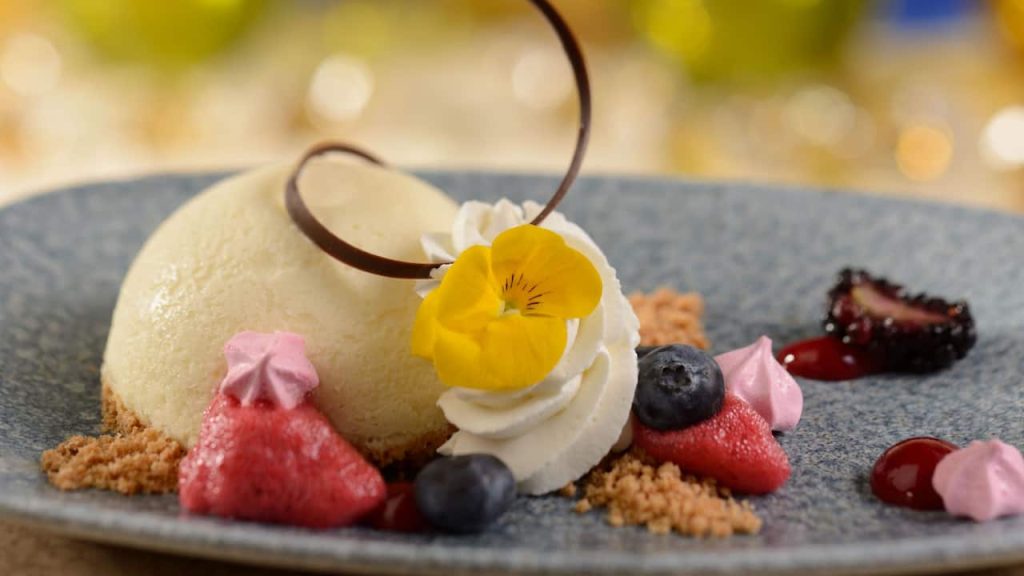 The Cost
Dining with royalty comes at a price, with breakfast running $65 per adult and $39 per child; and lunch and dinner $79 per adult and $47 per child. Tax and gratuity are additional.
Akershus Royal Banquet Hall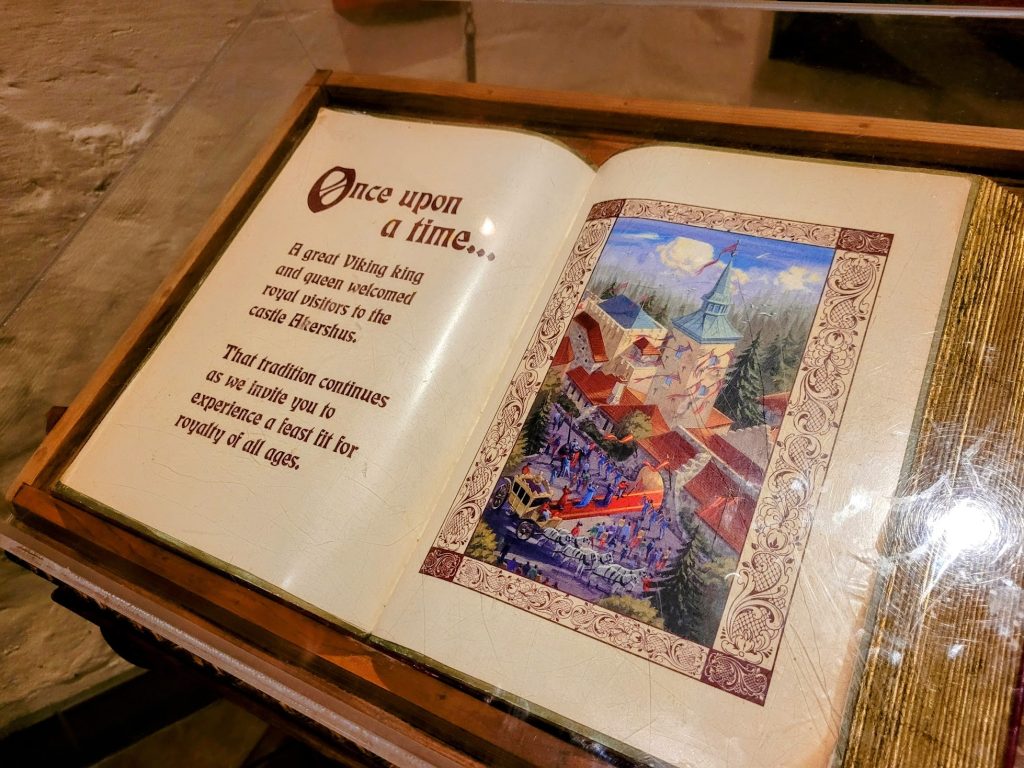 The Experience
In the Norway Pavilion in EPCOT's World Showcase, a stately medieval castle houses a Storybook Dining experience. Each room in the restaurant is decorated with soaring archways and ceilings, chandeliers, medieval artwork and dark wood panels or stone walls matching the theme of a Norwegian castle. The ambiance is regal yet intimate. 
Currently, guests can enjoy dinner here; and Disney recently announced that breakfast and lunch service will be returning May 14th. Snag your advance dining reservation as soon as you can! (An early morning breakfast reservation followed by hopping right in line for Frozen Ever After is a great way to start a princess-themed day!)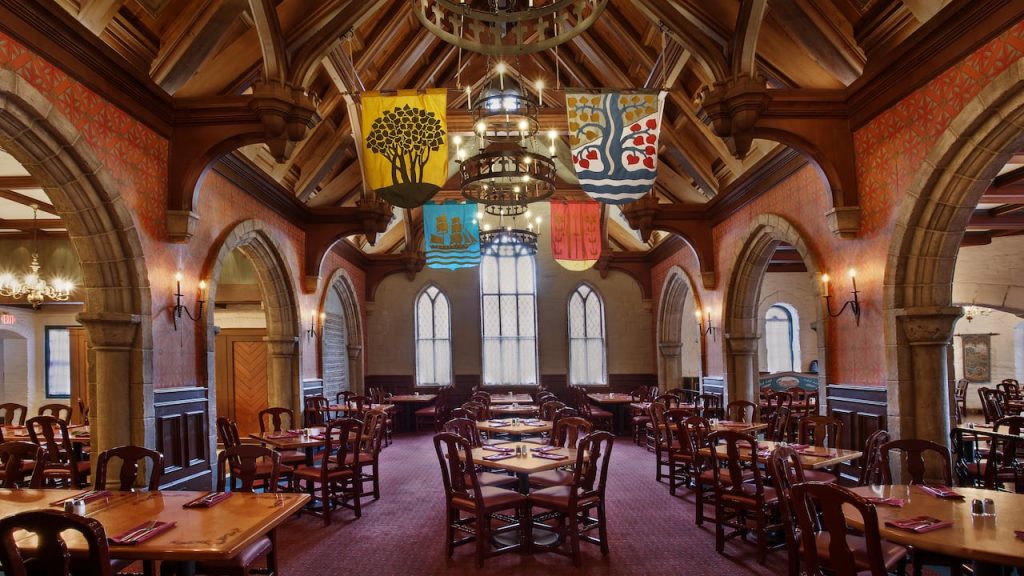 The Princesses
Get a hug, photo or autograph (or all three!) from Snow White, Aurora (Sleeping Beauty), Ariel, Jasmine and Belle during your meal at Akershus. Similar to Cinderella's Royal Table, the available princesses may change depending on the day.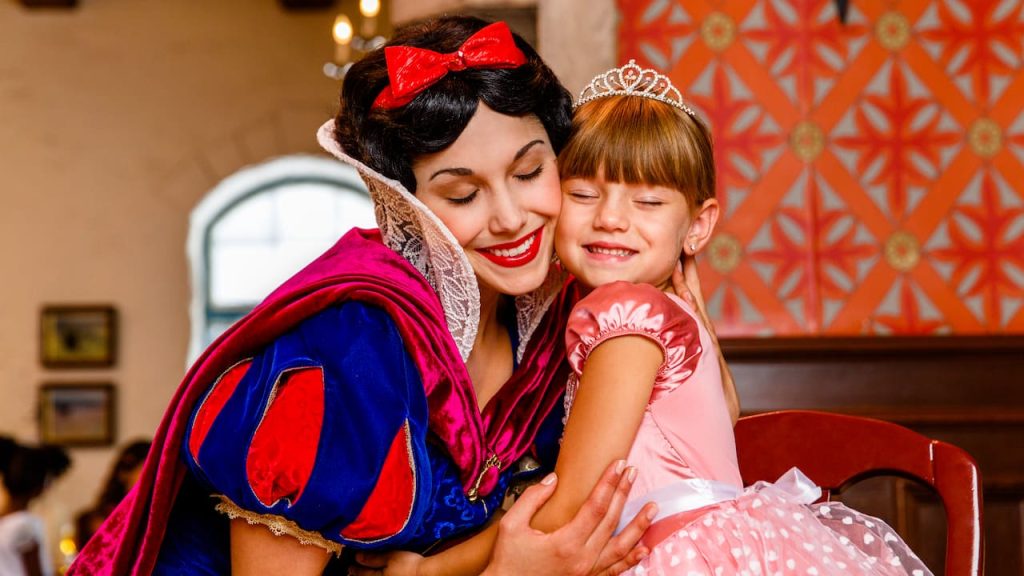 The Food
Akershus offers all-you-care-to-enjoy family-style dining, featuring traditional Norwegian fare. During breakfast, the platters include pastries, fruit, bacon, sausage, scrambled eggs, potato casserole, and Norwegian waffles. 
For lunch and dinner, guests dine on salads and a tasty Lefse with Cardamom-Cinnamon Butter, followed by traditional Norwegian fare such as kjØttkake (Norwegian Meatballs) and Kylling og Melboller (Norwegian Chicken and Dumplings), sides, as well as some American dishes. Your littlest diners may appreciate the Macaroni and cheese, green beans and corn dog nuggets! The Royal Chef's Dessert Plate finishes the meal with a sweet selection of Norwegian-inspired desserts. 
During lunch and dinner, a selection of specialty alcoholic beverages, wines and beers are available for an additional cost.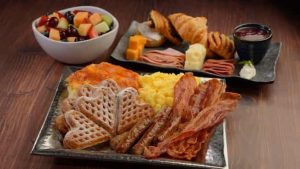 The Cost
Akershus is $53 per adult and $34 per child at breakfast; and $63 per adult and $41 per child at lunch and dinner. Tax and gratuity are additional. Akershus has a slightly lower price tag than Cinderella's Royal Table, which might factor into your decision making.
Consider location, type of cuisine and price as you are deciding between these two restaurants; but either is a great option for meeting multiple princesses at the comfort of your table and without having to stand in long lines in the park. You can read more about the experiences at Cinderella's Royal Table and Akershus Royal Banquet Hall on our blog.
Have you dined at either of these restaurants? Tell us about your experience in the comments!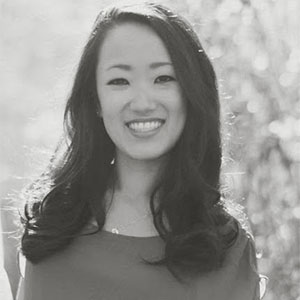 Written by
Leia Cullen
Leia is a proud mom of two boys. She has been in love with Disneyland and Disney World since her first visit to the parks many years ago, and she continues to relive the magic now with her family. She is passionate about creating helpful content that shares news or information about all things Disney, in the hopes it helps others create their own magical moments.