Akershus Royal Banquet Hall is a beloved Princess Dining experience located in EPCOT. This dining location finally reopened for dinner after almost two years due to the Covid-19 closures. Breakfast and lunch have yet to return at this time, but since Akershus Royal Banquet Hall is one of the only Princess dining locations in Walt Disney World, I just had to give it a try! In this article, we'll give you an overview of what to expect from your experience, and try to answer if this dining experience was worth the cost. Let's get started!
Check-In
Checking into Akershus Royal Banquet Hall is very interesting. You check in for your reservation on the My Disney Experience app or with the Cast Member in the front. Seating only takes place every 30 minutes, so do not be late for your reservation! This is most likely so that guests are not being sat while the princesses are making their rounds.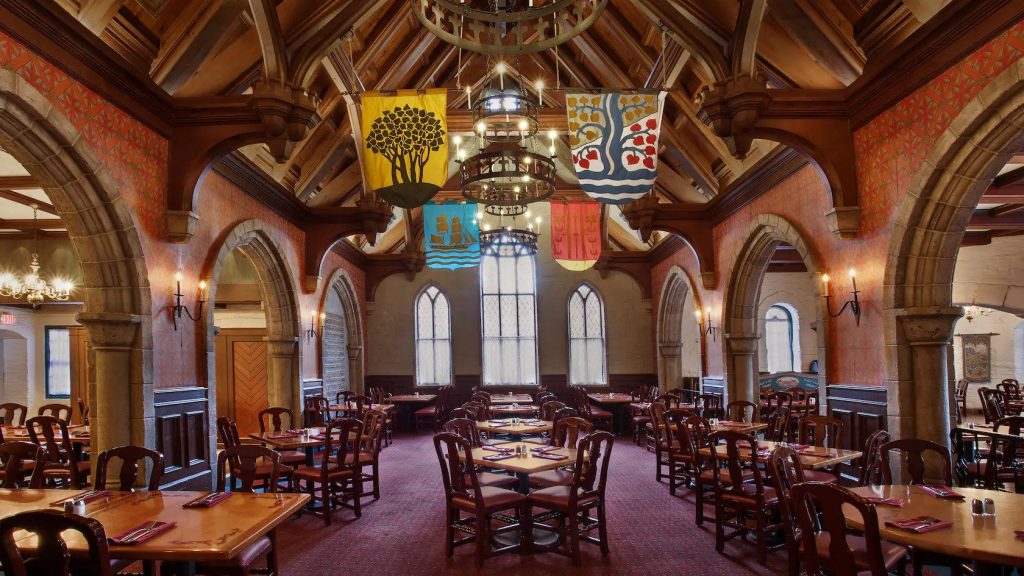 The Atmosphere
When you first enter Akershus Royal Banquet Hall you notice how striking it is. The interior is definitely regal in feel but more casual than a castle. It gives the impression that this is the royal chalet all of the princesses vacation at and welcome guests.
The Service
A fun fact about Akershus Royal Banquet Hall is that all of the front of house staff, minus the princesses, are actually from Norway! Your server will most likely be more than happy to share information about the dishes that are served and what life is like in Norway if you ask. I had probably the best service from any Disney dining (or dining in general) here. The waiter, Christian, was knowledgable, prompt, and when most of his tables cleared for close he even told us some Norwegian fairytales from his childhood.
The Meal
Akershus Royal Table is an all you can eat family-style meal. The meal consists of 2 appetizers, a skillet of all their entrees, and 2 desserts. You can get more of whatever you want as well. They also are able to customize some of the meal for allergies or dietary restrictions which is a great touch.
Drinks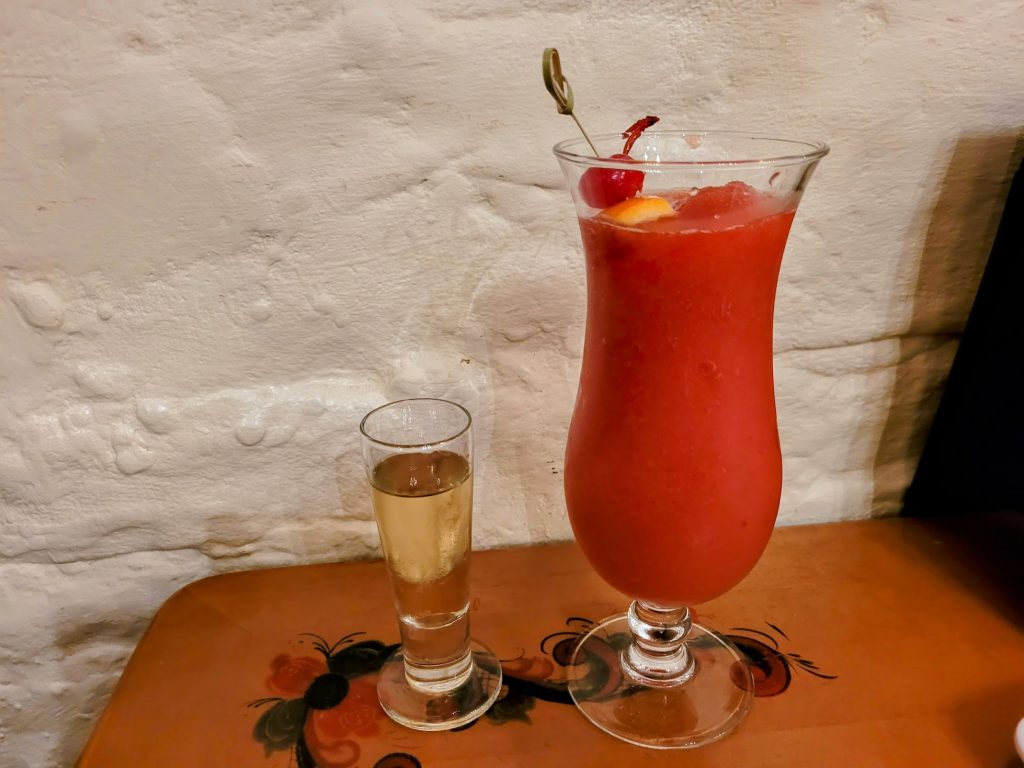 The drink menu at Akershus is varied and there is certainly something for everyone. I opted to try the Linie Aquavit Glacier Shot and The Oslo. The shot was definitely strong, but was surprisingly smooth and had notes of vanilla at the end, just as promised. The Oslo is definitely the more mild of the two in terms of alcohol. It was delicious and not overly sweet.
Appetizers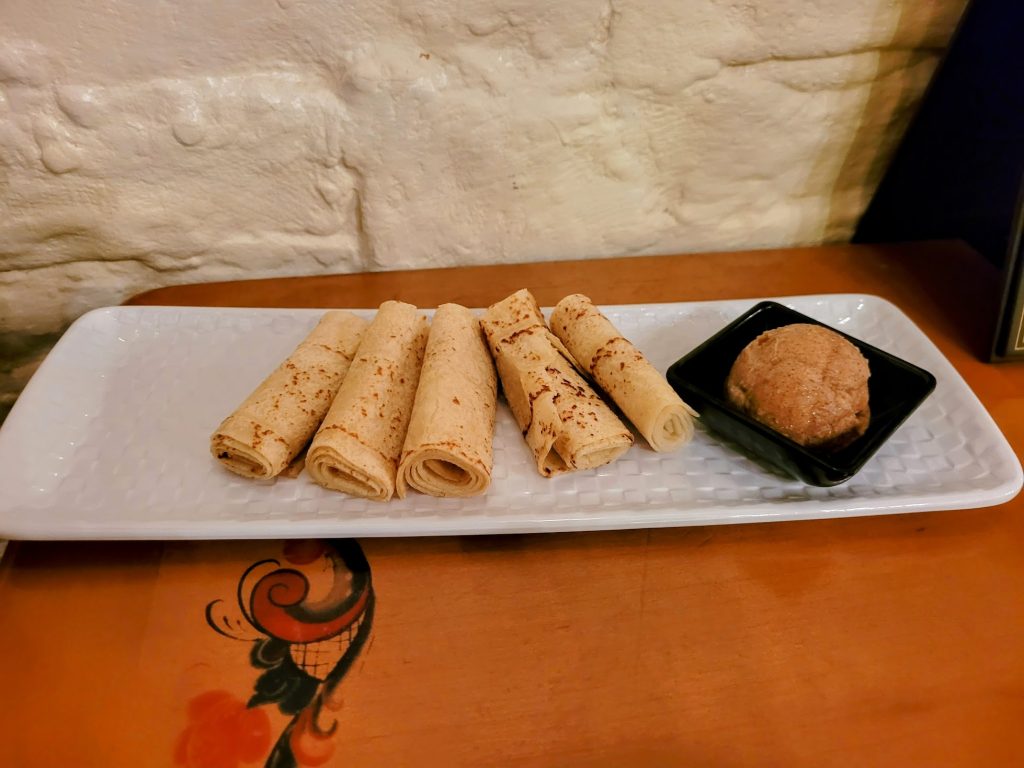 The first appetizer was the Lefse with Cardamom-Cinnamon Butter. This was a nice way to start the meal, it wasn't too heavy of a bread dish and it was a nice touch.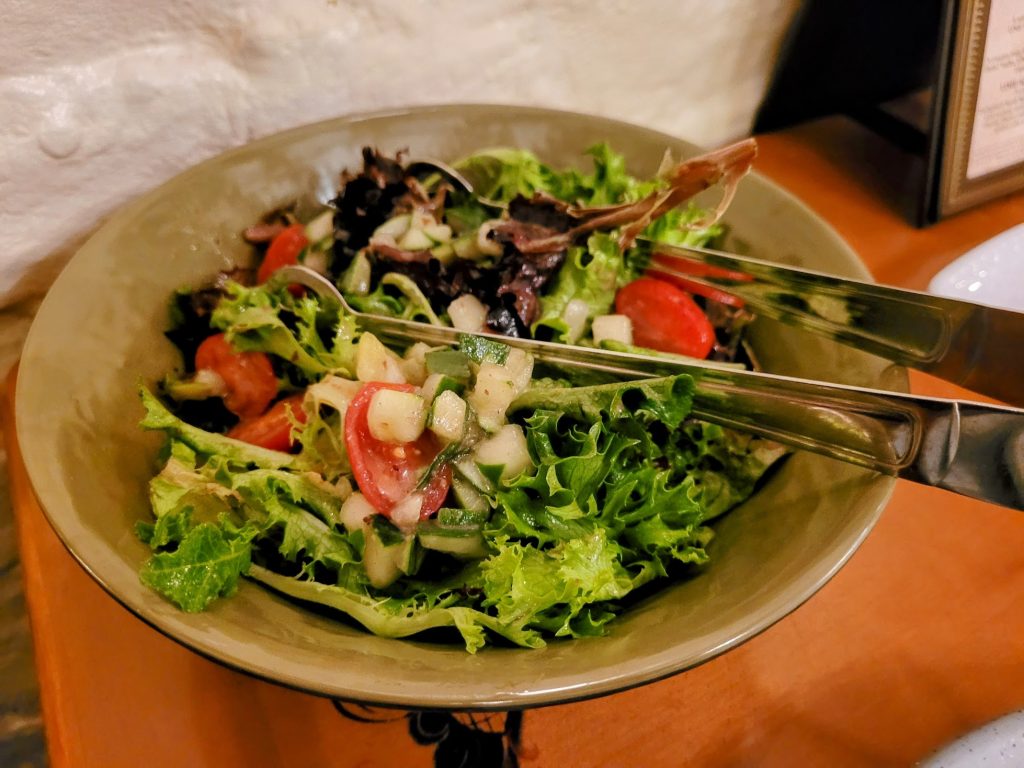 The salad was pretty heavy on the dressing, but it was all very tasty and delicious. The produce was very fresh and crisp as well.
Entrees & Sides
Since all of the entrees and sides (other than chicken and dumplings) comes out on the same plate, they do all touch and blend together in some parts. So for those with picky eaters, you may want to plan to ask for separate plates.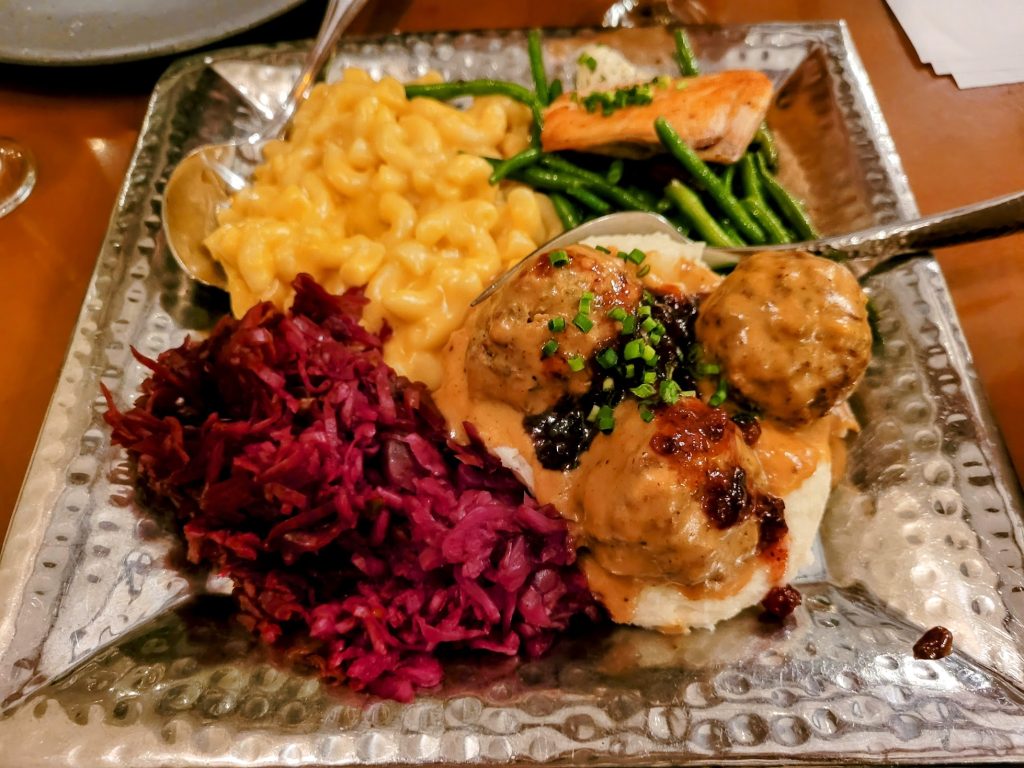 Let's begin with the Traditional KjØttkake, or Norwegian Meatballs. These were definitely the highlight protein for me. Very delicious and not overpowering with the sauces. I personally took a little bit of the lingonberry sauce off as it wasn't my favorite combination, but a little of it was a nice touch. We definitely had multiple rounds of meatballs!
The mashed potatoes under the meatballs was also very good and you can tell that they are homemade. Very flavorful on their own and with some of the gravy from the meatballs really made them a delicious side.
The next protein is the Grilled Salmon with Herbed Butter. It was cooked beautifully and the fish really melted in your mouth.
Green Beans were a crisp and al dente. Another example of the produce being very fresh here.
The Red Cabbage had a vinaigrette on it of some kind. It wasn't overpowering though and gave the cabbage a bright taste and left it lightly sweet, quite pleasant overall.
The real winner of the sides, and possibly the meal as a whole was the macaroni and cheese. It was so good. Very cheesy and would eat this as the whole meal very happily.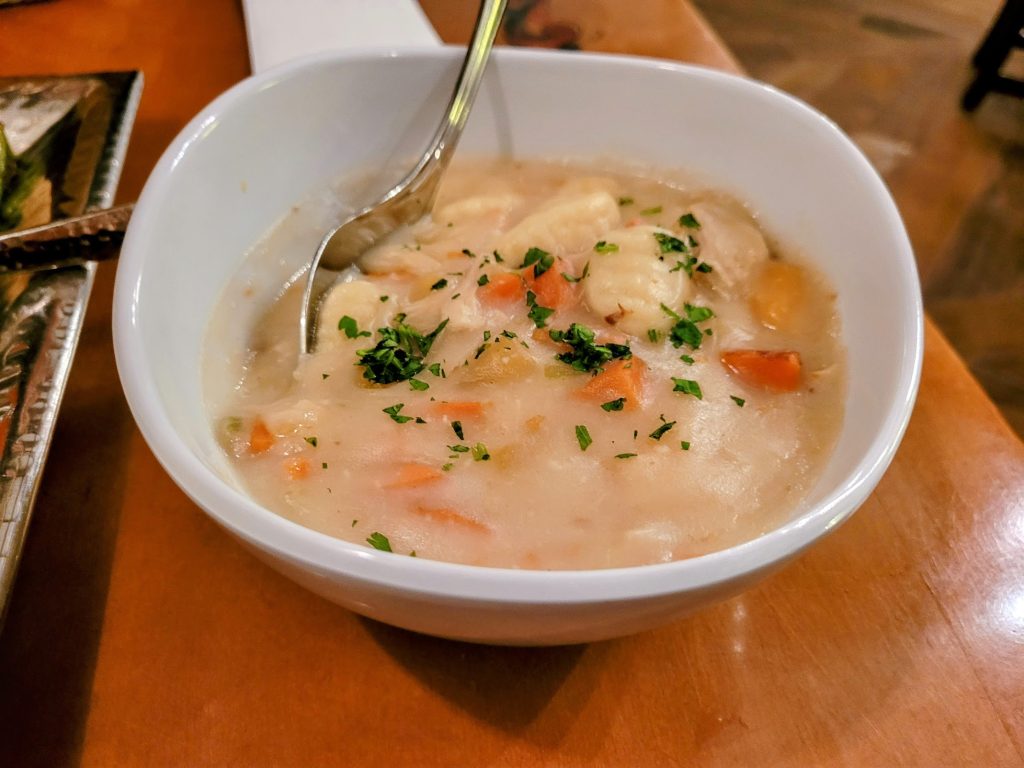 The Kylling og Melboller, or Norwegian Chicken and Dumplings, was the final entree. There wasn't as much chicken as there could have been, but the dumplings and carrots were cooked well and the broth was very hearty.
Desserts
Now that the main course is finished, let's move on to everyone's favorite part of the meal, dessert!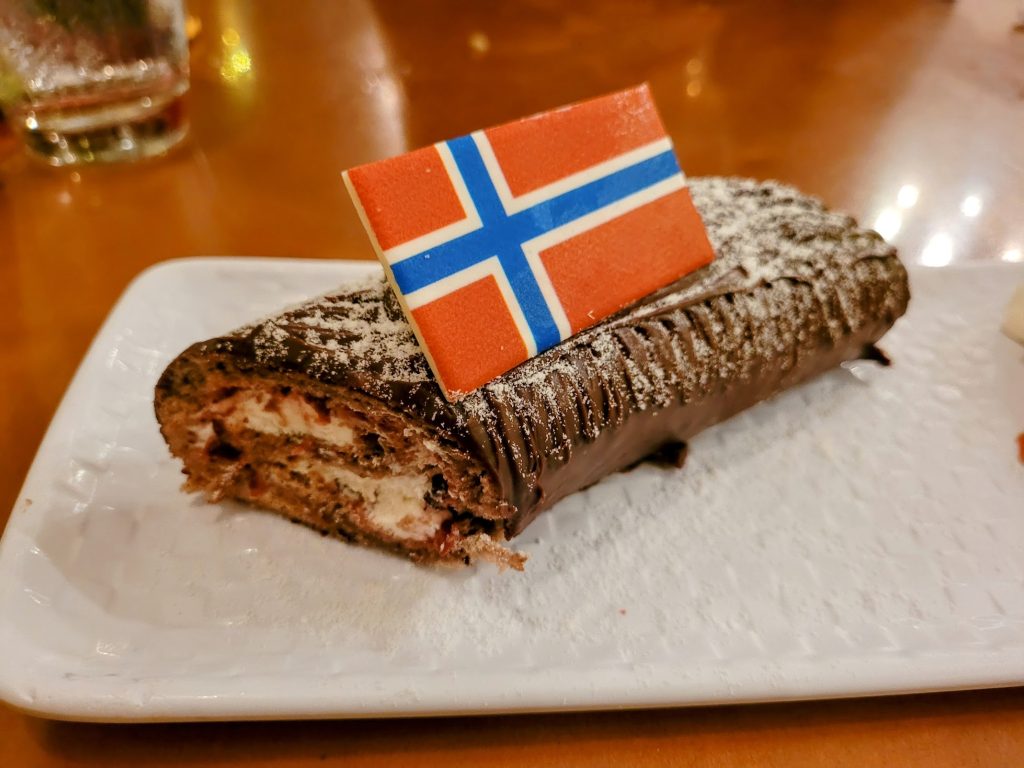 The Norwegian Chocolate Cake was definitely the most visually pleasing of the two dessert options. The chocolate cake was a tad bitter. This is most likely due to the fact that Norwegian desserts do not contain as much sugar as American desserts. The filling was the sweetest part and was very good.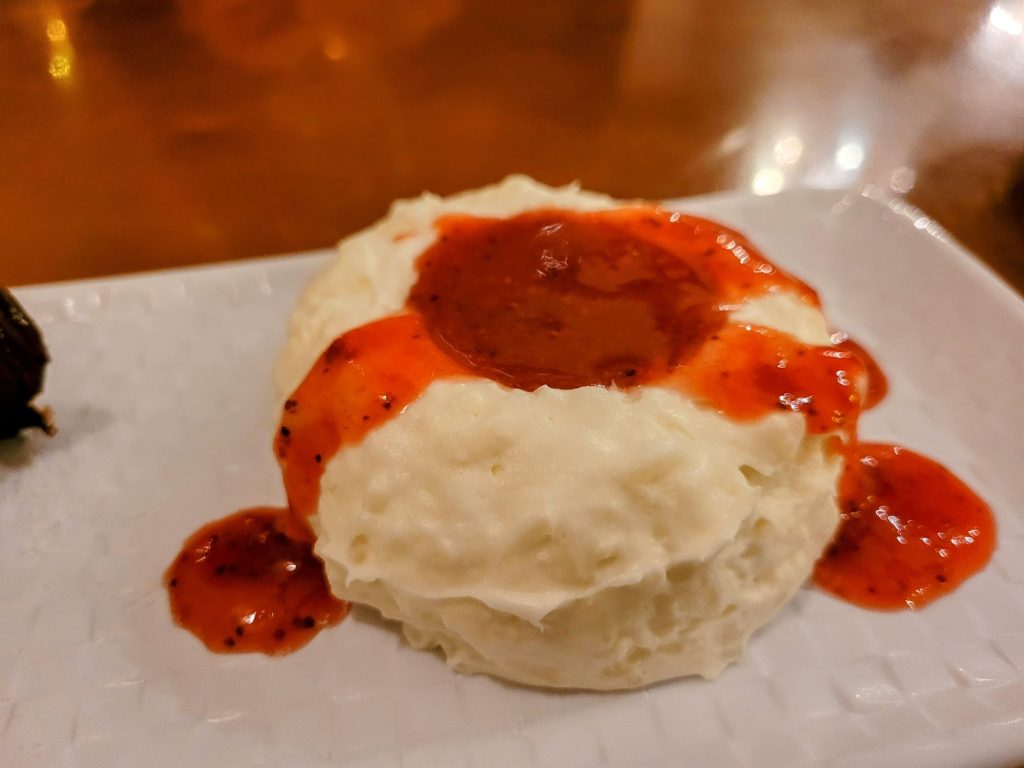 Although it may look like mashed potatoes, the rice cream as its' name suggests is made of rice. The rice and milk are cooked together and at the end they add in sugar and whipped cream and chill it. It is also not very sweet on its own, but the cream and milk add some natural sweetness to it, and the berry sauce is also naturally sweet.
The texture of this dessert is very interesting, so it took me a moment to wrap my head around it. After you get used to the texture, it is really delicious and was my personal favorite dessert of the night.
Princess Interactions
Now that the food is out of the way, let's get on to the real reason people come to Akershus Royal Banquet Hall, the Princess interactions!
The princess storybook dining experience gives guests access to five princesses during the meal. They come around to each table, sign autographs, give hugs, and make pleasant conversation in character. The princesses will even record little messages for your loved ones at home too if you ask! One thing that they won't do though, they will not sing for you. They will however tell you a very in character reason as to why.
Here are all of the princesses available when I went were.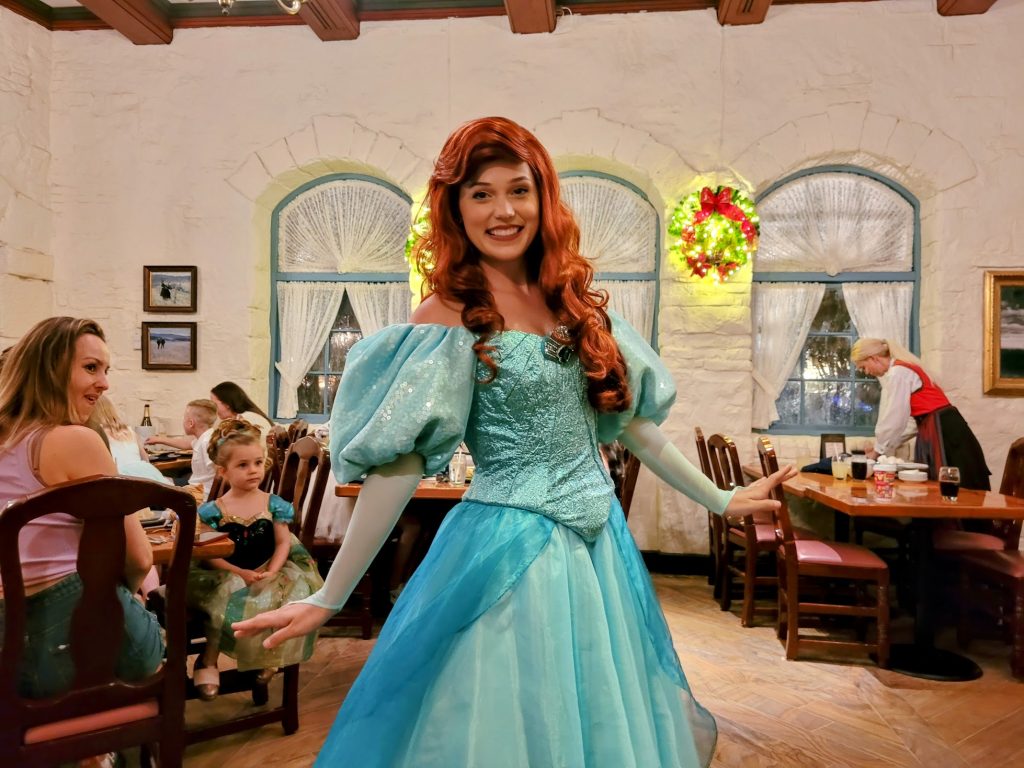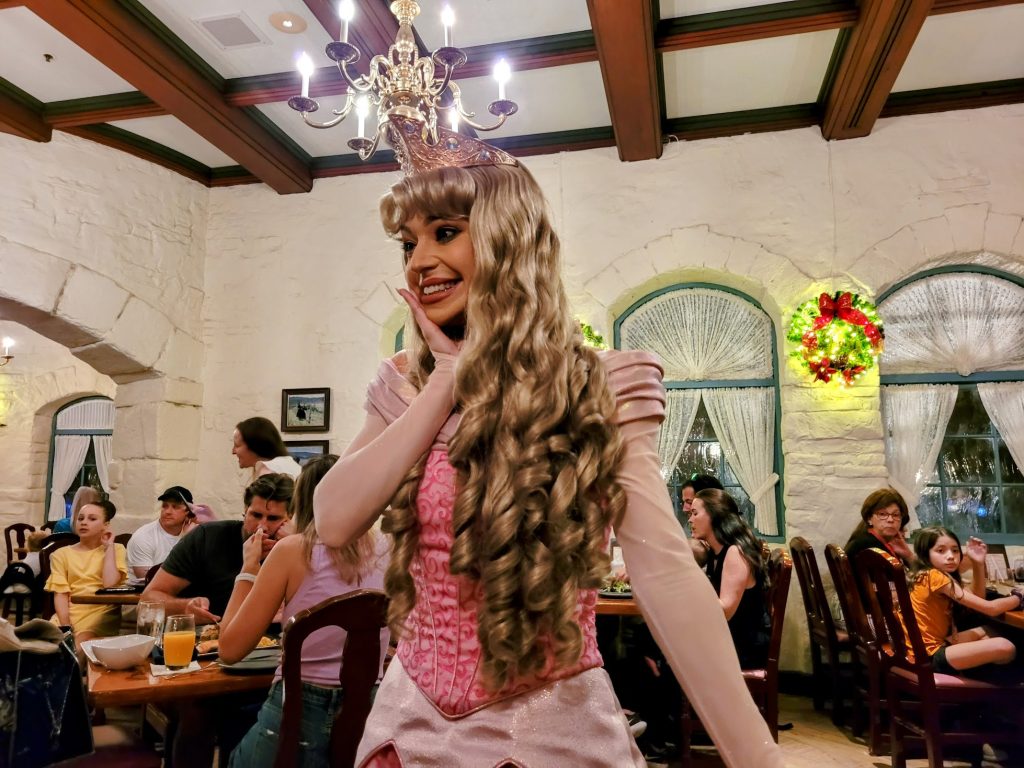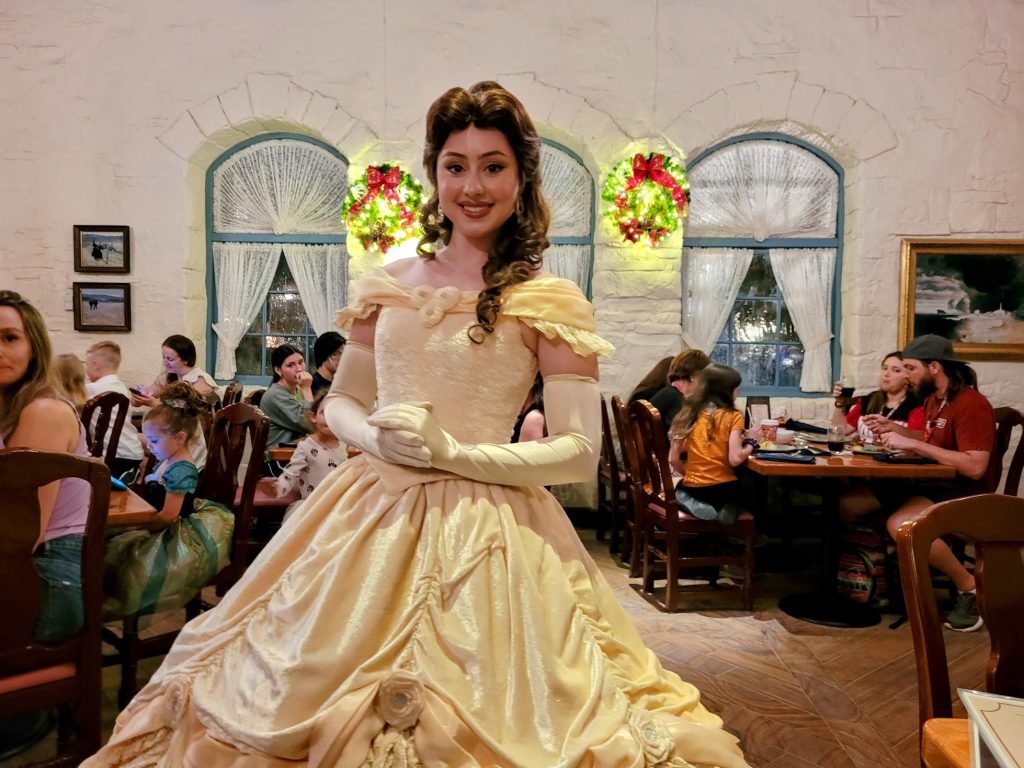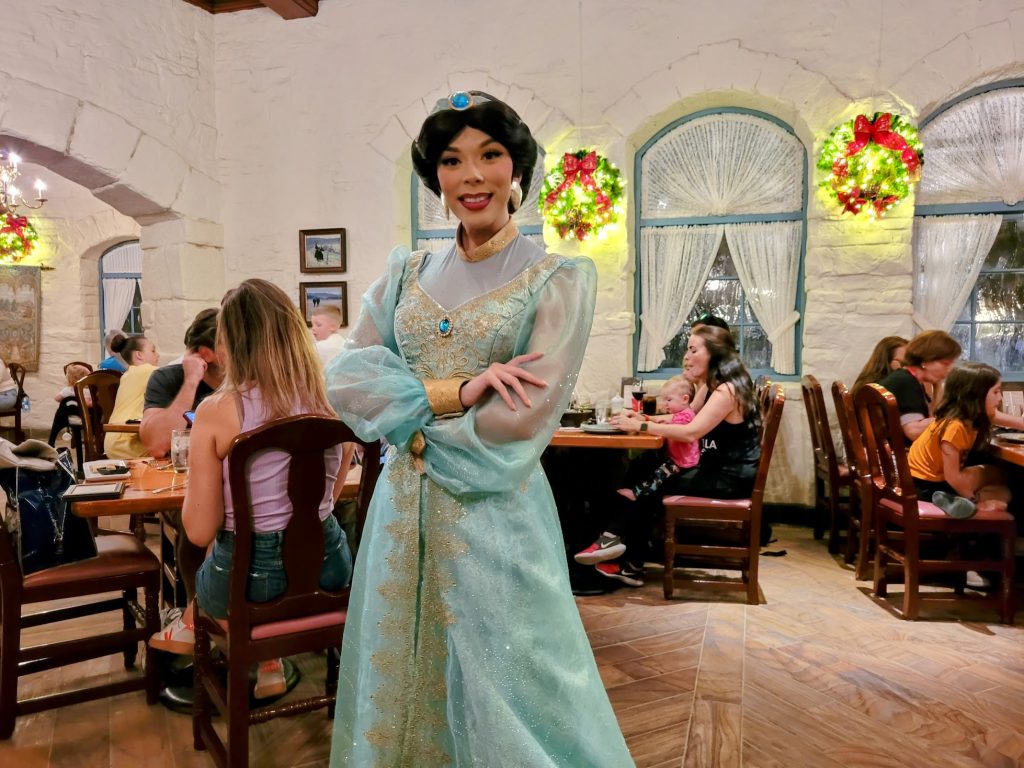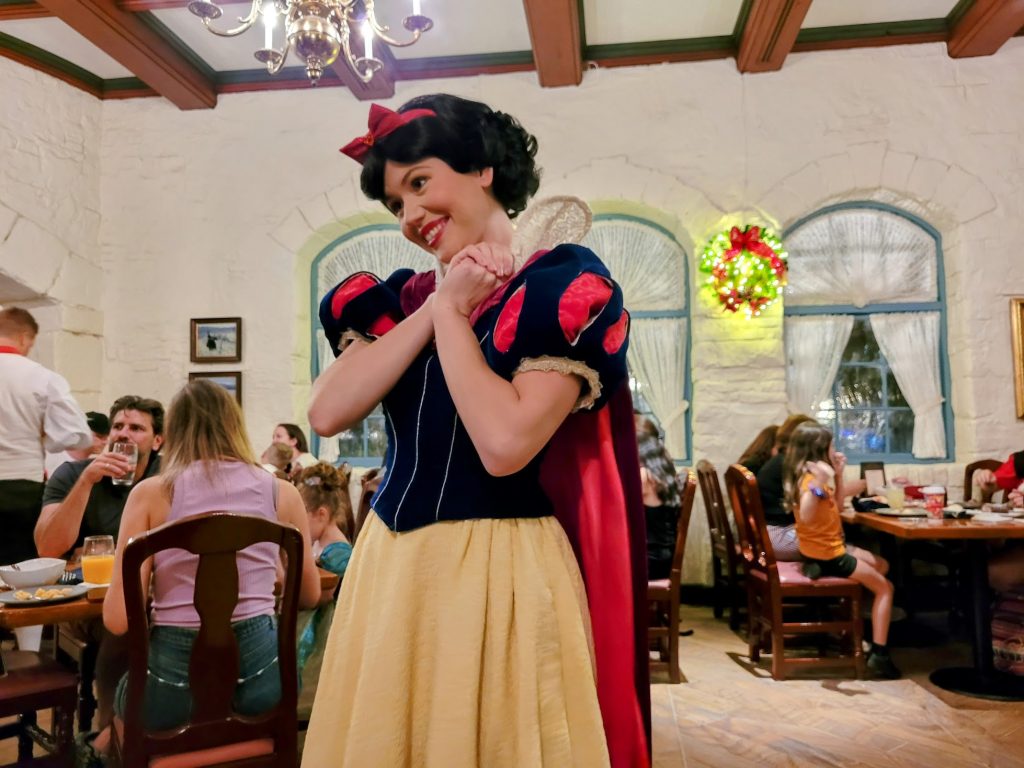 The princesses each truly embody the character that they are playing and even take inspiration from their films. They are all so much fun to interact with and I saw many parents moved tears at seeing their little ones talking with them. The magic is so very real in these princess interactions it is amazing!
Is It Worth It?
At $63 per adult and $41 per child, Akershus Royal Banquet Hall is the most expensive character dining meal at Walt Disney World right now. Is it worth the price? I would say that if you have a princess lover, the interactions here are truly priceless.
The food is good, the service is great, and the princesses are absolutely magical. I don't think that you can ask for more than that with a character dining meal! If you are planning an EPCOT park day on your trip, this should definitely be a reservation that you should try to snatch up.
Have you eaten at Akershus Royal Banquet Hall before? What was your opinion on the full experience? Let us know in the comments below!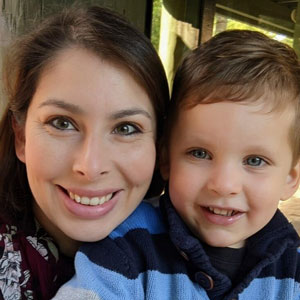 Written by
Rachel Van Norman
Contributing Writer
Rachel fell deeply in love with all things Disney as a little girl. Now as a wife and a mother herself, she shares this Disney obsession with her son and everyone around her. From her love of princesses to eating all the Disney food, Rachel spends her time radiating Disney magic and keeping everyone up to date on Disney news.