Although the Disney theme parks are a ton of fun, sometimes you need to kick back and have a relaxing day the resorts. This past weekend, I explored the hotels along the monorail line to do a bar crawl. This bar crawl was a little more challenging than expected because of the temporary closure of the Polynesian's monorail station, but we'll give you some tips and alternative modes of transportation.
To start your monorail bar crawl, I highly recommend making a late lunch or early dinner reservation at one of the three Magic Kingdom area resorts: Polynesian Resort, Grand Floridian Resort or the Contemporary Resort (and Bay Lake Tower). This ensures that you'll be able to park at the hotel, instead of having to park at the Transportation and Ticket Center. We had an 11:00 am breakfast reservation at 'Ohana on Saturday, so we were able to leave our car there. After breakfast, we headed over to Magic Kingdom for a short visit then started our monorail bar crawl around 3:00 pm.
Stop 1: Outer Rim at Disney's Contemporary Resort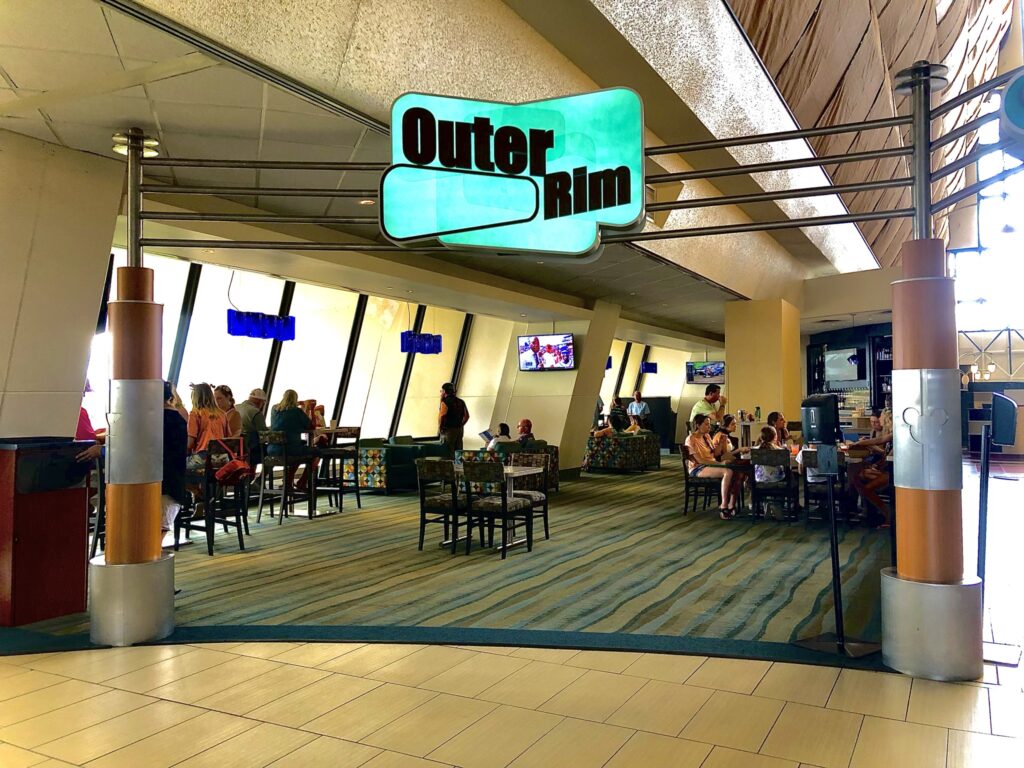 We started our monorail bar crawl at Outer Rim at Disney's Contemporary Resort, which is a full-service bar located on the fourth floor, right next to Chef Mickey's. This laid-back lounge has stools at the bar, as well as cushy couches and ottomans. TV sets overhead were playing various sports games. One of my favorite things about Outer Rim is the stunning view of Bay Lake, especially in the evenings when the sun is setting. The atmosphere here isn't super immersive, but its prime location makes it a great place to get a quick drink with friends.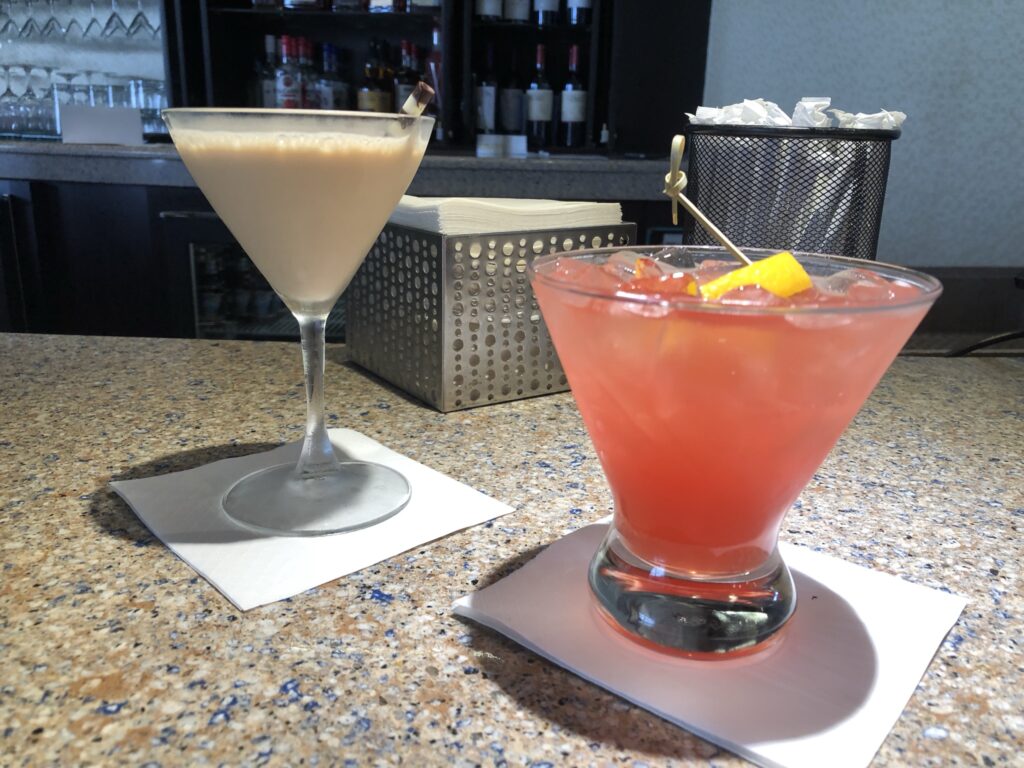 Now to the good part: the drinks! I ordered a Blood Orange Margarita, while my friend had a Chocolate Martini. Both were absolutely delicious. The margarita was the perfect mix of sweet and sour, with a little bite coming from the tequila. After finishing our first round of drinks, I ordered a glass of Moscato, which you really can't go wrong with.
Outer Rim also offers beer, cider, wine, an array of cocktails, and even a few non-alcoholic mocktails on their menu. Although the drinks here are delectable, the bar doesn't serve any food, so you might want to grab a bite before your visit.
Stop 2: Tambu Lounge (or Trader Sam's) at Disney's Polynesian Village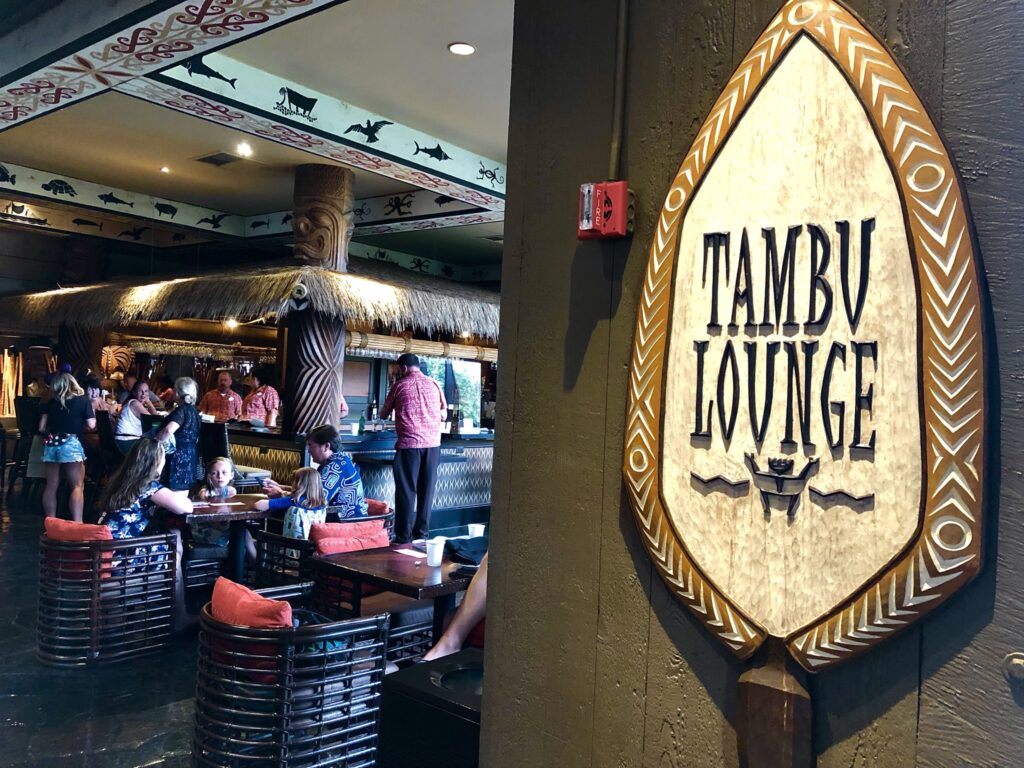 After finishing up at Outer Rim, we hopped on the monorail and rode it over to the Transportation and Ticket Center. Since the monorail station at the Polynesian is currently closed for refurbishment, we got off at the TTC and took a short walk over to Polynesian's Grand Ceremonial House.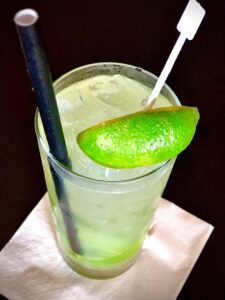 Once we arrived at the Great Ceremonial House and were reunited with the magnificent air conditioning and made our way up to Tambu Lounge on the second floor. This full-service bar is located right next to 'Ohana and features a thatched roof over the main bar. There are also a few small tables located next to the main bar, which you can be served at.
Unlike Outer Rim, Tambu Lounge does serve a few appetizers, like flatbreads, hot wings, and pork ribs, that you can easily be shared with a group. Their drink menu offers a variety of tropical drinks, including the popular Lapu Lapu, which is served in a fresh pineapple. Since so many of their signature drinks are made with rum, I felt obligated to order something with rum in it too. I had a classic mojito, which was very refreshing and featured the perfect combination of mint and lime.
At the time of our visit, Trader Sam's Grog Grotto, tucked away on the first floor of the Polynesian, had not yet reopened. But since it is now open to guests, it would make a great substitution to your monorail bar crawl.
Stop 3: Enchanted Rose at Disney's Grand Floridian Resort & Spa

Because of the Polynesian's monorail station closure, we once again headed outside and took a short walk over to the Grand Floridian, the last stop on our tour. Located on the second floor, Enchanted Rose is a full-service lounge themed after the Disney classic Beauty and the Beast. There are four main seating areas: the Signature Bar, the Garden Room, the Library, and the Outdoor Patio. The Enchanted Rose was fairly busy when we arrived, so we took the first table we could find, which was in the Garden Room. Inspired by the forest surrounding the Beast's castle, there is a scenic mural along the wall and dark green, cozy chairs for guests to sit in.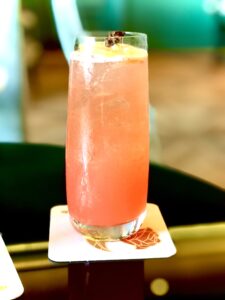 Enchanted Rose has a larger appetizer menu than Tambu Lounge with options like crab macaroni and cheese, flatbread, mini brisket sliders, and truffle fries. We sampled the crab macaroni and cheese, and it was absolutely delicious; I could have made a whole meal out of it.
For my drink, I ordered the Floral Bitter Beauty, which definitely lived up to its name. It did have a slight bitter taste, but it was complemented by the elderflower liqueur. Compared to Outer Rim and Tambu Lounge, Enchanted Rose has a more extensive wine list and more specialty cocktails on their menu.
Out of the three bars we visited, the atmosphere at Enchanted Rose was my favorite. The décor is very upscale, but the vibe was still laid-back, so you can definitely stop by for a drink in your theme park clothes. I know I'll be back in the future to sample more delicious drinks and flavorful appetizers.
Although the closed monorail station at Polynesian made this bar crawl slightly challenging, my fellow crawlers and I still had a great time. Taking a Disney Monorail Bar Crawl around the Magic Kingdom Resort area was nice to get away from the busyness of the parks for a little while and be able to sit back, relax, and enjoy a drink. Plus, I had a chance to experience dining locations I hadn't been to before.
Where would you want to visit on a Disney Monorail Bar Crawl? Share your thoughts in the comments below.
Written by
Erika Lucas
Contributing Writer
Erika has lived in Orlando her whole life, so she was practically raised at Walt Disney World. While in college, she worked for Disney in roles ranging from character attendant to VIP tour guide. Nowadays, she spends her days planning her next trip to the parks or dreaming about setting sail on another Disney Cruise.