This weekend, I dined at the recently reopened 'Ohana at Disney's Polynesian Village Resort for breakfast. The menu and atmosphere have remained pretty much the same, but due to COVID, character greetings are not currently being offered. This fun family-style meal is a great way to start your day before hitting the parks!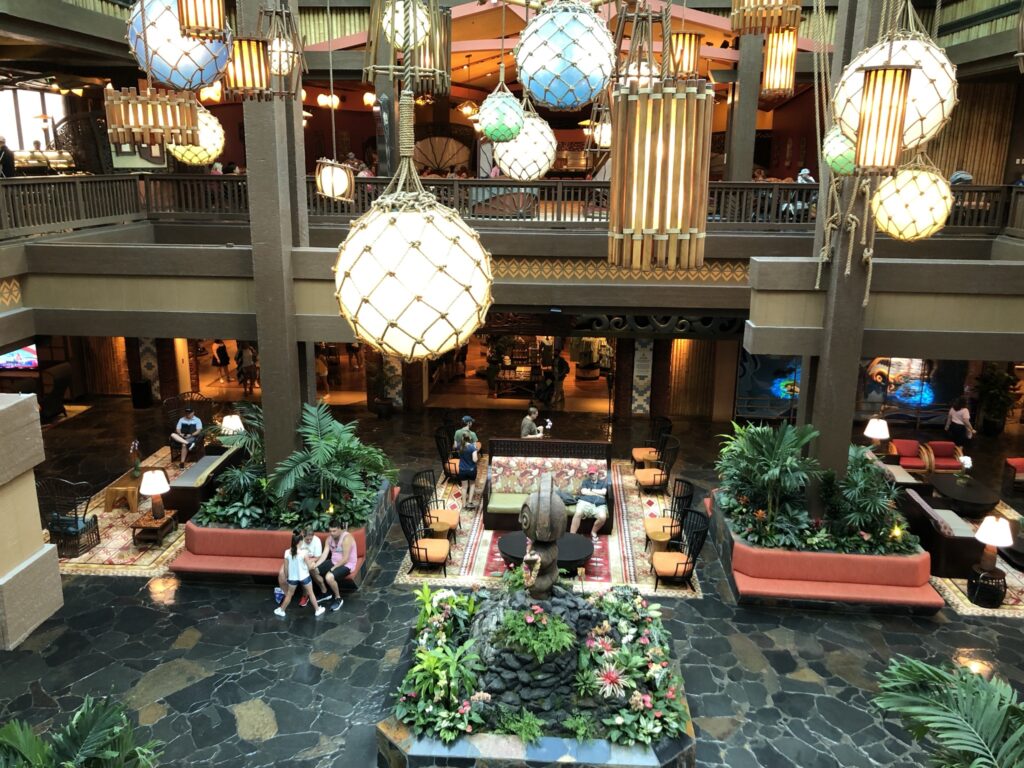 The Polynesian is currently undergoing refurbishment, mainly to the porte cochere (or covered main entrance) area . This makes navigating the resort a bit tricky, so I would recommend arriving early for your reservation. Once inside the Great Ceremonial House, we checked in for our reservation on the My Disney Experience app. A cast member was stationed at the host stand to assist guests, but checking in on the app is encouraged. A few minutes after our reservation time, I received a text letting me know that our table was ready, so we made our way to the entrance of the restaurant.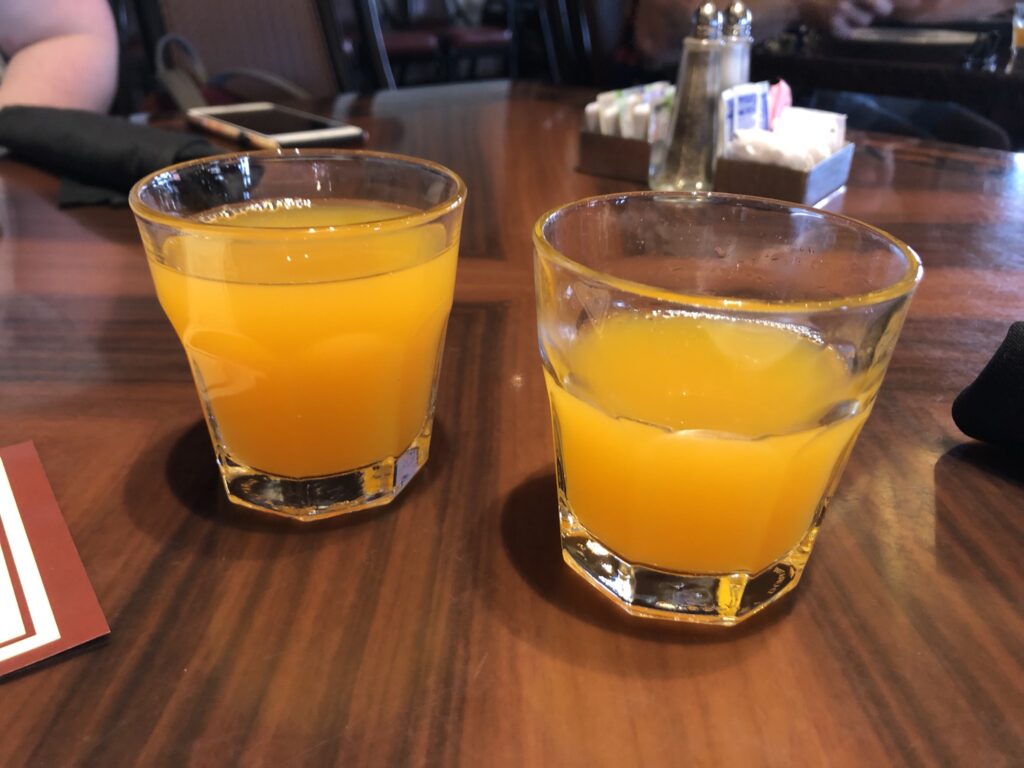 Once we were seated at our table, the hostess gave us a paper with a QR code to view the menu (paper menus are available too if you ask). A few minutes later, 0ur server came over and started us off with the delicious POG juice- that's a combination of passion, orange, and guava flavors. Most beverages are included with the price of your meal, but there is an extra charge for cocktails and specialty drinks.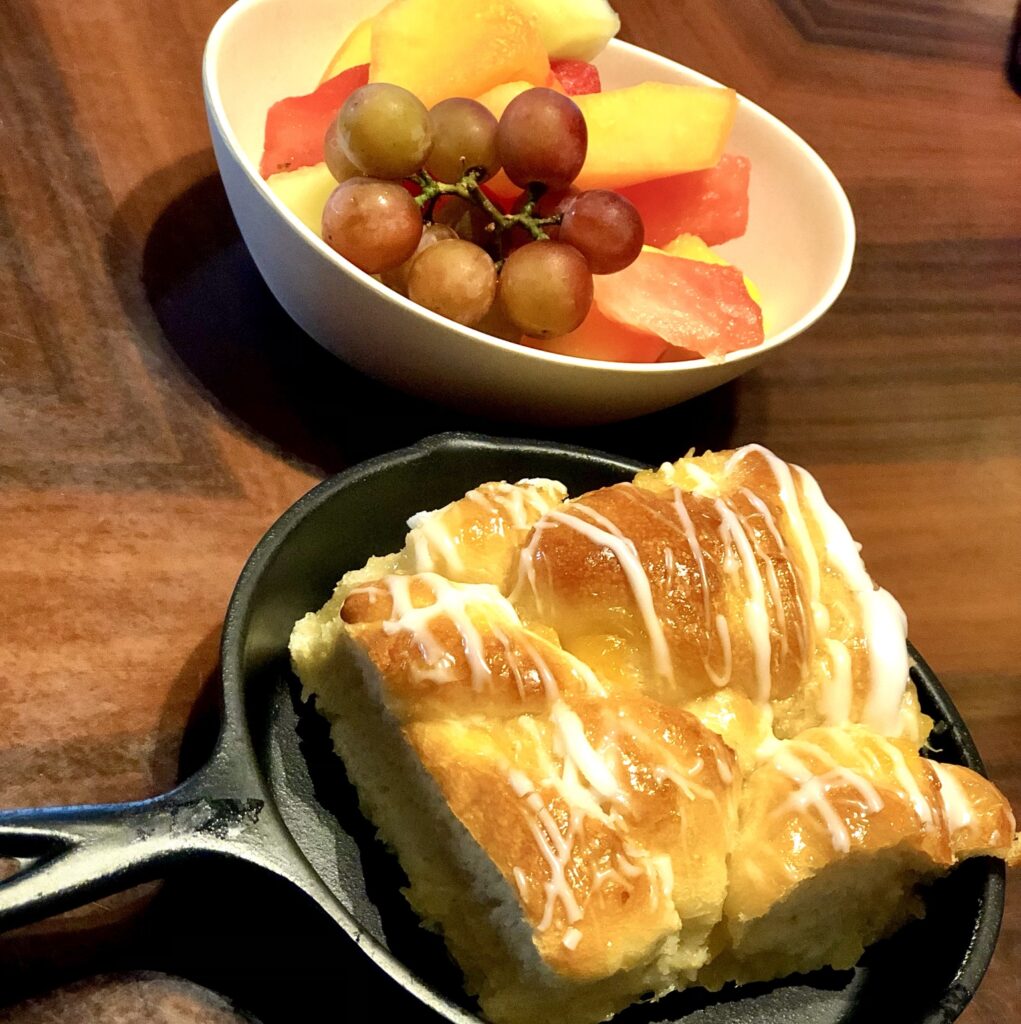 Breakfast at 'Ohana starts with freshly made pineapple-coconut bread, which is drizzled with white icing. The bread is accompanied by a bowl of fresh fruit, including grapes, watermelon, and cantaloupe. I'm not a huge fan of pineapple or coconut, but I found that the flavors in the bread weren't overwhelming and complemented each other perfectly. This sweet treat was a nice start to our meal.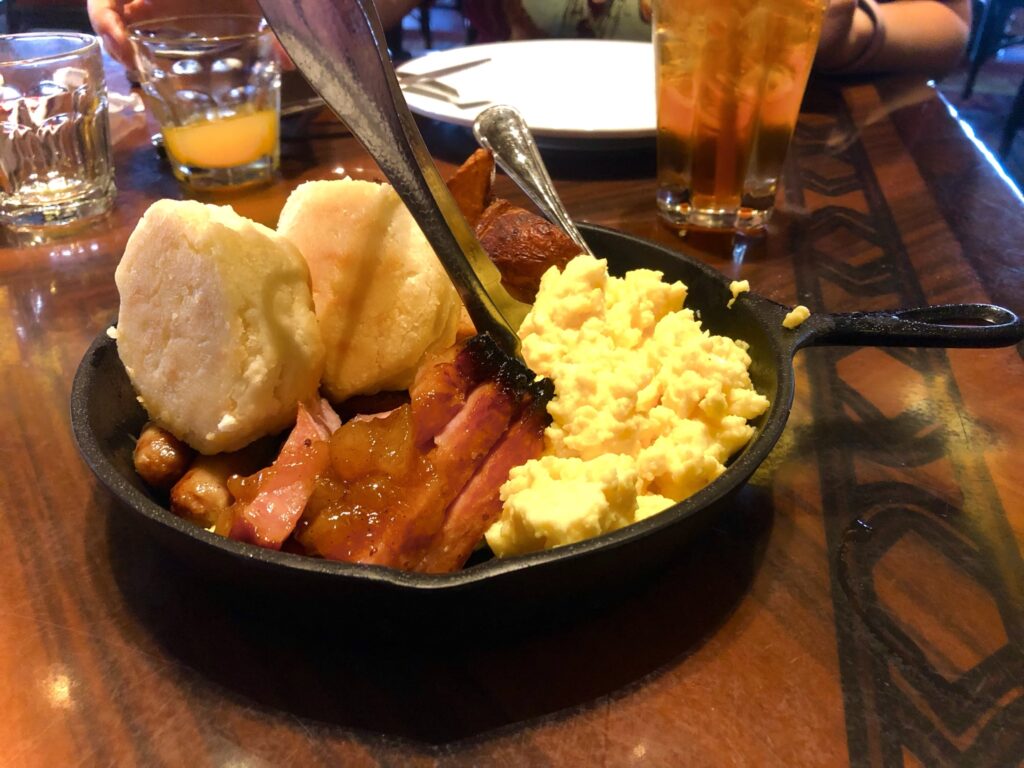 The main course at 'Ohana is a breakfast skillet, which consists of scrambled eggs, biscuits, island-style potatoes, pork sausage links, ham topped with pineapple compote, and Mickey (and Stitch!) waffles. This family-style meal is all-you-care-to-enjoy and when you run out of food, your server will gladly bring you more.
The sausage links were thankfully not too heavy, and the sweet pineapple compote complemented the saltiness of the ham perfectly. The biscuits were warm and crumbly, just like a good biscuit should be. But my favorite food in the skillet were the breakfast potatoes. These red potatoes were seasoned perfectly and added a lot of flavor to the meal. And of course, the Mickey waffles were scrumptious, as usual. We made it through two skillets before we had to wave the white flag and surrender. 
Without characters, the atmosphere at 'Ohana is a little less lively, but it makes the breakfast a bit more relaxing, and cheaper too! Polynesian-inspired songs, as well as some Disney jungle favorites, play in the background while you dine. The atmosphere at 'Ohana is very cozy, which makes sense considering the name literally means "family."
The tables within the restaurant are pretty close together, which is what gives it that warm and comforting vibe. To go with the Polynesian theme, there are tiki statues throughout the restaurant, as well as an intricate thatch roof over the main dining room. One of my favorite things about 'Ohana are the large windows along the outside of the dining room, which offer a gorgeous view of the resort grounds and the Seven Seas Lagoon. In the distance, you can even see Cinderella Castle!
Overall, we loved our meal at 'Ohana. The service was quick and the atmosphere was very laid-back. The breakfast skillet features some favorites, like eggs and Mickey waffles, but there's also some more flavorful offerings, like the island-inspired potatoes and ham with pineapple compote. This big, hearty breakfast was a great way to start our day before heading over to Magic Kingdom. If you're wanting to dine at 'Ohana, reservations are highly recommended. This popular restaurant has been closed for a year and a half, so guests are definitely eager to get back in there and enjoy some of their favorite foods. 
Have you ever had breakfast at 'Ohana? What was your experience like? Let us know in the comments below!
Written by
Erika Lucas
Contributing Writer
Erika has lived in Orlando her whole life, so she was practically raised at Walt Disney World. While in college, she worked for Disney in roles ranging from character attendant to VIP tour guide. Nowadays, she spends her days planning her next trip to the parks or dreaming about setting sail on another Disney Cruise.