Fans of Disney's Beauty and the Beast can now visit the beautifully themed Enchanted Rose bar at the Grand Floridian. Located on the second floor of the Disney World Resort's most luxurious hotel, the lounge plays subtle homage to the beloved film at each turn. Here is what you'll find at the new Beauty and the Beast themed bar at the Grand Floridian.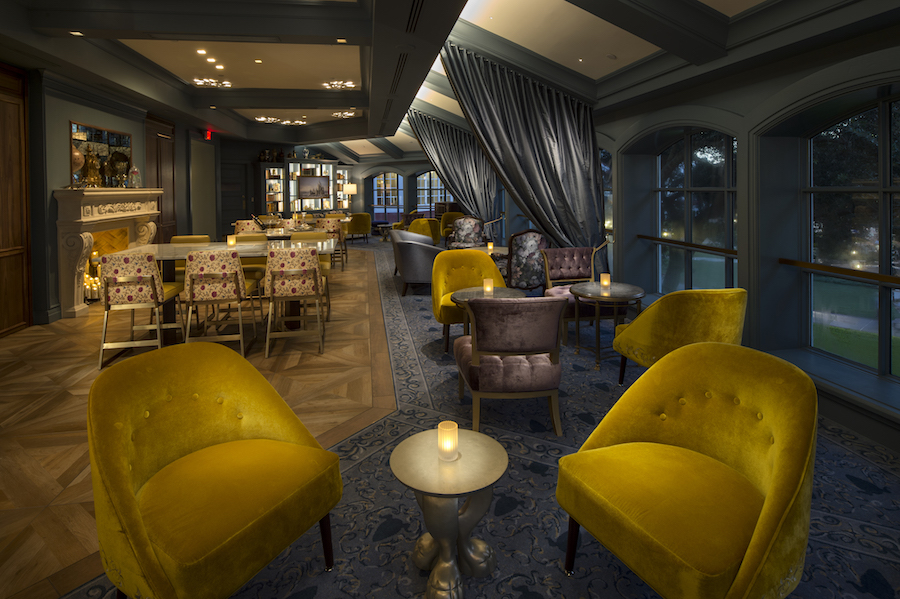 Elegant Decor and Subtle Theming
As opposed to the sometimes obvious and heavy theming you may find at some Disney locales, i.e. Be Our Guest at MK, the Enchanted Rose takes a softer approach to themes from the movie and recreates them in an elegant and modern fashion. Not to worry, guests will still find hints of Beauty and the Beast in each of the Enchanted Rose's four distinct areas. 
A great example is the enormous yellow chandelier above the main bar that takes inspiration from Belle's flowing ball gown. While the library room exhibits French baroque decor with sweeping velvet drapes and a beautifully carved fireplace that would fit right in at Beast's Castle. There is also a garden room inspired by the enchanted forest and a garden terrace. If you keep your eyes peeled you'll even spot a few familiar faces, or dishes, around the bar.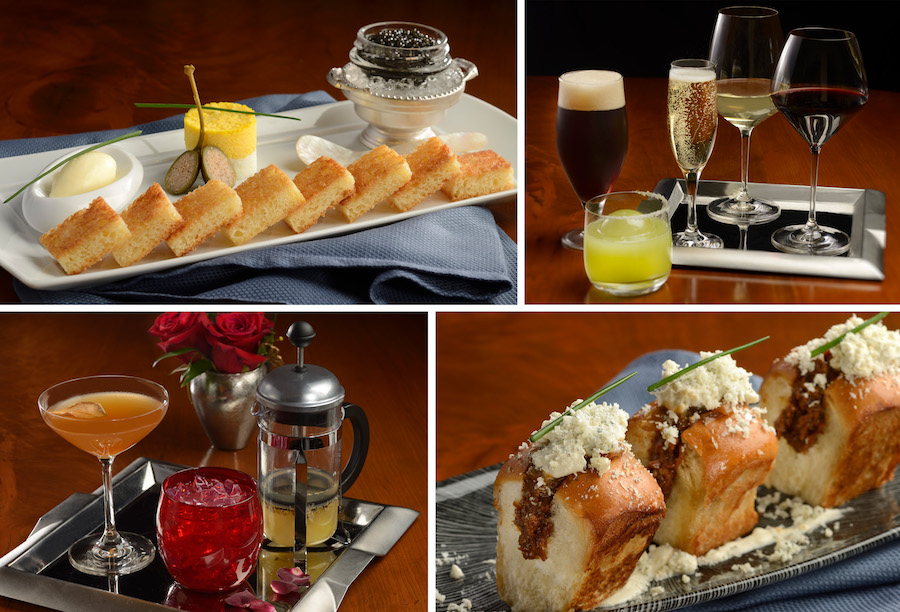 Food and Drinks
Being classified as a lounge, the menu at the Enchanted Rose is heavy on the cocktails and light on food. However, there are a total of eight appetizing starters available from 5PM to 10PM daily, some of which are large enough to be eaten as a meal. The Short-Rib Sliders at $16 and House-made Flatbread at $18 will likely be your most filling options, while the Truffle Fries at $14 are a must if you love thick-cut fries, shaved truffles and garlic aioli. 
The drinks are the star of the show at the Enchanted Rose with no less than 25 featured cocktails plus a long list of wine, beer and ciders. Ranging from $14 to $25, the featured cocktails are definitely on the pricey side but some seem well worth it, like the two table-side cocktails, Love and Envy. Order either of these fancy drinks and your server will wheel over a bar cart and create your special cocktail table-side while relating each step of the process to part of the Beauty and Beast storyline.
Guests who love the Beauty and the Beast film or those just looking for a comfortable place to relax with a refreshing cocktail will love the newly opened Enchanted Rose at the Grand Floridian. Have you had a chance to visit the new Beauty and the Beast bar at the Grand Floridian? Tell us what you loved about your visit to the Enchanted Rose in the comments below. 
Guest Author
Katherine Rand