If you're craving English comfort food but can't make the journey across the pond, then look no further than EPCOT's Rose & Crown Pub and Dining Room. Located in the United Kingdom Pavilion in EPCOT's World Showcase, Rose & Crown is a casual and affordable table-service option that takes reservations and is currently welcoming walk-up parties as well. It had been a while since I had dined at this quaint, English-style pub, but I recently returned with my family for a lovely and affordable lunch.
Arrival
We arrived at the restaurant about 15 minutes before our reservation time and were able to check-in on the My Disney Experience app, instead of having to visit the hostess stand. The app will send you a notification and will alert you via text once your table is ready. Our table was ready about 5 minutes after we checked in, so we returned to the hostess stand and then were guided to our table.
Reservations for Rose & Crown are available on the My Disney Experience app up to 60 days in advance, but they are also currently accepting walk-ups. You can either put your name on the list at the hostess stand or join the walk-up list in the app.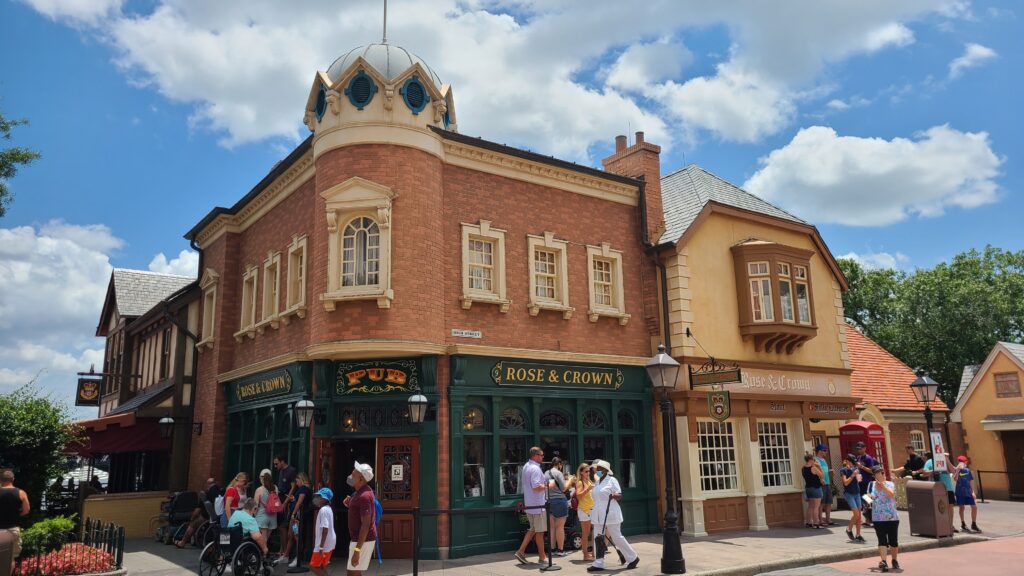 Atmosphere
The UK is well-known for its lively pubs and dining halls. Before COVID, Rose & Crown lived up to that notion with nightly entertainment and crowds of people hanging out around the bar. However, due to social distancing guidelines, the atmosphere at Rose & Crown is a little more subdued for the time being, but that doesn't make the experience any less enjoyable.
Inside Rose & Crown, the area is split between the pub, which is located up front, and the main dining room. The dining room is cozy, with a low ceiling and warm colors, and there are decorations on the walls that are reminiscent of an old English country home. There is also a covered outdoor patio that offers waterfront views of World Showcase Lagoon. The hostess asked us if we were okay with sitting outside before bringing us to our table. Thankfully, there was a nice breeze and there were fans turned on full blast that kept us cool while we enjoyed our meal.
FUN FACT
The name Rose & Crown was chosen because those are the two most common words used in pub names throughout the UK.
Menu
Currently, Disney is encouraging guests to scan a QR code on their phone to access a digital menu, but they do have physical menus there as well that can be requested. The current menu features of variety of English classics, including Fish and Chips, Bangers and Mash, and Shepherd's Pie. The dishes are all served on plates that are embellished with a floral design along the rim. It's such a simple touch that makes the experience feel homier and more authentic. And of course, they offer a wide selection of beers, ales, specialty cocktails, and whiskey.
I tried a pint of Harp Lager from the beer cart located outside the restaurant while we were waiting for our table to be ready; it was a refreshing drink to have on such a warm day.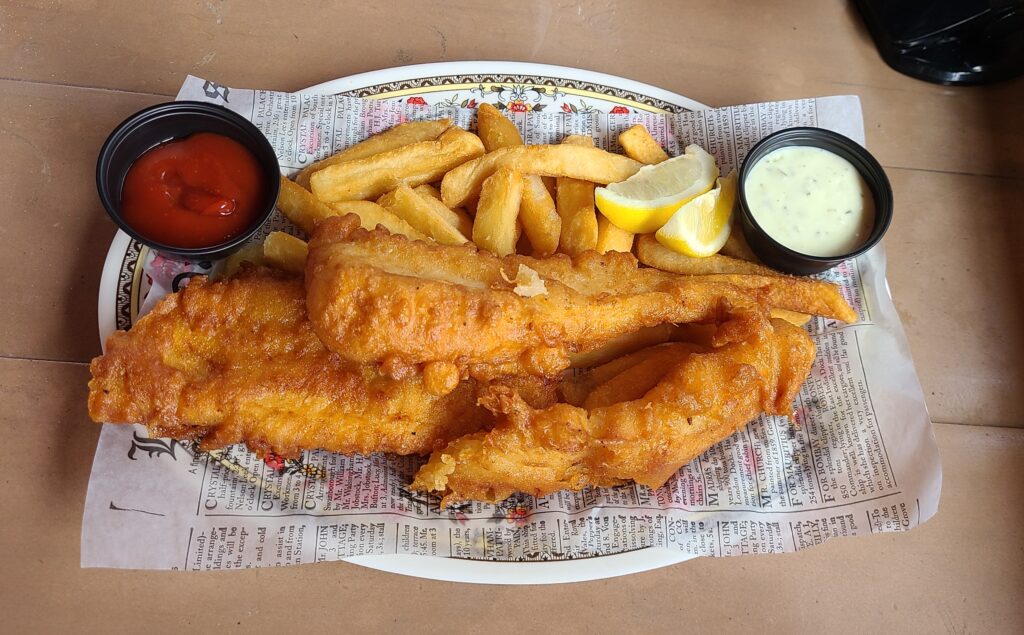 The Fish and Chips is Rose & Crown's signature dish, and it did not disappoint. The fish is beer-battered and perfectly cooked, while the chips, or as us Americans like to call them, French fries, were crispy and had just the right amount of salt. The meal is served with tartar sauce and ketchup, but there's also malt vinegar at the table that you can pour onto the fish. And just like the Brits do, the dish was served over a piece of newspaper.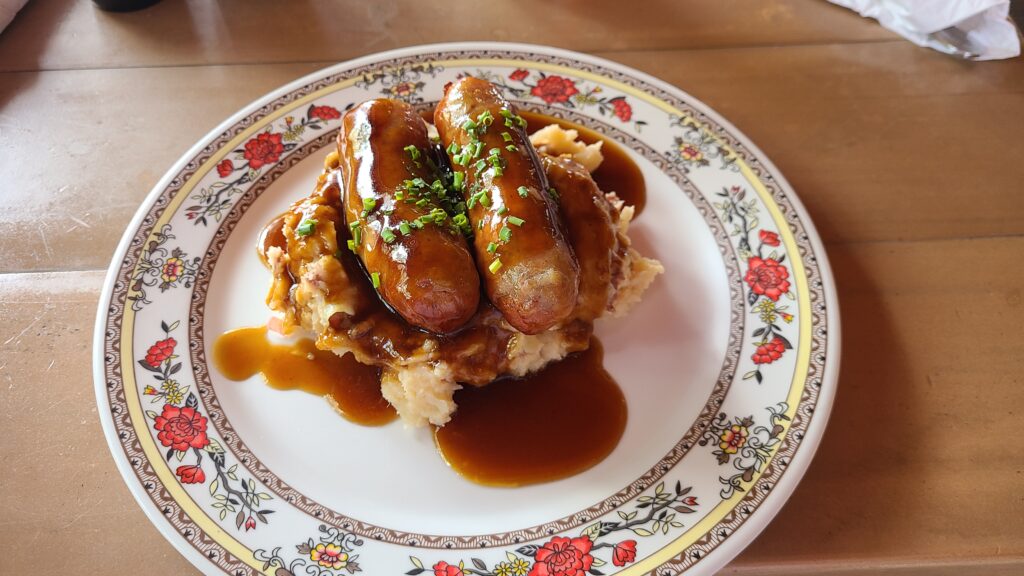 Another favorite meal of mine at Rose & Crown is the Bangers and Mash, which is English sausage served over mashed potatoes and finished with a mushroom and onion gravy. This hearty meal is an English comfort food, but it's also full of flavor because of the slight tang in the gravy.
If you have an unadventurous eater in your party, a great choice is the Welsh Pub Burger that is served with a side of their delicious chips. The burger is topped with a beer cheese sauce, bacon, and beer-battered leeks, which makes this much more than just a standard burger.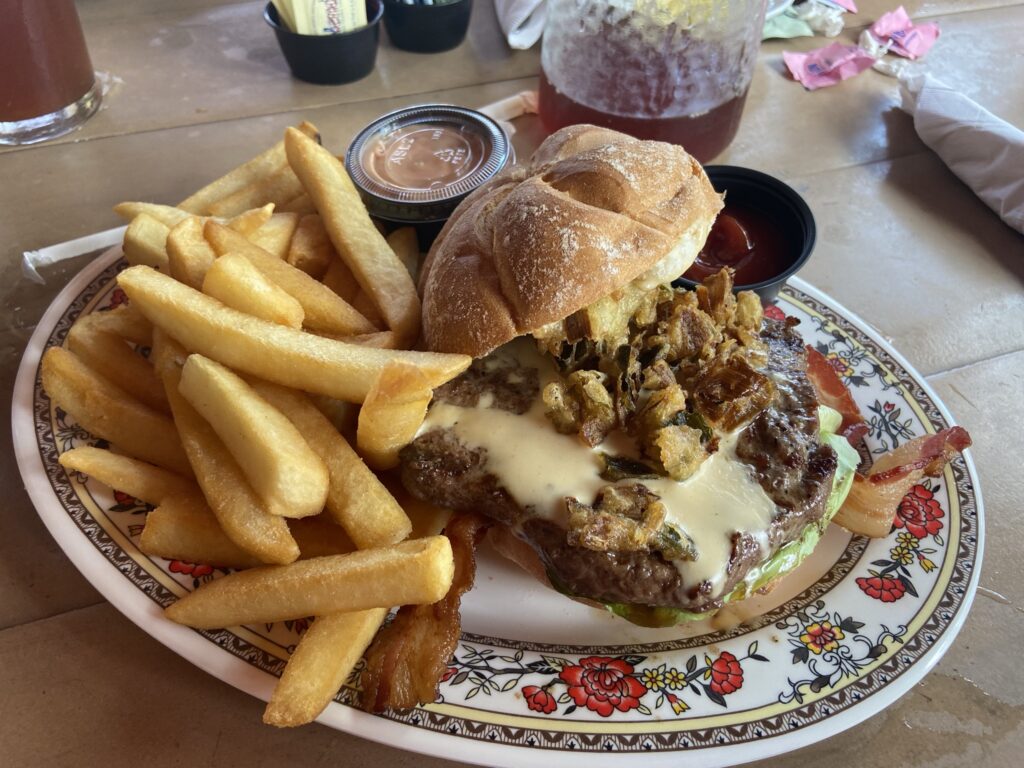 One of my favorite parts of our meal was something so simple: the iced tea! It was a hot summer day, so the tea was very refreshing, but it was also full of flavor. When we asked our server, I was pleasantly surprised to learn that it was Lady Grey Tea poured over ice. The English are well-known for their tea, so I thought this special iced tea was a nice touch.
Overall, we all really enjoyed our meal and will definitely be returning to Rose & Crown in the future. Unfortunately, we were all so full from our entrees that we didn't save room for dessert, but I've heard the Sticky Toffee Pudding is scrumptious. The portion sizes are generous, so I don't think any diner will leave hungry. The menu prices are very reasonable for a Disney table-service meal. The most expensive item on the menu is the Catch of the Day, which was salmon when we visited, at $27.00. The speedy service and delicious, hot food made our experience at Rose & Crown a great one. As I write this, I'm starting to crave their Fish and Chips again. Hopefully I'll be able to return soon!
Have you dined at Rose & Crown? What do you love about this table-service restaurant? Share your experience in the comments below.
Written by
Erika Lucas
Contributing Writer
Erika has lived in Orlando her whole life, so she was practically raised at Walt Disney World. While in college, she worked for Disney in roles ranging from character attendant to VIP tour guide. Nowadays, she spends her days planning her next trip to the parks or dreaming about setting sail on another Disney Cruise.