Restaurants at Walt Disney World aren't simply for eating; they are also perfectly crafted and themed experiences. Some Disney restaurants are more lively than others. But perhaps you are looking for a Disney restaurant that is a laid-back and quiet experience? Here are five restaurants at Walt Disney World with a calm atmosphere.
1. Coral Reef Restaurant – EPCOT
Coral Reef Restaurant is unlike any seafood restaurant that you have ever seen. Coral Reef is home to a wall-to-wall aquarium viewing area. There isn't a bad seat in the house. The aquarium is connected to EPCOT's The Seas pavilion, and it is one of the largest saltwater aquariums on earth at 5.7 million gallons.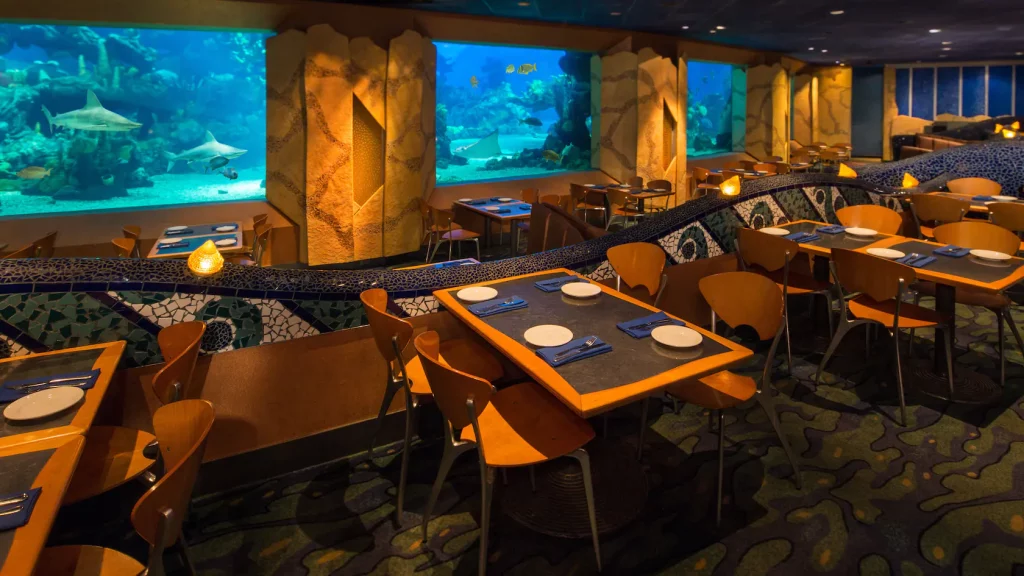 The restaurant itself is a quiet and relaxing environment. The lights are dimmed in order to have the best view of the lit aquarium. You can watch schools of fish, turtles, sharks, and even divers as you dine.
The menu for Coral Reef Restaurant includes delightful seafood dishes such as salmon, shrimp and grits, and mahi mahi. For those more interested in land than sea there is also prime rib and chicken. A mushroom ravioli is the only plant-based option on the menu. Coral Reef also offers delicious desserts like the flourless chocolate wave cake, mixed berry mousse, and a key lime tart.
2. California Grill – Contemporary Resort
If you are looking for a relaxing fine dining experience then look no further than California Grill. Located at Disney's Contemporary Resort, this restaurant is just a monorail ride away. California Grill is located on the 15th floor of Disney's Contemporary Resort and it's large windows give guests a stunning view of Bay Lake and the distant Magic Kingdom. The nightly fireworks show is visible from California Grill. The lights are dimmed and the music is played within the restaurant. There is also an outside balcony for another view of the show.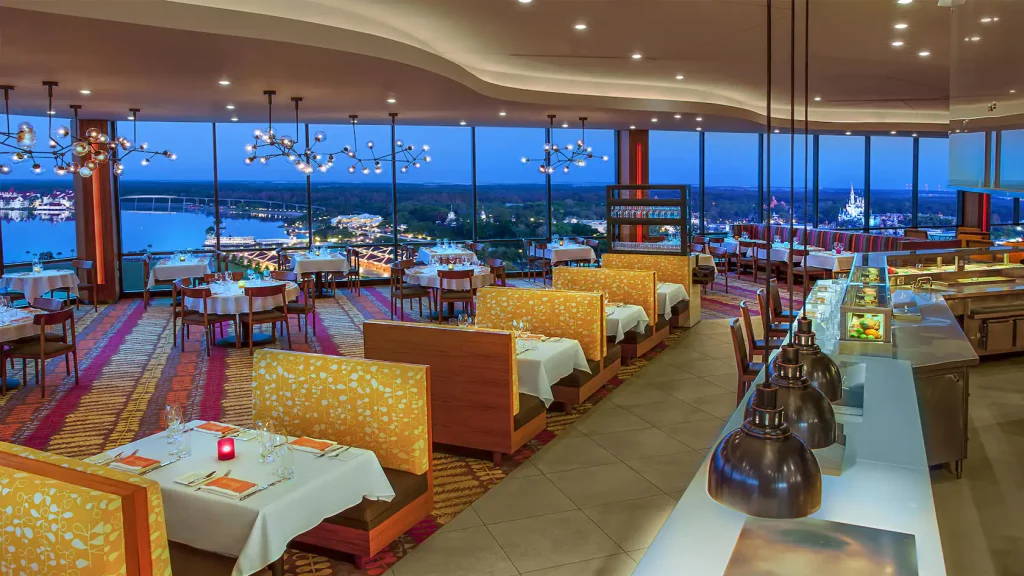 California Grill is the perfect destination for a relaxing date night. This is considered to be a high-end dining experience and guests are expected to dress accordingly.
The menu of California Grill is diverse and features sushi, steak, pork tenderloin, bass, and a plant-based risotto. There is a large wine menu as well as several signature drinks.
3. Kona Café – Polynesian Resort
Looking for a more casual dining experience? The Kona Cafe at Disney's Polynesian Resort is the perfect casual and laid-back restaurant. Located in the main building at Polynesian Resort, Kona Cafe has much more of a quiet atmosphere than it's neighboring restaurant Ohana. Kona Cafe is full of natural light and has a cool island-vibe.
Kona Café serves fresh sushi, fish, chicken, steak, and several other island-style meals. Kona Cafe is well-known for their breakfast menu consisting of their infamous Tonga Toast, a banana-stuffed sourdough toast.
4. Mama Melrose's Ristorante Italiano – Hollywood Studios
Hollywood Studios is known for their lively and exciting themed restaurants. But what if you are looking for something more low-key? Mama Melrose's Ristorante Italiano is tucked away near Muppet Vision 3D. This quaint Italian restaurant is designed to look like your neighborhood hole-in-the-wall local spot. The theming is well-done and not over-the-top, and the food is classic Italian favorites.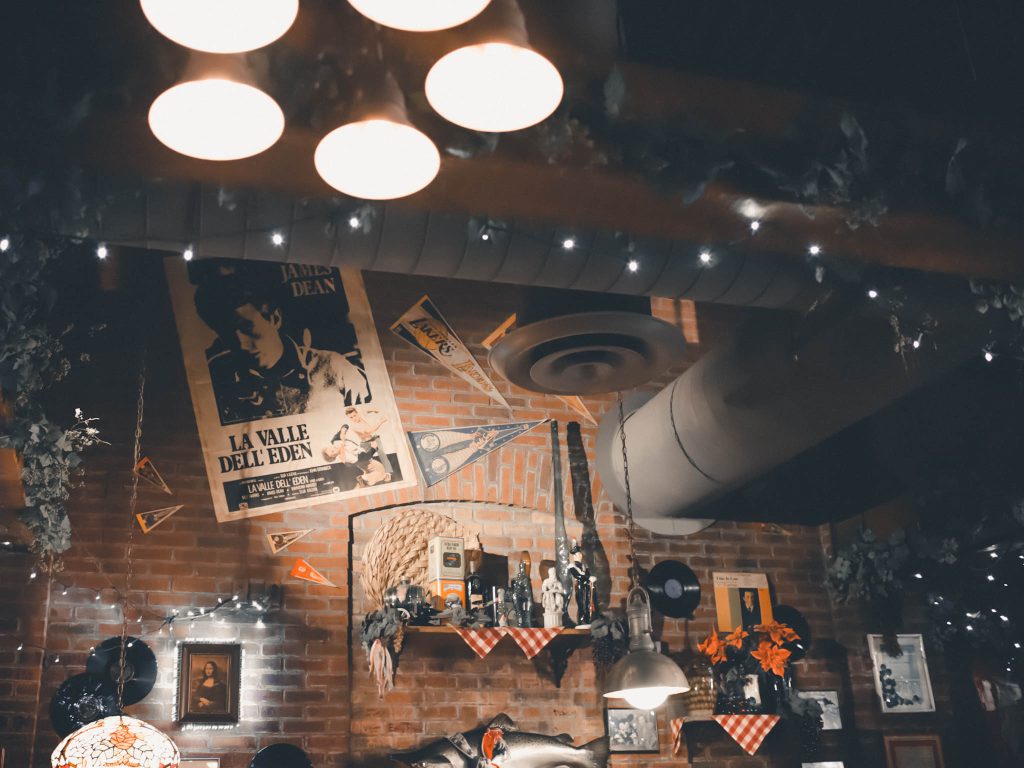 Guests can have a quiet lunch or dinner in the dimly lit dining room as music softly plays and small lights twinkle above you. The menu consists of classic favorites such as pasta, chicken parmesan, and fish.
5. Liberty Tree Tavern – Magic Kingdom
Character dining not really your style? Don't worry! Magic Kingdom has laid-back dining experiences as well! Liberty Tree Tavern is located in Liberty Square, and takes classic American food to a whole new level. This restaurant is themed after a colonial restaurant and really feels like a small and quaint little dining spot.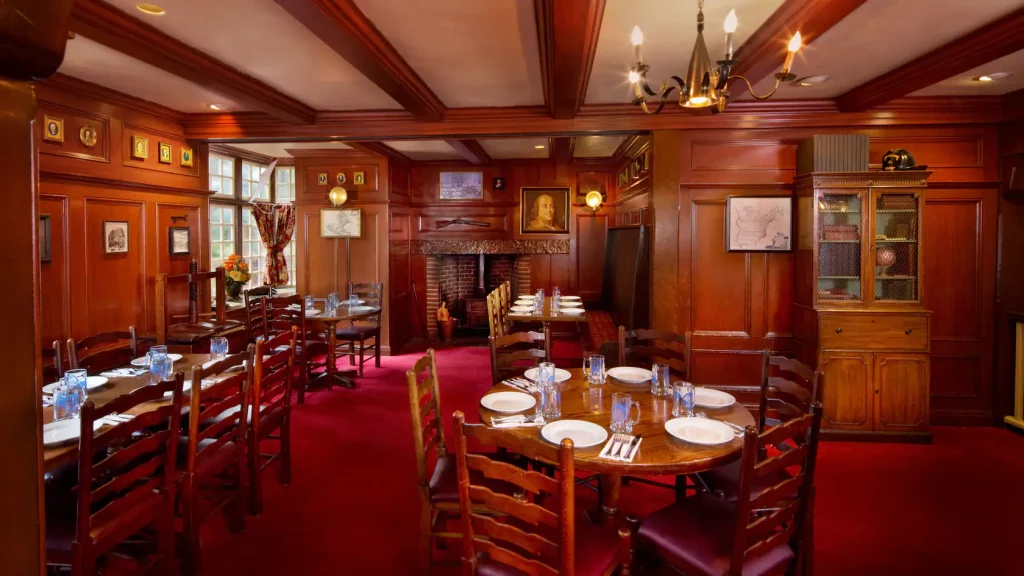 The meal here is served family-style, and consists of an all-you-care-to-enjoy menu featuring Thanksgiving-style food. Sweet potatoes, roasted turkey, mashed potatoes and gravy, stuffing, and macaroni and cheese are just some of the things you have during your meal here.
Do you prefer a more lively dining experience, or a laid-back one? Let us know in the comments below!
Featured Photo: Emily Murray.
Written by
Megan Woodard
Contributing Writer
Megan was born into a Disney family. Her first trip to Disney World was when she was only 18 months old. Now as an adult, Megan loves to share the magic of Disney with her two toddlers. Keeping up with Disney news and Disney World knowledge is a fun hobby for Megan. Disney World is her favorite place to be and continuously brings back her childhood joy.