The Most Magical Place On Earth is also the most delicious. Walt Disney World is not only known for its attractions and shows, but also for its magical dining experiences. Between Walt Disney World's four theme parks, resorts, and Disney Springs shopping center, there are dozens of restaurants to choose from for any meal during the day. Dinner reservations at Walt Disney World can be difficult to obtain especially during busier seasons. Lunch reservations are typically easier to grab, and you can still enjoy the same restaurants for lunch as you can for dinner. Lunch is usually a less busy time to grab a bite to eat, and it can also give you a much needed mid-day break from the parks. But what are the best restaurants at Disney World for lunch? Here are some of our favorites!
The Crystal Palace – Magic Kingdom
Join Winnie the Pooh and all of his friends at The Crystal Palace at Magic Kingdom. This delightful character buffet serves breakfast, lunch, and dinner. The Crystal Palace is a beautiful restaurant that offers a relaxing midday break for lunch. Guests are greeted by topiaries of Pooh and friends before they are escorted through the bright space to their table. Pooh, Tigger, Piglet, and Eeyore walk about the restaurant for character meet and greets while you dine. Occasionally, the characters will lead you in a parade around the dining hall.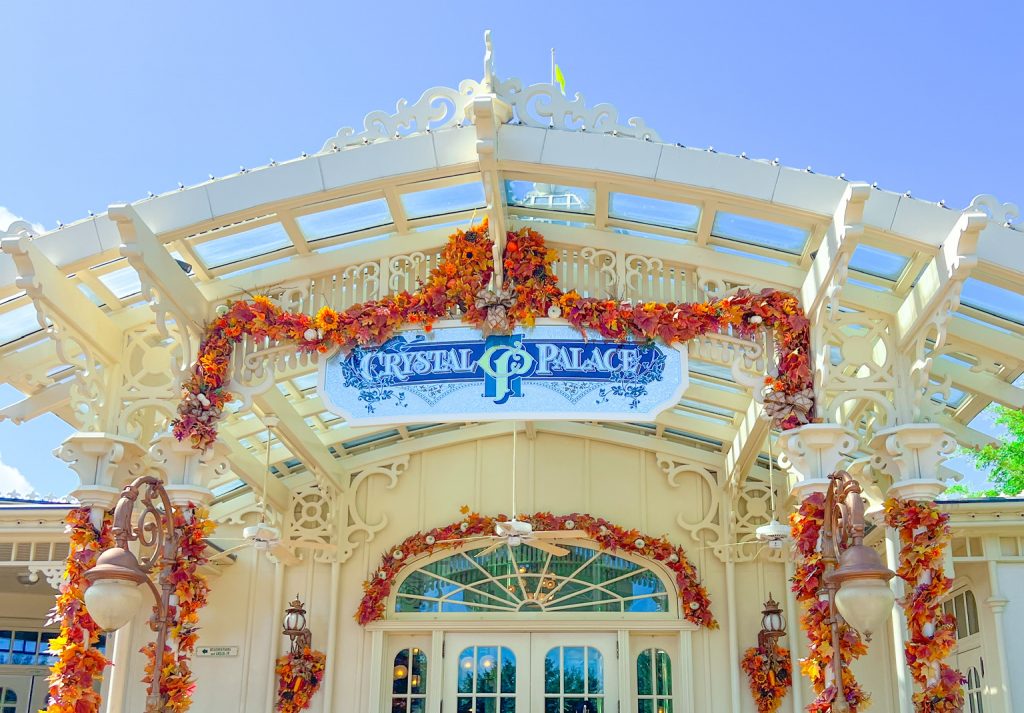 The lunch buffet offers seasonal salads, country-fried chicken, seasonal ravioli, mashed potatoes, carved prime rib, shrimp creole, fresh vegetables, and assorted desserts. A non-alcoholic beverage is included with the purchase price of $45 per adult and $29 per child. Lunch ends at 2:55 and at 3:00 the buffet is switched over to dinner. If you book a late lunch reservation, you may be able to catch both buffets!
50's Prime Time Café – Hollywood Studios
If you are looking for a fun and casual lunch while you are at Hollywood Studios then you would love 50's Prime Time Café. Go back in time to Mom's kitchen where manners matter and everyone strives to be in the clean plate club. 50's Prime Time Café is a themed experience where the servers are in on the fun. Old TVs are playing clips from 1950s television shows while you dine, and everyone treats you like family.
The lunch menu includes classic American food like deviled eggs as appetizers, fried chicken, pot roast, pot pie, and meatloaf. Enjoy a home-cooked dessert of apple crisp, peanut butter cake, and pineapple upside-down cake.
Biergarten Restaurant – EPCOT
Located in the Germany pavilion of Epcot's World Showcase is Biergarten Restaurant. This lively buffet serves authentic German cuisine in a celebratory atmosphere. Guests sit on long benches and parties with less than 10 are paired with other guests for the meal. This restaurant is ideal for a social butterfly who enjoys making conversation over a meal and meeting new people. A live Polka band plays while guests can help themselves to an all-you-care-to-enjoy buffet.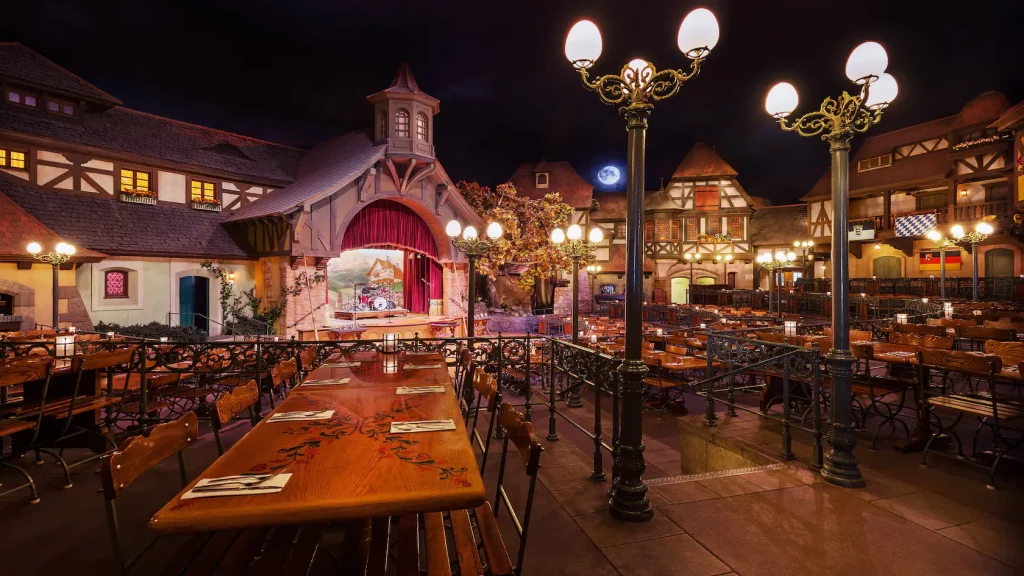 Biergarten Restaurant's lunch menu includes seasonal salads, rotisserie chicken, potatoes, schnitzel, traditional sausages, sauerkraut, spätzle, nudel gratin, and assorted desserts. Of course, there is also a wide variety of German beers for guests over the age of 21.
Tusker House Restaurant – Animal Kingdom
Donald Duck and his friends can be found at Tusker House Restaurant. This buffet-style restaurant serves delightful African-inspired cuisine. The safari-like theming of the restaurant paired with Donald Duck and his pals makes for a fun experience for both children and adults alike. This character buffet offers a fantastic mid-day break from Animal Kingdom for lunch.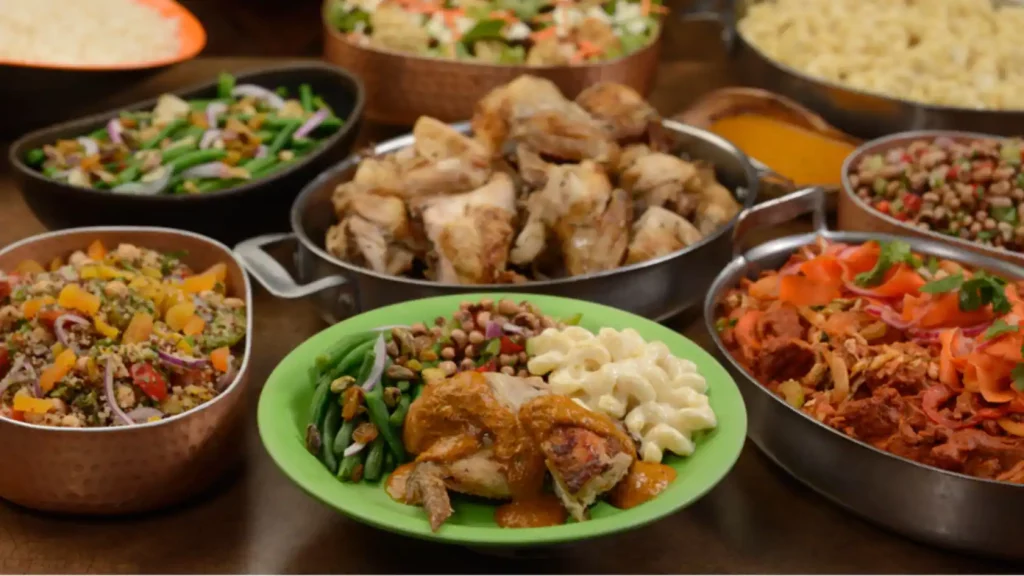 Tusker House Restaurant's lunch menu includes an assortment of breads and dips, salads, tandoori chicken, green curry shrimp, chicken curry, rice, vegetables, and an assortment of plant-based meals as well.
T-Rex Café – Disney Springs
No park day? No worries. Disney Springs also has many restaurants suitable for lunch. Perhaps the most unique restaurant that Disney Springs has to offer is the T-Rex Café. This fun restaurant is typically less busy at lunchtime than it is at dinner. Dine surrounded by dinosaurs and prehistoric creatures. A meteor-shower plays occasionally while you dine amongst life-sized animatronics.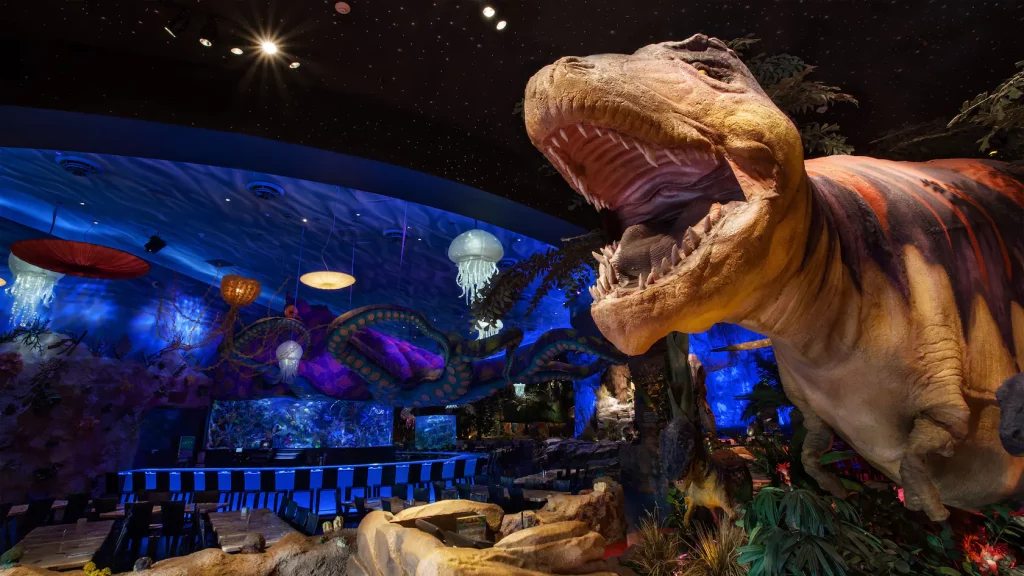 T-Rex Café has something for everyone. Whether it be a Jurassic-sized burger, pastas, chicken and steak dishes, or seafood favorites, there is so much to see (and eat!) at T-Rex Café.
What is your favorite spot to grab lunch at Walt Disney World? Do you prefer dinner reservations or lunch? Let us know in the comments below!
Featured Photo: Emily Murray.
Written by
Megan Woodard
Contributing Writer
Megan was born into a Disney family. Her first trip to Disney World was when she was only 18 months old. Now as an adult, Megan loves to share the magic of Disney with her two toddlers. Keeping up with Disney news and Disney World knowledge is a fun hobby for Megan. Disney World is her favorite place to be and continuously brings back her childhood joy.