As Summer approaches in Southern California, the weather is starting to heat up at The Disneyland Resort. There are many ways to stay cool in the summer. Attractions like Grizzly River Run will be sure to cool you down! Make your way through the mountains in a whitewater raft while being splashed the whole way down. It is very important to stay hydrated throughout your park day but Disney also has a variety of refreshing snacks to cool you down on a hot day.
1. Frozen Apple Juice – Fantasyland
One of the most refreshing treats you can find in Fantasyland is The frozen Apple Juice. It is a Apple Juice slushie. This beverage can be found at a small snack cart directly across from Red Rose Tavern and next to the Casey Jr. Circus Train Queue. The frozen Apple Juice costs and cannot be mobile ordered.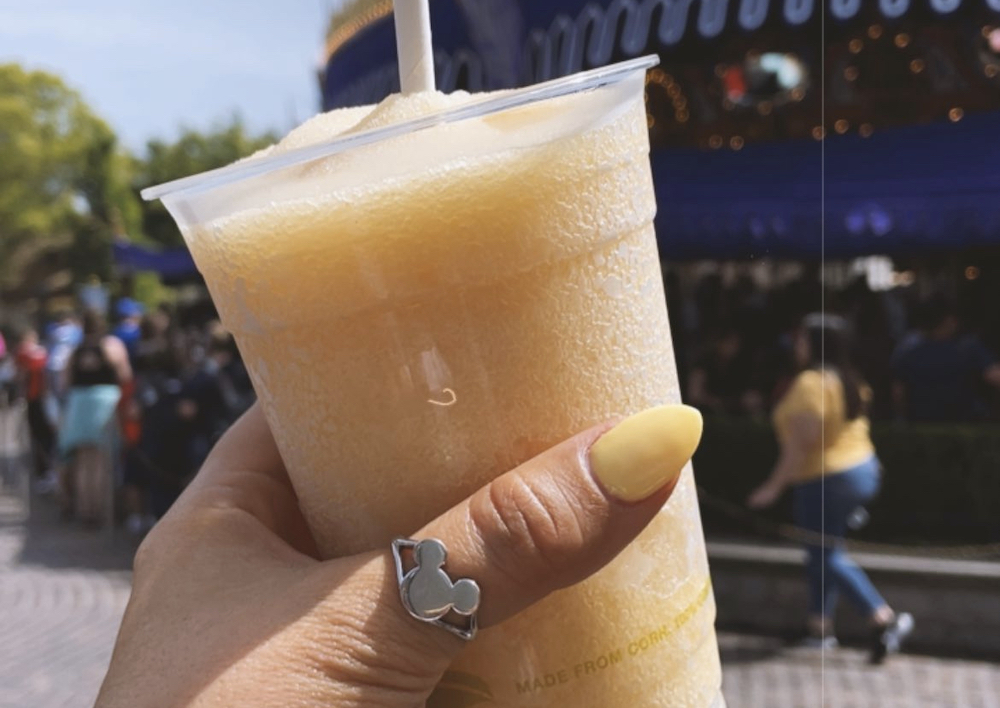 2. Black Caf Cold Brew – Star Wars Galaxy's Edge
If you are roaming in Batuu, make a quick stop at Docking Bay 7 Food and Cargo for this caffeinated beverage. The Black Caf Cold Brew is ice cold, cold brew topped with cream cheese sweet cream and chocolate puff cereal on top. The Cold Brew is $5.99 before any discounts and can be mobile ordered.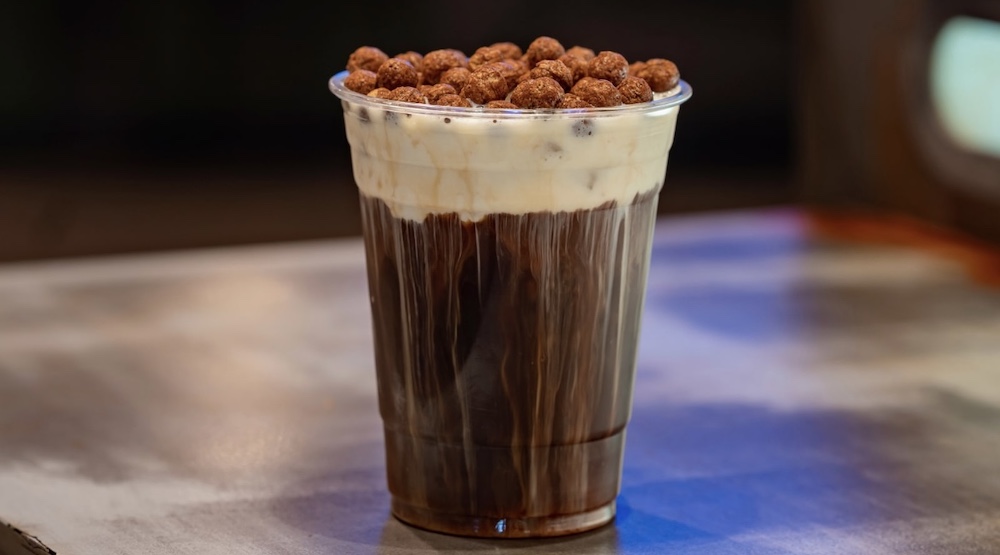 3. Ice Cream Float – Main Street U.S.A
While waiting for the Main Street Electrical Parade be sure to stop at Gibson Girl Ice Cream Parlor on Main Street, U.S.A. Gibson girl has all sorts of ice cream Sundaes, but a refreshing favorite is an ice cream float. The ice cream float can be made your own with 2 scoops of your choice of Ice cream and then topped with your choice of soda. The Ice cream float can be mobile ordered and all choices can be made through the Disneyland App. The Ice Cream Float is $5.99 before any discounts.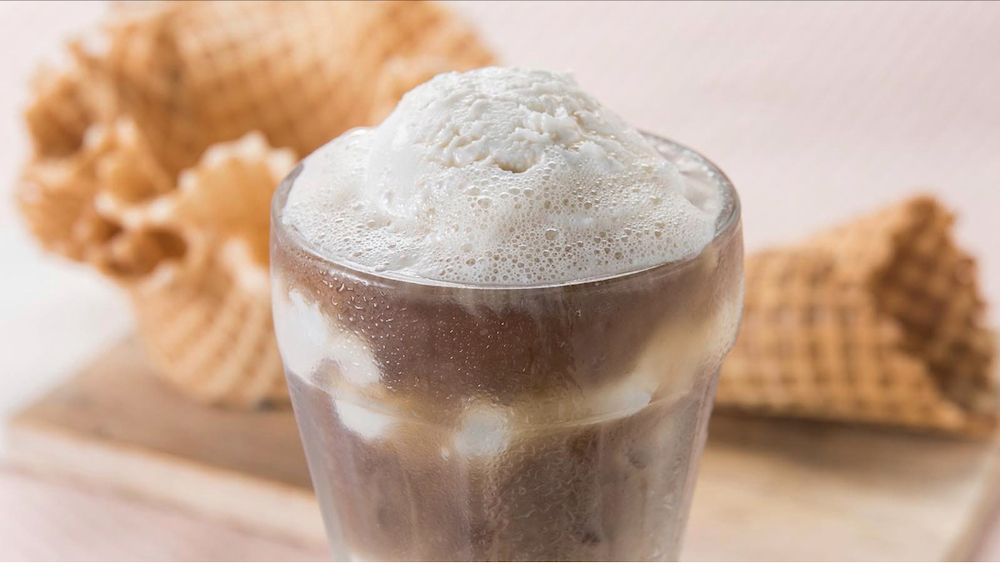 4. Milkshakes – Hollywood Land
Schmoozies! at Disney California Adventure Park in Hollywood Land makes more than just smoothies, they usually have a seasonal milkshake. They currently have a Confetti Cake Shake that is the perfect combination of refreshing and sweet. The Confetti Cake Shake is quite large and can definitely be shared with a family or friend. The shake is a cake flavored milkshake with whipped cream, topped with a slice of cake, sprinkles and a lollipop. The shake is $12.99 before any discounts and can be mobile ordered.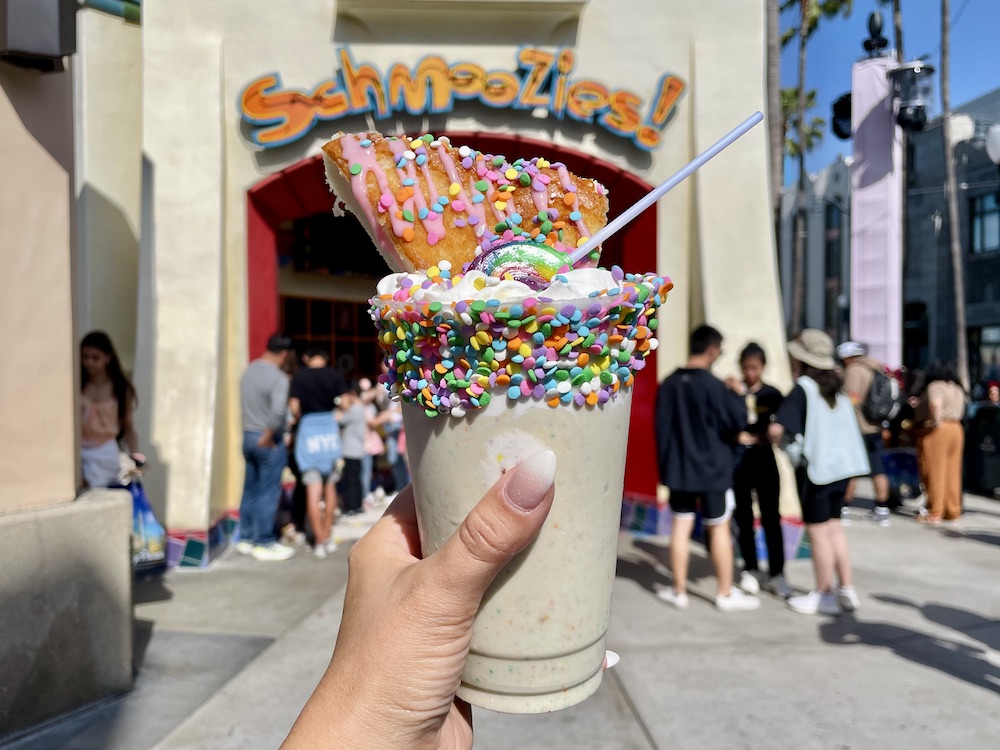 5. Rainbow Unicorn Refresher – Pixar Pier
Walking on the Pier with the sun beating down on you, you'll be sure to need something to cool you down. Head over to Bing Bong's Sweet Stuff and get a Rainbow Unicorn Refresher. This brightly colored drink is made up of lemon-lime, blue raspberry, grape, cherry and mango frozen refresher, then topped with rainbow candy rocks. This slushy will cost you $6.99 before any discounts and can be mobile ordered.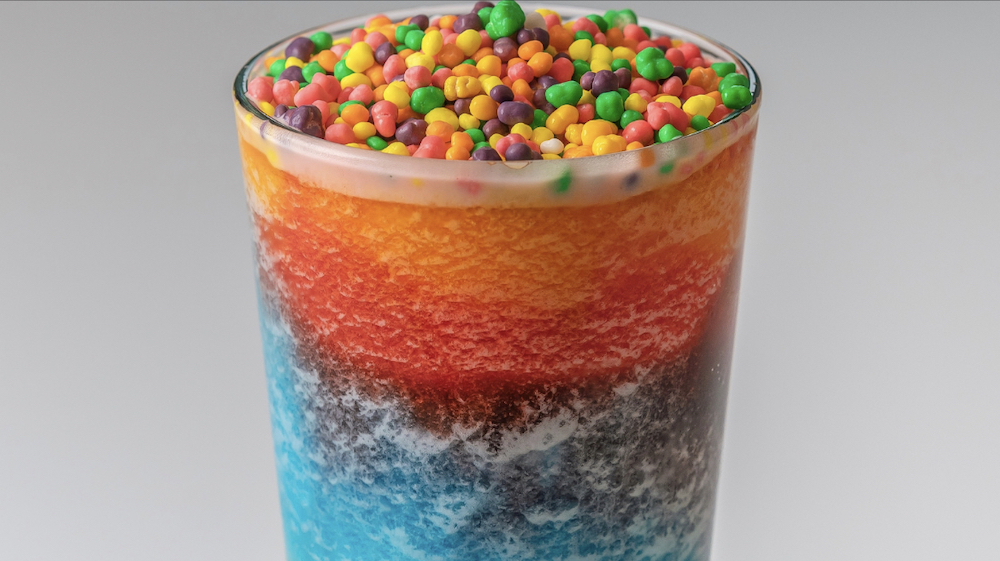 These are just a few of the many snacks at the Disneyland Resort that are the perfect treat on a hot summer day. Have you tried any of these cool treats? Do you have a summer favorite we didn't list? Let us know in the comments!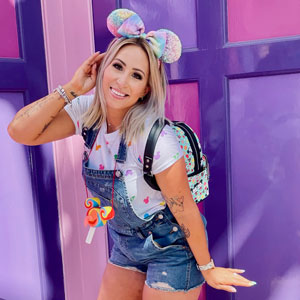 Written by
Brittney Malina
Contributing Writer
Brittney has been going to Disneyland since she was 3 years old. She has had a deep love for all things Disney ever since. Now as a wife and mother of two, she gets to share the love with her family and re-live the Disney magic through her children's eyes. Brittney is a Legacy Passholder and you can find her walking down Main Street, U.S.A. with a churro or iced coffee in hand.