As the first two Disney Resort areas to be built, Disneyland and Walt Disney World share many of the same iconic attractions. From original rides like Jungle Cruise and Peter Pan's Flight, to newer attractions like Star Wars: Rise of the Resistance, Disneyland and Disney World share a total of over 20 of the same attractions across all of their parks. While some of the attractions are near replicas of each other, others have larger differences based on available technology at the time of construction, physical space, and other changes to make the overall ride experience better.
It may be logical to think that of the shared attractions between the two parks, Magic Kingdom's are the newer and improved ones since the park itself is newer, but that is not always the case. One attraction that was actually constructed first in Disney World is Space Mountain. Opening in 1975 in Magic Kingdom, a similar Space Mountain debuted in Disneyland just 2 years later in 1977. Space Mountain was originally planned to be part of an expansion of Tomorrowland in Disneyland, but when plans for development fell through, Space Mountain was put back on the table years later when planning attractions for Tomorrowland in Magic Kingdom. Despite opening only 2 years apart, these coasters are not exactly the same! Let's explore the differences between the two versions of this iconic indoor rollercoaster.
1. Space Mountain in Disneyland is much smaller.
Due to available space and the smaller scale on which Disneyland was constructed, it wasn't feasible to create an exact replica of the ride located in Magic Kingdom. Space Mountain in Magic Kingdom measures in at 180 feet tall and 300 feet in diameter while Disneyland's Space Mountain only climbs to 118 feet tall and 200 feet in diameter.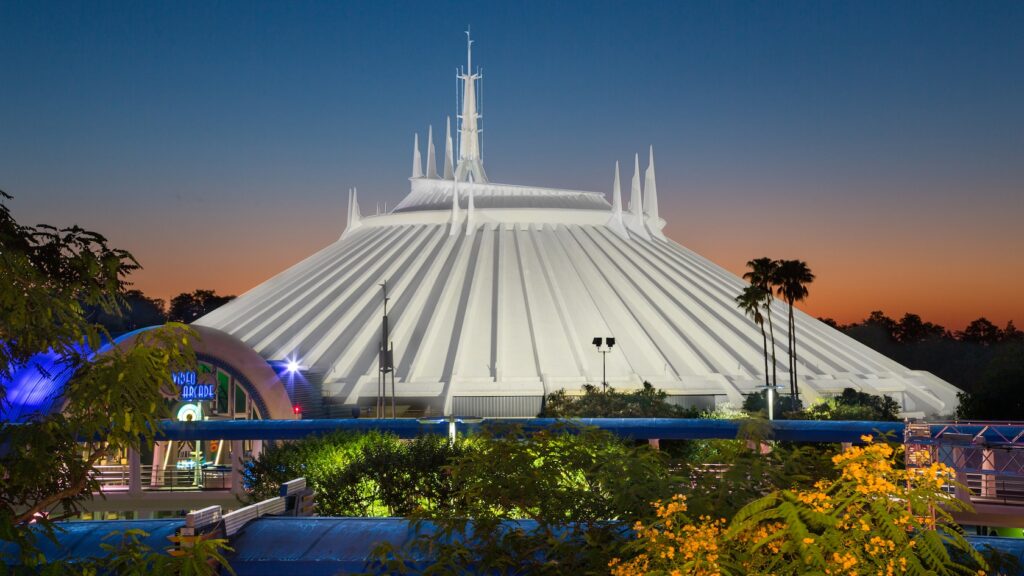 2. Space Mountain in Disneyland consists of only 1 track.
Did you know the original plan for Space Mountain included 4 unique tracks inside of the platinum dome? Once official measurements for the attractions were complete, it was clear there was really only room for 2 tracks to weave through each other in Magic Kingdom that were ultimately named Alpha and Omega. When Space Mountain was constructed in Disneyland in a smaller space, only one track was included. As a result, the one-tracked Disneyland version actually has a ride time of 15 seconds longer than that in Disney World.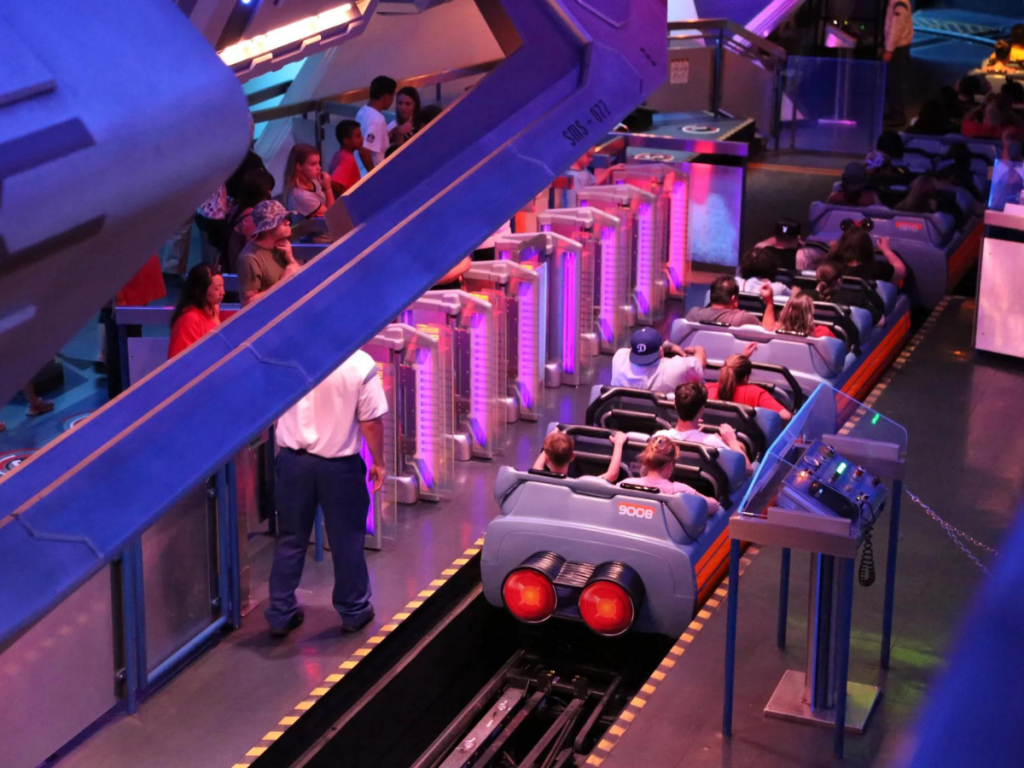 3. The cars at Disneyland can accommodate 2 passengers side-by-side.
The ride vehicles in Magic Kingdom appear truer to the nature of a rocket as 3 guests sit back-to-back in each car. When Disneyland's version was constructed, since there wasn't room for more than one track, the track was widen and then able to accommodate cars that fit 2 guests per seat. Guests that have ridden Space Mountain in both parks tend to prefer the 2-seater cars, reporting that they are more comfortable and easier to enter and exit.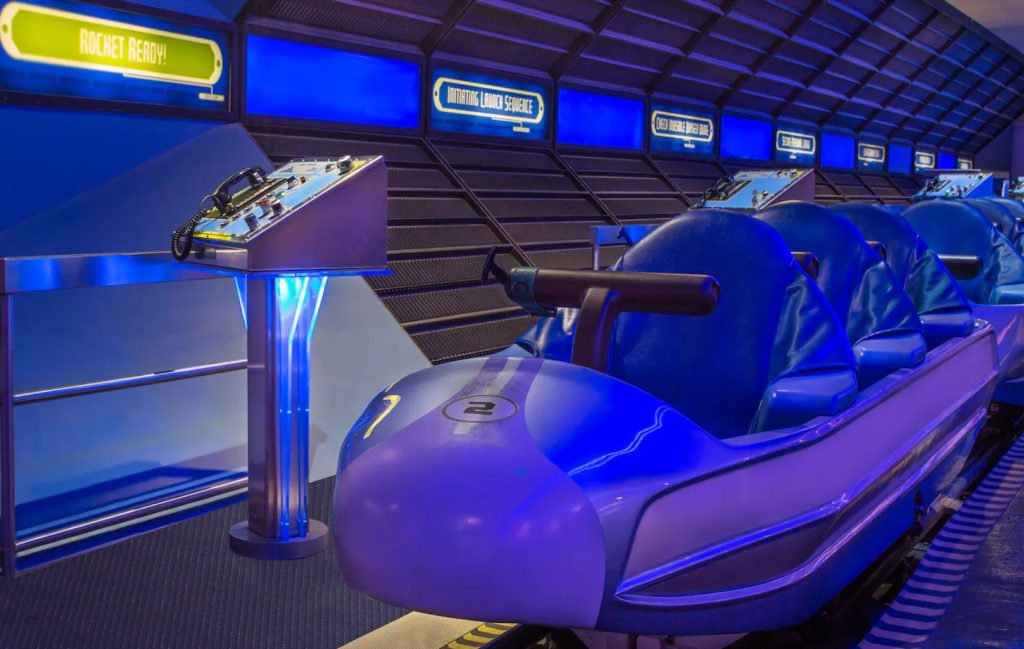 4. The height requirement to ride is different.
If you have a little mouseketeer that is brave enough to ride this coaster in the dark, you may want to head to Disneyland before Disney World. Space Mountain in Disneyland requires guests to be 40 inches tall while Space Mountain in Disney World requires guests to measure at least 44 inches!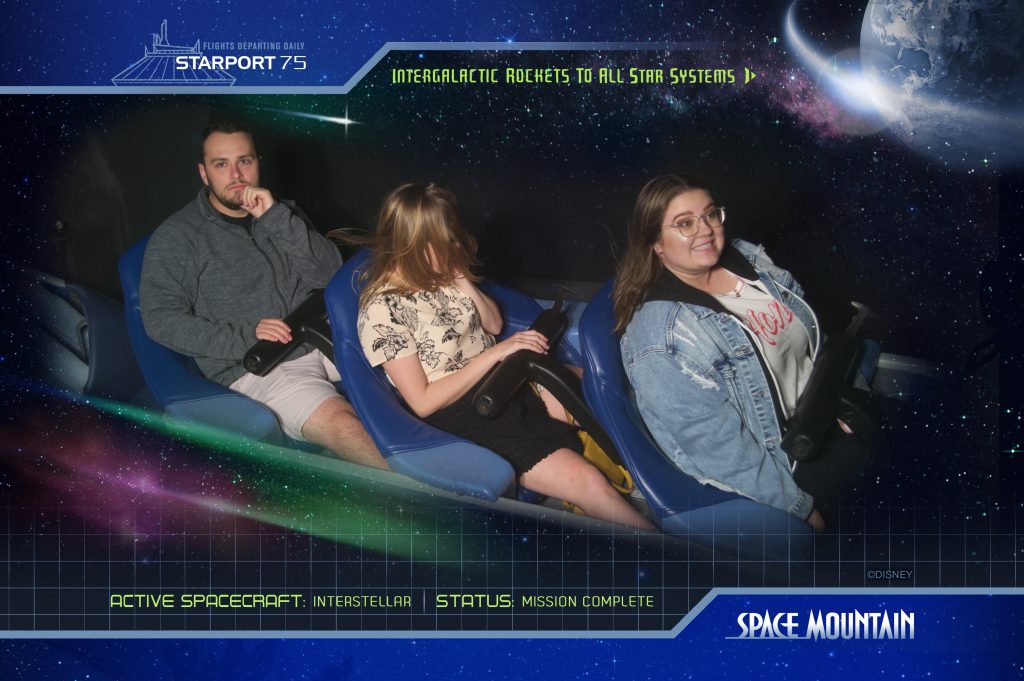 5. Disneyland's Space Mountain broadcasts a soundtrack in your ride vehicle.
Space Mountain in Disney World leaves guests to listen to the whooshing sound of speeding through space and the screams of other guests being surprised by a turn or drop. However, in Disneyland, the passenger vehicles have speakers on which is broadcast a soundtrack developed specifically for the attraction. While you will still hear a scream or two, you will elevate your thrill level with the energizing music playing in your car as you navigate your way through space.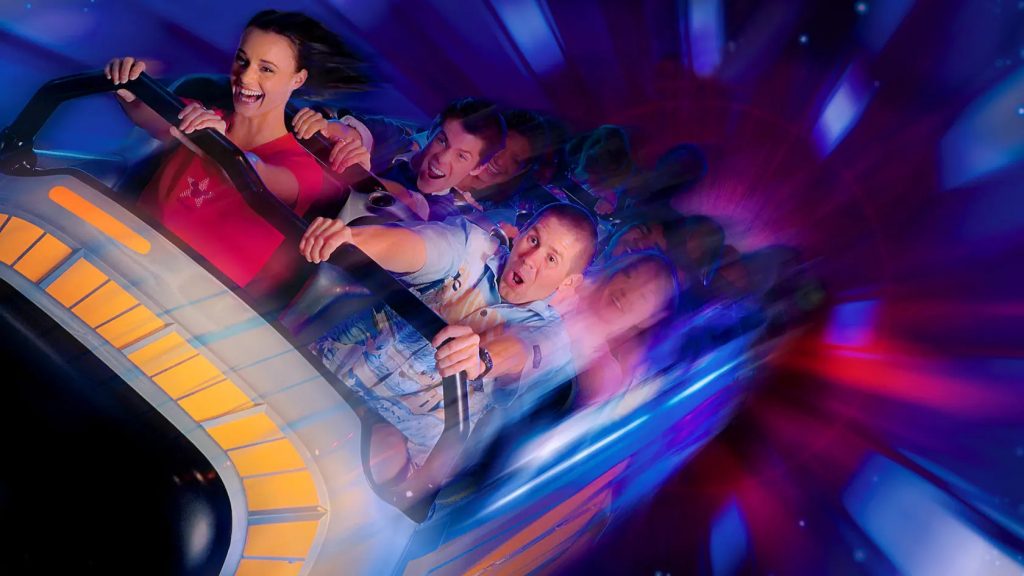 Space Mountain has made its mark as a permanent attraction in the Disney Parks. So much so that there is also a version of this ride at Disneyland Hong Kong, Disneyland Paris, and Disneyland Tokyo. Have you had the opportunity to ride Space Mountain at more than one park? Which version of this iconic ride do you prefer? Tell us in the comments below!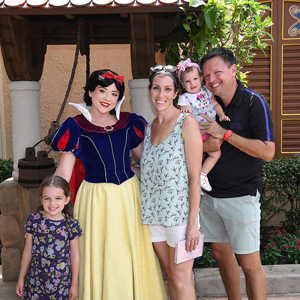 Written by
Shelley Wehler
Contributing Writer
Shelley is a stay-at-home mother of two girls living outside of Charlotte, North Carolina. Her love of all things Disney has grown even more as she sees the magic come alive through the lens of her young daughters. She spends her free time keeping up with the latest in Disney news and daydreaming of her next trip to the parks!