Arriving at EPCOT early in the morning to enjoy breakfast is one of my favorite things to do during my Disney vacations. EPCOT has several dining options for breakfast that range from grab-and-go to table-service restaurants. Whether you arrive at EPCOT for early-entry, or simply just before lunch, you are sure to find a great spot to grab breakfast that will please your entire family. Here are 5 of the best breakfast spots located at EPCOT.
1. Akershus Royal Banquet Hall
First on the list is an incredible character breakfast dining experience located in EPCOT's Norway pavilion. Akershus Royal Banquet Hall is home to great breakfast and several Disney princesses. Guests will dine with the princesses while they enjoy a taste of Norwegian food. This breakfast buffet is priced at $55 per adult and $35 per child and features several options like Norwegian waffles, assorted pastries, potato casserole, scrambled eggs, and breakfast meats. This experience fills up fast so be sure to book your reservation as soon as you are able to.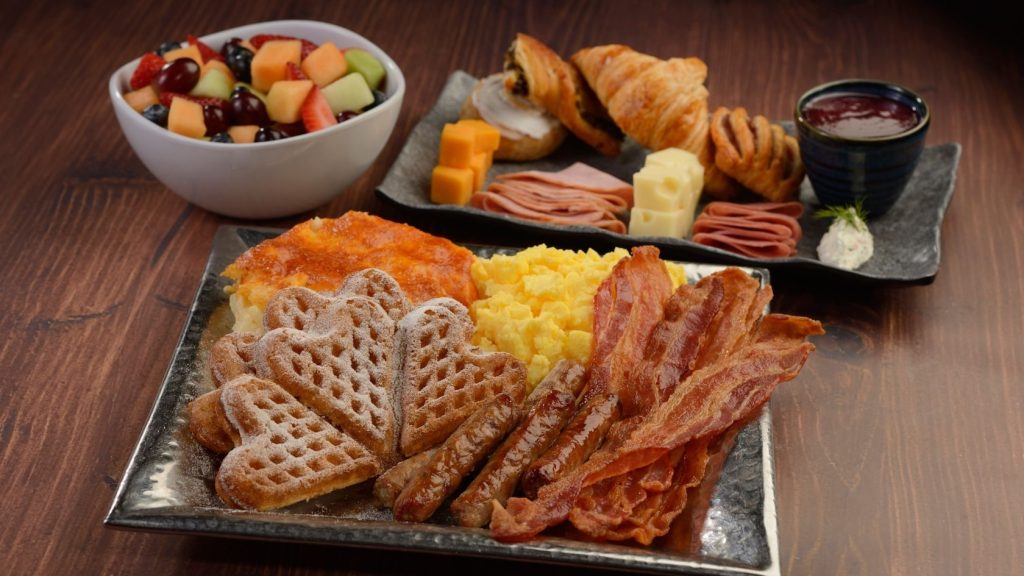 2. Kringla Bakeri Og Kafe
Looking for more of a quick-stop for your breakfast needs? Kringla Bakeri Og Kafe is also located within Epcot's Norway pavilion and quickly serves sweet treats and coffee. This breakfast destination is also open for early-entry. Kringla Bakeri Og Kafe is famous for their School Bread, a sweet roll filled with custard and dipped in coconut. Here you can also find a Mickey cinnamon roll, Norwegian Kringla, and Lefse. Kringla Bakeri Og Kafe also serves a variety of coffee beverages including frozen coffee, and "Viking Coffee" with Bailey's Irish Cream and Kamora Coffee Liqueur.
3. Connections Cafe
At the entrance of World Showcase you'll find Connections Cafe. Connections Cafe is another quick-service breakfast spot that is also a full-service Starbucks cafe. Connections Cafe will serve assorted pastries and seasonal pastries, as well as Starbucks breakfast sandwiches like the sausage, egg, and cheddar. Connections Cafe is a full-service Starbucks so you are able to grab your favorite Starbucks drink while you enjoy your breakfast and take a stroll through World Showcase.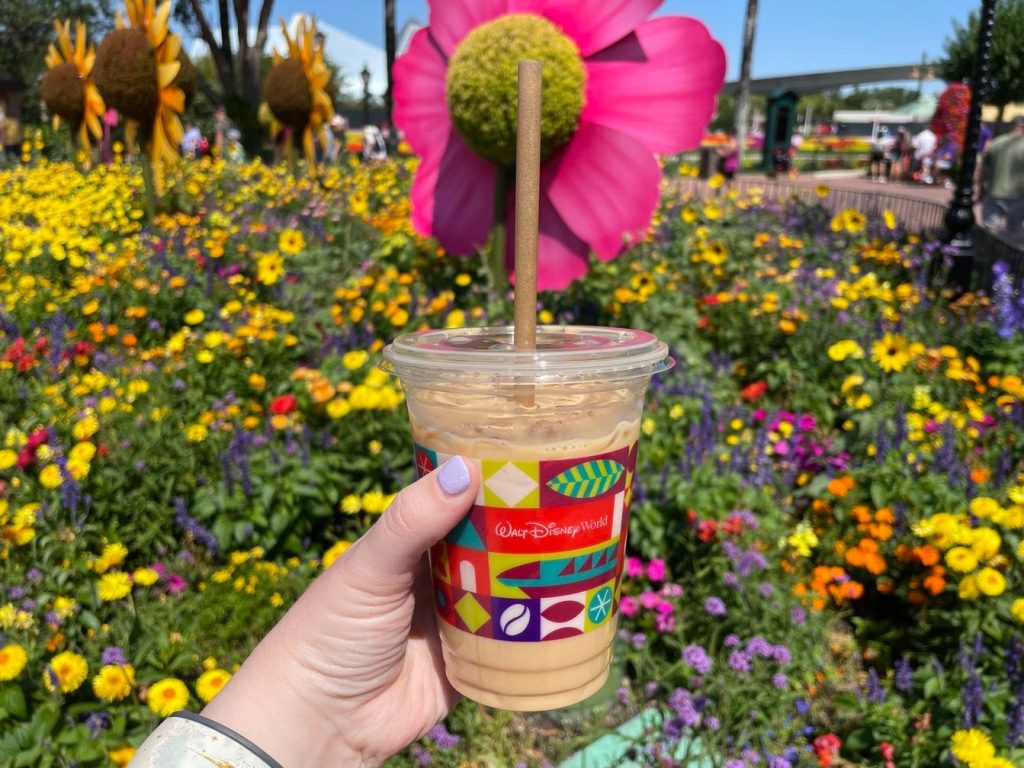 4. Les Halles Boulangerie & Patisserie
There is no doubt that a French bakery is a great place to grab a sweet treat for breakfast. Les Halles Boulangerie & Patisserie is a traditional French bakery located in Epcot's France pavilion. This quick-service spot serves the best croissants, including those that are chocolate and almond filled. You can also find beignets, eclairs, and a variety of coffee beverages like lattes and cappuccinos. Les Halles Boulangerie & Patisserie also has a little something for those who prefer a more savory breakfast with their variety of sandwiches, cheeses, and breads.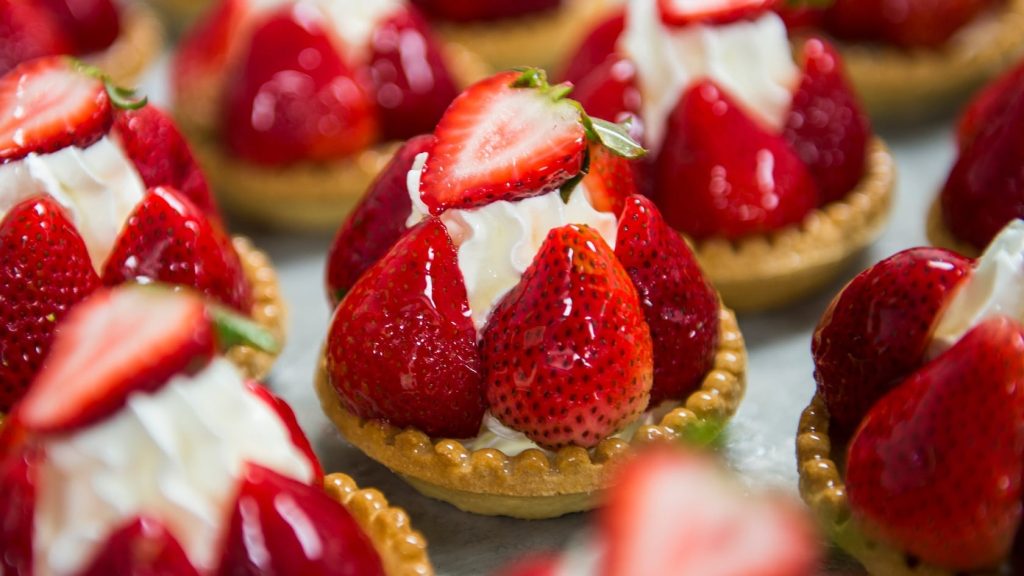 5. La Creperie de Paris
Last on our list is the sit-down restaurant La Creperie de Paris. La Creperie de Paris is located in the France pavilion and is open for breakfast, lunch, and dinner. This restaurant is especially delicious for breakfast with their assortment of crepes. Guests will enjoy breakfast crepes like the ham, egg, and swiss, and also dessert crepes like the hazelnut-chocolate spread crepe. A prix fixe menu is also available serving either a soup or salad, one savory crepe with a glass of hard cider or juice, and one dessert crepe.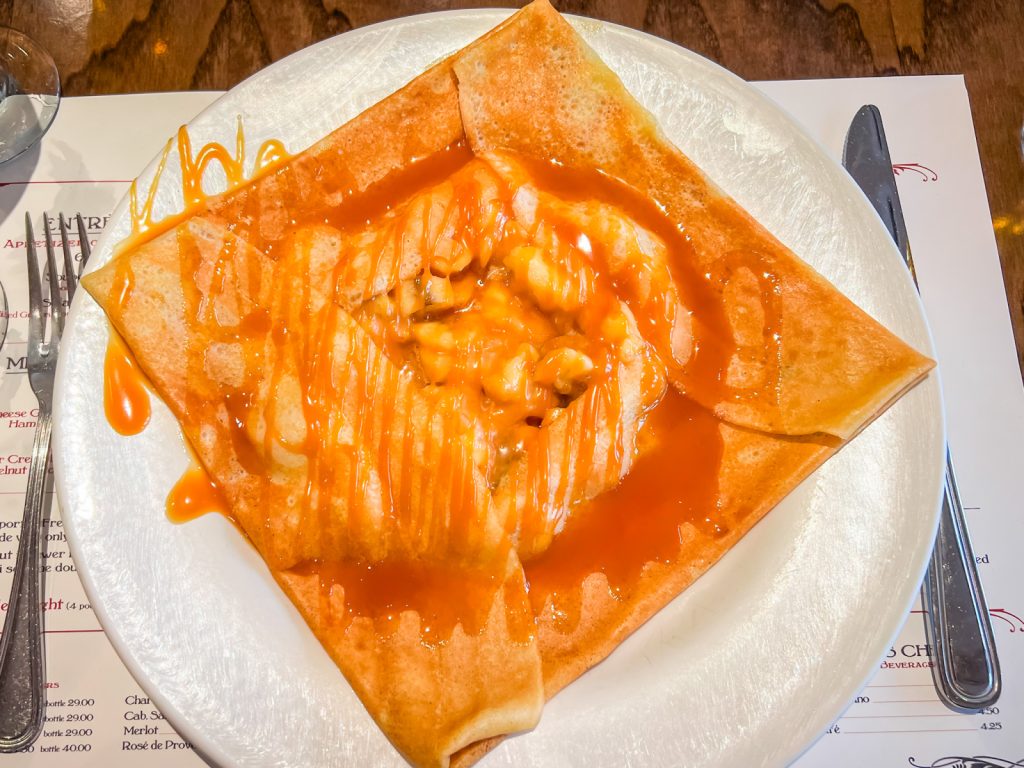 Do you enjoy eating breakfast at Epcot? What is your favorite breakfast location? Let us know in the comments below!
Featured Photo: Emily Murray.
Written by
Megan Woodard
Contributing Writer
Megan was born into a Disney family. Her first trip to Disney World was when she was only 18 months old. Now as an adult, Megan loves to share the magic of Disney with her two toddlers. Keeping up with Disney news and Disney World knowledge is a fun hobby for Megan. Disney World is her favorite place to be and continuously brings back her childhood joy.