Every year, EPCOT hosts its International Festival of the Holidays. This celebration runs from late November through the end of December and features holiday traditions from around the world, vibrant entertainment, and delectable cuisine.
For 2023, the festival is set to be even more magical with an array of entertainment and dining packages designed to take your holiday experience to the next level. Let's explore what's onstage at EPCOT!
Entertainment & Dining Packages Overview
One of special festivities of the event is it's world-class entertainment, and 2023 promises a diverse lineup of performances that reflect the global spirit of EPCOT.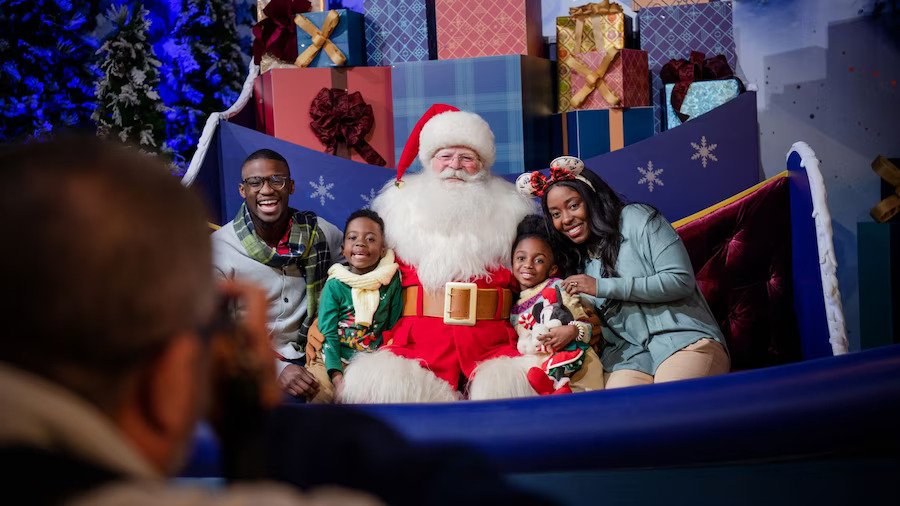 Holiday Storytellers & Santa Greeting
The Holiday Storytellers are a beloved tradition at EPCOT. Performers from various countries share their culture's unique holiday traditions and stories. This year, Disney is offering a special package that guarantees seating for these performances, so you won't miss a moment of these fascinating tales.
Location
Days of Week
Showtimes
Description
Mexico Pavilion
Sunday through Thursday
11:05am, 11:55am, 12:45pm, 2:45pm, 3:50pm, 4:55pm
Las Posadas Celebration

¡Feliz Navidad! Join the fun and pageantry of Las Posadas with dancers, piñatas and the music of Mariachi Cobre.

Norway Pavilion
Daily
11:35am, 12:20pm, 1:10pm, 2:05pm, 4:15pm, 5:20pm, 6:15pm, 7:10pm
A Mischievous Magical Barn Santa

Celebrate the season with laughter as a mischievous Barn Santa visits Sigrid, an unsuspecting Christmas storyteller.

China Pavilion
Daily
12:00pm, 1:00pm, 2:00pm, 3:00pm, 4:00pm
Chinese Lion Dancer

Catch a glimpse of a colorful performance that brings good fortune and happiness in the Lunar New Year.

Italy Pavilion
Daily
11:15am, 12:15pm, 1:00pm, 2:00pm, 3:30pm, 4:15pm, 5:00pm, 5:50pm
La Befana

Come hear the tale of La Befana, the kindhearted witch who visits sleeping young children on the Eve of the Epiphany.

Japan Pavilion
Daily
11:35am, 12:35pm, 1:40pm, 2:40pm, 4:20pm, 5:15pm, 6:00pm, 6:45pm
Daruma Storyteller

Hear the fascinating story of the Daruma doll and the Japanese customs of the New Year!

Between the Morocco and France Pavilions
Daily
10:30am, 11:40am, 12:40pm, 1:35pm, 2:35pm, 4:00pm, 5:00pm, 5:45pm
Hanukkah Storyteller

Witness a storyteller recount traveling abroad to explore the diverse music and traditions of Hanukkah around the world.

France Pavilion
Daily
10:00am, 11:05am, 12:10pm, 12:50pm, 2:20pm, 3:25pm, 4:30pm, 5:15pm
Pere Noel

Visit with Père Noël and rediscover the magic of Christmas through the letter of a delightful child.

United Kingdom Pavilion
Daily
11:30am, 12:30pm, 1:30pm, 2:25pm, 4:00pm, 5:10pm, 6:00pm, 6:45pm
Father Christmas

Join Father Christmas as he rings in the season, sharing the traditions of the United Kingdom with good cheer.

Canada Pavilion
Daily
1:40pm, 2:45pm, 3:50pm, 4:45pm, 6:00pm, 6:40pm
Canadian Holiday Voyageurs

Explore holiday customs from the various regions of Canada on a musical tour of the Great White North with the Canadian Holiday Voyageurs.

The Odyssey Pavilion
Daily through December 24, 2023
11:00 AM, 12:30 PM, 2:00 PM, 3:30 PM, 5:00 PM and 6:30 PM
Santa Greeting

Stop by for a photo with jolly Santa Claus—also known as St. Nick, Père Noël and Father Christmas around the world!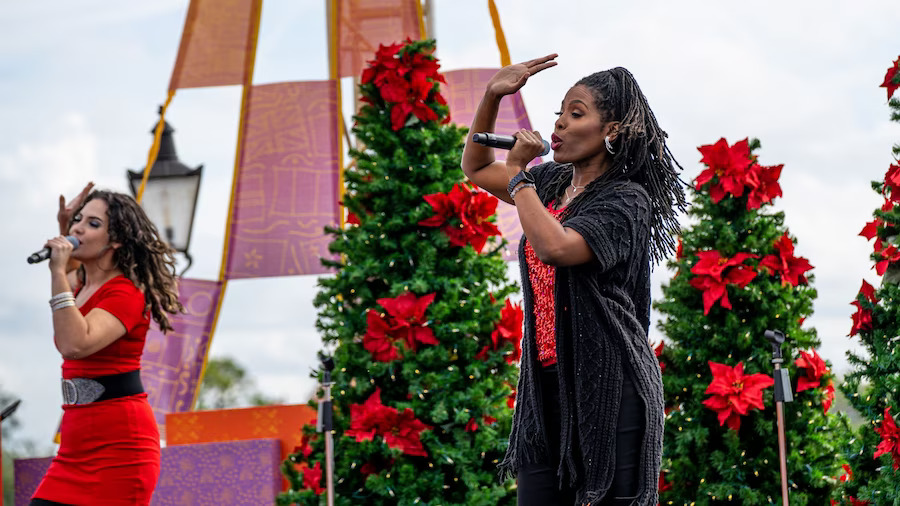 JOYFUL! A Celebration of the Season
Immerse yourself in the festive spirit of Christmas and Kwanzaa with the heartwarming Gospel, R&B, and holiday melodies performed by the JOYFUL! ensemble.
Location: World Showcase Plaza
Show Times: 1:15 PM, 2:20 PM, 3:25 PM and 4:30 PM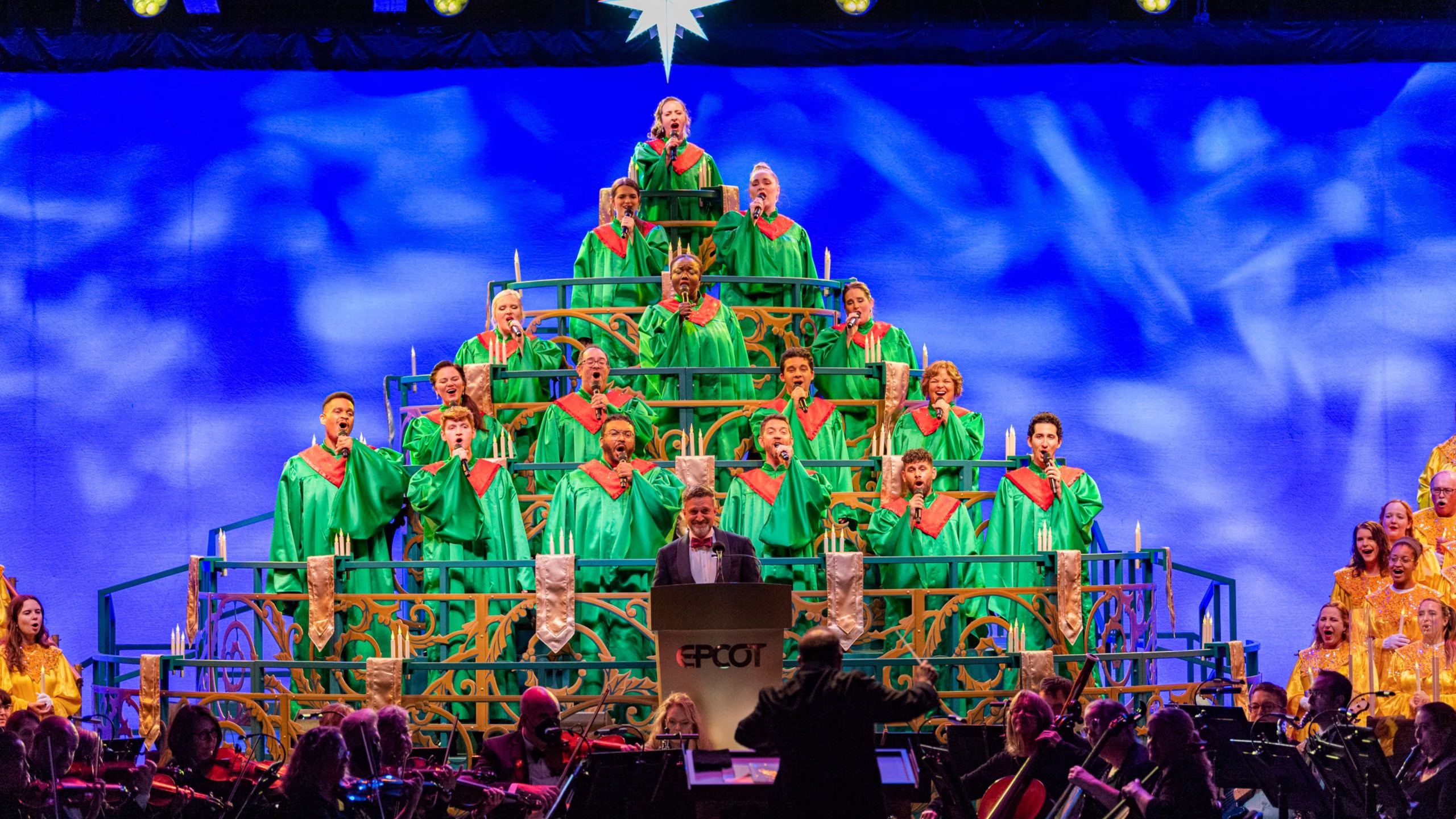 Candlelight Processional
The Candlelight Processional is a must-see event, featuring celebrity narrators telling the biblical story of Christmas, accompanied by a choir and a 50-piece orchestra. In 2023, there will be a premium package available that not only provides priority seating for the show but also includes a chance to meet the celebrity narrator of the day.
November Celebrity Narrators
December Celebrity Narrators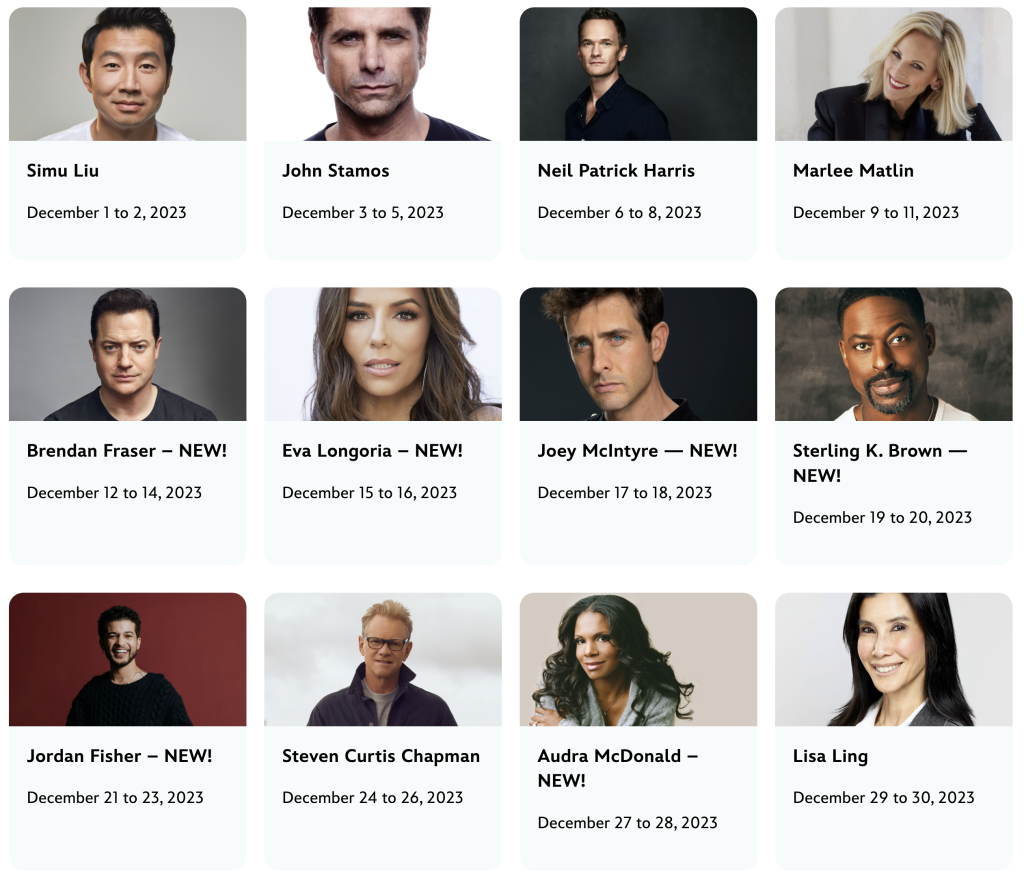 Dining Packages
These packages combine a delicious meal at one of EPCOT's restaurants with guaranteed seating for the Candlelight Processional. Choose from a variety of dining options, including family-friendly buffets, casual eateries, and fine dining establishments.
Location: America Gardens Theatre at EPCOT
Dates: November 24 to December 30, 2023
Showtimes: 5:15 PM, 7:00 PM and 8:30 PM
At Spice Road Table: 2 small plates and one nonalcoholic beverage per person, plus a tagine and dessert platter for your party to share
All other participating restaurants: an appetizer, entrée and dessert, or one full buffet/family-style meal, as well as a nonalcoholic beverage
One guaranteed seat per person to the Candlelight Processional held on the same day
Same-Day Dining Packages
Planning a last-minute visit? You may be able to purchase a same-day dining package, which allows you to:
To check availability for same-day dining packages, visit Regal Eagle Smokehouse: Craft Drafts & Barbecue during the Festival. Packages are subject to availability and may not be available on peak dates.
Make Reservations
As of October 17, 2023, reservations are available for dining packages. Check availability online—and secure your spot for this limited-time dining experience. Advance reservations are highly recommended.
The 2023 EPCOT International Festival of the Holidays promises to be a celebration like no other, filled with incredible entertainment and mouthwatering cuisine. Whether you're a Disney veteran or visiting for the first time, these entertainment and dining packages offer a way to create unforgettable holiday memories.
As always, stay tuned to the DVC Shop blog to get all the latest developments from inside the Disney parks and around the Disney Vacation Club resorts!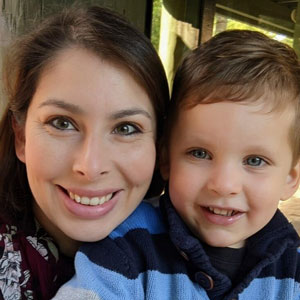 Written by
Rachel Van Norman
Contributing Writer
Rachel fell deeply in love with all things Disney as a little girl. Now as a wife and a mother herself, she shares this Disney obsession with her son and everyone around her. From her love of princesses to eating all the Disney food, Rachel spends her time radiating Disney magic and keeping everyone up to date on Disney news.