Get a taste of British fare at the Epcot's family-friendly pub: Rose & Crown!
Rose & Crown British Pub & Dining Room Details

| | |
| --- | --- |
| Walt Disney World Park | EPCOT |
| Location in Park | World Showcase |
| Dining Experience | British Unique/Themed Dining |
| Hours | 10:30 am – 9:00 pm |
| Price Range | $15 to $34.99 |
| Type of Cuisine | British |
| Mobile Order | No |
| Reservations | Yes |
| Allergy-Friendly | Yes |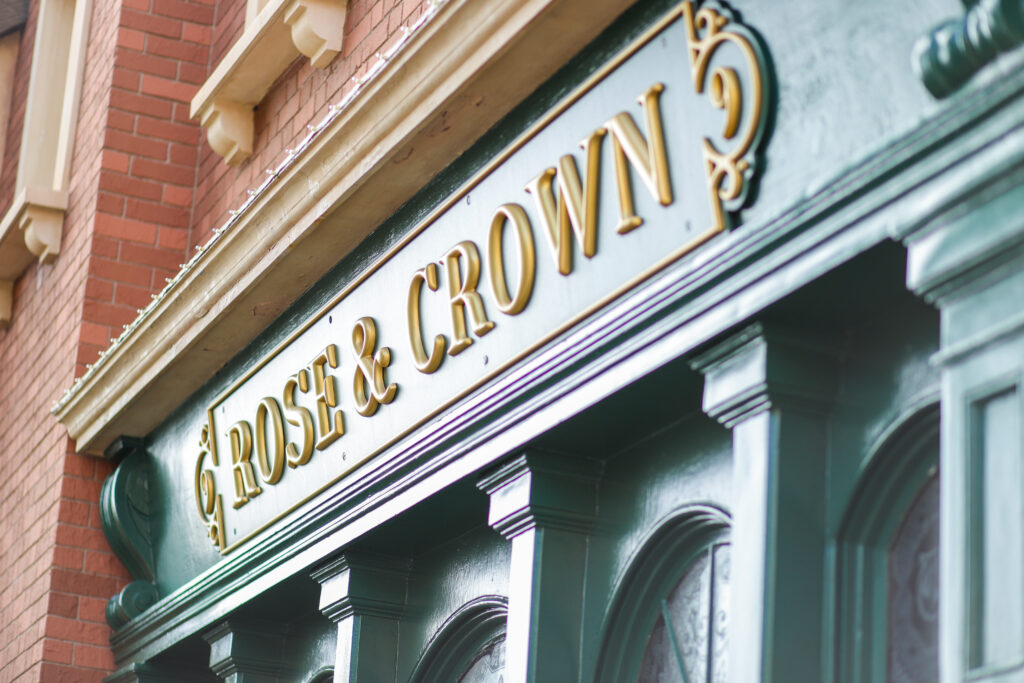 Overview
One of the first pavilions on the right side of Epcot's World Showcase is the United Kingdom pavilion. Here you will find a selection of British-themed stores, like the Tea Caddy, and entertainment. If you are looking for a traditional UK food and drink, then head to Rose & Crown!
This dining location is both a full-service, family-friendly pub and a dining room. Because of this, you can stop by for a quick pint while you drink around the World Showcase or for a full meal of British fare. At the pub side of this location, you can choose from a selection of British beers, ciders, scotches, and signature cocktails. In the dining room, you can try fish and chips, bangers and mash, and sticky toffee pudding.
At Rose & Crown, there is indoor and outdoor seating. The outdoor patio faces the picturesque World Showcase lagoon, so you can enjoy your english food or drink! Occasionally, you a small selection of Rose & Crown's menu is sold at a stand near the patio. During busy times, this makes it so you can experience all Rose & Crown has to offer without going inside the pub.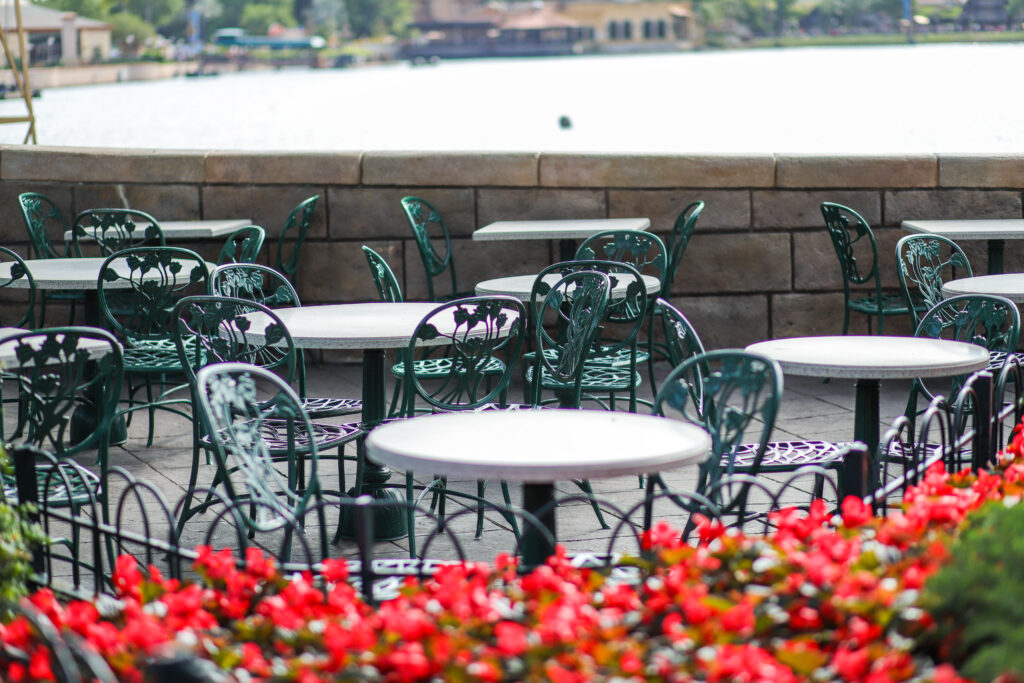 Menu
Appetizers
United Kingdom Cheese Platter – $14.00
A selection of Traditional British Cheeses with Accompaniments
Scotch Egg – $13.00
Golden-fried Hard-boiled Cage-free Egg wrapped in Sausage with Mustard Sauce
Coronation Salad – $12.00
Crisp Salad with Madras Dressing on top of a Crunchy Grain Cracker
Soup of the Day – $9.00
Entrées
Fish and Chips – $26.00
"Rose & Crown's Signature Dish" Beer-battered and served with Tartar Sauce
Shepard's Pie – $23.00
Ground Beef, Seasonal Vegetables, English Peas, and Mashed Potatoes with McCall's Irish Cheddar
Bangers and Mash – $22.00
Traditional English Sausage with Colcannon Potatoes, Mushroom, Onion, and Red Wine Demi
Welsh Pub Burger – $22.00
Angus Beef Patty with Beer Cheese Sauce, Bacon and Beer-battered Leeks served with a side of Branston Mayonnaise
Chicken Masala Curry – $24.00
with Seasoned Vegetables, Basmati Rice, and Raita
Savory Impossible™ Hot Pot – $22.00
Seasonal Vegetables in a Plant-based Meat Casserole baked with a mashed potato topping (Plant-based)
Catch of the Day – $28.00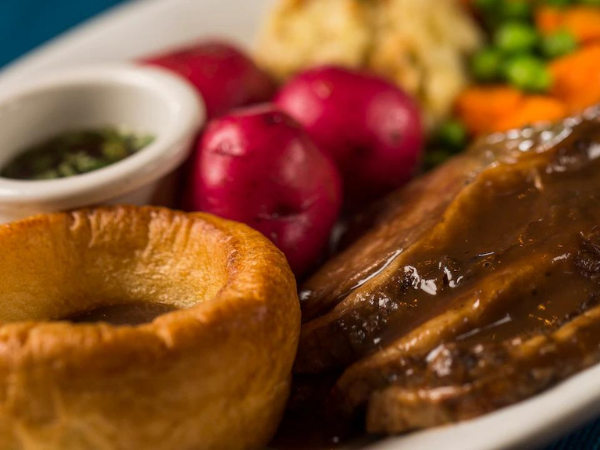 Sides
Mushy Peas – $5.00
Bubble and Squeak – $6.00
Desserts
Sticky Toffee Pudding – $9.00
Steamed Pudding "Cake" served with Warm Vanilla Custard and Hot Butter-Rum Sauce
English Trifle – $8.00
Layers of Strawberries, Vanilla Custard, Graham Crackers, and Whipped Cream
Kids' Appetizers
Soup of the day – $3.00
House Salad – $3.00
Served with Fat-free Ranch Dressing
Kids' Create-Your-Own Entrées
Served with 2 of the following: Roasted carrots, brown rice, fruit salad, pears, mashed potatoes and gravy, english trifle
Grilled Chicken – $11.00
Fish and Chips – $11.00
Cheesy Pasta – $9.00
Turkey Meatball – $10.00
Bangers – $12.00
Drinks
A selection of:
Ales, Lagers, and Stouts
Specialty Cocktails
Flights
Scotch Whisky
Cognacs
Pub Blends
Specialty Coffees
Wines
Most meals at Rose and Crown are available to be made allergy-friendly.
Map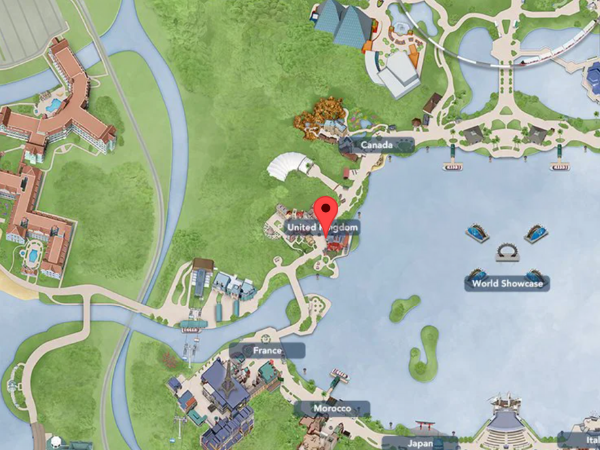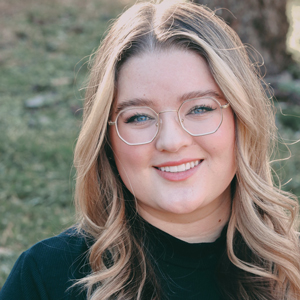 Written by
Emily Murray
Contributing Writer
For as long as Emily can remember, Disney has played a huge role in her life. Her infatuation with Disney resulted in many hours spent rewatching Toy Story and creating multiple powerpoints to convince her parents to book yet another vacation to the "Most Magical Place on Earth". In 2015, Emily followed one of her dreams and moved to Orlando, Florida where she spent just over five years working for the mouse in three separate roles. Emily is passionate about writing and using words creatively and concisely. She loves to make others laugh and hopes to sprinkle a little bit of magic into everything she does.