Pizza is by far one of my favorite meals! At Disney, there are plenty of places to get amazing pizzas. Whether you are craving a traditional pizza, or wanting to try something new, Disney can make all your pizza dreams come true! There are a ton of quick service options throughout the parks, or sit down restaurants in and outside the parks you can enjoy a delicious slice. Here are some of the yummiest places you can satisfy your pizza craving at Disney World!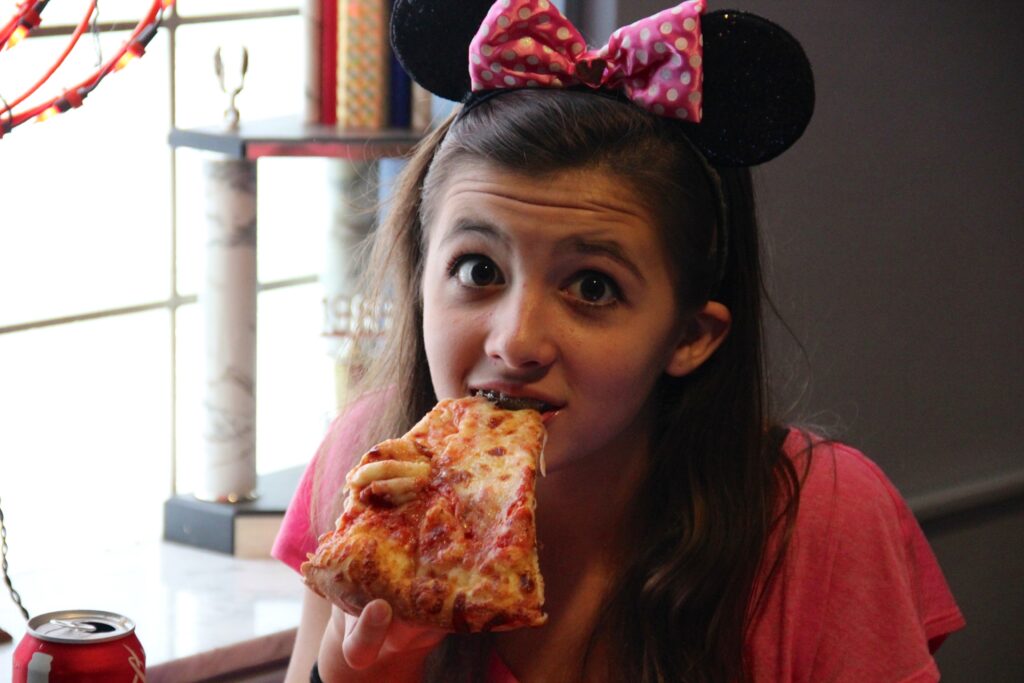 Mama Melrose's Ristorante Italaino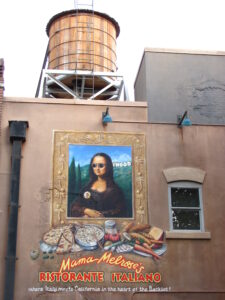 Stop by Hollywood Studio's casual and colorful Italian eatery with a California twist! As the story goes; once upon a time a young girl from a Sicilian village moved to Hollywood to become a star. Soon enough, she found her true passion was for cooking and she recreated her papa's secret recipes! She opened a restaurant on a vacant backlot warehouse that was once used to store film equipment. She was dubbed Mama Melrose and her restaurant became known for the place "where Italy meets California in the heart of the Backlot."
Be sure to order the Margheria Flatbread, you won't be disappointed. With fresh-vine tomatoes, mozzarella cheese, House-made marinara sauce, with fresh basil and drizzled with olive extra virgin olive oil. YUM! Kids can always enjoy an individual sized cheese pizza off the kid menu. Be sure to save room for some Tiramisu or traditional cannoli's!
Via Napoli Ristorante e Pizzeria
If you want authentic Italian pizza, Via Napoli Ristorante e Pizzeria in Epcot is the place to go! Via Napoli Ristorante e Pizzeria is located in World Showcase, it offers hearty pastas, fresh salads and of course; wood burning oven pizzas. It is a family friendly restaurant where you can enjoy traditional Neapolitan pizza delivered right to your table.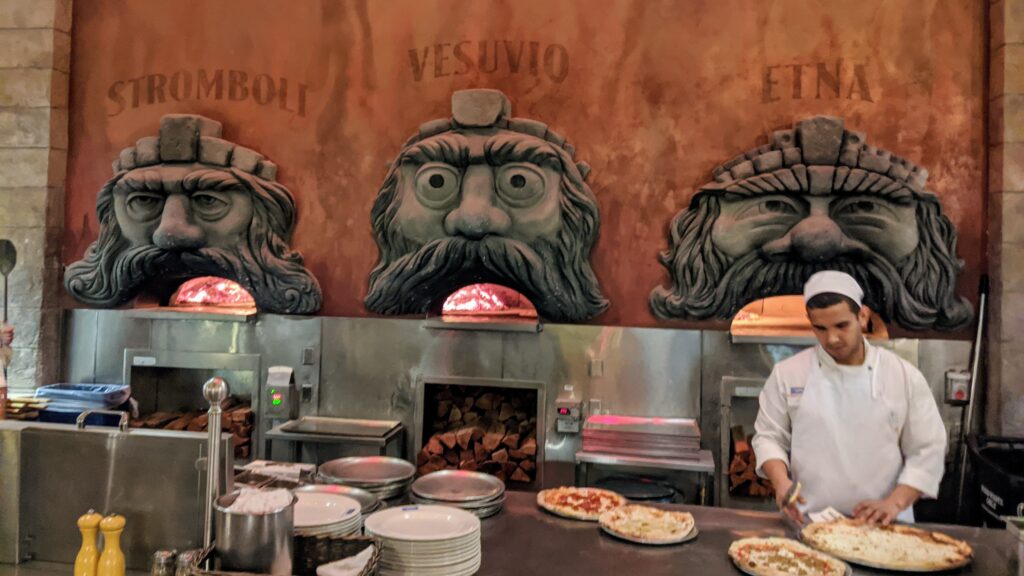 The thin crusted pizzas are made with fresh mozzarella cheese, San Marzano tomatoes tomatoes and real Caputo flour imported from Southern Italy. Is your mouth watering yet? To make sure every pizza is made to perfection, famed restaurateur Nick Valenti spent time studying the art of dough, crust, sauce and oven temperatures, in Naples. Now that is dedication to pizza we can appreciate!
Blaze Fast Fire'd Pizza
If you find yourself enjoying a night our at Disney Springs, be sure to head to Blaze Pizza in Town Center. Blaze Pizza is in the middle of Disney Springs which makes it easy to get to from either side. It is a modern day pizza joint that offers over 40 toppings and sauces to choose from, making each pizza experience unique! One size is offered; an 11″ artisanal style pizza. It is a thin crust with amazing flavors! You can build your own pizza or you can choose from 8 of their signature pizzas. My personal favorite is the Art Lover.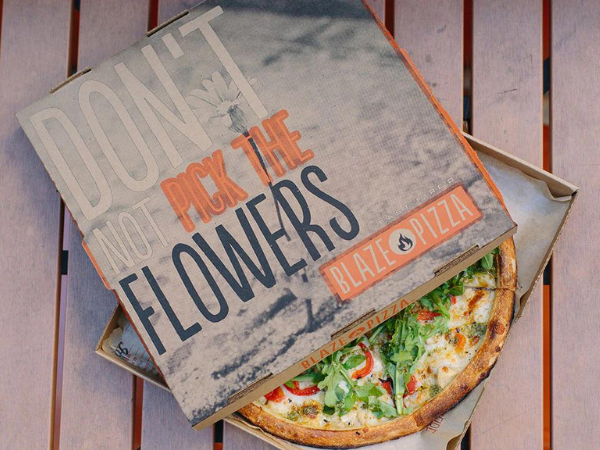 Pizzafari
If you are at Animal Kingdom, you can make your hunger extinct by heading over to Pizzafari in Discovery Island. Pizzafari has some great pizza with some traditional and non-traditional toppings, that will leave you with plenty of choices. If more traditional is what you are looking for be sure to order their sausage and peperoni pizza. If more adventurous tasting if what you're after, top your pizza with some shrimp. You will not be disappointed. This adorable restaurant also serves a great place to cool down and enjoy the atmosphere, it has gorgeous murals and mosaics in 5 themed rooms. A cool place to check out for any pizza lover!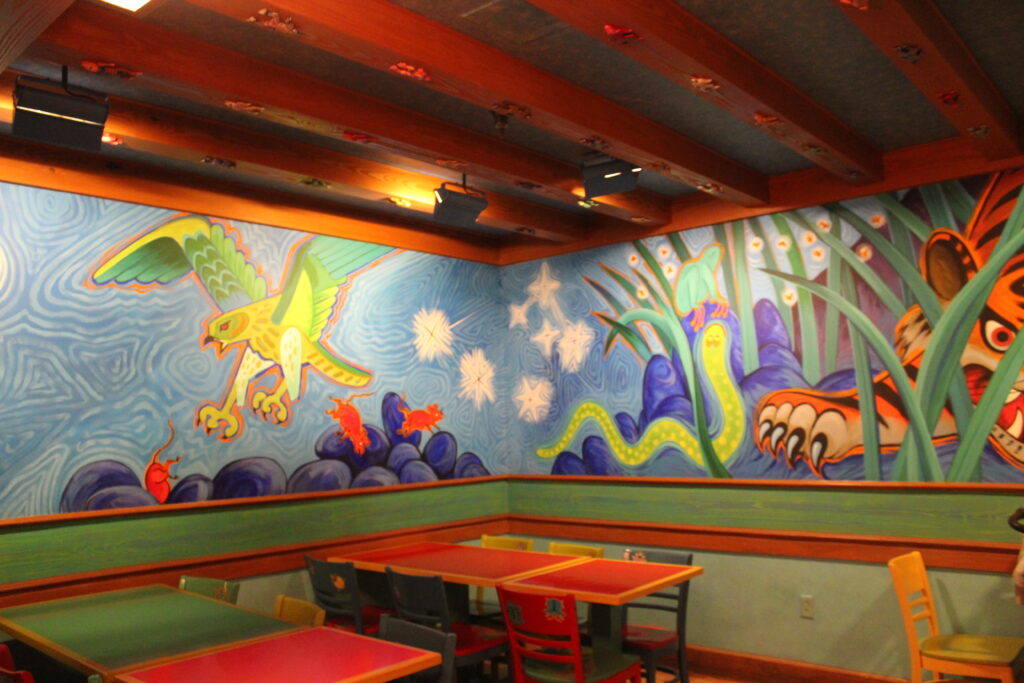 Disney Resorts In-Room Dining
If you didn't know already, when you are staying one of Disney's All Star Resorts, Saratoga Springs Resort or Disney's Old Key West, you can have pizza delivered straight to your room! Enjoying a pizza delight delivered straight to your room is a treat especially if you are just traveling in and still unpacking, or had a full day at the parks and wanting to eat in bed while putting your feet up. Just a side note, they do offer more than just pizza.
If you are a pizza lover yourself, your mouth is sure to be watering after hearing about these amazing pizza restaurants at Disney! From traditional authentic Italian pizzas, to modern day pizza joints, Disney has it all! Be sure to grab a slice the next time you are at Disney!
Written by
Erin Bonsall
Contributing Writer
Erin is a stay at home mom of 4 little boys outside Charlotte, NC. She remembers one magical Disney trip at a young age, but having children made her want to bring her own kids to the happiest place on earth! One trip 7 years ago started a love for everything Disney! Now her family visits Disney World as much as possible and it is their favorite place to make magical memories!