The Marvel Cinematic Universe's newest film, Thor: Love and Thunder, is now in theaters! This movie, starring Chris Hemsworth as the God of Thunder, is the 4th Thor standalone story to be told in the MCU. Directed by Taika Waititi, who also led 2017's Thor: Ragnorok, the 29th MCU installment is a bright, colorful, and comedic superhero tale. New characters, like Christian Bale as Gorr the God Butcher, are introduced along with the return of Natalie Portman as Jane Foster from the original Thor movie. In honor of the release of Thor: Love and Thunder, Disney Parks is offering experiences and merchandise items related to the film! Read on to see where you can find Thor: Love and Thunder at Disney.
Meet The Mighty Thor – Disney California Adventure
In Thor: Love and Thunder, Thor is reunited with his old flame Dr. Jane Foster in a very unexpected way. To his surprise, Jane can somehow wield his hammer, Mjolnir. Because of this ability, Jane is now taking up the Mighty Thor mantle. Guests of Disney California Adventure Park can find Jane in her new superhero outfit, and Mjolnir, at Avengers Campus for a limited time!
Try The Chocolate Mjolnir – Disney Springs
Since Thor: Ragnarok, Thor has been without his without his mighty hammer, Mjolnir. In the new film, this enchanted hammer makes its return. Only those who are worthy are able to wield Mjolnir. This month at Disney Springs you can have your shot at lifting Thor's Hammer… well, at least the chocolate version of Mjolnir. Head to The Ganachery any day between July 1-31 to try this sweet treat!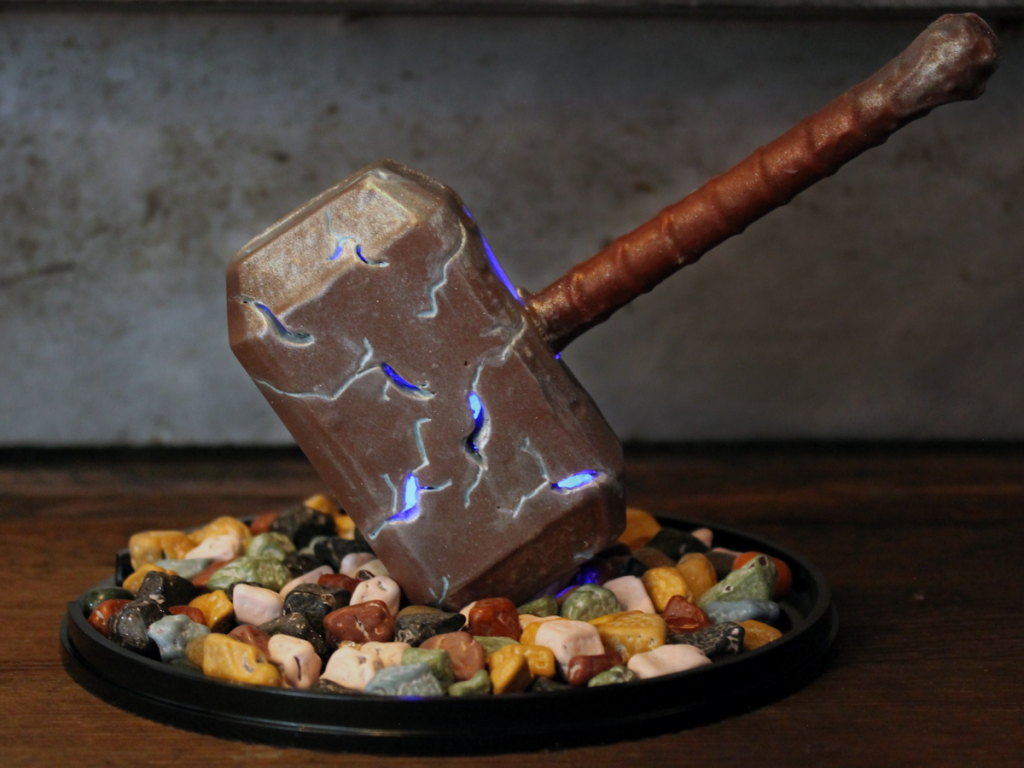 Use Mjolnir To Hold A Beverage – Disney California Adventure Park
At Disney California Adventure Park, you can also wield Thor's Hammer with this specialty drink holder. The Hammer opens up to hold a bottled beverage, which is included with the purchase of this item. Starting July 8th, you can find the Mjolnir beverage holder in Avengers Campus at Shawarma Palace, Shawarma Palace Too, and at the vending cart near Guardians of the Galaxy: Mission BREAKOUT! There is a limit of 2 beverage holders per person, per transaction.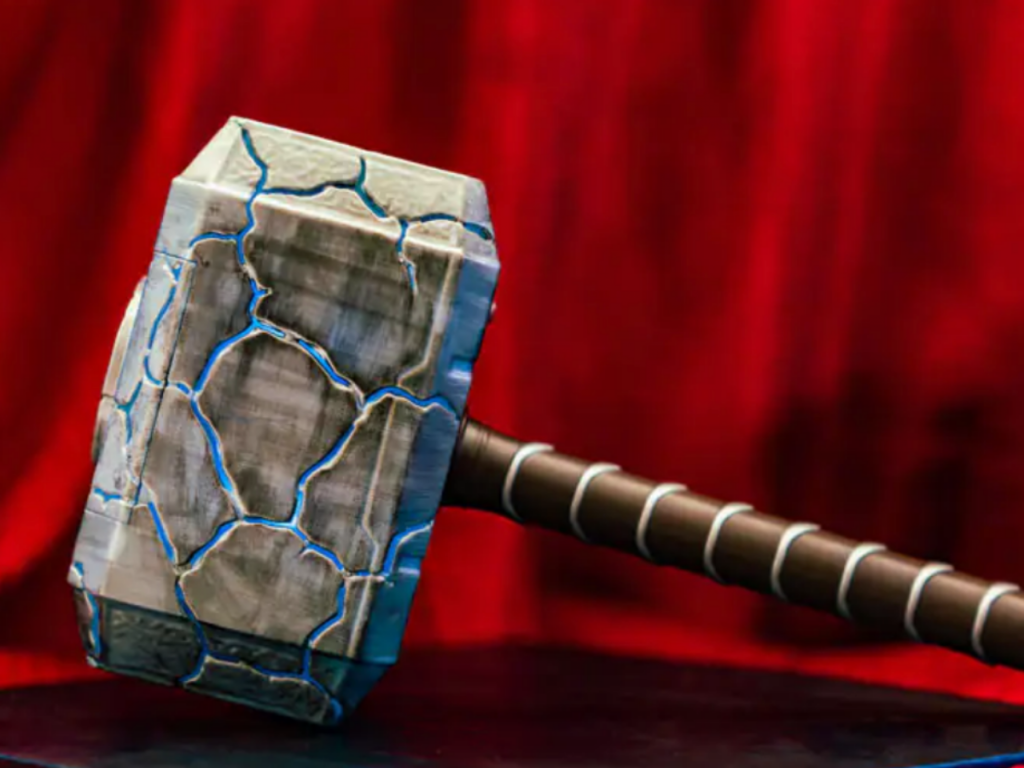 Shop New Merchandise – Disney Springs, Disneyland Resort, shopDisney
You can show your support for the God of Thunder, the Mighty Thor, and New Asgard, by sporting some of the new Thor merchandise items! On shopDisney, Disney Springs, and Disneyland Resort, you will find Thor: Love and Thunder merchandise, like a "New Asgard Tours" trucker hat, a Mjolnir Wristlet, and a Her Universe Faux Leather Jacket.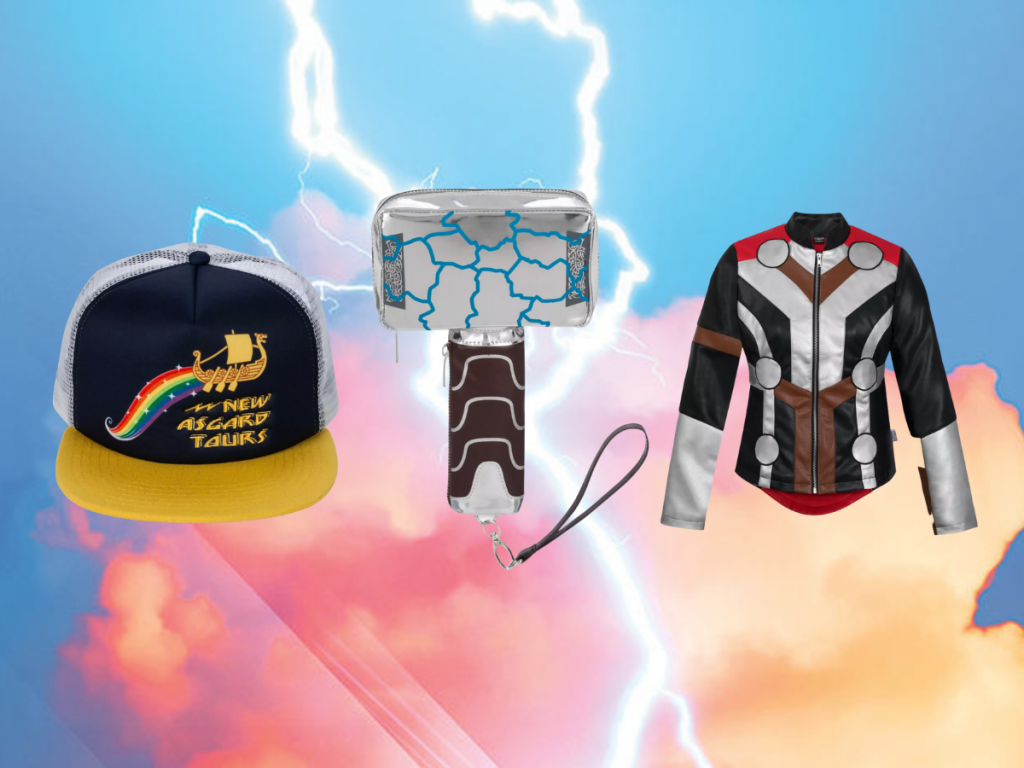 In addition to these offerings, you can even see Thor: Love and Thunder at the Disney Springs AMC! Check showtimes and purchase tickets here. Which Disney Parks Thor: Love and Thunder experience are you most excited about? Comment and let us know!
Featured Photo: Disney.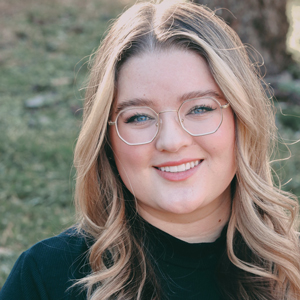 Written by
Emily Murray
Contributing Writer
For as long as Emily can remember, Disney has played a huge role in her life. Her infatuation with Disney resulted in many hours spent rewatching Toy Story and creating multiple powerpoints to convince her parents to book yet another vacation to the "Most Magical Place on Earth". In 2015, Emily followed one of her dreams and moved to Orlando, Florida where she spent just over five years working for the mouse in three separate roles. Emily is passionate about writing and using words creatively and concisely. She loves to make others laugh and hopes to sprinkle a little bit of magic into everything she does.