EPCOT's newest attraction, Guardians of the Galaxy: Cosmic Rewind, is truly out of this world! This intergalactic ride, which features characters from the 2014 Marvel film Guardians of the Galaxy, is one of Disney's most innovative rides to date. With Disney's first reverse launch, this fully-enclosed coaster takes you on a space journey like no other ride can! In addition to the unbelievable ride experience, you can get some very cool Marvel-themed merchandise at the gift shop connected to the building that houses this attraction. Here are some of the unique Marvel merchandise items that you can find at EPCOT's Treasures of Xandar.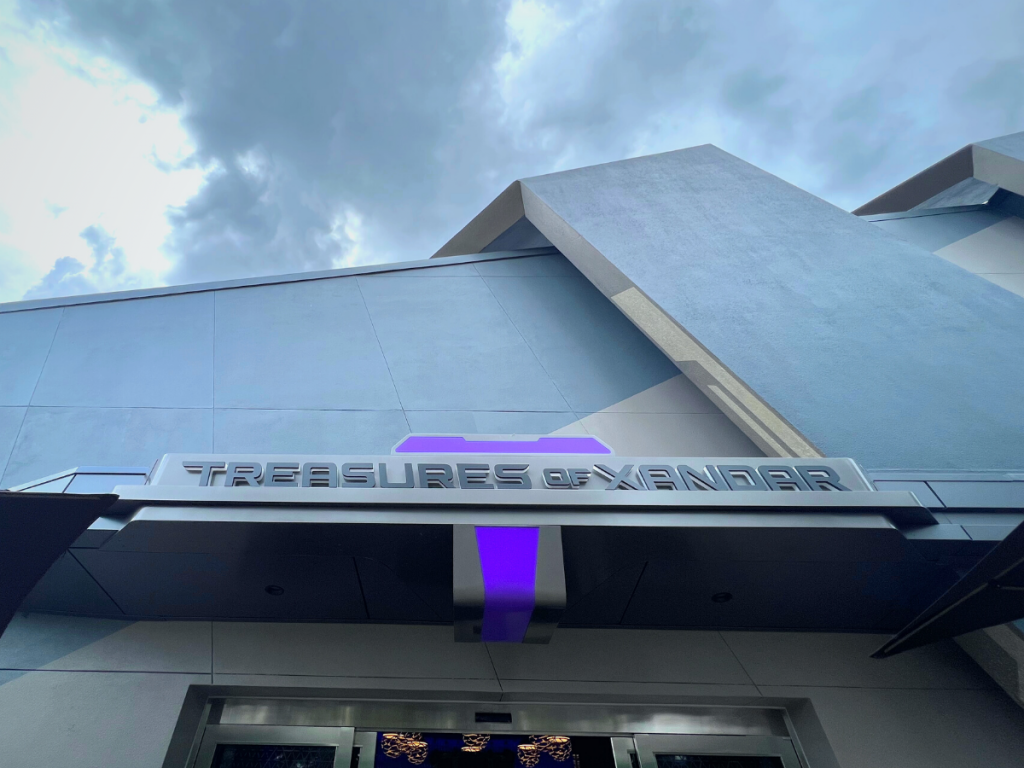 1. Star-Lord Mask – $49.99
While the Guardians of the Galaxy is a full team of space outlaws, the film's main character is Star-Lord. Also known as Peter Quill, Star-Lord wears a helmet that helps to purify oxygen and protect from changing air pressures as he goes between different atmospheres. At Treasures of Xandar, and shopDisney, you can purchase a replica of Star-Lord's helmet! This authentic headpiece features vocal sound effects and dialogue from Guardians of the Galaxy.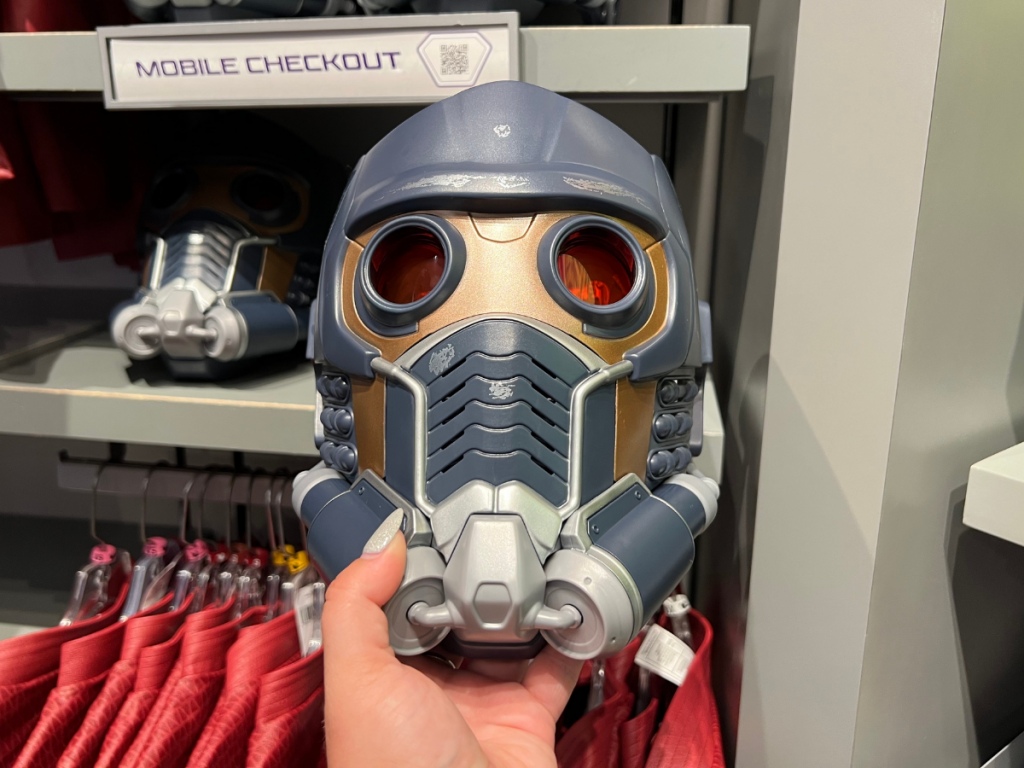 2. Through the Eyes of Quill Mug – $19.99
Although Star-Lord travels from galaxy to galaxy, he is actually from Earth. As an American kid of 80's, Star-Lord made a visit to EPCOT. Because of this, there is a collection of retro merchandise that merges EPCOT iconography and the Guardian's of the Galaxy characters. One of the items in the Guardians of the Galaxy: Through the Eyes of Quill Collection is this colorful mug that is covered with images of Spaceship Earth, the park's entrance fountain, Groot, Rocket, and a Xandarian Starblaster ship. This mug is a park exclusive item.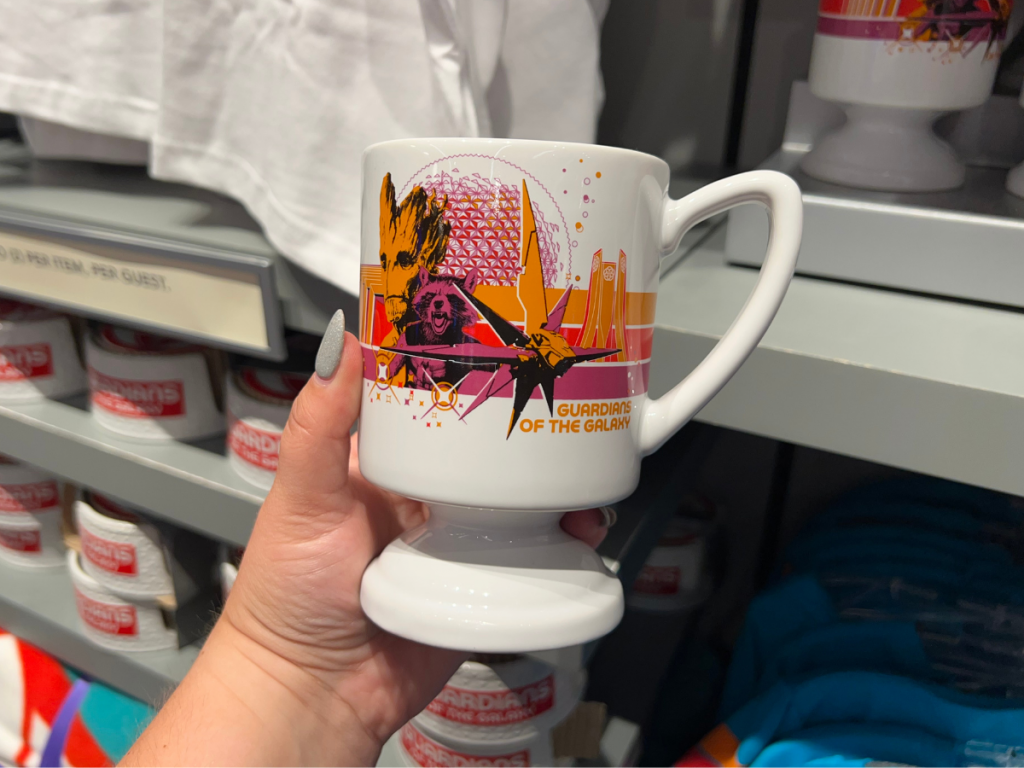 3. Through the Eyes of Quill Hat – $29.99
Another item in Guardians of the Galaxy: Through the Eyes of Quill Collection is this trucker-style hat! This light-weight hat is even more colorful than the mug listed above. The rainbow image printed on this hat is made up of 5 Guardians of the Galaxy logos. This print, and its bright colors, are very reminiscent of retro EPCOT logos. You can only find this hat at Treasures of Xandar!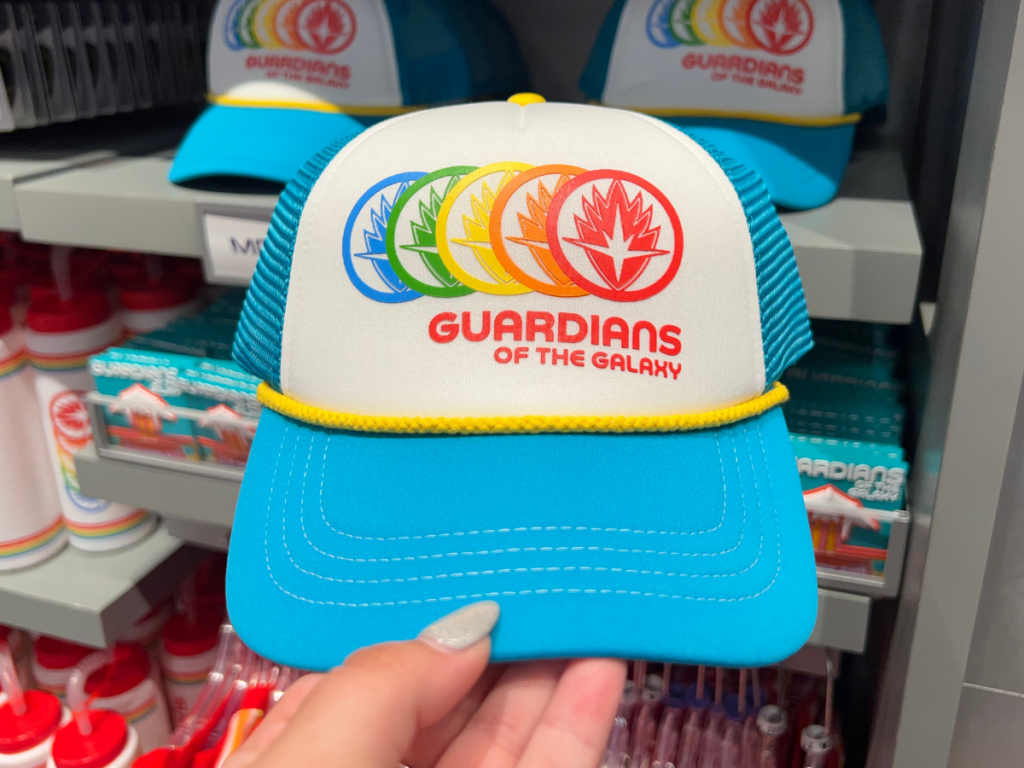 4. Through the Eyes of Quill Water Bottle – $14.99
Because staying hydrated while at the parks is super important, you can also get a water bottle with the rainbow Through the Eyes of Quill logo. This nostalgic bottle is very lightweight, which makes it ideal for carrying it with you during your Disney vacation. To complete the colorful look, the red lid features a bendy straw with a red cap. This item is exclusive to the parks!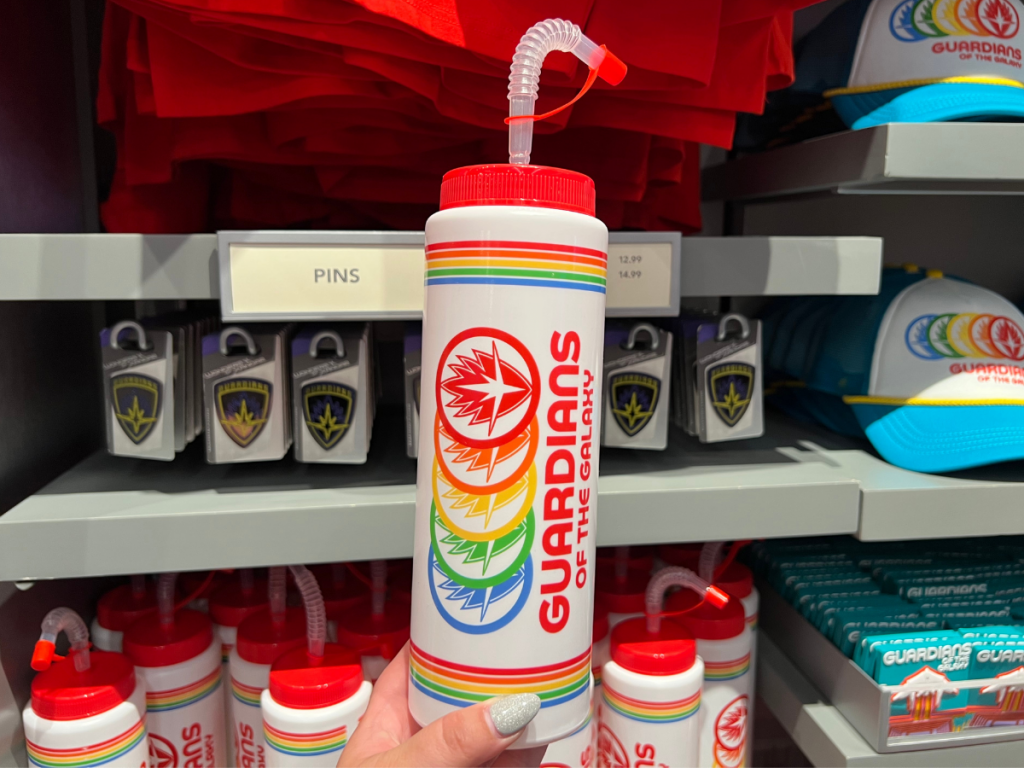 5. Cosmic Rewind Mixtape Sticky Notes – $7.99
Want to feel like a superhero at work? These Guardians of the Galaxy sticky notes are a great way to bring some Marvel elements into your workspace! This paper product is designed to look like Peter Quill's Awesome Mix tapes that were gifted to him by his mother before he left Earth as a child. For just under $8, you can 84 sticky notes. This item can only be found at EPCOT.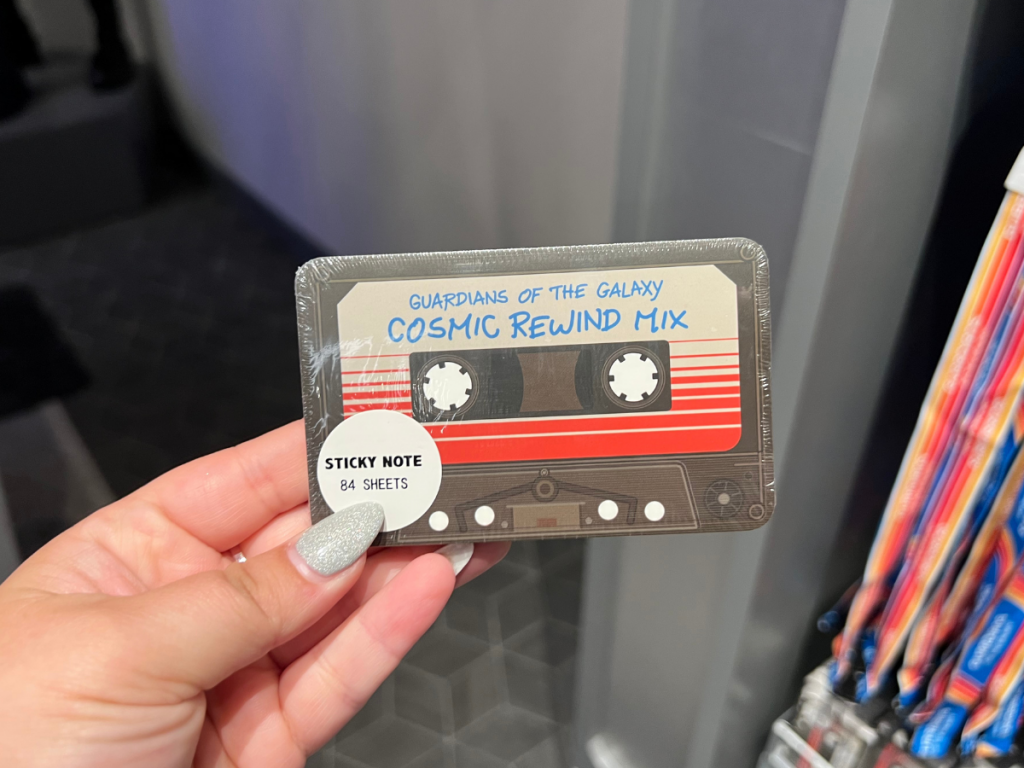 6. Groot Planter – $24.99
Without a doubt, the cutest Guardian of the Galaxy is baby Groot. Throughout the MCU films, we get to see this tree-like character as an adult, baby, and teenager. At Treasures of Xandar, you can get this baby Groot planter which comes with a small, fake succulent. This park exclusive item can be used to decorate your desk or bookshelf!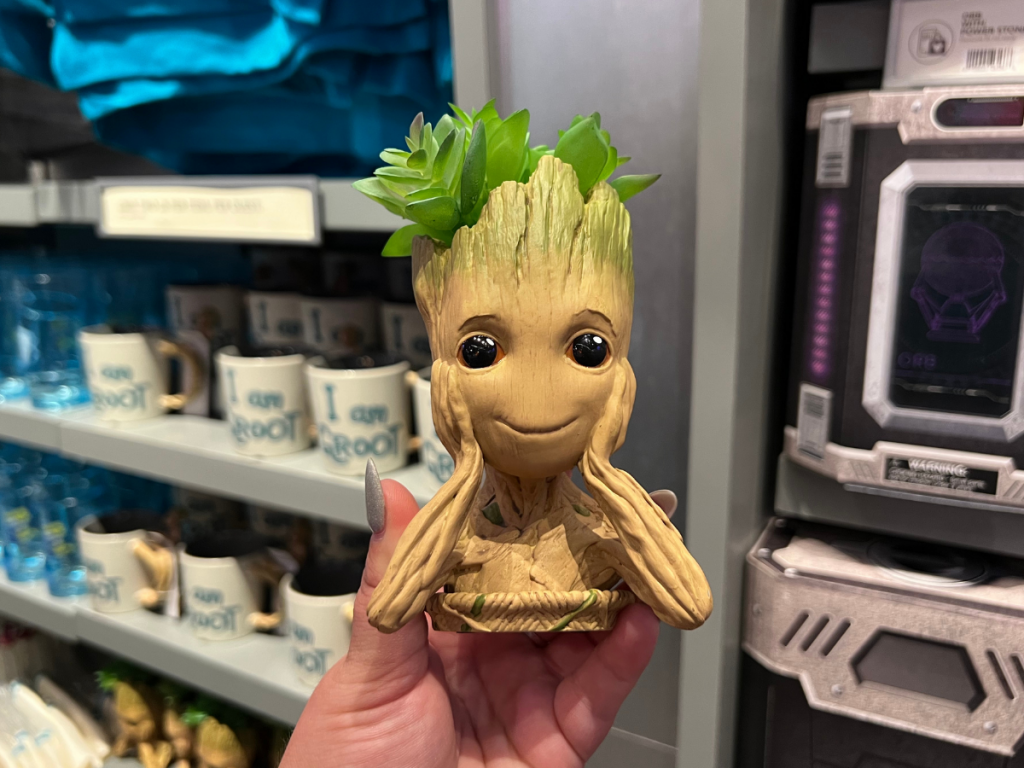 7. Iron Man Nano Gauntlet – $99.99
There is more than just Guardians of the Galaxy merchandise at Treasures of Xanadar. You can also find some very iconic MCU items like this Iron Man Nano Gauntlet. This right-handed gauntlet is life-sized replica of the armor worn by Tony Stark in Avengers: Endgame. The fingers and their joints are individually articulated and you can even press the middle finger and thumb together to make a snap sound. The 6 included Infinity Stones trigger sound and light effects when you attach and detach them from the gauntlet. This interactive merchandise item can be found at EPCOT and on shopDisney.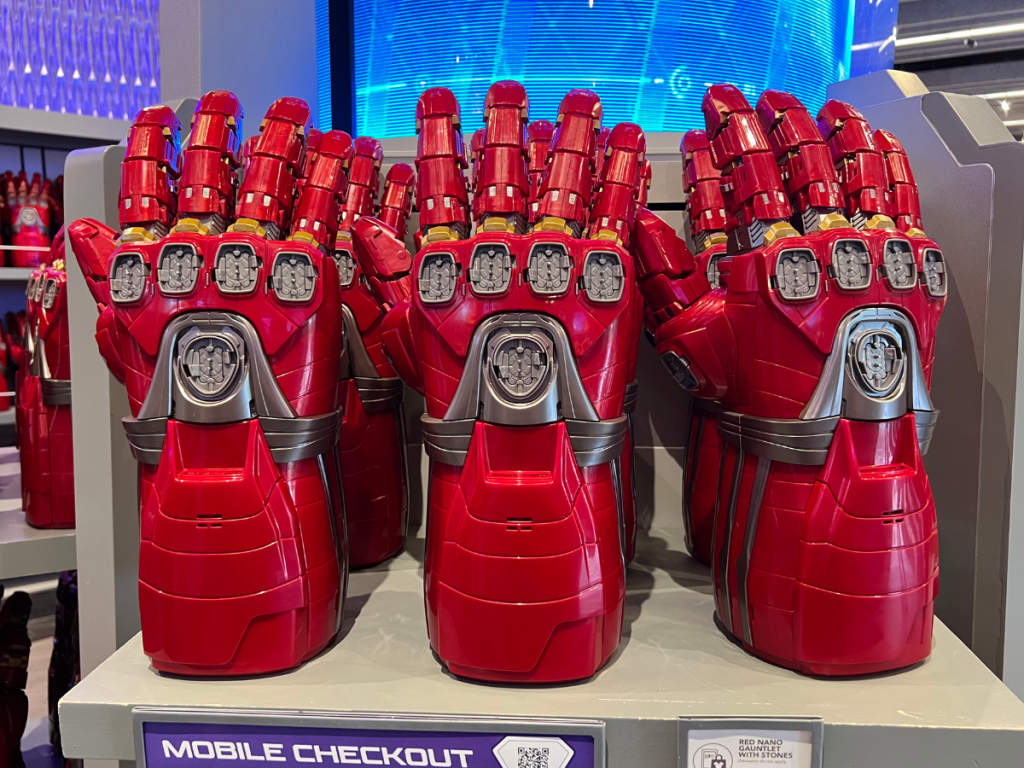 8. Loki Horn Helmet – $49.99
You can also find merchandise inspired by the God of Mischief at this gift shop. Loki, the chaotic brother of Thor, was the star of his own Disney+ series last year. In this show, the character encountered several variants of himself from other timelines. Like the Loki that fans know and love, the other versions of himself wore horns in one way or another. If you too want to rock some horns like Loki, you purchased this plastic helmet at Treasures of Xanadar!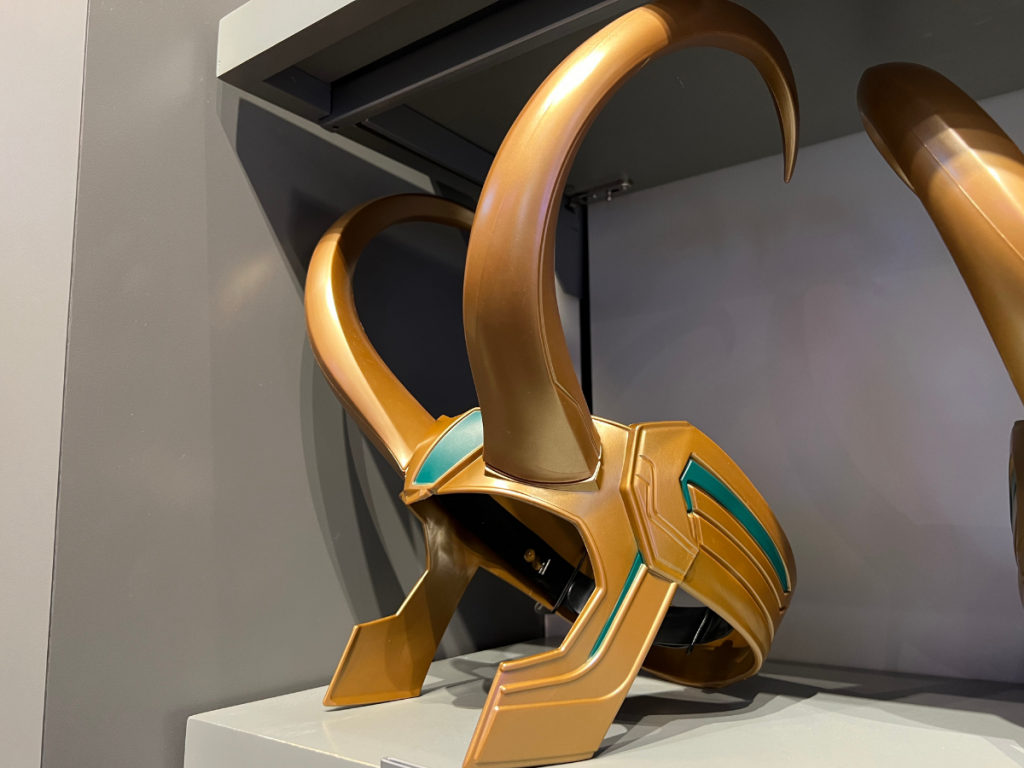 Which of EPCOT's Marvel merchandise items is your favorite? Let us know in the comments!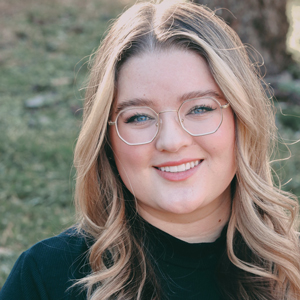 Written by
Emily Murray
Contributing Writer
For as long as Emily can remember, Disney has played a huge role in her life. Her infatuation with Disney resulted in many hours spent rewatching Toy Story and creating multiple powerpoints to convince her parents to book yet another vacation to the "Most Magical Place on Earth". In 2015, Emily followed one of her dreams and moved to Orlando, Florida where she spent just over five years working for the mouse in three separate roles. Emily is passionate about writing and using words creatively and concisely. She loves to make others laugh and hopes to sprinkle a little bit of magic into everything she does.