One of the best parts of going to Disney is trying all of the different food. Disney's Aulani Resort & Spa is no exception! Enjoy classic Disney favorites, Hawaiian treats, and local cuisine all with the excellence you've come to expect from Disney while surrounded by paradise. With so many delicious options to choose from, I've created a list of the top 5 snacks you have to try while at Aulani. 
Number 5: Refillable Popcorn Bucket
One of the classic Disney park snacks can also be found at Aulani. You can purchase an $8 refillable popcorn bucket with an adorable print at the Ulu Cafe. Popcorn refills are $2 for the remainder of your stay. Disney Vacation Club Members get unlimited FREE refills!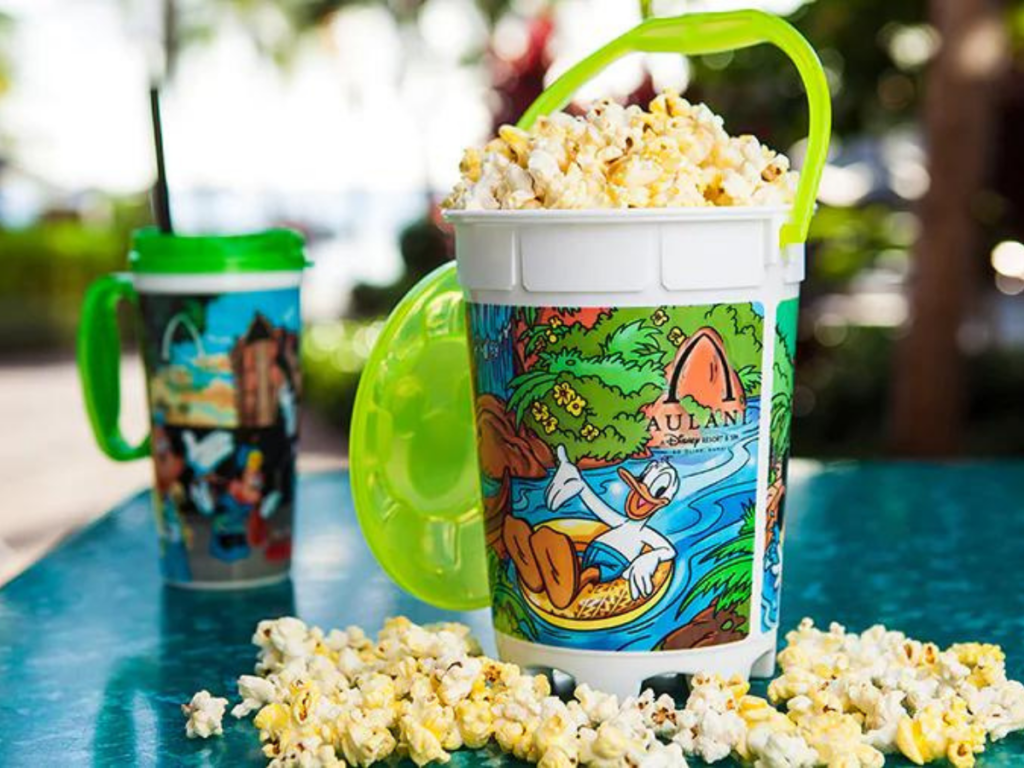 Number 4: Coconut Shrimp
Mama's Snack Stop is a great place to grab a quick bite. Coconut Shrimp is a popular and delicious menu item. You can even get a yummy sauce to pair with your shrimp, I recommend the sweet sauce as a must-try. When you find yourself hungry for a quick snack, but don't have a big appetite these smaller portions are just enough to tide you over. Mama's Snack Stop is a quick-service restaurant located in the Waikolohe Valley Pool Area near the Rainbow Reef.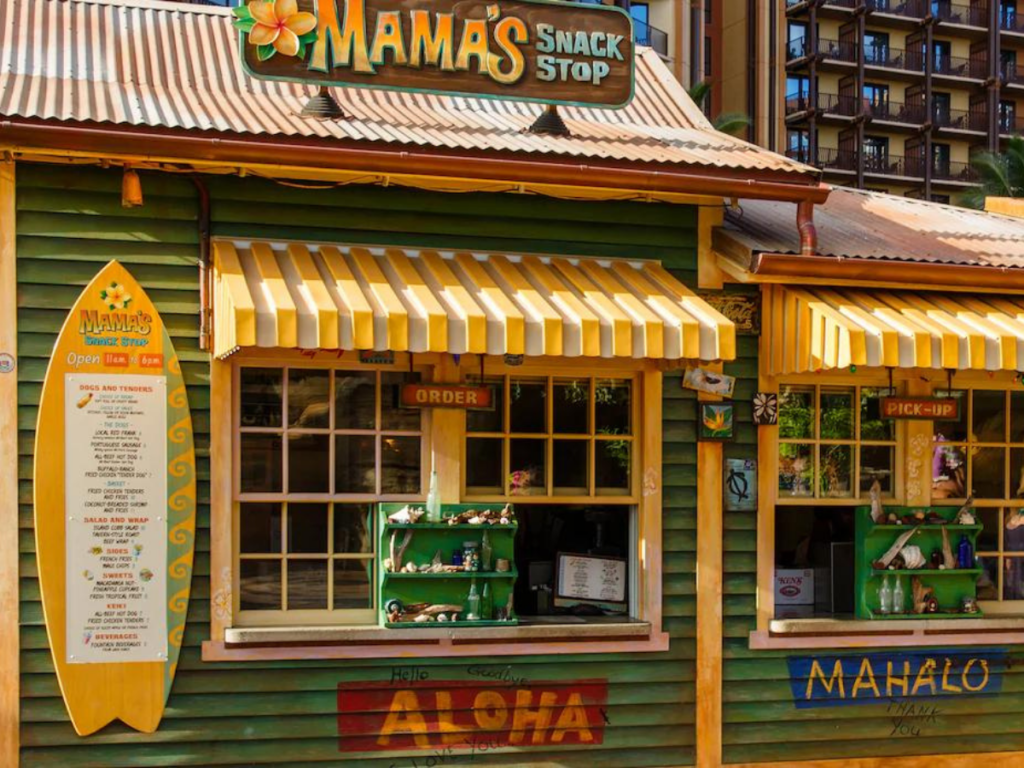 Number 3: Malasadas
These fluffy pastries are a popular Hawaiian treat. Think of malasadas as similar to a donut hole. Chose from four different sugar coating options of cane, chocolate, cinnamon, and coffee. You can find malasadas at the Ulu Cafe and purchased individually, by the half-dozen, or dozen.
Number 2: Mickey Shave Ice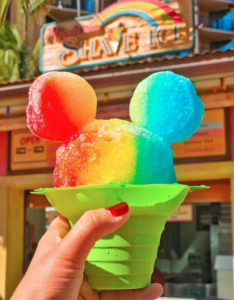 This delicious tropical treat can be found at Papalua Shave Ice Snack Shop. You can customize this Hawaiian dessert by choosing your base and flavors. Options for your base may include standard shave ice, ice cream, and sweetened condensed milk. Choose from a variety of fruity flavors such as pineapple, coconut, mango, lilikoi, orange, guava, and more. The Papalua Shave Ice Snack Shop can be found in the Waikolohe Valley Pool Area.
Number 1: Dole Whip
It's only fitting that the popular Disney treat is available in paradise. Dole Whip is available in various flavors and forms at Aulani. Classic Dole Whip, Fresh Fruit Sundaes, and Mickey and Minnie Sundaes are available in pineapple, watermelon, or swirl. Sundaes are served in a waffle cone bowl topped with sprinkles and candy medallions. These refreshing treats can be found at Little 'Opihi's on Ko Olina Beach. You can find traditional Dole Whip at the Lava Shack in the Waikolohe Valley where you can choose between pineapple, vanilla, or swirl available in a cup or cone. During Halloween, the Ulu Cafe offers a limited-time Pumpkin Spice Dole Whip with Candy Corn toppings.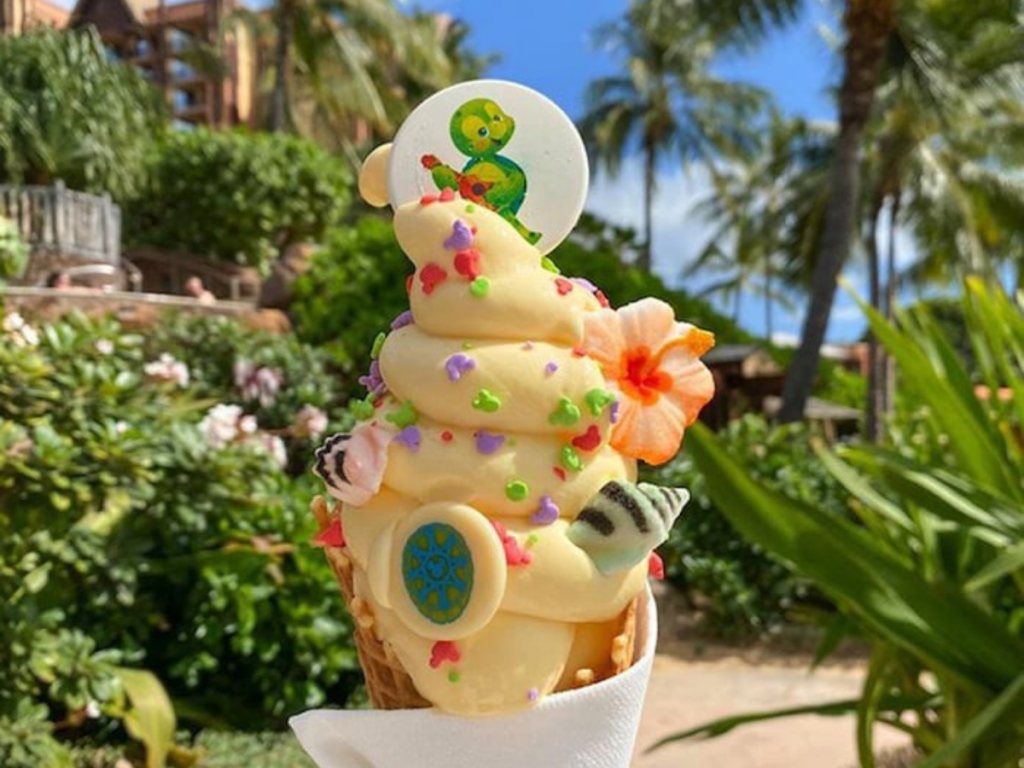 What are you adding to the top of your must-try snack list for your next visit to Aulani? Let us know in the comments what you're planning to try next!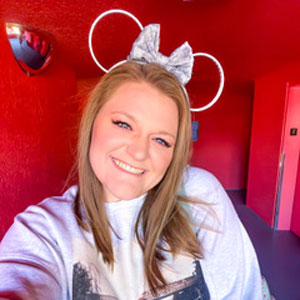 Written by
Gracie Waldrop
Contributing Writer
Gracie is a South Carolina native who loves to share the magic of Disney. In 2015 she began her Disney journey as a Cast Member and never looked back. She loves to put her knowledge and love of Disney to use by creating fun content and sharing helpful information. Helping others discover the magic of Walt's dream come alive in the eyes of children of all ages is what keeps her motivated. When she's not inside the parks you can most likely find her planning her next visit to the Most Magical Place on Earth.