Chef Art Smith's Homecomin' is a popular dining location in The Landing at Disney Springs. Described as "farm-to-fork cuisine," the menu consists of recipes curated by celebrity Chef Art Smith. They offer brunch on Saturdays and Sundays from 9:30 am to 1:00 pm, and serve lunch and dinner every day from 11:00 am to 10:00 pm.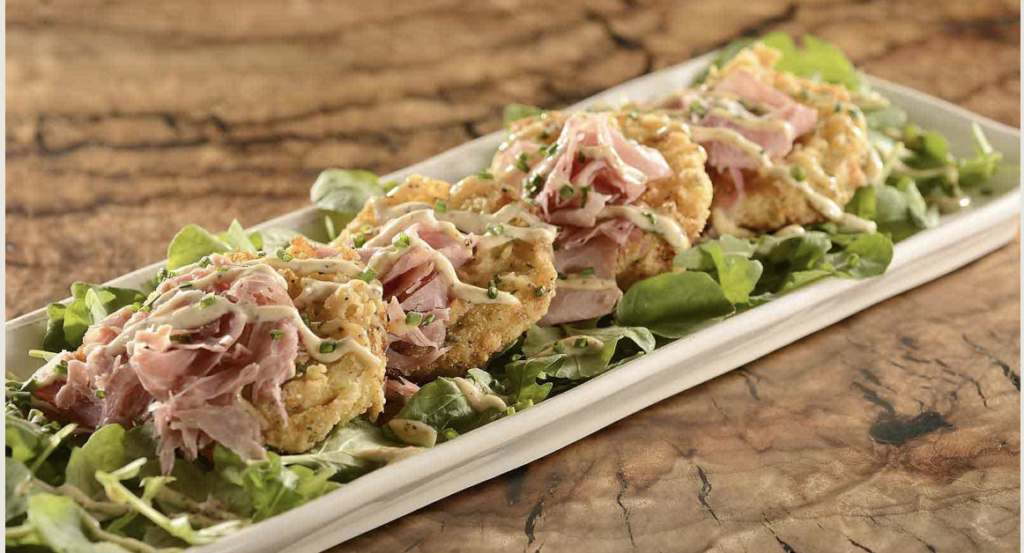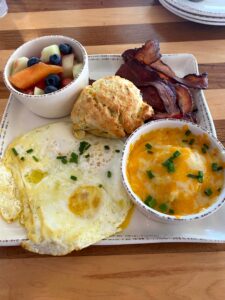 Our first time dining at Homecomin' was for their brunch last summer- and although we loved their Bee Haven Bay Fried Green Tomatoes, we weren't fans of our meals. I ordered the Grand-Daddy Plate, which is three eggs of any style, pecan-smoked bacon, griddled country ham, cheddar cheese drop biscuit, and a choice of two sides. For sides, I got the Seasonal Fruit and Potato Gratin Mash, the latter being the only item I really enjoyed from my plate. My partner ordered the Fried Chicken and Doughnuts, and he described the chicken as dry, with the meal overall being just okay.
However, when dining at Disney I always follow the "Try At Least Twice" rule, meaning I won't count out a restaurant over one experience. Disney restaurants serve many people every single day, so as hard as they may try to ensure every guest has a great experience, things can happen and that's okay! Luckily by following this rule, I've been able to have some amazing meals that I might not have tried otherwise, including the wonderful lunch we had at Chef Art Smith's Homecomin' when we went back this past April.
Checking In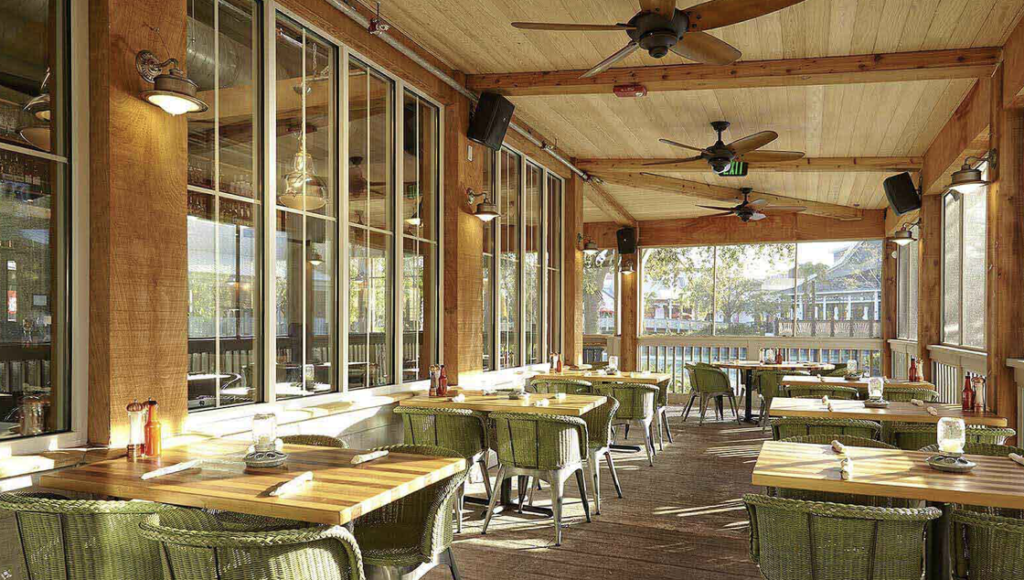 When we have a "no-parks" day planned, I try to keep my schedule as open and flexible as possible. And if I know we'll be going to Disney Springs, I might not even make dining reservations for that day- they have so many food options and we won't be on a time crunch if we've gotten caught up in something fun! That was the case this past trip, so once 1:00 came around, we decided to check the wait time at Homecomin' for lunch. We put our names in at the host stand and only waited 5 minutes until we were being seated at an outdoor table! (Note: this may not always be the case, however, this was our experience at 1:00 on a Wednesday).
Southern-Style Food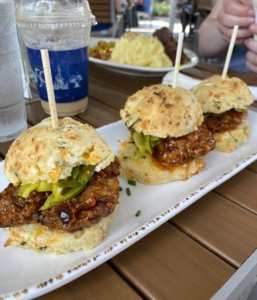 Homecomin' has a large menu with starters, salads, sandwiches, main plates, sides, and sweets. I truly had a difficult time ordering because everything sounded so good! But I eventually settled on ordering a starter, their Thigh High Chicken Biscuits, as my main meal. You get three biscuit sliders filled with fried chicken thighs drizzled with hot honey and topped with bread and butter pickles. These were absolutely delicious- the flavor combinations, the textures, every bit of it was just wonderful. My partner tried the Fried Chicken and Doughnuts again, but this time he loved it! This dish is two pieces of their famous fried chicken served with house-made sugar doughnuts and a choice of one side. He said the chicken was fried perfectly and everything tasted great. My partner's brother ordered (and loved!) the Braised Short Rib, slow-cooked boneless beef short ribs served with creamy mashed potatoes, sauce, succotash, and a cheddar drop biscuit. Overall, we were impressed!
Moonshine And Cocktails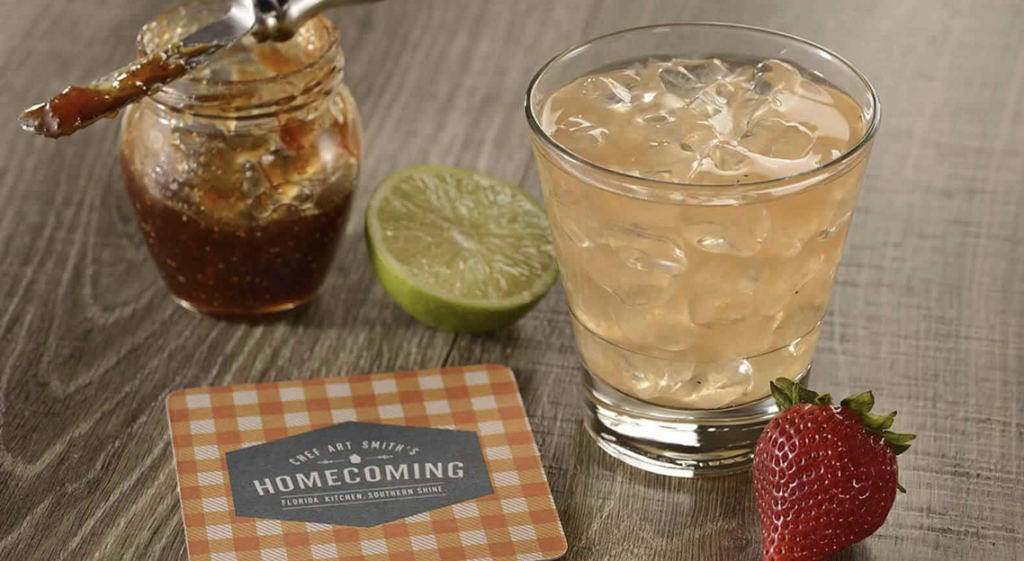 Aside from their food, Homecomin' also serves a wide variety of drinks including moonshine, cocktails, and wines. My partner and I split an Apple Pie A La Mode, a drink made with Ole Smokey Apple Pie Moonshine, vanilla vodka, apple juice, cinnamon, simple syrup, and lemon. My partner's brother ordered the Muleshine, which consists of Midnight Moon Moonshine, peach puree, lime juice, and Q Spectacular Ginger Beer. We all enjoyed our drinks and our overall experience at Chef Art Smith's Homecomin'; we can't wait to come back!
If you've dined at Chef Art Smith's Homecomin', what's your favorite meal? Let us know in the comments below!
Featured image from homecominkitchen.com.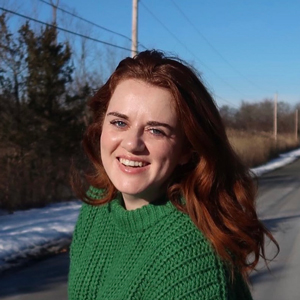 Written by
Brittany Gallant
Contributing Writer
Brittany has been traveling to Walt Disney World since she was two years old. Now a Disney Vacation Club member and annual passholder, you can often find Brittany at The Most Magical Place On Earth. She and her family are always looking for something new, whether that's a restaurant they haven't tried, a hotel they haven't stayed at, or an adventure not yet experienced.