In 2018, a new bar and restaurant called Wine Bar George opened in Disney Springs. Creator and owner George Miliotes, a Master Sommelier and one of only 269 worldwide, uses his expertise to offer over 140 wine options to his guests. These wines are paired with some truly mouthwatering small plates, entrees, and desserts. And this isn't the first time Miliotes has worked with Disney: according to their website, from its opening in 1995 to 2002, George Miliotes managed Disney's California Grill, located in the Contemporary Resort, where he curated a wine list with over 100 offerings.
First Timers
When planning my last trip to Walt Disney World, Wine Bar George quickly made it to the top of my "must-try" list. I have my regulars in my line-up, but I'm always looking for what can be added. I want to know what's new, what's different, what should I try next? And while scrolling through my usual blogs, Facebook groups, and YouTube channels, Wine Bar George stuck out to me. Despite being known for it's wine, I was intrigued by the food- the photos, videos, and reviews were raving over the quality of their dining options. I decided to look at their menu, and everything sounded superb. So I made a reservation for lunch, right when they opened at 12:00, through Disney's website.
Drinks
When my partner and I arrived, we were quickly seated on their deck which overlooks Disney Springs. We started with drinks- and ironically, neither of us typically drink wine, so I ordered the Frosé, a frozen drink that includes Rosé, Vodka, and Strawberry, and my partner ordered Jorge's Red Sangria. Though both drinks were great, next time I may take the leap and ask for a pairing recommendation- or maybe I'll just order the Frozcato with Pineapple Dole Whip!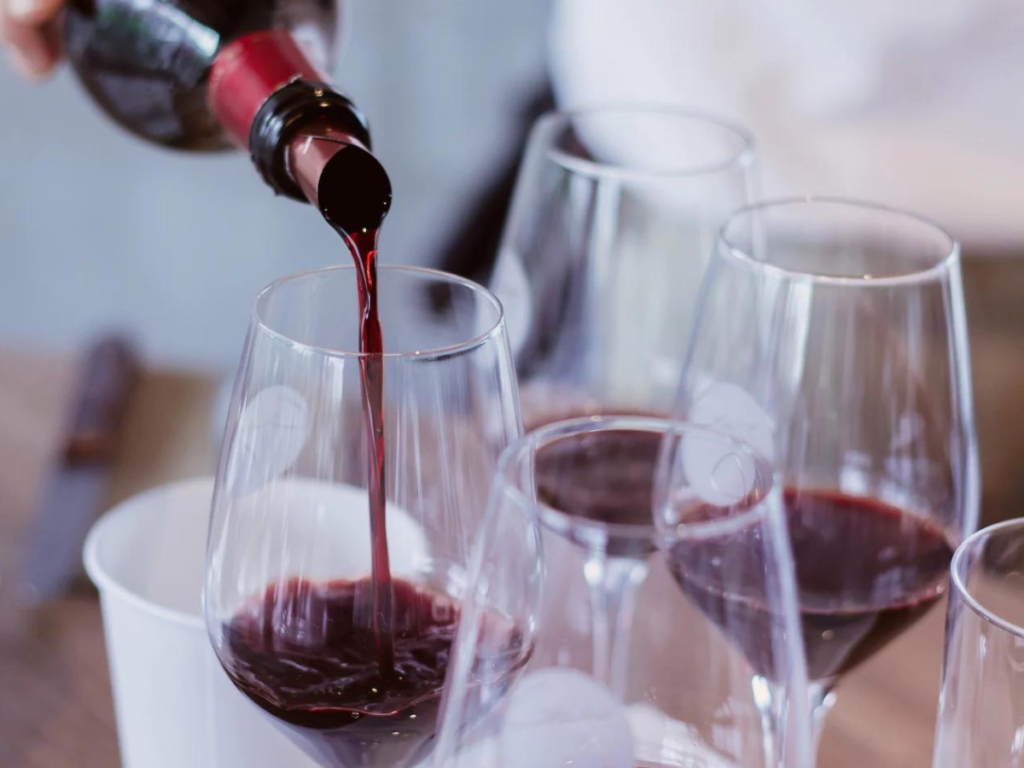 Small Plates
We started our meal off by ordering from their small plates section, which has a range of options including salads, hummus, and burrata. We decided to order the Crispy Mac and Cheese Bites and the House-Made Meatballs. The Crispy Mac and Cheese Bites came with tomato nage sauce and pecorino. These bites had the perfect crunch on the outside, with a gooey and cheesy inside. The House-Made Meatballs were served with a triple-cheese polenta and tomato sauce and they melted in my mouth.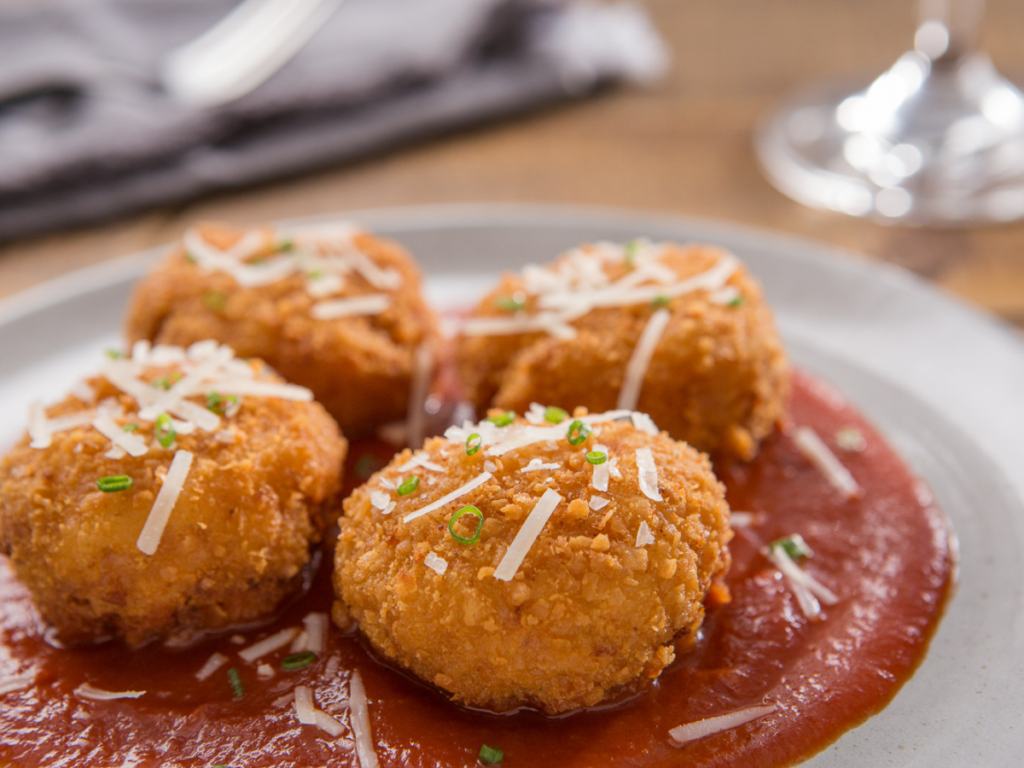 Entrees
My partner and I decided to split an entree- the two small plates were more filling than we expected! The lunch options include the Chicken Salad Sandwich, BLT + C, and Steak Frites, and are served between 12:00 and 3:00 Monday through Friday. We went with the Steak Frites, a plate of french fries topped with a skirt steak and caramelized onion aioli. The french fries had the perfect crunch, and the steak was flavorful.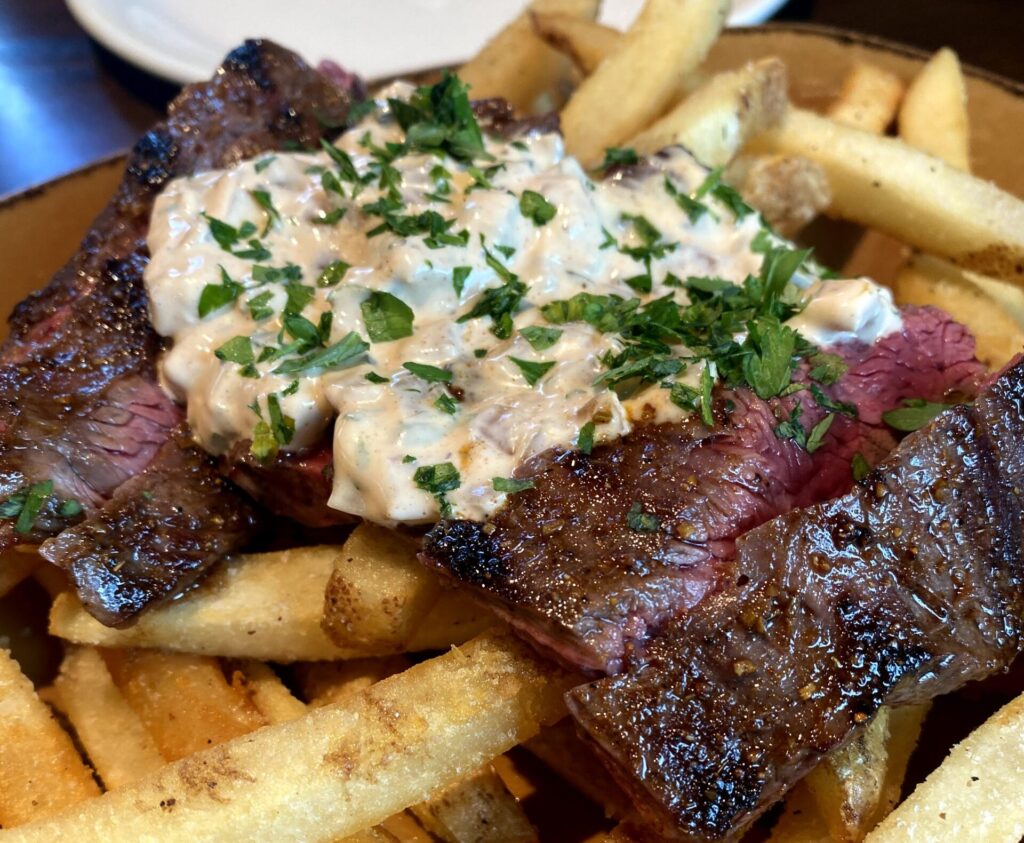 Dessert
At Wine Bar George, you can find dessert options like the Key Lime Pie or Olive Oil Cake on their dinner and brunch menu. But, as for lunch, there isn't a dessert menu at this time. This worked for us though- the line at Gideon's had dwindled down to almost nothing, so we paid our bill and walked over to get some chocolate chip cookies and a peanut butter cold brew! For more info on Gideon's, check out this post!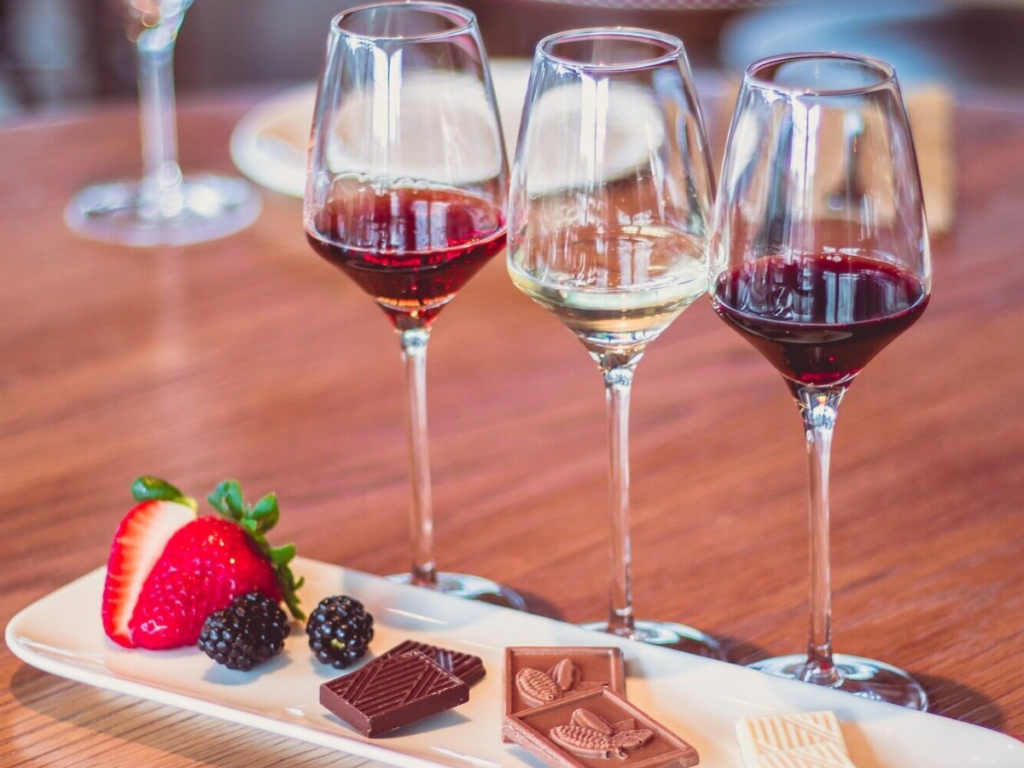 Overall
Everything we ate at Wine Bar George, we raved about for the next few days. It has become a permanent staple in our line-up, and next time we hope to try some of their other menu items or even attend an event like this one. Though their dinner is only slightly different compared to lunch, their brunch is enticing with its additional offerings like French Toast, Steak and Eggs, and Eggs Benedict. And as for their wine, the Frosé was great, but next time I'll try to be a bit more adventurous!
Featured Photo: Disney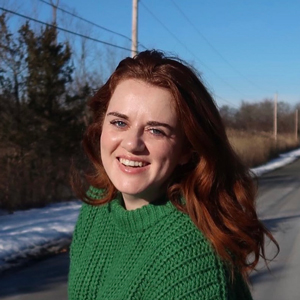 Written by
Brittany Gallant
Contributing Writer
Brittany has been traveling to Walt Disney World since she was two years old. Now a Disney Vacation Club member and annual passholder, you can often find Brittany at The Most Magical Place On Earth. She and her family are always looking for something new, whether that's a restaurant they haven't tried, a hotel they haven't stayed at, or an adventure not yet experienced.