At Walt Disney World's Polynesian Resort, you'll find lots of great dining and drinking locations. Between Ohana, Kona Café,  Tambu Lounge, and Capt. Cook's, there's much to choose from. On the first floor guests are presented with an even more unique option- Trader Sam's Grog Grotto and Tiki Terrace! Hidden in the hall between the hotel lobby and the exit to the outdoor terrace, this unique indoor tiki bar serves guests a vibrant and entertaining bar experience.
Trader Sam's begins taking names for the waitlist at 2:30 and is open from 3:00 pm to 12:00 am. However, due to its theming and liveliness, it is very popular, and often difficult to secure a spot. We stopped by around 4:00 on a Monday and there was an estimated 2-hour wait. Although I think everyone should experience Trader Sam's Grog Grotto, sometimes that wait doesn't work for everyone's schedule. Luckily, only a few steps outside of the lobby you'll find an extension of this bar at Trader Sam's Tiki Terrace!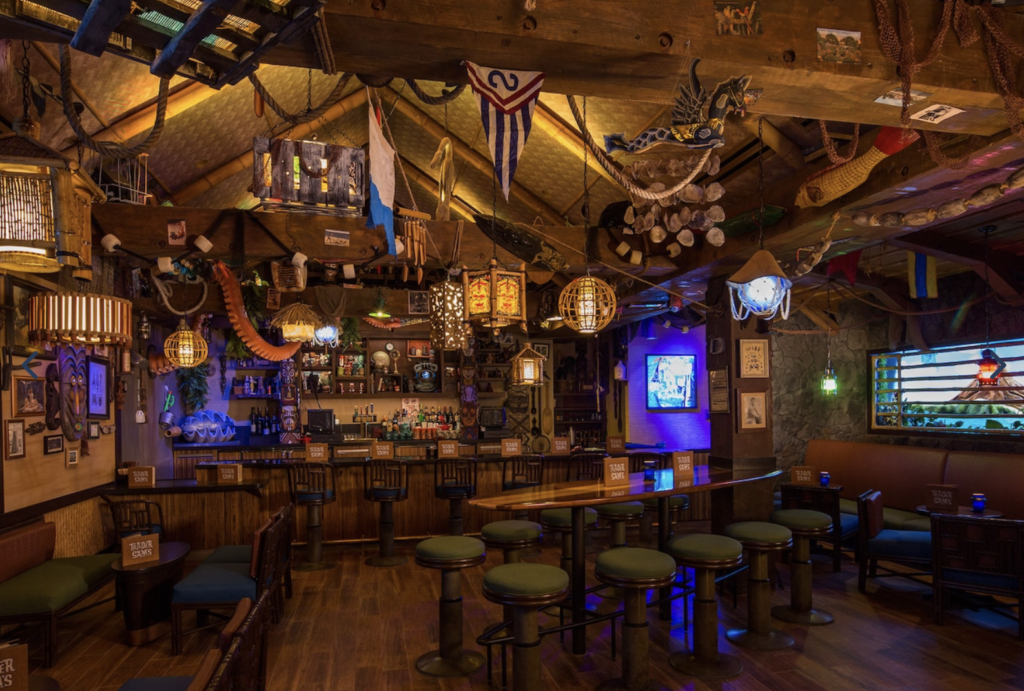 An Outdoor Lounge
The terrace is an outdoor lounge area where you'll find ample seating and shade, as each table has an umbrella attached and is accompanied by four chairs. Similar to some of the other bars at Disney Hotels, guests are able to seat themselves, and orders are taken by waitstaff. Though this area is sectioned off, guests sitting outside of the terrace are able to order drinks at their walk-up bar. The terrace isn't as heavily themed as its indoor counterpart, but there are hanging lamps, tiki torches, and a beautiful rock wall with water cascading down. They even have live entertainment, with performers singing and playing the ukelele!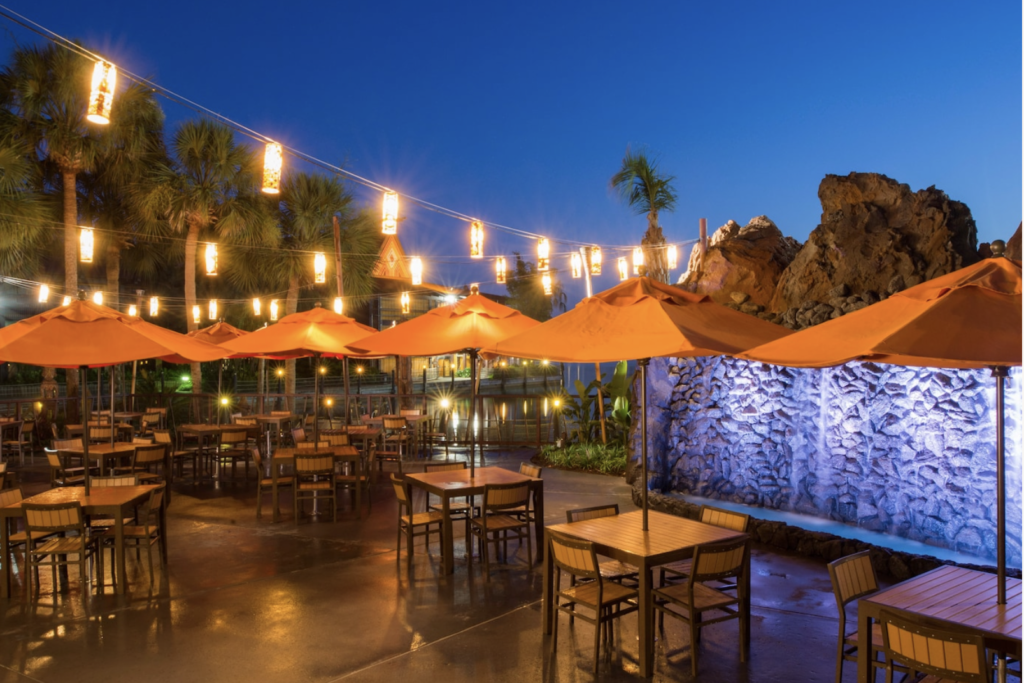 The Drinks
The drinks available at the Tiki Terrace are the same drinks offered at the Grog Grotto. The menu includes specialty cocktails, beer, cider, wine, and mocktails. While visiting I ordered Rosita's Margarita, which came with casamigos reposado tequila, bols orange curacao, lime juice, falernum, and organic agave nectar. Alcoholic beverages range from $15 to $35, and you can order drinks like the Zombie or the HippopotMai-Tai with a souvenir mug for an additional cost!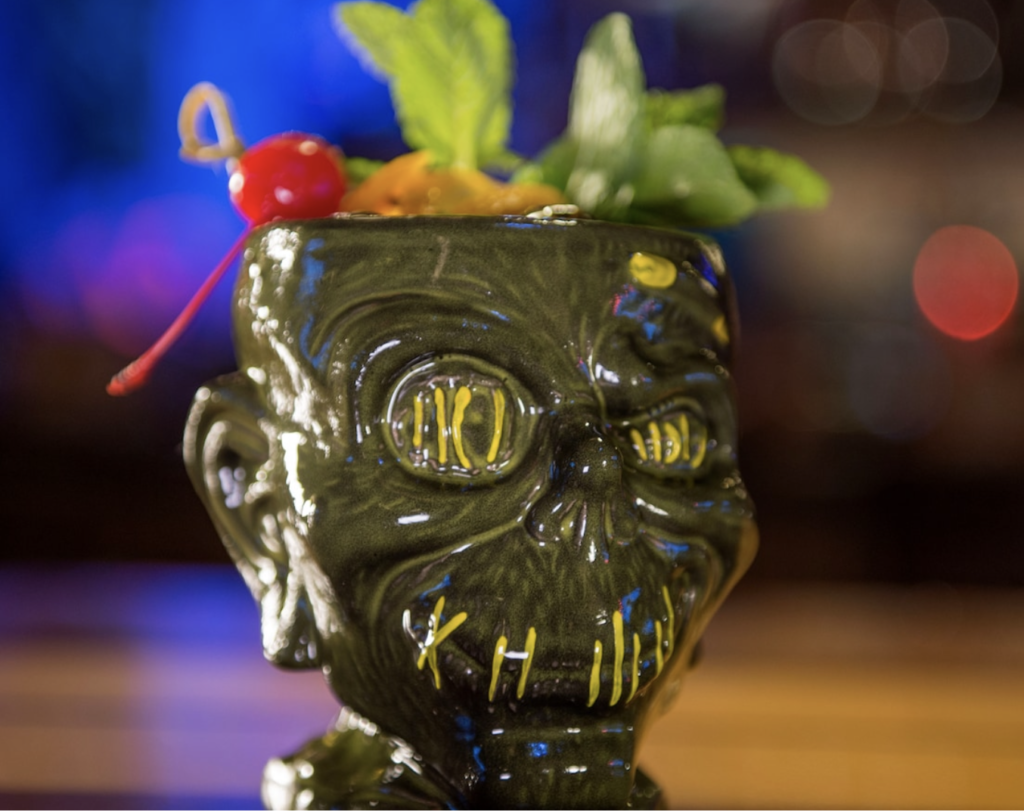 The Food
At Trader Sam's Tiki Terrace, they do offer a few appetizers to choose from, like dumplings, lettuce cups, and sushi rolls. Their Kalua Pork Tacos were definitely my favorite. The pork was amazing and they were overall super flavorful. But, since they only have appetizers, the food menu is limited. Luckily, right next door, you'll find Capt. Cook's, the Polynesian's quick-service restaurant. We checked with our waitress, and she said it was perfectly fine for us to bring food over from the restaurant! Their menu had lots of great options like chicken wings, cheeseburgers, a pork sandwich, and noodles with vegetables. We ended up putting in a mobile order for their Pulled Pork Nachos, which includes a large plate of chips topped with cheese, spicy mayo, pico de gallo, and pineapple salsa. These were so good; I don't think there was even a crumb left on the plate!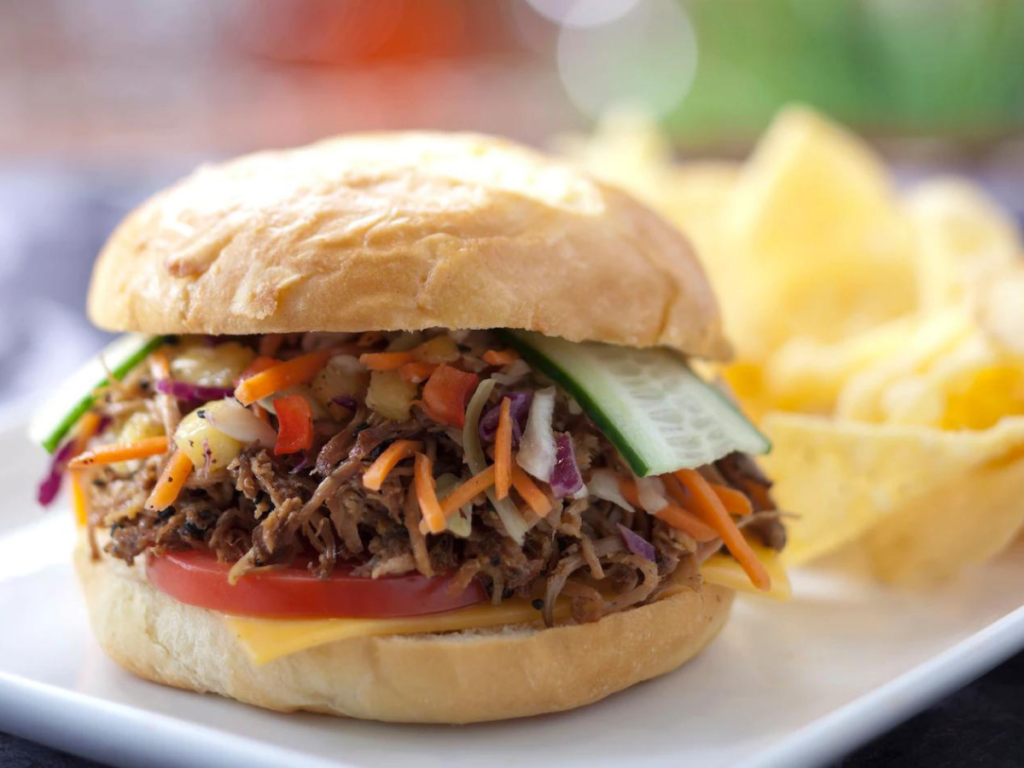 Overall we had a great experience drinking and dining at Trader Sam's Tiki Terrace! For those who have been to both, which did you prefer- the Grog Grotto or the Tiki Terrace?
Feature image courtesy of Disney.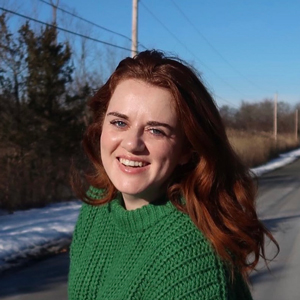 Written by
Brittany Gallant
Contributing Writer
Brittany has been traveling to Walt Disney World since she was two years old. Now a Disney Vacation Club member and annual passholder, you can often find Brittany at The Most Magical Place On Earth. She and her family are always looking for something new, whether that's a restaurant they haven't tried, a hotel they haven't stayed at, or an adventure not yet experienced.