Which Disney Park Has The Best Castle?
Each Disney resort around the world has their own Disneyland-style park, which features an enchanting castle as the central icon. Ever since Walt Disney put a castle at the center of his original park, the structure has become a logo for the entire Walt Disney Company. Every Disney Park castle is unique in its own way and many of them have attractions or restaurants inside. Since all of the castles are so different, it's hard to pit them against each other to decide which is the best. So we'll give you the facts and let you make the decision for yourself!
Sleeping Beauty Castle at Disneyland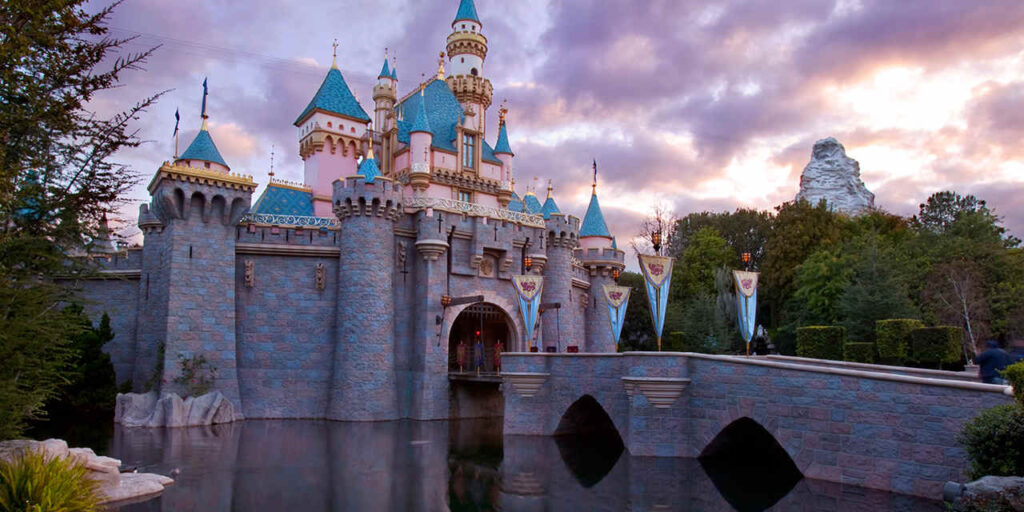 Walt Disney's original castle may be quaint, but what it lacks in height, it makes up for in charm. At 77 feet tall, Sleeping Beauty Castle is the smallest of the Disney Parks' icons. Modeled after Neuschwanstein Castle in Germany, Walt wanted to recreate a romantic, medieval fortress in Southern California. Even though the film Sleeping Beauty didn't premiere until 1959, visitors to Disneyland were able to get a sneak peek of the film at the Sleeping Beauty Castle Walkthrough, which opened in April 1957. The attraction eventually closed in 2001, but it was reimagined and reopened in late 2008. Sleeping Beauty Castle is the only park icon that Walt Disney ever saw built, so it's fitting that the Disney family coat of arms hangs above the rear archway of the castle. 
Cinderella Castle at Magic Kingdom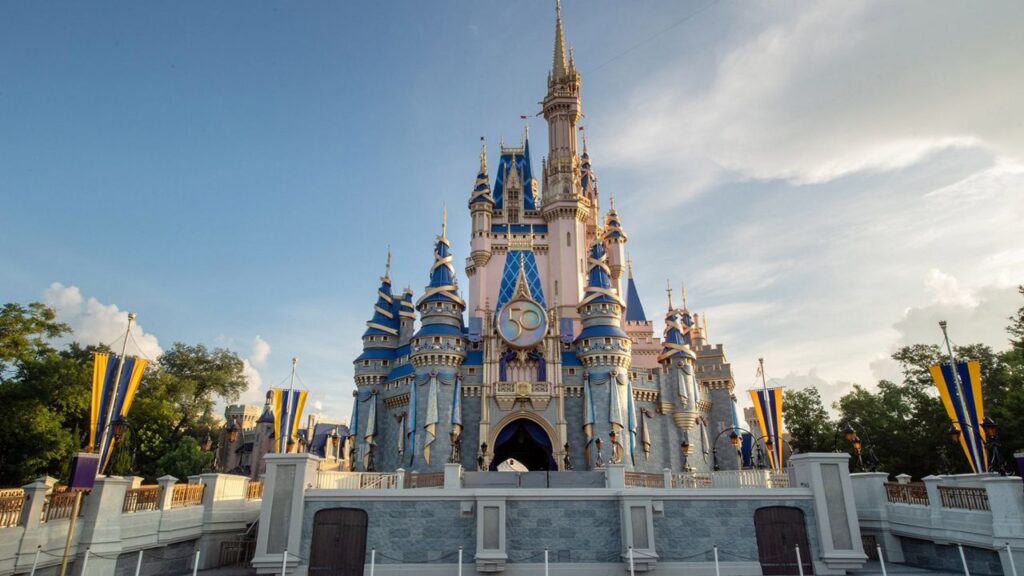 At 189 feet tall, Cinderella Castle is over twice as tall as its predecessor, so it can be seen from almost anywhere in Magic Kingdom. One of the most exciting moments of a Magic Kingdom trip is the first time you spot Cinderella Castle from the monorail. Although there isn't an attraction inside the castle, there is a character dining restaurant, Cinderella's Royal Table, where you can meet and greet your favorite Disney princesses. A few floors above that, there's the famous Cinderella Castle Suite, which opened in 2007 as part of the Year of a Million Dreams celebration. However, this exclusive suite is invite-only, so there's no way to book a stay in it. The exterior of Cinderella Castle has also undergone a few makeovers over the years- the most infamous of which was the birthday cake overlay that was constructed for Walt Disney World's 25th anniversary. Thankfully, for the 50th anniversary, the castle was simply repainted with a pink tinge and received some "earidescent" accents. 
Cinderella Castle at Tokyo Disneyland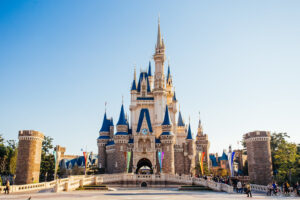 The Cinderella Castle at Tokyo Disneyland is almost identical to the one at Magic Kingdom, but there are a few differences on the inside. Instead of housing a restaurant and a suite, the interior of Tokyo's castle includes a walkthrough attraction. Cinderella's Fairy Tale Hall takes guests through the story of Cinderella and even lets guests take a look at her famous glass slipper. At Magic Kingdom, guests are able to walk under the Main Street Train Station and then catch sight of Cinderella Castle at the end of Main Street, which is always a dramatic moment. However, at Tokyo Disneyland, their Main Street- called World Bazaar- is covered with a glass canopy. This makes it a bit harder to get a glimpse of Cinderella Castle until you're done walking down Main Street, USA. 
Le Château de la Belle au Bois Dormant at Disneyland Paris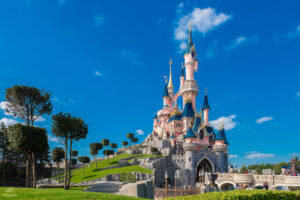 In order to impress their European guests, the Disney Imagineers knew they had to design a truly spectacular castle because these guests were used to seeing beautiful real life castles and palaces in their backyards. The result is probably the most stunning of Disney park icons. On the inside, there's La Gallerie de la Belle au Bois Dormant, which is a walkthrough attraction featuring tapestries and stained glass windows that depict the story of Sleeping Beauty. But the most impressive feature lies beneath the castle. In the dungeon lies an 89 foot long Audio Animatronic dragon that comes to life to growl and breathe smoke at passing guests. 
Castle of Magical Dreams at Hong Kong Disneyland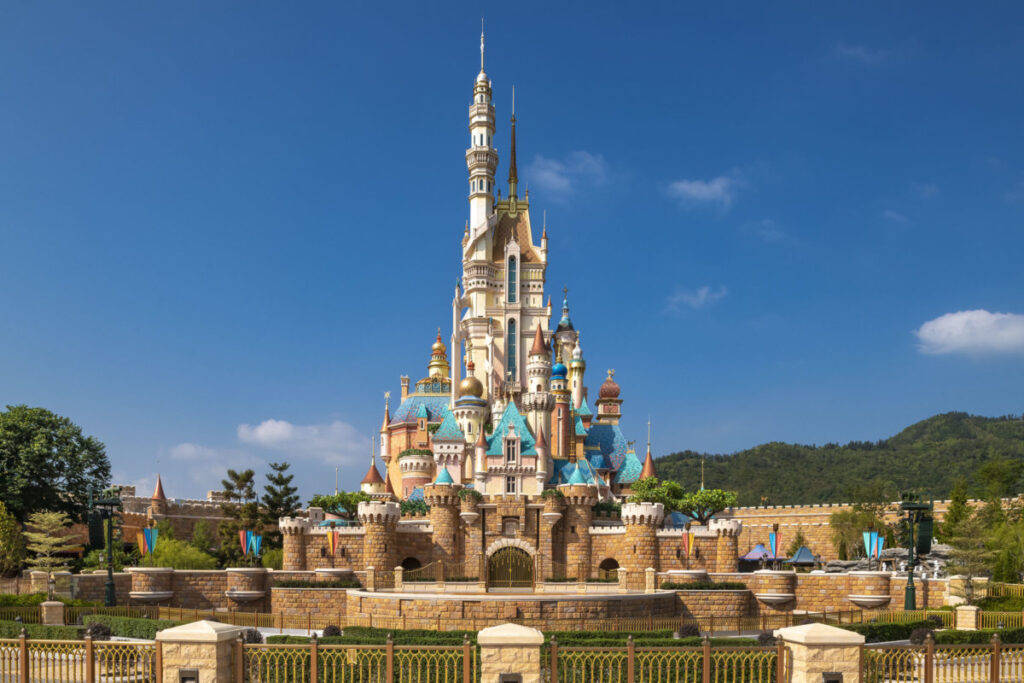 When Hong Kong Disneyland opened in 2005, their park icon was a replica of Sleeping Beauty Castle at Disneyland. It was a quaint little castle with a beautiful mountain range serving as the backdrop. But in November 2020, their new Castle of Magical Dreams debuted as part of Hong Kong Disneyland's 15th anniversary celebration. This redesign pays tribute to all of the Disney princesses with decorations from each of them on the castle's turrets. This castle makeover also created a princess meet and greet attraction called the Royal Reception Hall. Although Sleeping Beauty Castle works well for Disneyland, it's great that Hong Kong Disneyland finally has a castle with its own unique identity. 
Enchanted Storybook Castle at Shanghai Disneyland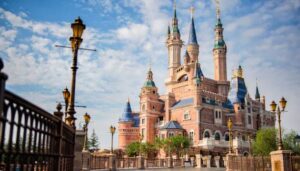 At almost 200 feet tall, Shanghai Disneyland's Enchanted Storybook Castle is the largest of all the Disney park castles. Just like Hong Kong Disneyland's Castle of Magical Dreams, it represents all of the Disney princesses, instead of focusing on just one. This castle is also filled to the brim with attractions and activities. Once Upon A Time Adventure- a walkthrough attraction themed to Snow White and the Seven Dwarfs– calls the attraction home, and the boat ride Voyage of the Crystal Grotto sails under the main level of the castle. Enchanted Storybook Castle is also home to character meet and greets, a restaurant called Royal Banquet Hall, and a Bibbidi Bobbidi Boutique. 
Which Disney park castle is your favorite and why? Have you seen all six of them in person? Tell us in the comments!
Written by
Erika Lucas
Contributing Writer
Erika has lived in Orlando her whole life, so she was practically raised at Walt Disney World. While in college, she worked for Disney in roles ranging from character attendant to VIP tour guide. Nowadays, she spends her days planning her next trip to the parks or dreaming about setting sail on another Disney Cruise.