When choosing a place to stay for your Disney vacation you might be drawn toward either the monorail line or a resort along the Disney Skyliner. Both are extremely convenient methods of transportation to Disney parks, so it can be difficult to choose which area you'd like to stay in. The monorail will take you to Magic Kingdom, and also to Epcot after a quick transfer at the Transportation and Ticket Center. The Skyliner will take you to Hollywood Studios and also to Epcot. The resorts located on the monorail line are Disney's Contemporary Resort, Disney's Polynesian Resort, and Disney's Grand Floridian Resort & Spa. The resorts located on the Skyliner are Disney's Caribbean Beach Resort, Pop Century, Art of Animation, and Disney's Riviera Resort. So, which area should you stay?
Monorail Line
The monorail line is Disney's classic train system that has been operating since the park's opening. The monorail connects Magic Kingdom to all of Disney World's original resorts that are also DVC resorts. Bay Lake Tower at Disney's Contemporary Resort is a luxury DVC resort that offers theme park views, and is within walking distance to Magic Kingdom. The DVC bungalows at Polynesian also offer lake views and theme park views, but are a bit further away from the hustle and bustle of Magic Kingdom. The DVC villas at Grand Floridian also boast theme park views, as well as other amenities like a full-service spa onsite! Each DVC resort located on the monorail line is incredible, and each comes with a long list of positive reasons for staying there!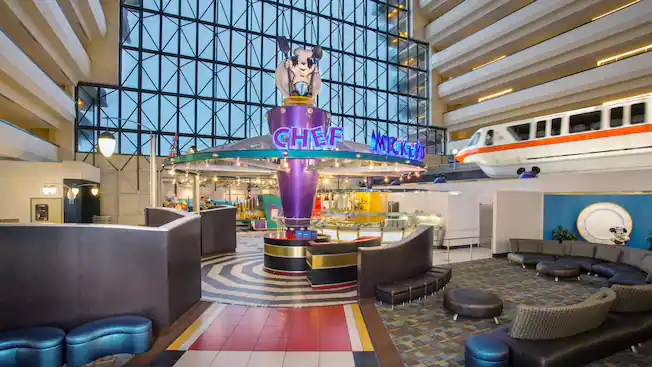 If your family will be spending a lot of time at Magic Kingdom, then the monorail line might be for you. Staying on the monorail is the easiest and most carefree way to make it to Magic Kingdom. The Transportation and Ticket Center is also a quick transfer to the Epcot monorail. It takes a bit more time to get to Epcot than it does to get to Magic Kingdom, but it is still much faster than taking a Disney bus.
The monorail is also nice for resort hopping. The deluxe resorts located along the monorail line have a variety of restaurants, bars, and shops to explore. These resorts are also quite fun to explore and the walking paths throughout the resorts are perfect for a relaxing stroll at the end of the day.
Skyliner Line 
Disney's Skyliner is air gondola ride system that transports you from several Disney resorts to both Hollywood Studios and Epcot. The Skyliner is fast and gets you to your destination quickly and safely. The lines in the mornings to catch a ride on the Skyliner can appear very long, but they move quickly due to the efficiency of the system. The resorts located on the Skyliner line are Disney's Art of Animation, Pop Century Resort, Disney's Caribbean Beach Resort, and Disney's Riviera. Art of Animation and Pop Century are both value resorts, with Caribbean Beach being a moderate resort and Riviera being the only DVC resort on the Skyliner route. This variety of resort types is useful for families who might have different budgets, but it does limit your choice for a DVC resort down to just one option.
Disney's Riviera is the newest DVC resort and also one of the nicest. This resort was designed with a European style, and has several high-end dining options, luxury amenities like bocce ball courts, and fantastic pools. Disney's Riviera is truly a DVC resort that is magical and special.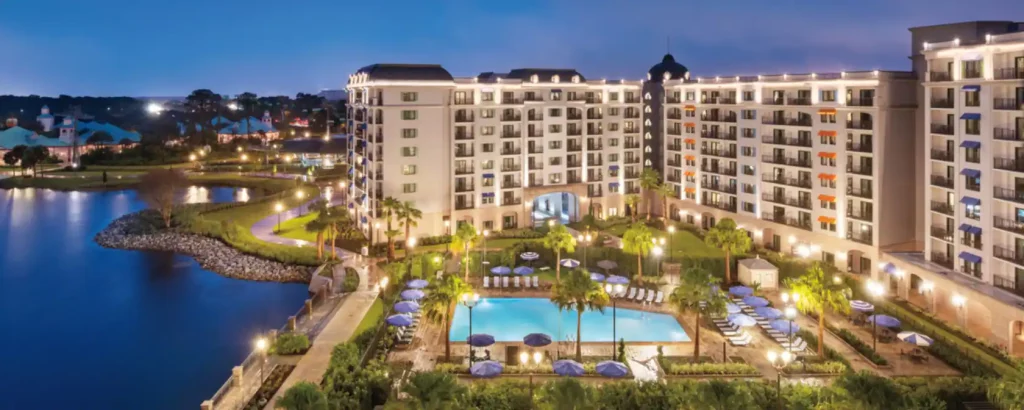 Disney's Skyliner system has the major perk of providing transportation to Hollywood Studios, which Disney's monorail system does not. It isn't as great for resort hopping because the value resorts on the line don't have much to offer aside from exploring them for the sake of exploring. However, I have personally stayed at both a Skyliner resort and a monorail resort, and I found the Skyliner to be the more efficiently operating system of the two.
Which Is Best For Your Family?
The monorail and the Skyliner are both great methods of transportation and fantastic amenities to have at your Disney resort. Both will take you to Disney's Epcot park, the monorail gives the added bonus of Magic Kingdom, and the Skyliner gives you Hollywood Studios. Ultimately, the decision comes down to a personal choice of which resort you want to stay at. Either way, you can't really go wrong in choosing a Skyliner or a monorail resort!
Photo: Emily Murray
Written by
Megan Woodard
Contributing Writer
Megan was born into a Disney family. Her first trip to Disney World was when she was only 18 months old. Now as an adult, Megan loves to share the magic of Disney with her two toddlers. Keeping up with Disney news and Disney World knowledge is a fun hobby for Megan. Disney World is her favorite place to be and continuously brings back her childhood joy.