Over Labor Day weekend, my family and I set sail on a three-night sailing on the Disney Dream out of Port Canaveral. I was a little worried that cruise wouldn't be enjoyable because of all the COVID regulations that are in place, but I am happy to report that I was wrong! We had an awesome time, probably one of the best sailings I've done with Disney Cruise Line. Of course, this trip was quite different than previous ones, but the magic of Disney was still there. I honestly felt safer on board my first Disney cruise sailing since COVID-19 than I do at my local grocery store.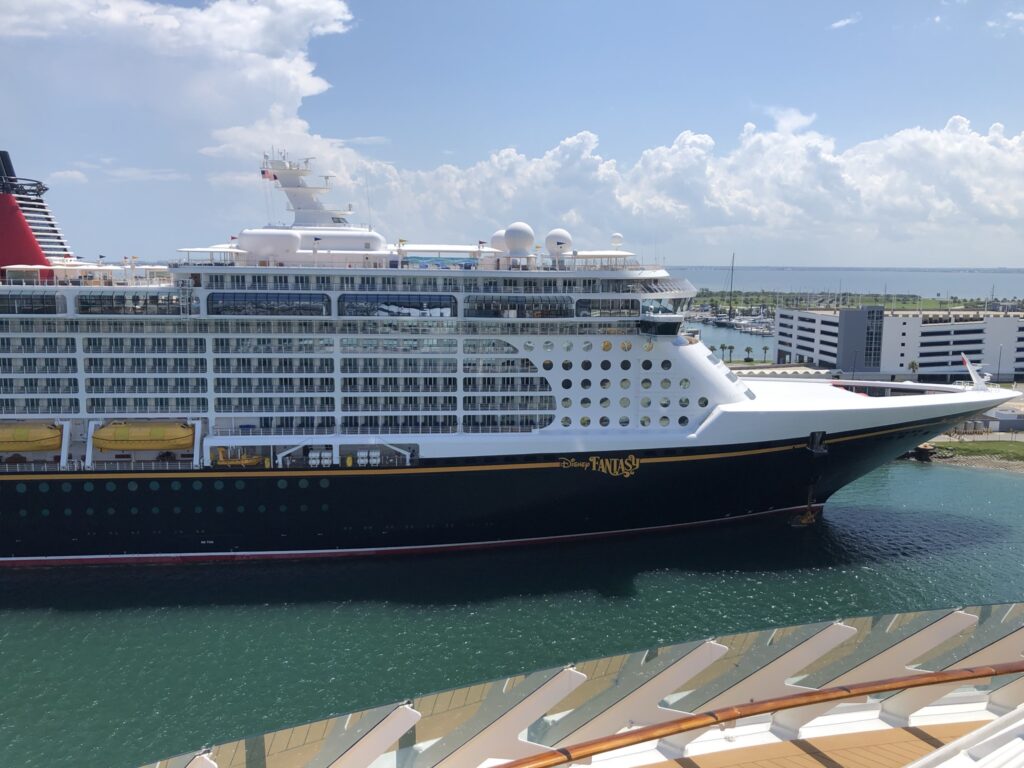 New Embarkation Process
After making all of our preparations, it was finally time for our cruise. Since we live in Orlando, we drove over to Port Canaveral to start our vacation. We arrived at around 10:45AM for a port arrival time of 11:00AM, which was the earliest available for our sailing. The parking garage at the Disney Cruise Line (DCL) terminal opened at 10:45AM, so we were able to pull in and didn't have to drive around in circles for 15 minutes. When we pulled into the garage, they scanned one port arrival QR code for each stateroom (we had a total of 3 staterooms in our party). Since everyone in our party was over 12 and fully vaccinated, we didn't have to be tested at the port.
They then directed our car into another line in the parking garage, where a crew member scanned our Safe Passage QR code. Safe Passage is the third-party site that DCL has guests use to upload their vaccination records and/or COVID test results. Once they confirmed that everyone in our vehicle was fully vaccinated, they directed us to the upper levels of the parking garage, where we could choose a spot. After parking and unloading our luggage, we headed down to the first level to drop our luggage off with the porters outside the terminal. There was a short line outside the terminal, simply because they were limiting how many people could go inside at once.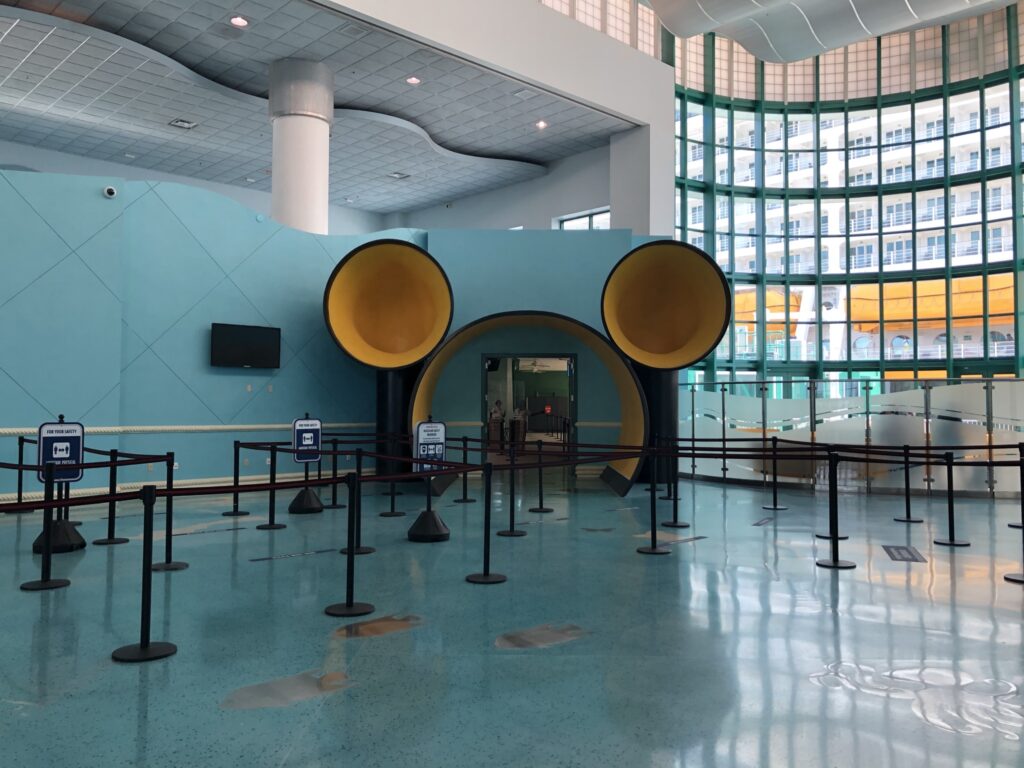 Once we were allowed inside, we were immediately directed to a crew member who checked our passports and confirmed that we were clear to sail. Then, we went through security and took the escalators upstairs to the main terminal waiting area. Usually, the terminal is full of people and it's so loud you can hardly hear them announce your boarding group. But when we arrived, the terminal was practically empty. Another big change is that they are doing the posed pictures in the terminal, rather than on the gangway. I preferred this, since it wasn't as crammed and it allowed more time for us to take group photos without feeling like we were holding up the line.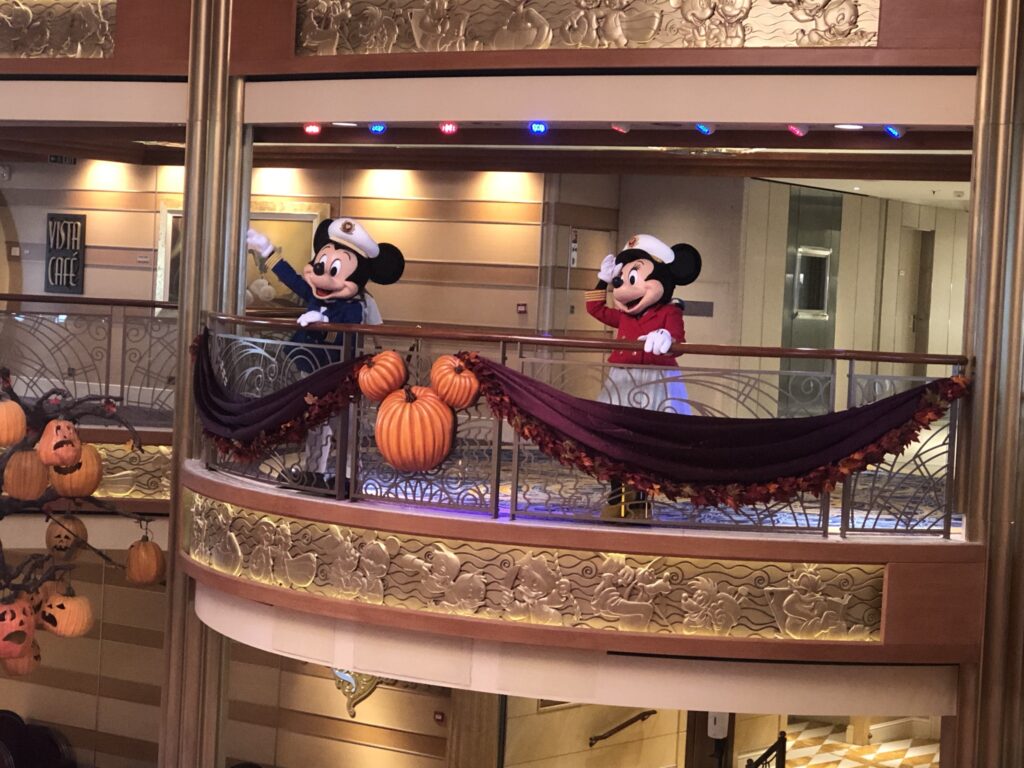 At around 11:45, they started calling boarding groups to make their way onto the ship. We were boarding group 3 and we were welcomed aboard just before noon. After stepped into the atrium, a crew member directed us to a Mickey marker on the floor. Here we stood and watched a very modified version of the Sail Away Party which was essentially Mickey and Minnie doing a quick dance and welcoming us aboard.
Modified Safety Drill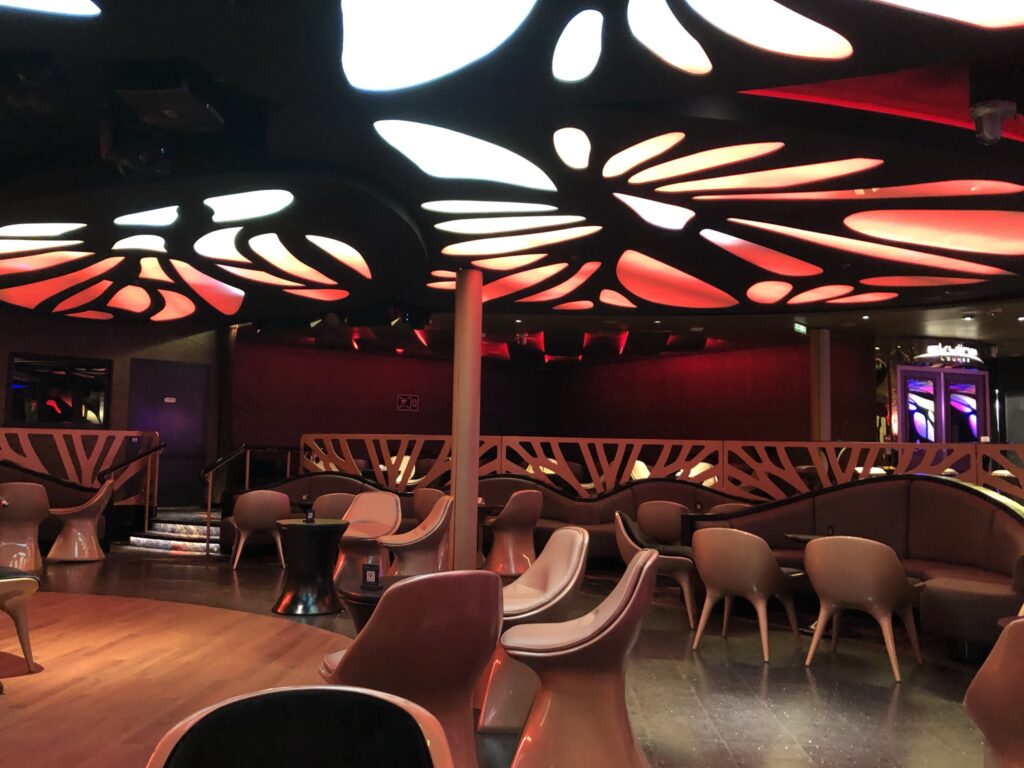 Once the short welcome show was finished, a crew member dismissed us and encouraged us to visit our muster station to get that out of the way. All we had to do was visit our muster station and one person per stateroom had to log into the DCL Navigator app to take a picture of your station's sign. There is a crew member stationed at each location in case you need any help. At around 5:15 pm, they did sound the ship's alarm to demonstrate what it sounds like in case there is an emergency, and then they played a short safety video on all the TVs around the ship. You weren't required to sit and watch this safety briefing, but it was hard to miss since it was literally playing everywhere.
Welcomed Changes To Dining
After getting the safety check out of the way, we made our way up to deck 11 to have lunch at Cabanas, the ship's buffet. Dining at Cabanas was much more pleasurable since there were significantly less people than normal. However, they didn't offer as much of a variety of food as they previously did, which is understandable but still a little disappointing. There was always a crew member greeting us when we walked into Cabanas. They would instruct guests to wash their hands at one of the built-in sinks and then they would direct you to the buffet line. Crew members were working behind the counter to dish up your food; you just had to tell them what items you would like and how much. They were always very generous with the portions and were happy to give you more if you asked, so there was no need to feel shy.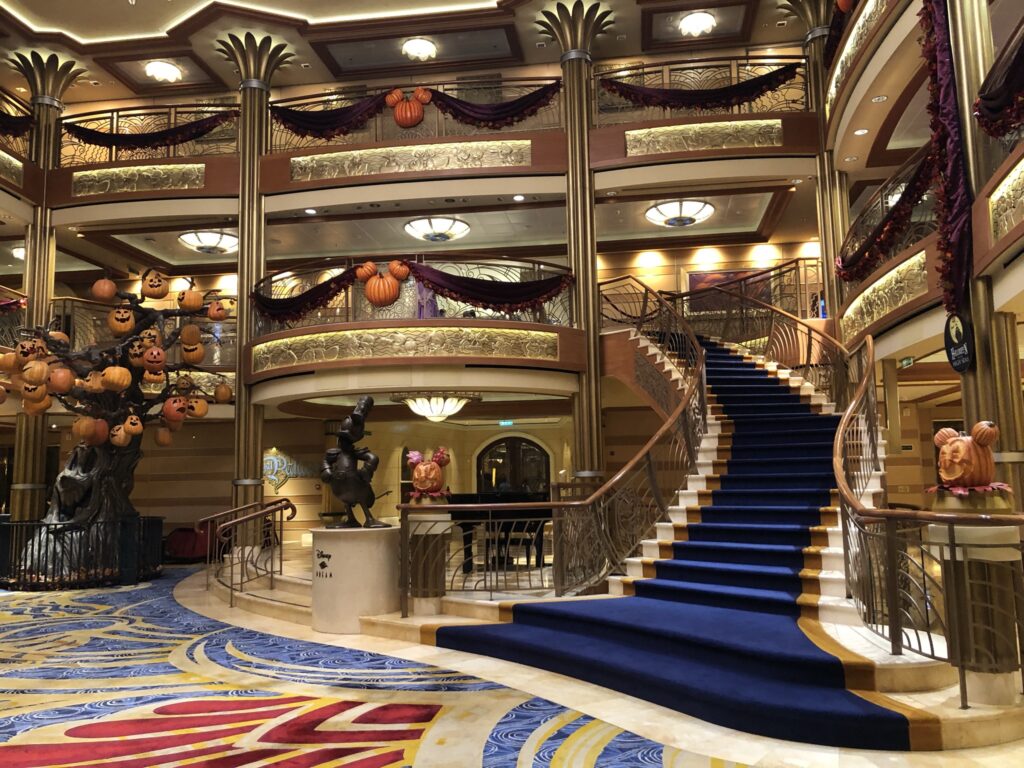 For dinner, Disney Cruise Line offers rotational dining, which lets you dine in a different themed restaurant each night, but your wonderful servers travel with you. This aspect of DCL remain pretty much unchanged. The only difference was that they staggered arrival times for the dinner seatings to ensure that crowds didn't build up at the entrance. For example, the later dinner seating usual starts at 8:15 pm, but our arrival time was 8:05 pm. I quite liked this change because it made arriving at your nightly restaurant less hectic.
Socially Distanced Entertainment
I think Disney's entertainment offerings have had to change the most in the wake of COVID. Usually on a Disney cruise, there are three Broadway-style shows offered on each sailing. However, on our three-night sailing, they only offered one show- Beauty and the Beast– which they showed multiple times during our cruise to ensure that everyone was able to see it, but also able to practice social distancing within the theater.
Upon arriving at the Walt Disney Theatre, crew members directed guests to a row to sit in and would have you leave three seats between you and the next party. When the show was over, the crew members dismissed each row one at a time. On four-night sailings on the Dream they are also performing Disney's Believe. I've sailed on the Dream before so I've been able to see all three of their shows, so I wasn't disappointed that we were only able to experience one of them.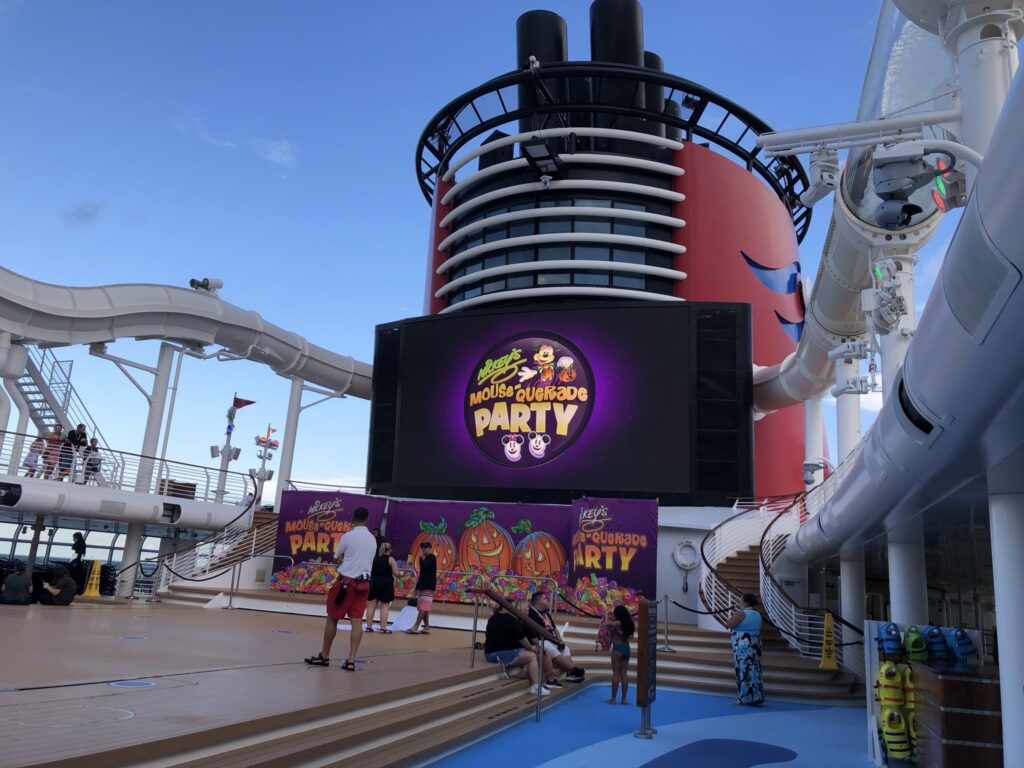 Our sailing was this year's first Halloween on the High Seas, so they did have special Halloween entertainment throughout the cruise. They performed Mickey's Mouse-querade twice, which is a themed dance party where all of the main characters are dressed in their adorable Halloween costumes. Although traditional character meet and greets aren't possible right now, there were an abundance of character sightings across the ship and on Castaway Cay. Honestly, I enjoyed these character interactions better than the standard meet and greet because it felt more authentic and it was always a pleasant surprise when you would encounter one of your favorite characters on deck.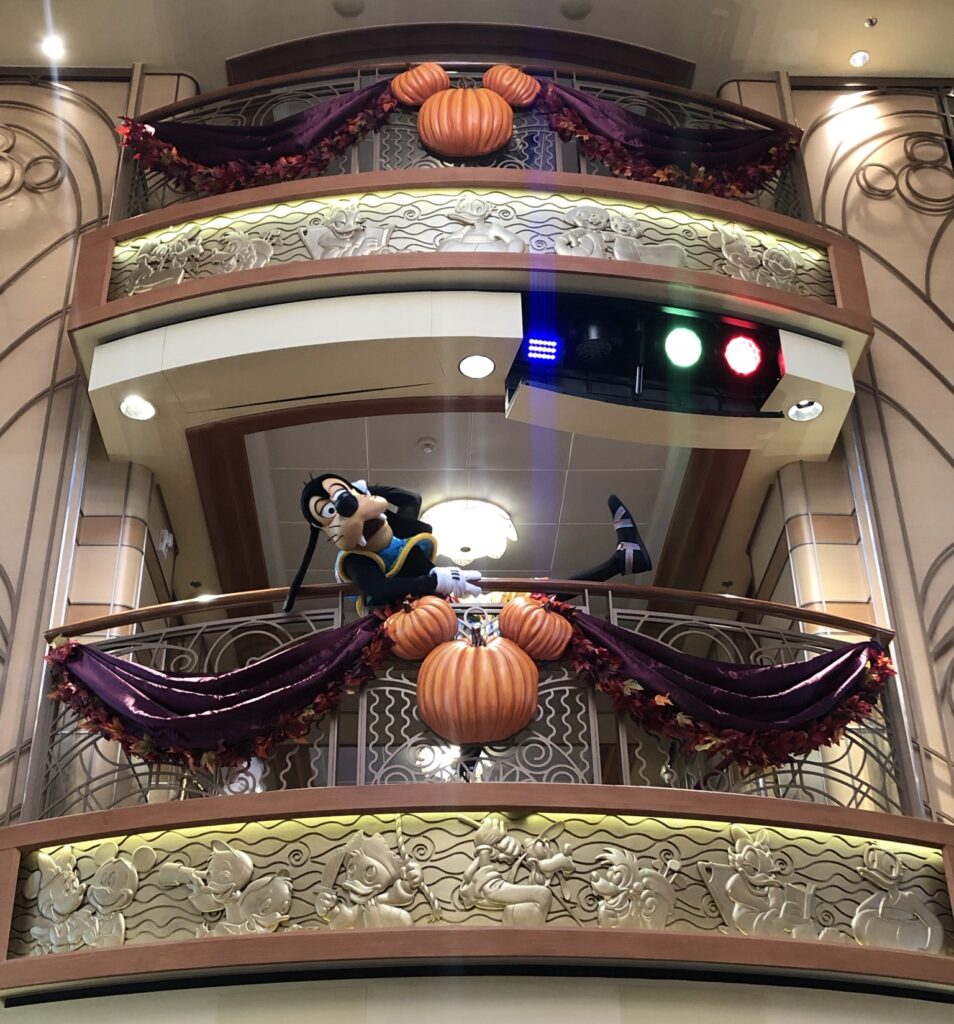 To help promote physical distancing, they weren't able to have any traditional deck parties, like the Sail Away Party or Mickey's Pirates in the Caribbean. Actually, there wasn't a Pirate Night on our cruise at all. However, they did still do fireworks at sea, Disney Ever After. They showed the fireworks twice during our sailing (once again, to avoid crowds) and there were markers on the upper decks that guests were directed to stand on. The fireworks were short and sweet, and they were a nice change from the typical pirate-themed fireworks.
A True Getaway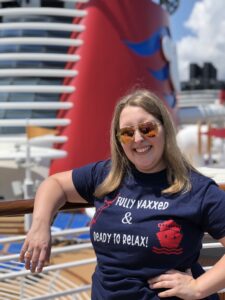 Overall, we had an awesome time on our three-night cruise and I would definitely sail again during these strange times. It was a nice reprieve from our day-to-day lives, and I honestly felt very safe on the ship. Crew members were so kind and accommodating, you could really tell that they were excited to be back to work and to welcome passengers aboard. Their enthusiasm was one of my favorite things about this trip.
I also loved how empty the ship was. It was great to be able to hang out at Satellite Falls and not have to worry about it getting overcrowded, or to eat breakfast at Cabanas without needing to hunt for a table. It made the whole trip more relaxing and made it feel like a true getaway. Aside from having to wear masks indoors and jumping through a few more hoops to board the ship, the cruise really didn't feel that different from previous cruises I've done. I really couldn't have asked for a better return to cruising. To me, it just solidifies that Disney Cruise Lines knows how to provide guests with the perfect getaway, even during these bizarre times.
Are you planning on sailing with Disney during COVID? Have any questions about my cruise experience? Share your thoughts in the comments below. Plus, take an extra 5% your Disney Cruise when you book with DVC Shop Rentals!
Written by
Erika Lucas
Contributing Writer
Erika has lived in Orlando her whole life, so she was practically raised at Walt Disney World. While in college, she worked for Disney in roles ranging from character attendant to VIP tour guide. Nowadays, she spends her days planning her next trip to the parks or dreaming about setting sail on another Disney Cruise.