Walt Disney World is a well-known destination for foodies. Whether you are serious about exploring new foods, or you are just looking for a more casual dining experience for your family, Walt Disney World has dining locations for everyone. Quick-service dining locations at Disney World are counter-services; some might refer to think as fast food dining. These dining locations are located throughout Disney parks and resorts, and are great for a quick but delicious meal. Here are my favorite Quick-Service dining locations at each Disney park and why I love them so much.
Columbia Harbor House – Magic Kingdom
Located in Liberty Square at the Magic Kingdom, Columbia Harbor House specializes in American seafood dishes. I love Columbia Harbor House because it's a refreshing break from typical theme park food. The restaurant itself is themed after an old New England boat house with nautical décor and a colonial America atmosphere.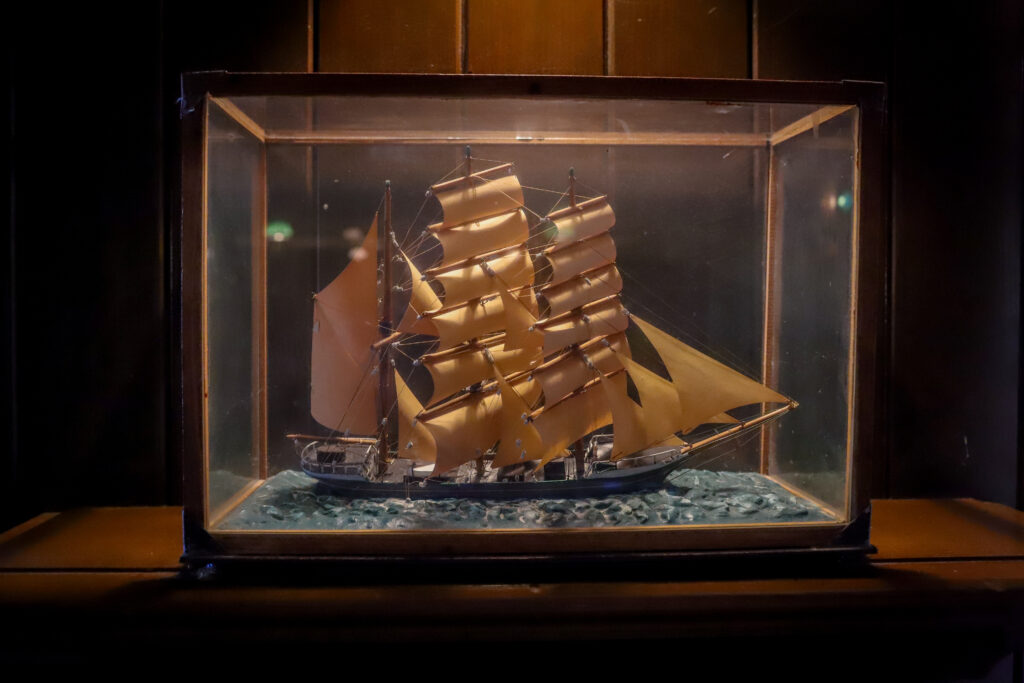 The menu consists of American seafood favorites such as the New England Shrimp Boil, which is a stew made from corn, potatoes, and shrimp. They serve other classic dishes such as grilled salmon, shrimp skewer, fried shrimp, and chickens strips for those who aren't keen on seafood. My favorite meal here is the Lobster Roll, which is chilled lobster with mayonnaise served on a bun and paired with fries. I love the cool and refreshing feeling that I can get from the Lobster Roll. Its a hearty meal that offsets the Florida heat. Columbia Harbor House also serves hushpuppies, clam chowder, and currently offers The Happy Haunt Milkshake-a blackberry milkshake topped with a glazed donut, for dessert.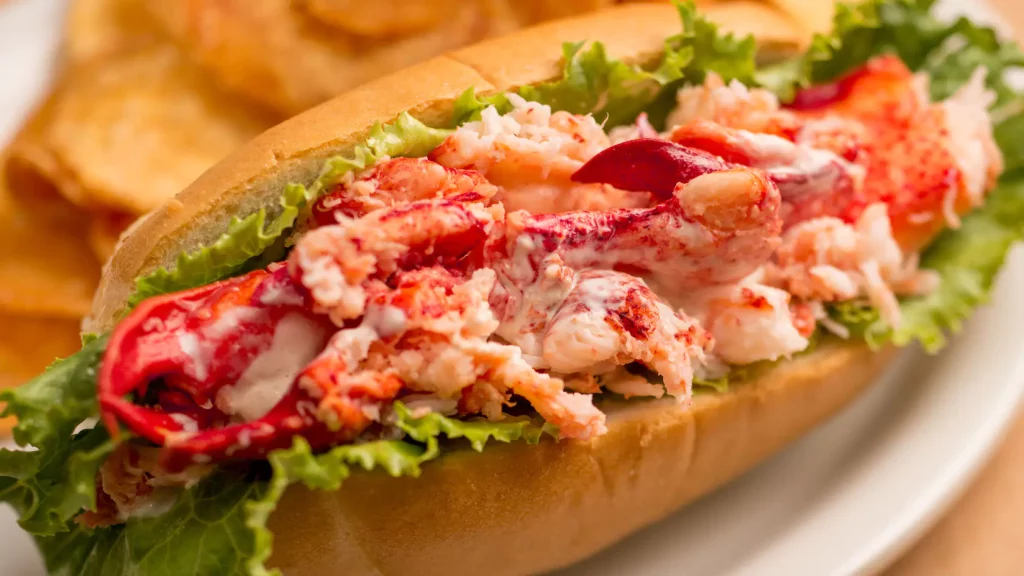 Docking Bay 7 Food And Cargo – Hollywood Studios
If you find yourself walking through Galaxy's Edge at Disney's Hollywood Studios, you should make time to grab some food at Docking Bay 7 Food And Cargo. Docking Bay 7 is heavily themed to make it feel like you are eating inside of the Star Wars universe. Docking Bay 7 is themed after a pit-stop location for intergalactic travelers. I love this dining location because of its intricate theming, but also because of its themed dishes.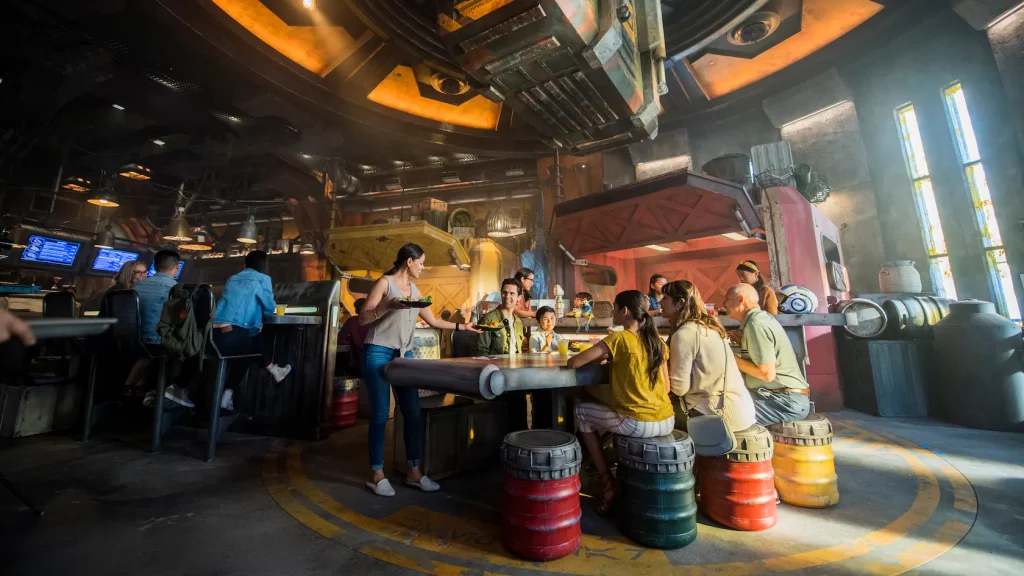 Docking Bay 7 serves up lots of meaty favorites such as smoked pork ribs, beef stir-fry, hot chicken, chicken salad, and fried chicken. There is also a plant-based option which contains plant-based meatballs and a hummus spread. My favorite dish here is the Tuna Poke bowl. Known as the Peka Tuna Bowl, this dish consists of raw tuna tossed in a spicy dressing, with papaya and mushrooms. For dessert, the Outpost Puff is a chocolate pastry filled with chocolate mousse and topped with Thai tea Panna Cotta and pineapple. You can also find a variety of specialty drinks and cocktails.
La Cantina De San Angel – EPCOT
La Cantina De San Angel is located right inside of Epcot's World Showcase in the Mexico Pavilion. This delightfully authentic Quick-service restaurant is located outside with a stunning view of World Showcase Lagoon. The seating here is all outdoors, but is shaded by a large gazebo and has many running fans. La Cantina De San Angel also boasts a fantastic view of the nightly fireworks spectacular, Harmonious.
This restaurant serves Mexican-style favorites such as chicken and rice bowls, barbacoa tacos, shrimp tacos, chicken tacos, and nachos. My favorite thing to grab here are the Empanadas Con Queso. They are fried flour tortillas stuffed with cheese and dressed with sour cream and fresh salsa. For dessert, you can munch on a churro with hazelnut spread to dip.
Flame Tree Barbecue – Animal Kingdom
Flame Tree Barbecue is not only my favorite Quick-service at Animal Kingdom, but its also my favorite place to get barbecue anywhere at Disney World. Located in Discovery Island, this Quick-service restaurant is located outdoors and surrounded by trees and vegetation. You really feel like you are dining in the wild.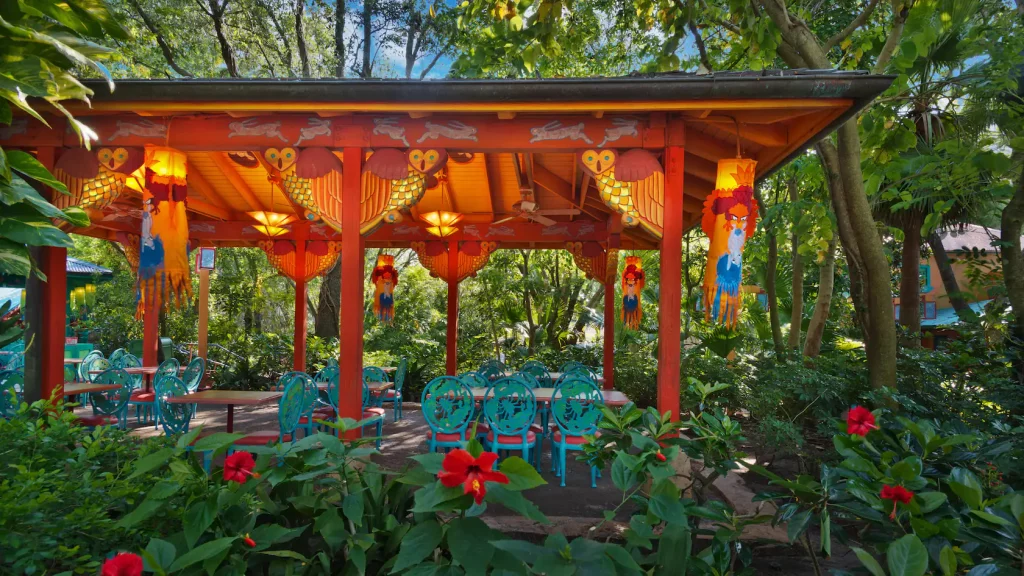 Flame Tree Barbecue serves classic barbecue favorites such as chicken, ribs, pulled pork, and macaroni and cheese. There is also a plant-based smoked sausage sandwich, and delicious sides like onion rings, and fries. My favorite thing to order here is the Baked Macaroni And Cheese with Pulled Pork. This dish is cheesy, and the pulled pork brings a smoky flavor to it.
There are so many Quick-service restaurants throughout Disney property. What is your favorite Quick-service restaurant at Walt Disney World? Let us know in the comments!
Featured Photo: Emily Murray.
Written by
Megan Woodard
Contributing Writer
Megan was born into a Disney family. Her first trip to Disney World was when she was only 18 months old. Now as an adult, Megan loves to share the magic of Disney with her two toddlers. Keeping up with Disney news and Disney World knowledge is a fun hobby for Megan. Disney World is her favorite place to be and continuously brings back her childhood joy.