Get ready to take off into an out of this world experience at the new Space 220 Restaurant in EPCOT. The long-awaited space-themed restaurant opened its doors on Monday, September 20 in Future World at EPCOT and I was lucky enough to snag a table for lunch on opening day!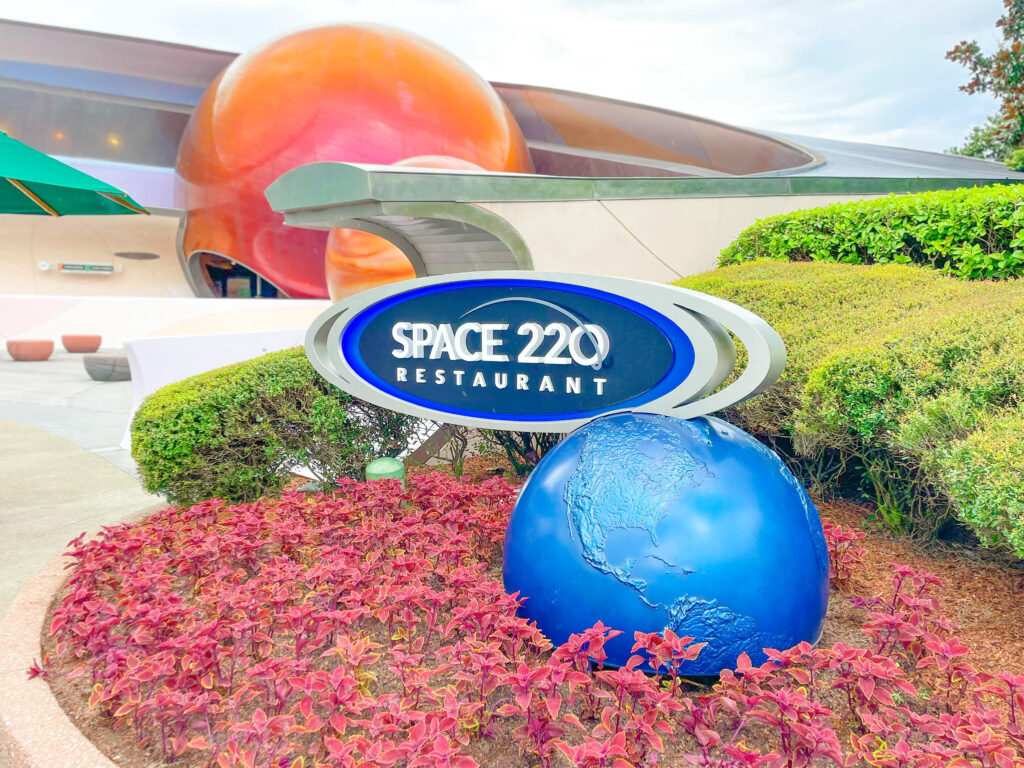 Through September 26, the only way to dine in the restaurant is by joining the virtual queue. Starting on September 27 dining at Space 220 will be by reservation only. Reservations are already available on
My Disney Experience
. They are not easy to come by so if you want to go to Space 220, you will have to plan in advance!
A Truly Immersive Experience
As you can imagine, Space 220 is not just another restaurant but an incredibly immersive experience! The adventure begins as soon as you enter the lobby, where you are assigned a boarding pass for the "Space Elevator." The Space Elevator then takes you to the "Centauri Space Station," aka, the restaurant.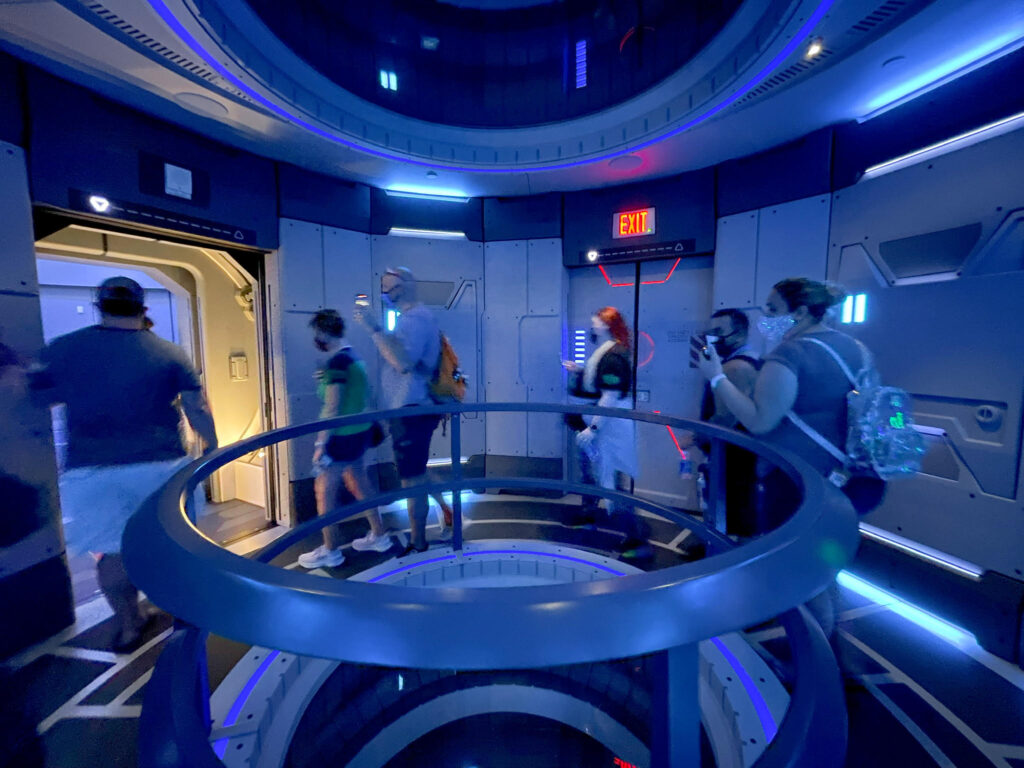 When visiting Space 220, you'll feel more like you are in an attraction rather than a restaurant. The elevator that simulates a rocket, lifts you "220 miles" in the air, imitating a spaceship's takeoff. The experience is really incredible!
Once you arrive at the restaurant, you find an even more stunning setting and theme. You'll be fully immersed in the space station theme where you'll not only in awe of the food, but also with each and every detail that Disney's Imagineers have put into this one-of-a-kind restaurant experience. While dining you'll be treated to a magnificent view of the earth, as well as different images of astronauts, ships, and even satellites in space.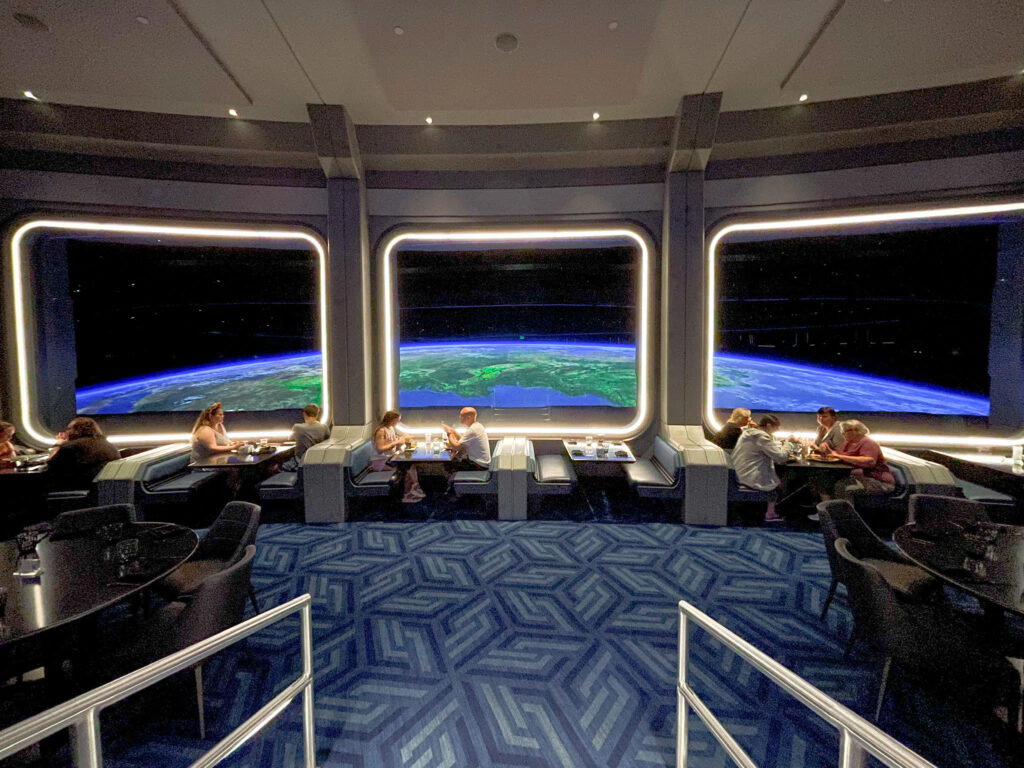 Dining Options
Lunch is a Two-Course Prix Fixe Menu (starter and main course) for $55 per adult and $30 per child. Dinner is a Three Course Prix Fixe Menu (starter, main course, and dessert) for $79 per adult and $30 per child.
Lunch is served from 11:30AM to 3:55PM and dinner from 4PM to 9PM.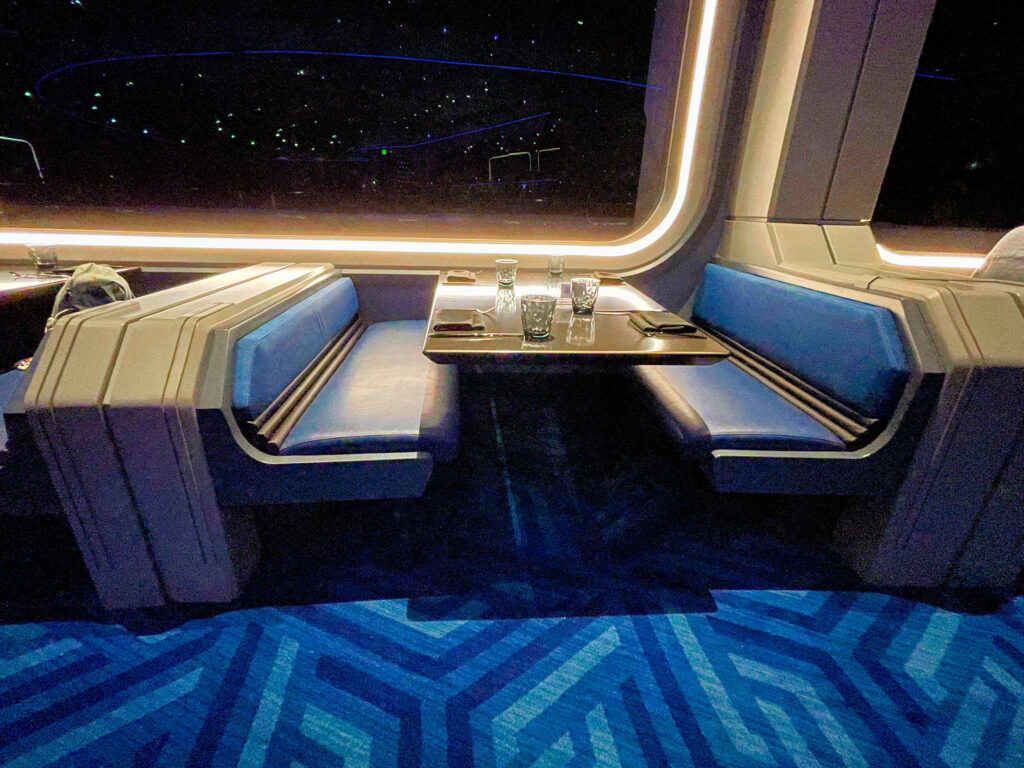 The menu features modern American cuisine, cocktails, and a wide variety of beer and wine. The lunch and dinner menus offer different main course options. Desserts are only included during dinner and are not available to order during lunch.
Now, let's talk about the food!
My Dining Experience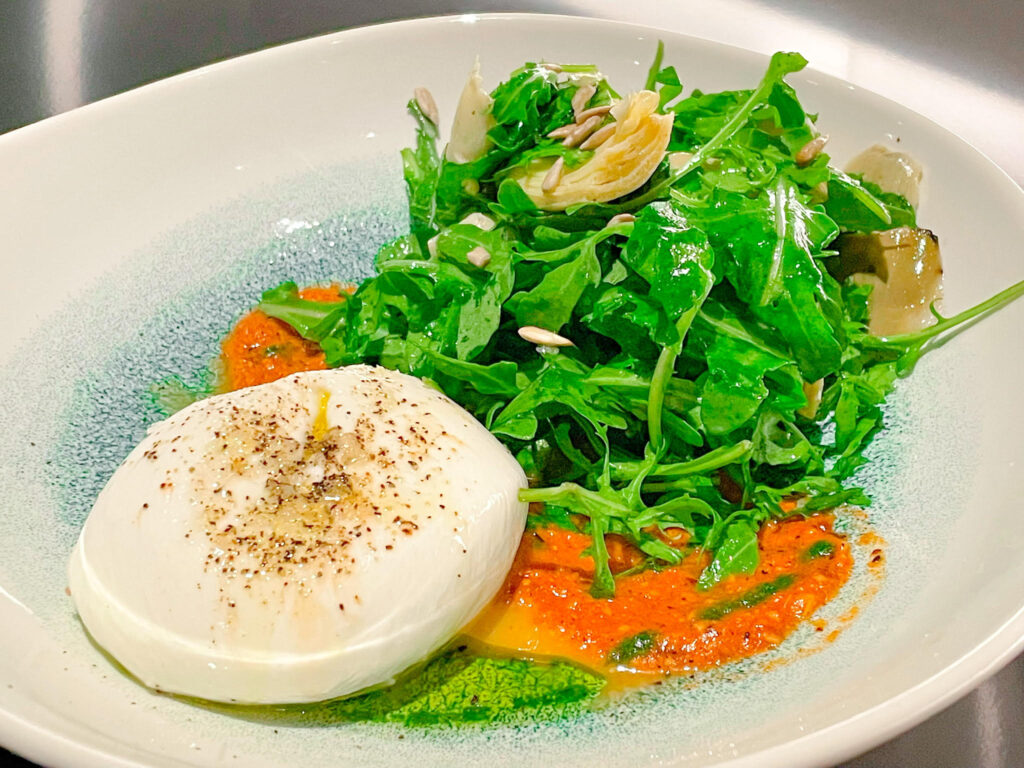 For our starters (or Lift-Offs as they're called on the Space 220 menu), we ordered the Big Bang Burrata, which is mozzarella burrata with grilled artichoke hearts, arugula, and a Romesco sauce. The mozzarella burrata was delicious and the salad mixture was perfect. The dressing was slightly on the oily side, but overall it was a delicious starter to our meal.
We also ordered the Neptune Tartare, which comes with yellowtail tuna, soy sauce, miso, avocado, radish, apple, and sesame crackers. This dish was delicate with light and simple flavors. It could have used a little flavor for our taste.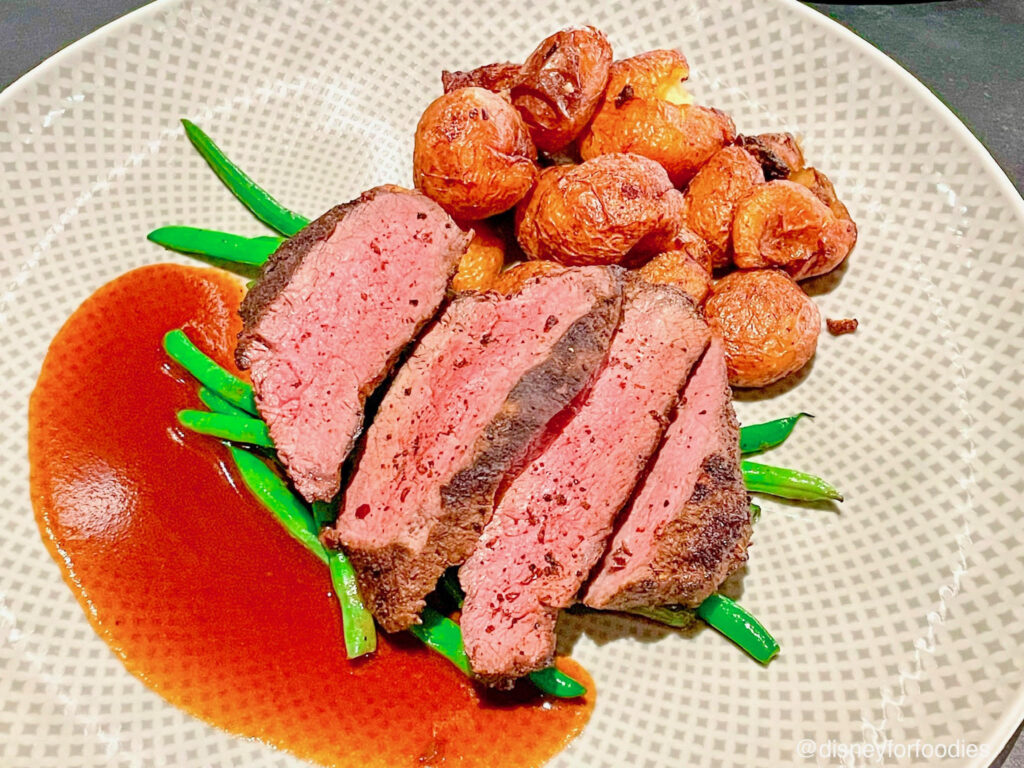 For the Main Course (or Star Course), we ordered the Flat Iron Steak, a steak with a coffee crust, shredded fingerling potatoes, cabernet butter, and green beans. The meat was tender and the potatoes were excellent. This was a delicious dish.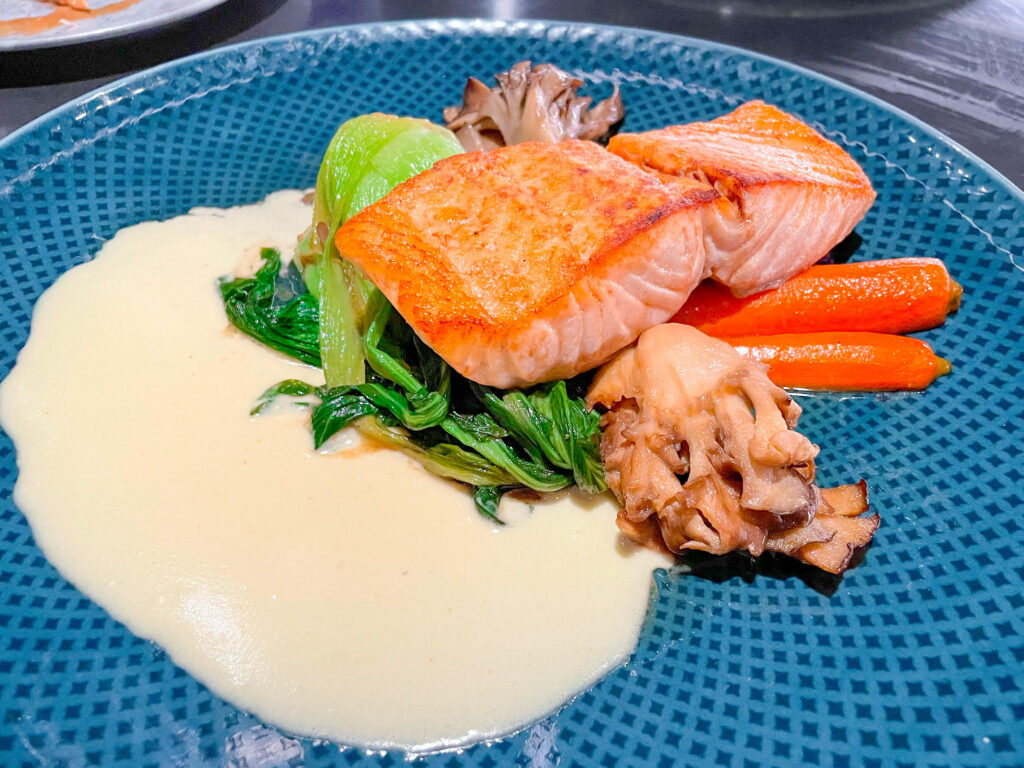 We also tried the Bluehouse Salmon, accompanied by glazed carrots, king oyster mushrooms, baby bok choy, ginger, and beurre blanc. The salmon was cooked to perfection, but had a very smoky Hickory flavor. If you're into smokey flavors, this is a dish for you. Otherwise you may want to try another main dish instead.
There's Always Room For Cocktails And Dessert!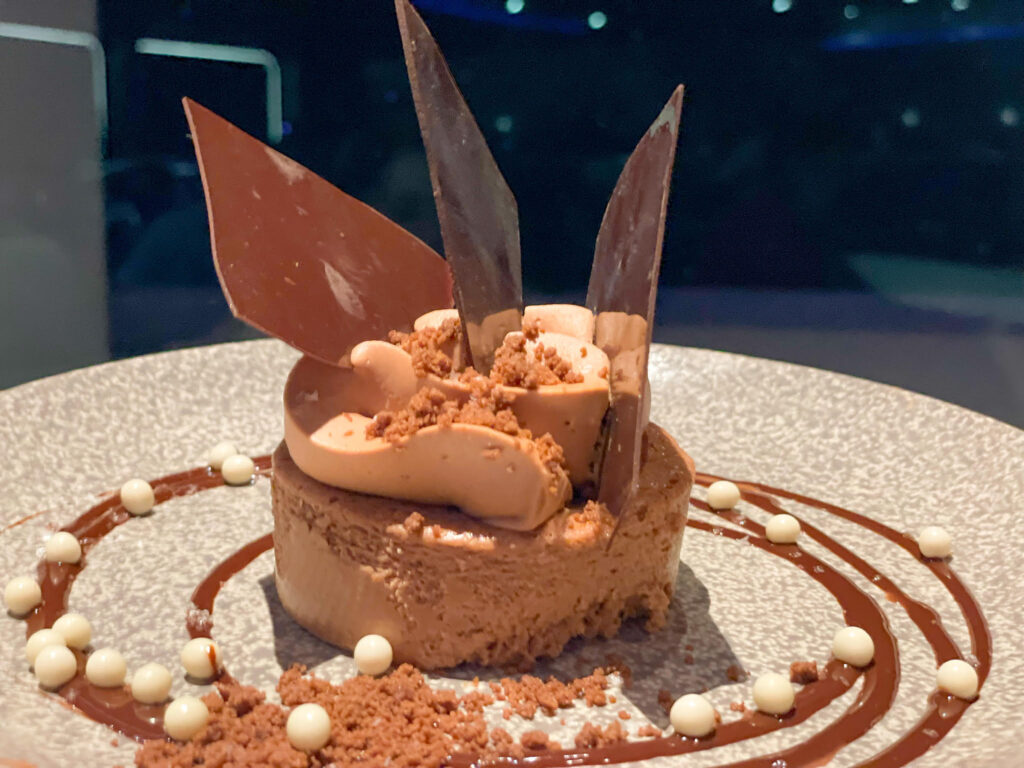 Normally, dessert is not available during lunch at Space 220, but as a special thank you for visiting on the restaurant's opening day we were given the option to order dessert in addition to our meal! We were were drawn immediately to the Chocolate Cheesecake, which was very good, but maybe not the best chocolate cheesecake I've had. Other dessert options available during dinner are Toffee Pudding Cake, Carrot Cake, and Lemon Mousse.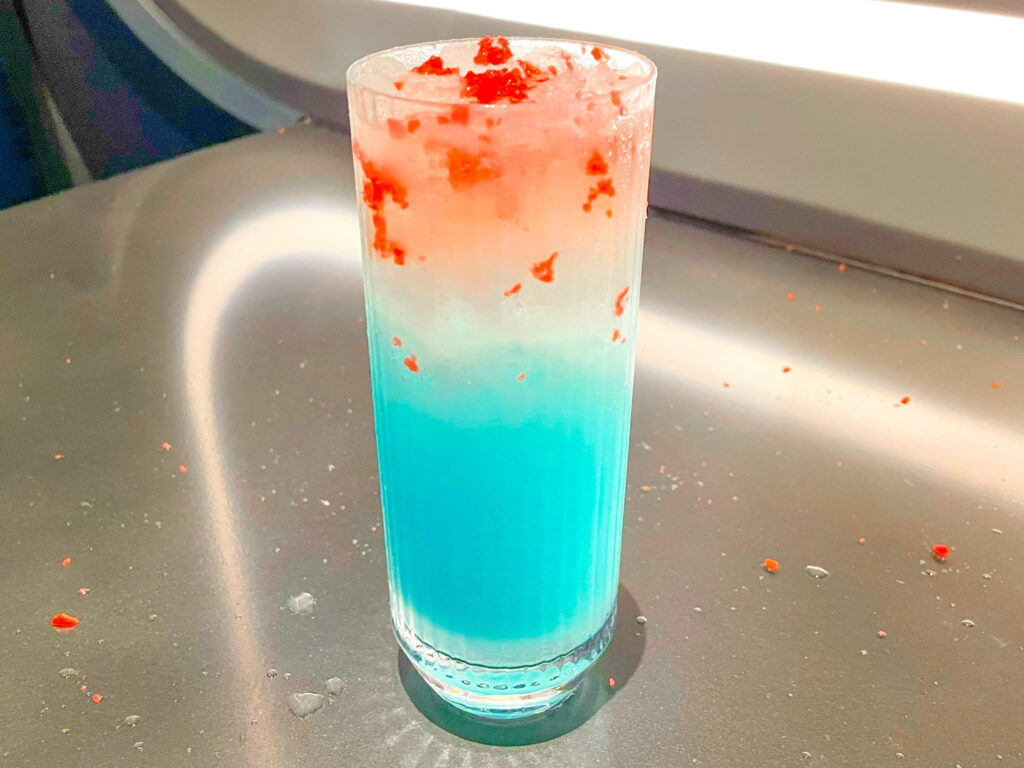 And last but not least, of course we had to try some of the restaurant's exclusive and unique cocktails! We chose the Planetary Punch, with Bacardi Silver, Malibu, Blue Curacao, guava and coconut for $15.00 and the non-alcoholic drink Moon Rock with coconut, cotton candy syrup, lemonade and explosive caramel. Both drinks were creative and delicious and a fun addition to our meal.
An Overall Great Experience
Because I visited Space 220 on the first day it opened, the atmosphere was slightly chaotic. However, overall the service and experience was great. The servers were gracious and helpful, although you could sense they were also just getting used to the menu and restaurant setup. Again, this is to be expected at the grand opening of any restaurant.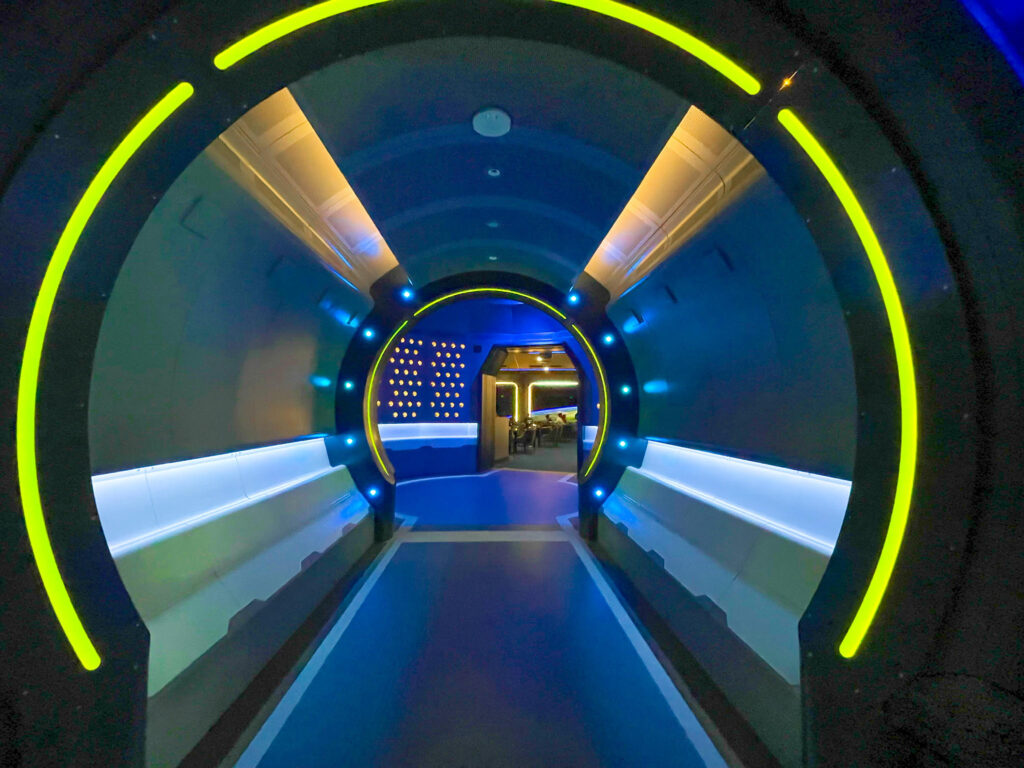 EPCOT's Space 220 is truly a unique and different experience and, in my opinion, one of the best experiences I've had in a Walt Disney World restaurant. I could see myself visiting time and time again for special occasions or if I just want to have a unique and memorable dining experience. I highly recommend trying Space 220 if you have the chance.
Keep in mind that if you don't want to wait on the virtual queue or can't secure a reservation, Space 220 also has a lounge! The lounge is available on a first-come, first-served basis and does not require reservations. Simply head to the entrance to Space 220 Restaurant and check-in for the lounge. The full drink menu, the "Flight Bites," as well as sandwiches are available at the Space 220 Lounge.
Is EPCOT's Space 220 Restaurant on your must-do list? Tell us why in the comments below.
Written by
@disneyforfoodies
Guest Writer