Hollywood & Vine is a character dining experience in Disney's Hollywood Studios. Many talk about the lunch and dinner experiences that feature Minnie and friends, but the real star of this dining location is the Disney Junior Play 'n' Dine breakfast. This buffet style meal features delicious classic breakfast offerings, along with a fun atmosphere, amazing service, and remarkable character interactions. Here is our honest review of the Disney Junior Play 'n' Dine breakfast at Hollywood & Vine.
The Atmosphere
When you first enter into Hollywood & Vine you'll immediately notice a very fun atmosphere. The motif is very classic diner, complete with funky patterns on the floor and Hollywood spotlights in the pictures on the walls.
The hostess who seats you will also take a family photo for your group at the entrance, either before or after your meal.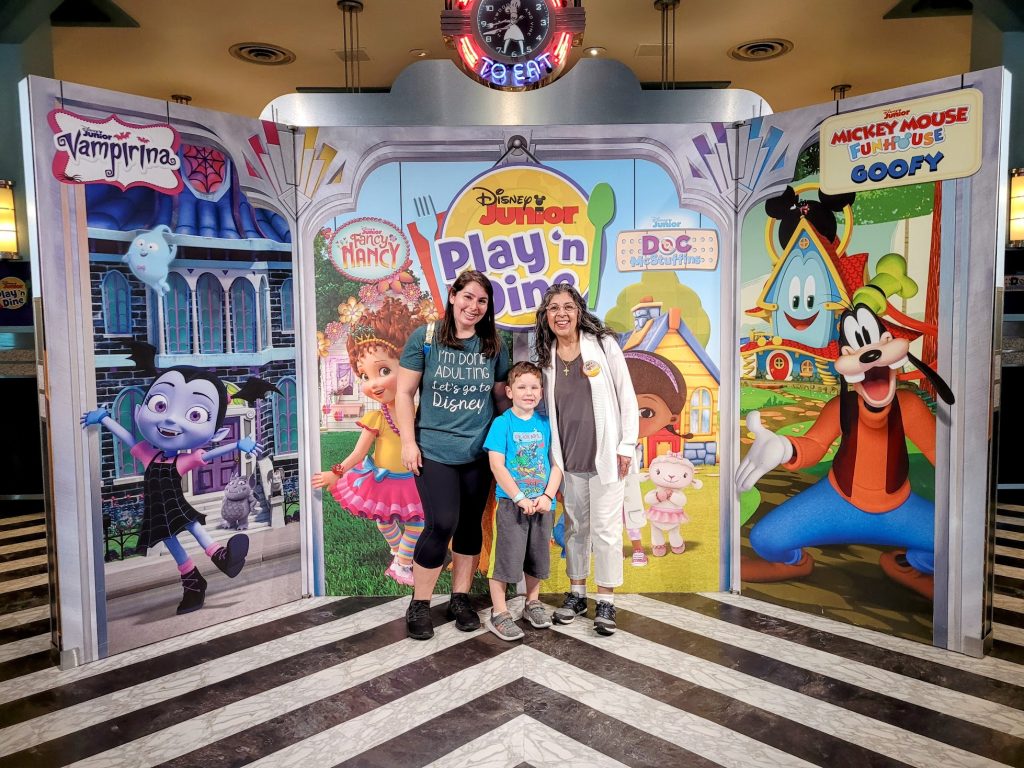 The Service
The service was very good given the atmosphere. It is a buffet so there is no constant back and forth for getting food from the wait staff, but our server was very prompt in getting refills on drinks and gluten free Mickey waffles for our table. She was also good about clearing out our dirty plates as we finished our food.
Overall, all of the Cast Members were incredibly inviting, helpful, and just plain nice. It was truly such a great way to start our day at Hollywood Studios.
The Meal
Let's get to the food! There are a ton of offerings available. Some of them are listed online while others are not completely listed out. We also had a guest in our group who had allergies. They also were great about giving us an allergen menu and talking about cross-contamination and we were able to receive some food freshly made from the back to avoid any issues. The gluten free Mickey waffles were probably some of the best we have had at any of the buffets, so not sure what they did here but it was definitely working.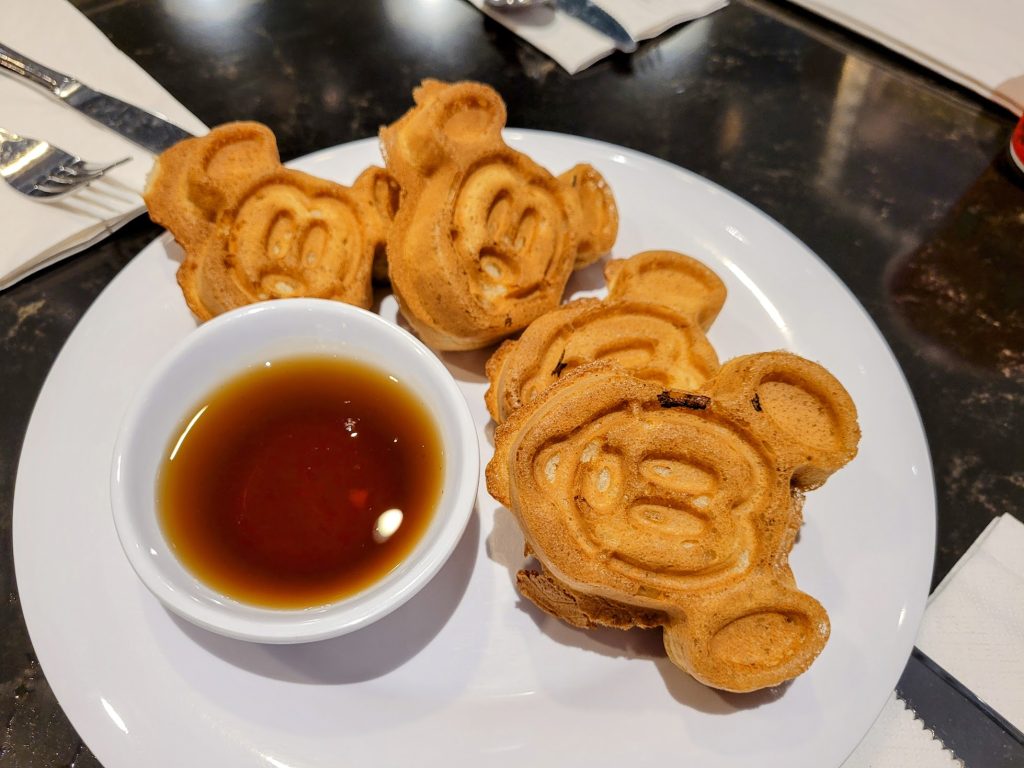 Everything from the buffet was equally delicious! We had a hard time choosing what to eat first with the rows and rows of classic breakfast foods such as pastries, fresh fruit, oatmeal, bacon, and eggs. There is even an omelet bar here! The best part is that they will make you almost anything that you want with the eggs at this station. I wasn't in the mood for scrambled eggs or an omelet so they happily made me over easy eggs which were egg-cellent!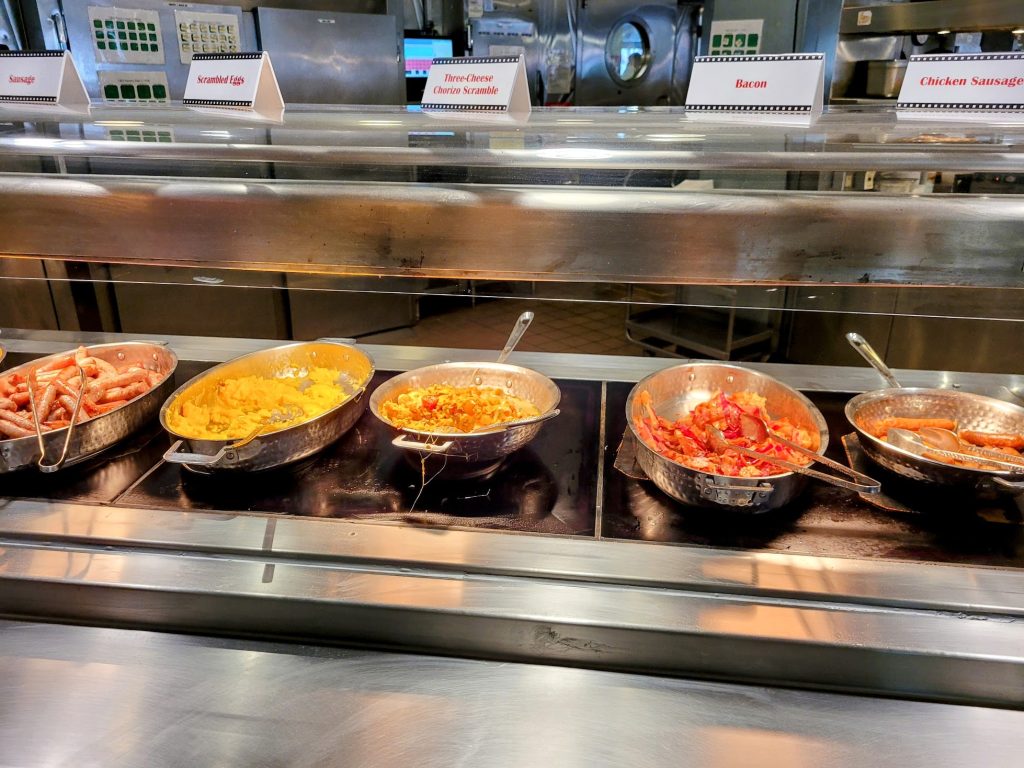 Some of the more unique food items here including salmon and bagel casserole, the breakfast potatoes, and the bananas fosters french toast. The potato casserole was definitely on the list of favorites for me as well. The bananas foster are kept separate from the actual french toast so that it doesn't get soggy. If you can take one thing away from this review, it is this. Get the bananas foster and put it on everything. I mean, literally everything! I enjoyed the bananas foster in my oatmeal, on Mickey waffles, on the french toast, and at the end of the meal I even put it in some vanilla ice cream. It was incredible and the absolute highlight of the food in my opinion.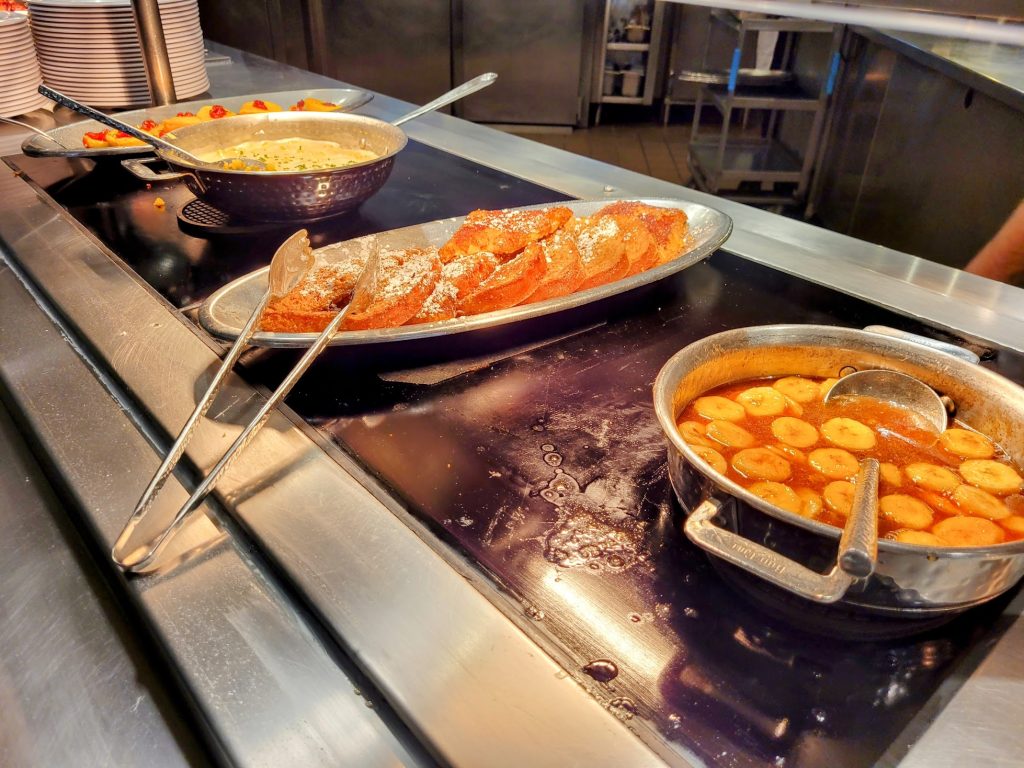 There is also a kids section at the buffet that includes some other foods that are not in the adult section such as silver dollar pancakes and tater tots, as well as other items that are available in the adult section of the buffet like scrambled eggs. Everything there was also very good and perfectly cooked.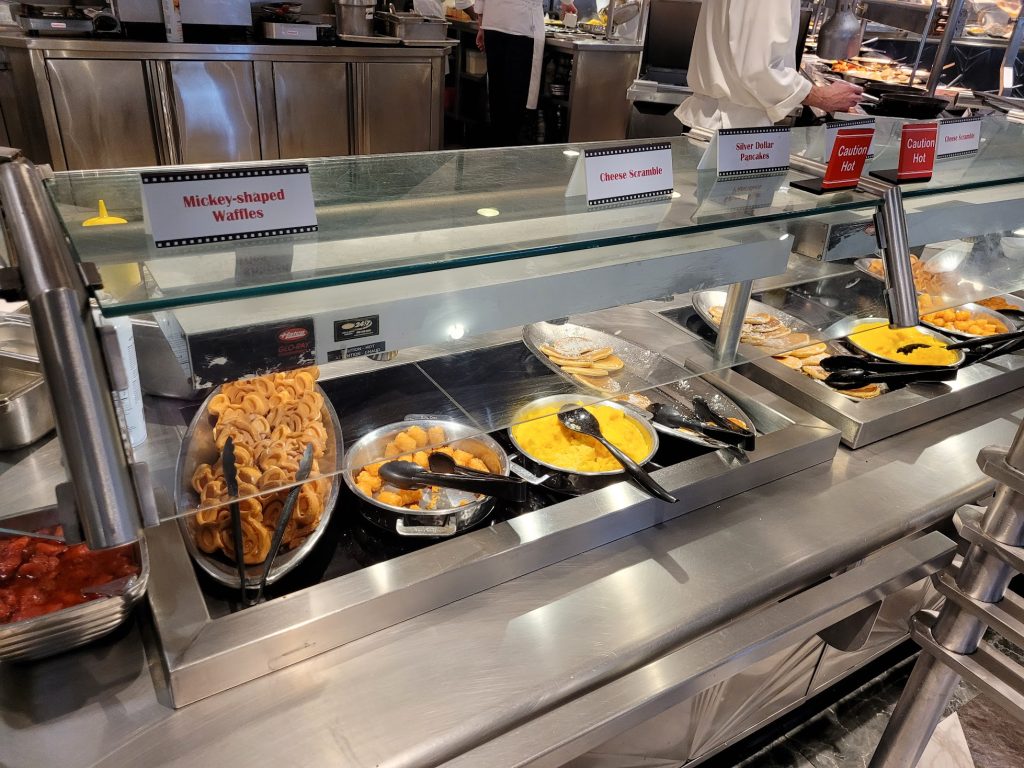 I can't remember a single food item that I tried that I did not think was extremely tasty and fresh.
Character Interactions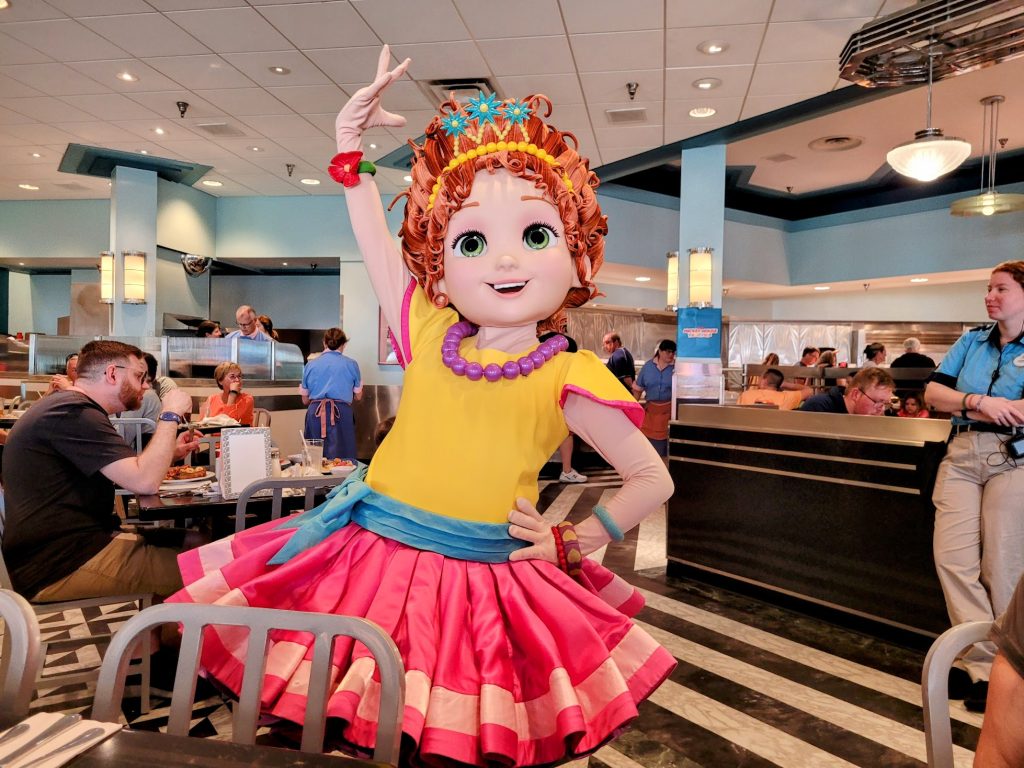 The real reason to pay $42 per adult and $27 per child for breakfast is to spend some quality time with the characters. At the Disney Junior Play 'n' Dine guests get to hug and get autographs from the following characters:
Fancy Nancy
Vampirina
Doc McStuffins
Goofy
As a mom, and therefore an avid watcher of Disney Junior shows, I felt like the Cast Members behind the masks did a great job taking on the persona of the characters from the shows. They each have their own mannerisms and spend a decent amount of time at the tables interacting with guests. They make sure to get lots of great photos and ensure that each child has a great experience.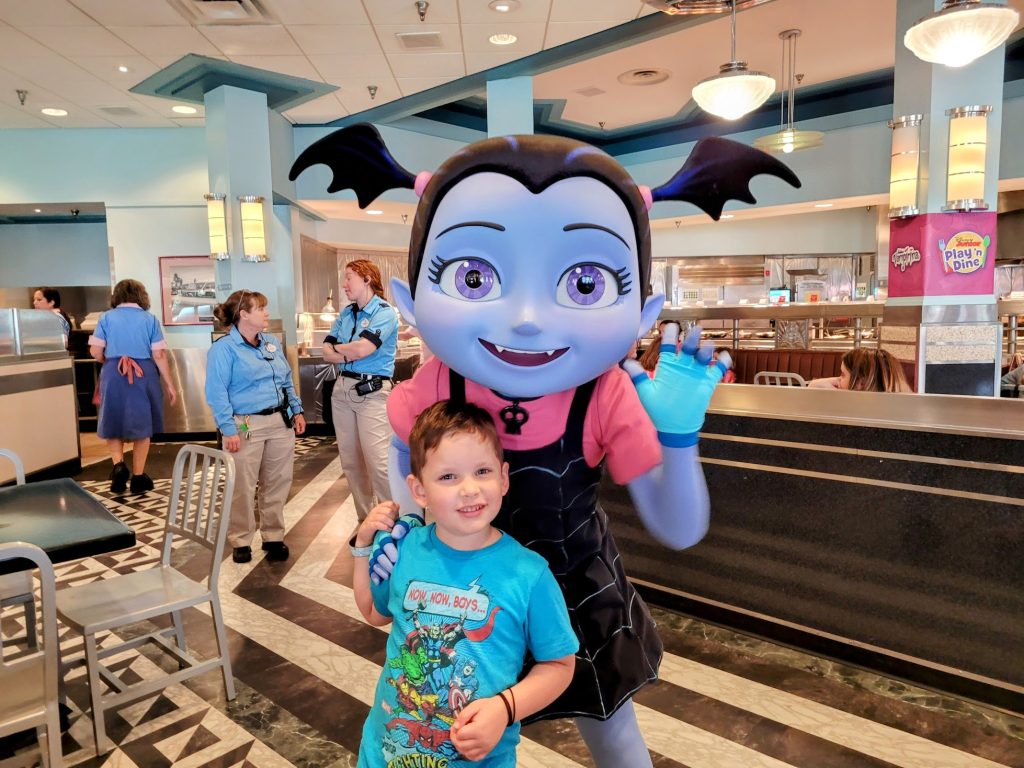 In our time dining, the characters made their rounds three times in an hour and fifteen minutes. Vampirina was a little behind on the first round of characters so we only saw her twice, but the other three we saw all three times.
The first time around we did hugs, pictures, and autographs. The second time my son used his camera to take pictures as well with the characters striking poses. The third time we spent some time chit-chatting about how our breakfast was. Obviously they didn't answer back with words, but it was still a fun "conversation" nonetheless.
This is a great option if your little ones absolutely must meet these characters. Three of them are available near the Disney Junior Dance Party for meet and greets, but with the breakfast you get to avoid the line, which can save you some valuable park time.
Let's Eat!
There you have it, my honest review of Hollywood & Vine's Disney Junior Play 'n' Dine breakfast! I absolutely loved it and so did my family. The food was fantastic and so were the characters. If you are wondering if a character breakfast reservation is worth it, I have to say definitely yes at Hollywood & Vine in Disney's Hollywood Studios. It was such a magical way to start off our day and was definitely money well spent.
Have you ever done the Disney Junior Play 'n' Dine breakfast before? What were your thoughts on it? Let us know in the comments below!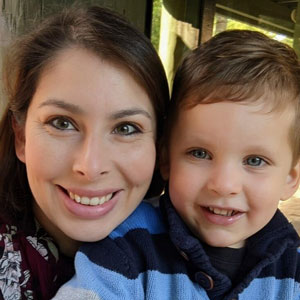 Written by
Rachel Van Norman
Contributing Writer
Rachel fell deeply in love with all things Disney as a little girl. Now as a wife and a mother herself, she shares this Disney obsession with her son and everyone around her. From her love of princesses to eating all the Disney food, Rachel spends her time radiating Disney magic and keeping everyone up to date on Disney news.