Hollywood and Vine is a character dining, family-style restaurant which caters to the younger members of the family. It's a perfect opportunity to eat breakfast with their favorite Disney Junior characters, where your children will have the chance to eat, play, and interact with Disney Jr. friends. Lunch and dinner are hosted by Minnie Mouse herself and offer seasonal fun.
Hollywood and Vine Details

| | |
| --- | --- |
| Walt Disney World Park | Hollywood Studios |
| Location in Park | Echo Lake |
| Dining Experience | Character Dining, Family Style |
| Hours | 8:30 AM – 8 PM |
| Price Range | $27 for children (ages 3-9), $42 for adults |
| Type of Cuisine | American |
| Mobile Order | No |
| Reservations | Yes, recommended |
| Allergy-Friendly | Yes |
Overview
At Hollywood and Vine you'll find the perfect opportunity for everyone to meet their favorite characters and create memories that you will never forget. Hollywood and Vine combines two of your favorite things, food and friends.
For breakfast, your little ones will love dining alongside their favorite Disney Junior friends. For lunch and dinner Minnie Mouse plays hostess throughout the year with seasonal decor and costumes.
If you love Minnie and want a picture perfect experience with the famous mouse that you won't ever forget, then this is the place for you. Minnie changes up her outfit, the restaurant's music and decor four times throughout the year. Depending on the date of your visit you might see Springtime Minnie, Summertime Minnie, Halloween Minnie or Holiday Minnie.
This art deco, family-style restaurant is located adjacent to Echo Lake at Disney's Hollywood Studios, just before you reach 50s Prime Time Cafe.
Menu
The menu at Disney's Hollywood and Vine is healthy mix of classic American cuisine with great plant based and child friendly options at breakfast, lunch and dinner. All menu options have an allergy-friendly option, ask your server for details.
Breakfast
$42 per adult, plus tax and gratuity, $27 per child (3-9), plus tax and gratuity.
Toasted Open-Faced Salmon Bagel – Hand-sliced House-cured Salmon on Toasted Bagel with Cream Cheese, Shaved Red Onions, Sliced Tomatoes and Capers.
Pancake Stack – Stack of four Pancakes, Maple Syrup, Powdered Sugar, and Fresh Berries served with choice of Bacon or Country Sausage.
Four-Egg Cheese Omelet Swiss, Smoked Gouda, Cheddar – Swiss, Smoked Gouda, and Cheddar served with H&V Potato Hash, Tomato Jam, and choice of Bacon or Country Sausage.
Hazelnut Spread French Toast – Hazelnut Spread, Bananas, and Caramel Bananas Foster Syrup served with choice of Bacon or Country Sausage.
Four Egg Scramble (Plant Based Available) – Served with H&V Potato Hash, Tomato Jam, and choice of Bacon or Country Sausage.
Plant Based Egg Frita – Plant-based Eggs, Fire-roasted Vegetables, Shaved Fennel, and Plant-based Sour Cream. served with H&V Potato Hash and Tomato Jam.
Kid's Entrées
Scrambled Eggs
Mickey Waffle
Pancakes
Plain Yogurt
Froot Loops, Corn Flakes, Rice Crispies, Cheerios
Lunch and Dinner
$55 per adult, plus tax and gratuity, $36 per child (3-9), plus tax and gratuity.
Beef Tenderloin – Garlic Crusted Beef Tenderloin, Sour Cream and Chive Whipped Potato, Sautéed Green Beans, Herb Relish.
Seared Fresh Salmon with Grain Mustard Beurre Blanc – Olive Oil Crushed Fingerling Potatoes, Garlic Lemon Broccolini.
Pork Osso Bucco – Boursin Cheese Hominy Grits, Caramelized Apples, Lemon Gremolata, Pork Reduction Gravy.
Macaroni and Cheese with Shrimp – Cavatappi Pasta, Four Cheese Sauce, Shrimp, Crispy Bacon, Buttered Panko Crust with Fennel and Arugula.
Carved Herb Roasted Turkey Breast – Garlic Redskin Mashed Potatoes, Cornbread Stuffing, Sautéed Green Beans, Turkey Gravy, and Cranberry Orange Relish.
Plant-based Pan Roasted King Trumpet Mushrooms – Braised Lentils, Blistered Grape Tomatoes, Roasted Mushroom Ragu, Roasted Root Vegetables and Marsala Mushroom Sauce.
Kid's Entrées
Seared Salmon
Roasted Turkey
Roasted Beef
Macaroni and Cheese
Dessert
Apple Blueberry Pie – Baked Apples, Blueberries, Caramel, and Streusel.
Plant-based Cherry Lemon Pie – Cherry with Lemon Drizzle.
Vanilla Crème Brûlée – Rich Custard with Caramelized Sugar.
Chocolate S'mores Pie – Dark Chocolate Mousse with Toasted Marshmallow Fluff and Graham Cracker Streusel.
Banana Cream Pie – Bananas, Cream and Caramel Sauce.
Map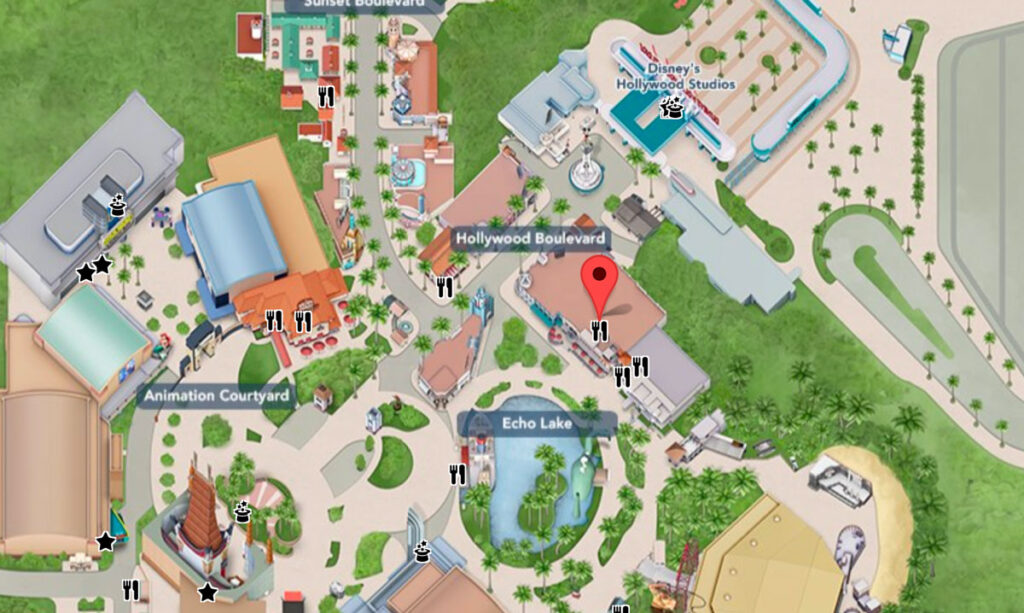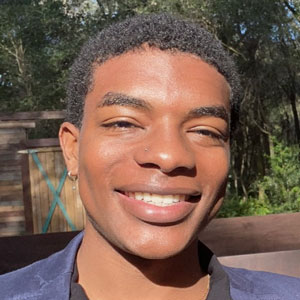 Written by
Gio Lambert
Contributing Writer
Gio loves all things Disney! He's been on three Disney cruises around the world and has said they're the best way to vacation. As a Central Florida native, he's grown up going to Disney and has loved every experience. Gio's favorite Disney movie is The Lion King but he loves the music from Tarzan. If he had to spend the rest of his life in one theme park he would probably pick either Animal Kingdom or Hollywood Studios.