EPCOT's France Pavilion is an absolute marvel, complete with its very own Eiffel Tower, glistening fountains, and a symphony of music that effortlessly transports you to the bustling Parisian streets. However, within this enchanting façade lies a treasure trove of hidden gems that can elevate any trip to the next level.
As you meander towards the Beauty and the Beast sing-along attraction, you'll come upon a charming side street nestled seamlessly into the pavilion's architecture. This little alley is a haven for those seeking unique experiences.
Strolling down this picturesque lane, you'll first encounter La Maison du Vin, a delightful boutique offering a carefully curated selection of wines. Here, you can also explore Parisian Minnie-themed apparel and Ratatouille-inspired merchandise, making it an excellent stop for both wine enthusiasts and Disney fans alike.
L'Artisan des Glaces
Just across from La Maison du Vin lies L'Artisan des Glacé, a hidden gem that will delight ice cream aficionados. This quaint shop is renowned for its brioche ice cream sandwiches, elegantly wrapped in newspaper. The process is a treat in itself: After choosing from a delectable array of 16 ice cream flavors, you'll watch with anticipation as a cast member layers a generous scoop onto a fresh brioche bun. You then have the pleasure of selecting your desired sauce to drizzle atop this ice cream masterpiece. After a few moments, your sandwich is complete, leaving you with a warm, flaky exterior and a refreshingly cool ice cream center. Be warned, though – it's a treat that can get delightfully messy!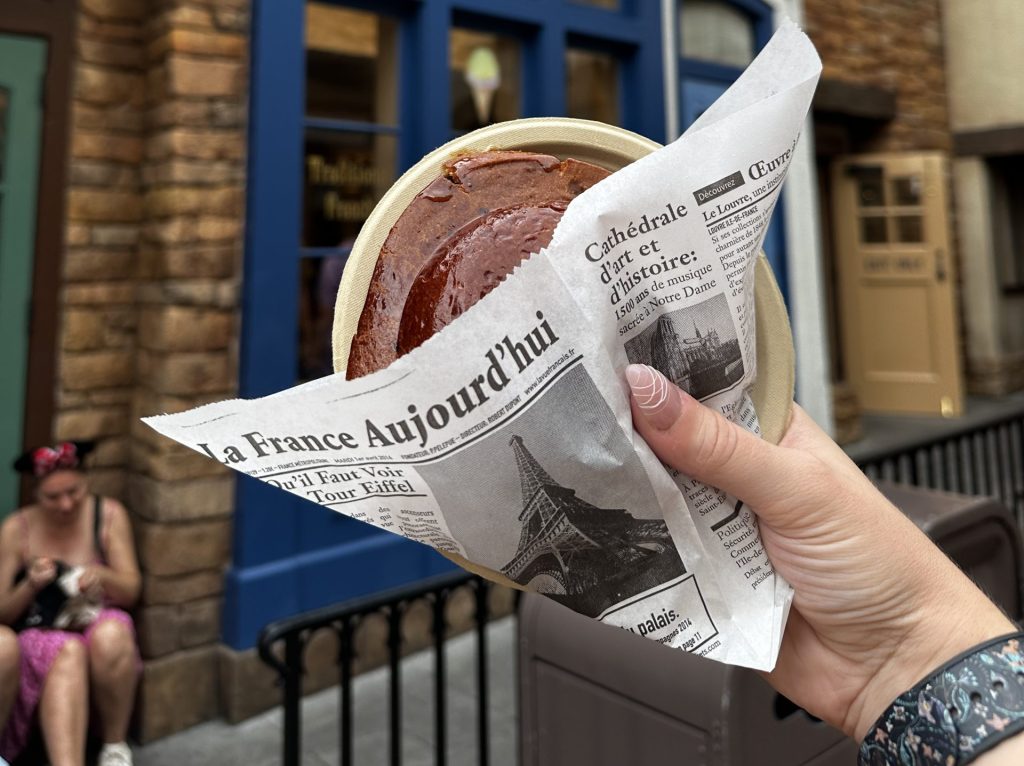 Les Halles Boulangerie-Patissere
Adjacent to the Artisan Glacé, another hidden gem awaits your discovery. Beyond the store lies the delightful bakery, Les Halles Boulangerie-Patisserie, overflowing with irresistible offerings. Whether you crave sandwiches, croissants, desserts, or a classic baguette, this bakery has it all. If the choices seem overwhelming, don't hesitate to ask the knowledgeable cast members for guidance. It's the perfect place to recharge with authentic French treats as you continue your exploration of the France Pavilion.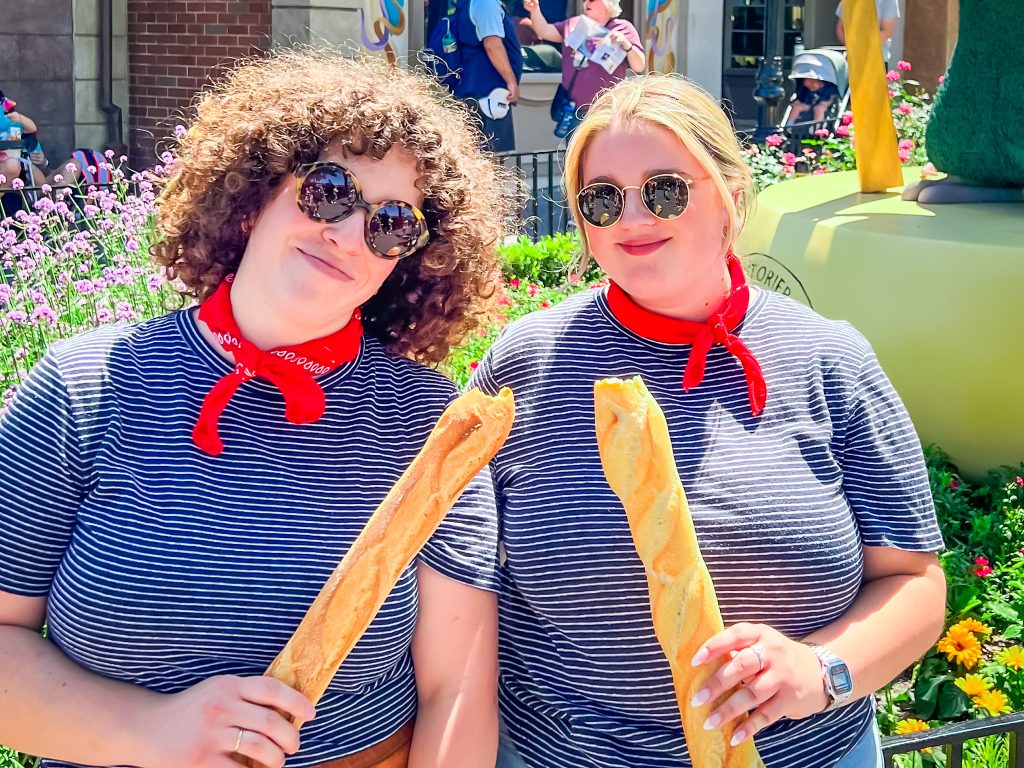 Plume et Palette
Venturing further, you'll discover Plume et Palette, nestled near the fountains. Here, you'll encounter yet another hidden gem, a treasure trove of perfumes that fill the air with delight. Whether you're shopping for yourself or someone special, there's a fragrance to suit every fancy. Notably, you can find brands like Christian Dior, and on select days, enjoy the unique experience of specialty engraving for these exquisite perfume bottles. There's an array of designs to choose from, including the castle, the Eiffel Tower, a delicate rose, and more – a perfect way to make your fragrance even more memorable.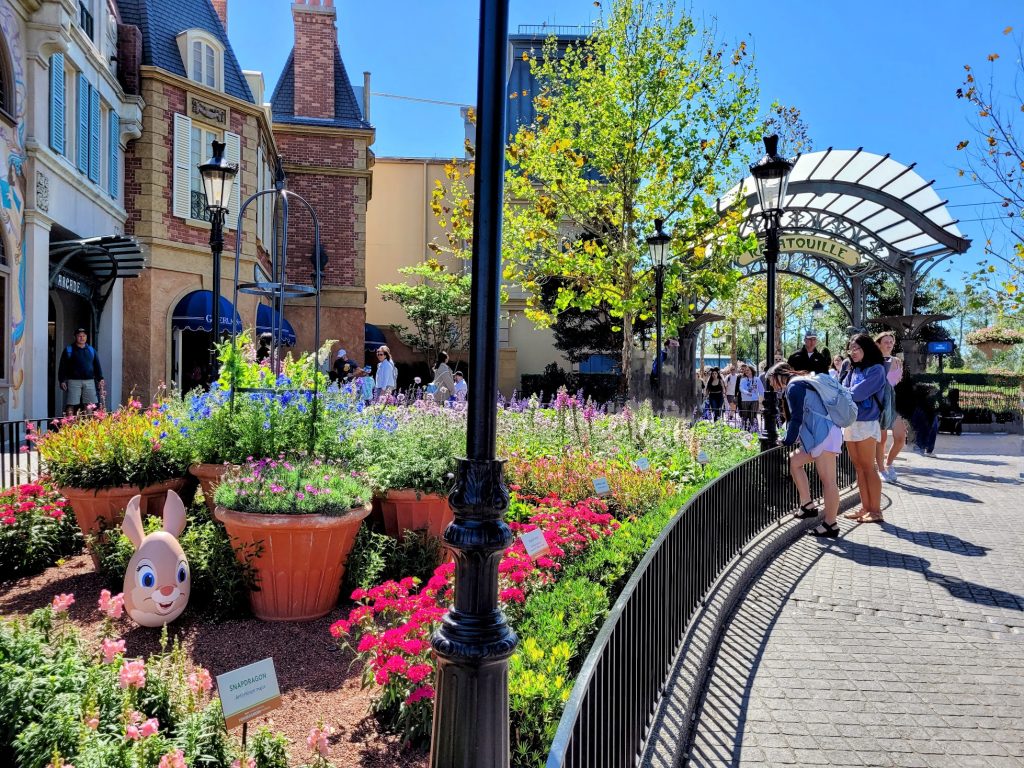 Chef Skinner's Scooter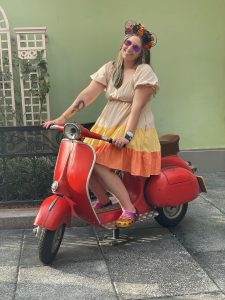 Finally, just outside the exit of Remy's Ratatouille Adventure, there's one more delightful surprise. This hidden gem serves as a charming backdrop for photos – a quaint area featuring a classic red scooter. It's a whimsical touch that instantly transports you to the streets of Paris, inviting you to sit down and imagine embarking on a picturesque journey through the heart of the city.
In the heart of EPCOT's France Pavilion, these hidden gems provide a captivating escape into the charm and flavors of France, allowing you to savor a slice of Parisian life right in the midst of the Disney magic.
Featured Photo: Emily Murray.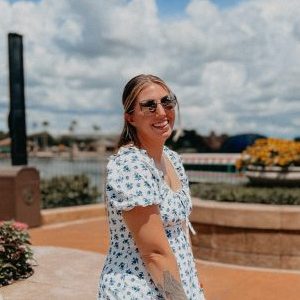 Written by
Marissa Coffta
Marissa's lifelong enchantment with Disney magic began in her childhood and has continued to flourish. She is a mom to 3, who frequently embarks on solo or family adventures to Disney World. Currently living out of state, she takes many modes of transportation to experience the wonder of Disney firsthand. Her fervent passion for writing fuels her with the hopes of bringing the world of Disney to life, making the magic a part of her world.